Open up any Sunday newspaper and there's a raft of rumours regarding Morrisons launching a purchase for Iceland, 'close to appointing advisers' and you'd be forgiven for thinking that it's almost deal done!
There are two things certain – Iceland's Icelandic owners are looking to sell their stake in the supermarket chain and the current CEO Malcolm Walker has the chance to match any bid that's accepted and already holds 26% of the company shares.
Secondly – any comparison between a potential purchase of Iceland and the takeover of Safeway is futile, the only similarity is that Morrisons would be acquiring a company. Of course the Safeway angle could be done to death in terms of falling market share, failing company and the 'indigestible meal' as Sir Ken called it but times have changed, Morrisons is much more agile and lean than it ever has been and is expanding its small supermarket empire with acquisitions from Asda/Netto along with the Convenience trial.
Morrisons have the experience, nous and system capability to now operate smaller end (Iceland / Netto sized) stores rather than their heritage 40-60k sq.ft superstores, plus there is the salient fact that Iceland isn't a failing business by any stretch of the imagination.
In terms of the alleged deal, there appears to be confusion over what the deal would mean if Morrisons were to pay £1.5bn for the 750 store strong chain, there have been several mentions of Morrisons wanting to push into the convenience market and their trial store in Ilkley opens in July. I'm not entirely sure that stores would be acquired for the convenience market, the initial two sites in Ilkley and Wilmslow are affluent middle class areas and Morrisons focus appears to be pushing Convenience into those areas where sites are available.
Not to say Iceland's stores are not in affluent areas but their core demographic of customer isn't the well to do affluent customer and they tend to cater for shoppers and families on budgets and their store locations (certainly around here in Bradford / Leeds) tend to reflect that – would Morrisons want to use these stores for their smaller supermarket offer? Their acquisition of the sixteen (with thanks to the spotter for this error!) Netto stores in January from Asda/WalMart were rumoured to spearhead Daltons push into convenience but that has not proved to be the case with the Netto stores opened as 'small' supermarkets and an altogether separate trial for convenience. It's worth noting that Morrisons purchased two more Netto stores yesterday (Tuesday) which takes the total to 18.
Another pointer for a possible deal to be done is Daltons willingness to 'open the chequebook' and spend money that is available thanks to Morrisons strong balance sheet and credit rating, £40m for 10% in FreshDirect and the £70m acquisition of Kiddicare and their lauded technological platform have seen Dalton earn a reputation as a man not afraid to make bold financial decisions. CFO Richard Pennycook obviously helps by stating the money is available and many hacks thought his no show at the presentation of his 'top FTSE 100 FD' award was a sign that he was busy working on a deal for Iceland.
Of course, we shouldn't forget that Morrisons paid £28.1m for a tranche of Netto stores from the disposal list drawn up by the OFT, they were purchased in January and have recently started converting to Morrisons.
The first of these smaller former Netto supermarkets were opened earlier this month and news reached me that the takings in the converted stores were running (in some cases) double what was predicted according to one source which can only serve to be a positive if Morrisons were already considering a move for Iceland considering they would acquire stores that would be of a similar size to the acquired Netto's.
With the increasing chatter regarding a possible bid for Iceland, the 'beauty parade' of possible banks to advise (considering Morrisons usual banks are already advising Landbanski who own the rest of Iceland) and indeed the news of impressive early sales figures for the converted smaller supermarkets – it was time to pay a visit to a couple of the Netto acquisitions and conversions.
Initially I went to Ravensthorpe as I was nearby – this store hasn't yet opened but looks to be in a promising location. Relatively modern retail park with tenants such as Home Bargains, Greggs and Poundstretcher. The store itself is relatively new and looks modern from the outside, obviously the internals are being adjusted ahead of the opening date in 2 weeks time.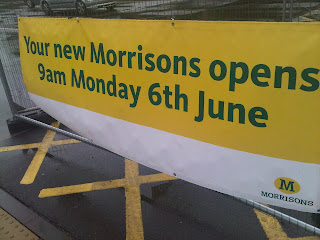 Sign outside Morrisons Ravensthorpe
It was on to the Castleford store which was converted and opened around 3 weeks ago, this sits on a retail park alongside Homebase and Carpet Right with a good sized standalone Aldi just around the corner.
It's not immediately clear that the Morrisons store was a former Netto as the external looks clean with the window stickers highlighting the 'fresh' offer.
Window stickers highlighting the Fresh Instore Bakery offer.
 
 
 
Upon entering it was clear that the store is trading particularly well as a walk around revealed a few out of stocks which obviously would ring alarm bells within standard Morrisons stores. This store had a few gaps but had evidently had a good level of trade, with it being only its 3rd week of trading under the Morrisons banner can be excused some responsibility due to the inevitable fluctuating trade levels.
I was surprised at the level of assortment within the store as not only did it boast a butchery and bakery but also some seasonal non food space, greetings cards, cigarette kiosk and a full sandwich offer. Despite the good assortment of product the store retain 5 serviced tills plus the Kiosk and the store did appear busier at the checkouts as customers queued for their purchases.
The store does offer enough for a full shop which was surprising considering Netto didn't seem to offer all that much and in the end wasn't really a discounter as prices became higher than elsewhere. The store layout has been done efficiently (perhaps showing Netto not using the space effectively) with a central aisle and two 'halves' of the store with good customer flow throughout.
As with Morrisons stores these days, the headline 'foyer' promotion is sited just inside the store near the Produce department. Despite the relatively small size of this store, the headline Persil powder offer was on a pallet which is a good indicator that Morrisons intend to run these stores as smaller versions of the main estate stores. A large box of 50 wash box of Persil wouldn't necessarily be part of their core assortment so they are offering 'one offs' in all stores irrespective of range.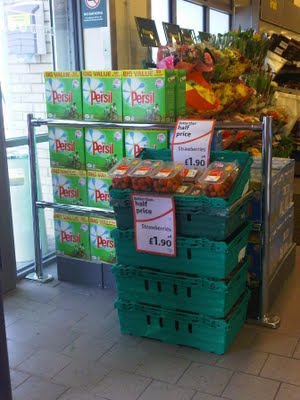 Weekly headline Foyer promotion available even in the smaller store.
Taking advantage of own label margin and vertical integration within Morrisons is a given and these smaller stores are no different, in particular Floral and plants have always performed well with good sourcing via WM Morrison Produce and the packhouses mean margin can be driven far more effectively.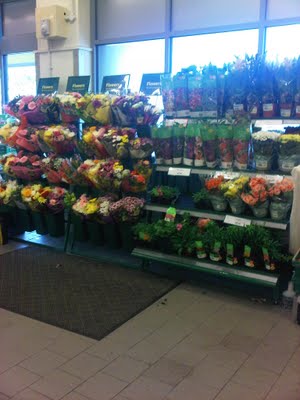 A good floral and plant offer is surprising but key part of the small store offer.
Obviously with the space constraints within these smaller supermarkets, there is no room for the ubiquitous 'market barrow' that adorns many a Morrisons store. Within this store there's a smaller area for Produce and there is a focus on it being 'lean' replenishment to save on labour cost, Produce is an easy area to save cash as the goods come in the prefilled plastic cases which are simply one touched onto the shelf.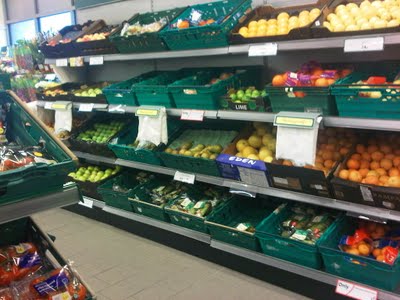 A good choice of fruit in shelf ready packaging and cases for ease of replenishment.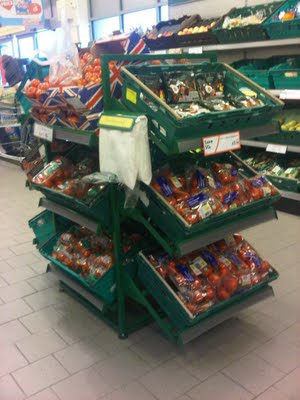 Morrisons have added middle aisle displays to allow for a fuller range of Produce.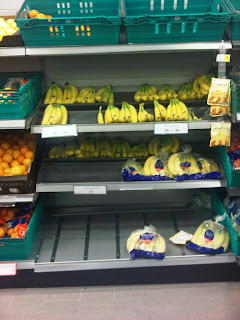 Rather than just opting for pre pack, there's a small hammock for loose bananas.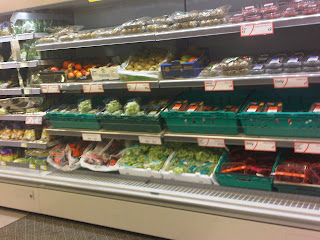 A good assortment of fruit is also available and much of it in shelf ready cases.
Another important aspect of the store is getting the range right, especially with Castleford like many northern working towns (indeed towns all over the country) having a high ratio of people on budgets who are trying to make their money go as far as possible. There is little sense stocking 'the best' ranges across each category in a non affluent area in a store tight for space, however there is scope for 'Value' ranges to perform well and Morrisons have considered the demographic and ranged a good assortment of value tier lines.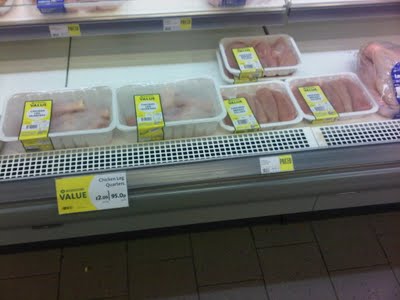 Value chicken on sale in Castleford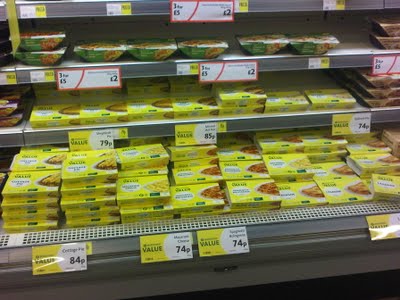 A good range of 'value' ready meals and not one 'the best' ready meal on sale.
Surprisingly the store does incorporate a Butchery and Bakery which may raise eyebrows considering the space that Netto stores had to trade from but Morrisons manage to fit both counters in without much inconvenience and the Bakery is open plan to allow visibility of activity within the department. Both counters offer points of difference for customers who may be tempted by the local Aldi around the corner.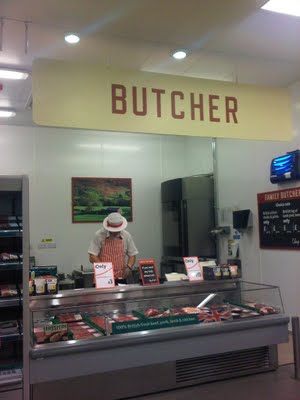 A butcher offers a real point of difference for custmers vs pre packed in other stoes.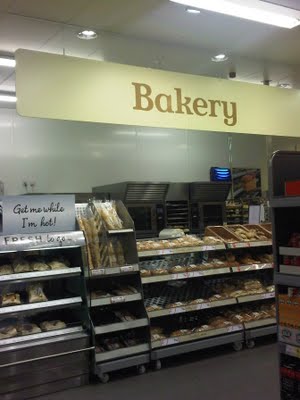 The store offers fresh bread, morning goods and cake products
The focus on freshness is prevalent even in this small supermarket, aside from the Bakery and Butchery there are also hot chickens available via the hot self serve counter.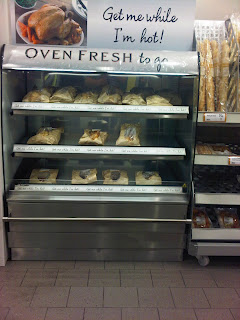 A small variety of hot chicken lines also capture 'freshness'.
The store itself doesn't have a large warehouse due to the Netto operating model lending itself to smaller store sizes anyway and it's possible that some warehouse space was sacrificed too for the Butchery counter and Bakery.
As we know, the Morrisons model generally being manual doesn't lend itself to low overstocks and tends to have the opposite effect of fuller warehouse to maintain long term availability as stores try to keep pace with demand by over supplying.
To combat the lack of warehouse space and to drive efficiency within the store, overstock capping shelves have been introduced for overstock to live on the shop floor. This is a twofold benefit as there is no need for a large warehouse thus maximising sales space but also it makes replenishment simple and efficient.
Overstock capping shelves on crisps allow for priority replenishment.
 
As I mentioned earlier, despite the limited sales floor space, there is a good variety of products such as DVD's and an assortment of games, greetings cards and news & mags which are all vital to entice the top up shopper into store as well as the customer with the larger basket.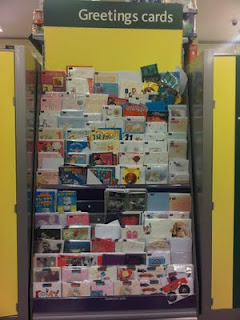 A good assortment of greetings cards.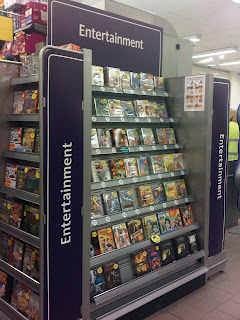 and a good assortment of DVDs and games are available too.
With Morrisons historic 'weaker' non food offer, it was somewhat of a surprise to see that space has been made for the seasonal offer which is BBQ and summer at the minute (despite the weather). It's clear that this is the archetypal seasonal space with the offer changing for back to school, Halloween, Christmas etc and is another vital component of the store when building an offer for customers to return.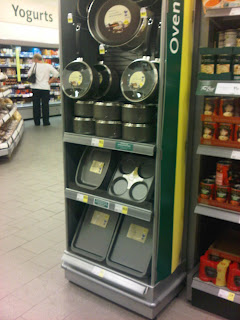 A small assortment of kitchen essentials sited near the Soup.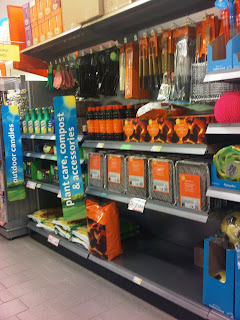 Seasonal space is increasingly important for top up shoppers with more events than ever.
The leaving of gaps and lack of facing up was evident in the store when I visited, there were a few gaps and sell outs which is understandable (whilst not totally acceptable) due to the relatively new store trade patterns, what was interesting was that it was clear that products had sold out rather than missed off the order for example.
Another interesting observation was that there was a large focus on own label Morrisons products in categories such as cooking sauces and core Grocery such as canned goods. Admittedly this is a product area that is awash with own label products anyway but with a great number of brands available, Morrisons have picked the most popular and stocked that alongside the own label offering which will serve to drive margin and the targeted growth of the own label.
Despite the own label focus in some categories, the store offers established brands as well with your usual favourites available – Heinz Salad Cream, Heinz Beans and the like are still stocked to ensure it's as full an offer as possible but for simplicity in ranges it makes sense to limit choice in some categories.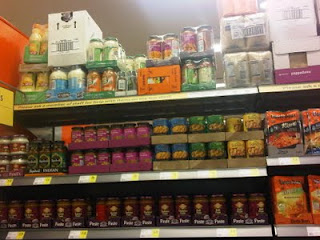 Established brands such as Uncle Bens are available but there is space for Own label.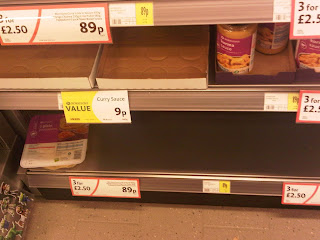 Good section of own label offering which is popular, especially the Value line.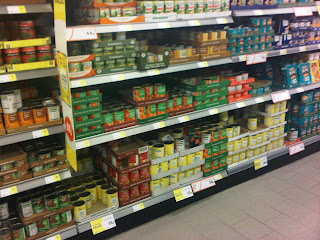 Canned goods are predominantly own label anyway but there's a lot of space for Value products
I gather that some of these stores (former Netto) are taking double what was intended and the model that Morrisons operate with vertical integration means there will be greater profits in fresh food anyway, with these stores carrying a good range with a good OL vs brand split, it will be likely that the profitability is good also.
On my visit I noted the store manager walking around with an ordering pad and two ADMs replenishing so it's a much flatter management structure than in the main estate stores and a key challenge with the smaller stores is managing labour cost. Productivity measures such as leaving gaps to aid ordering, overhead capping shelves to aid replenishment and ordering will help this process.
Despite the patchy availability which was down to busy trade rather than poor ordering or replenishment, I'm confident that it will be up to standard once the trading patterns are established and the store gets used to what is selling and is able to keep pace with that demand. Value lines look especially popular along with promotional items, these promotions are the same in main estate stores so are likely to be popular.
Whether Morrisons are actually going to bid for Iceland remains to be seen but talk of this move spearheading their move into convenience look wide of the mark, Iceland stores would be converted to the small supermarket model like this former Netto rather than the Convenience model, which lest we forget isn't even in the trial period yet with the first store due to open in July. A promising sign of things to come though, you'd have never thought Morrisons capable of running a small store 3/4 years ago so it's a sign of how they have come as a business despite operating the same 'outdated' technology.