We're able to work together in a variety of ways, all of which are designed to suit your requirements.

Insight on demand
Our research store features reports from supermarkets we have visited around the world, best practice from seasonal events, and industry trends.

Advisory and guidance
Benefit from our trusted, balanced, and honest perspectives on your business, the market, best practice, wider market trends, and anything and everything in between.

Insight by email
Our email service features exclusive in-depth insight and analysis from across the retail space.
We feature reports from our store visits, analysis of the latest trends, and a focus on retailers' financial reporting throughout the year.

Solving retail problems
Work with us to solve your problems.
We have a defined process that we use to decipher the challenge and work together on solutions using our vast archive of ideas and imagery.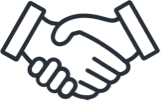 Tailored and bespoke
Do you need something on a larger scale, something more regular, or some additional expertise?
Are you new to your role and need an honest perspective?
Do you have an obscure challenge or request and are unsure who to turn to?
We can help.

Our portals
We have a huge image database featuring hundreds of thousands of images, all beautifully organised and curated.
Alongside this we have our insight platform, which offers weekly updates on wider areas of retail on a fully-customised basis.
Entirely in line with your requirements and internal categorisation.