So after the story was broken via twitter that Tesco were looking to start some sort of offensive, followed by a load of counter rumour that it was Christmas launches, my thoughts that it was clearly going to be a price offensive considering the economic climate were not far off! More on that here and here, the comments are of particular interest!
It all went live Monday morning after feverish activity overnight with a lot of price changes, switching of POS and adding the new fins, roundals and allegedly resetting stores 'as if they were on opening day'. Admittedly I only visited one store this morning but it's relatively well known for not being the best store from a standards point of view.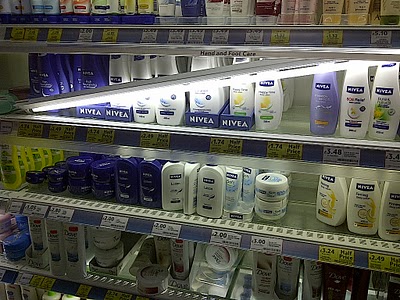 It's all in the standards.
Tesco had invested a considerable amount of money for the price changes via a wage flex to enable the prices and POS to be set up correctly for trading on Monday, rare considering Tesco are continually driving for efficiency with a rumoured 4% labour saving targeted each year via step changes such as stopping colleagues asking customers if they want cashback and many more little changes – all add up when you've 1000+ stores.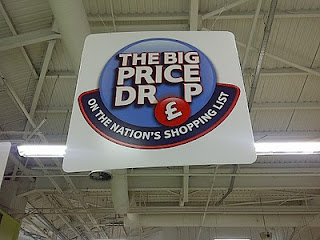 The big Price drop – Strong POS across the shop.
The main issue that Tesco face going forward is their investment in wages, stores are tired and standards are falling, availability whilst remaining steady isn't as sharp as it used to be. Initiatives such as 'must fill' and stock reduction processes still require staff for the process to be followed effectively and for investigations to be carried out. If they aren't; then the problem worsens and with a lack of hours in store to recover…. It becomes a snowball situation. There are too many variables within the running of the store to have hours as tight as they are but with labour being one of the biggest single costs to the business, reducing overtime and staffing levels makes a real difference to the bottom line.
Despite the early break of the story and subsequent press release, details were very thin on the ground in terms of specific reductions, both in saving and indeed product groups. I was hoping for a reduction on big ticket items such as Coca Cola etc, would we see reductions on brands like that to stoke up a war?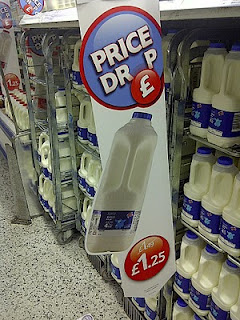 Milk down to £1.25 – Asda have pegged it at that since Andy Clarke announced his price cuts.
It would appear not, the main crux of the reductions were 80/20 split in favour of own label with the branded reductions being relatively disappointing, 9p off Kelloggs All Bran for example is hardly going to drive a mass of purchases towards that line or indeed harm any real margin, indeed the first example I found indicated Tesco had merely price matched Asda on the Milk rather than actually park any tanks on anyone's lawn.
In fairness, the big price drop is as much of a own label push than an actual huge push to EDLP for example, with the majority of price cuts being on own label products, it does at least push Tescos own label to the fore which in fairness to them, they need to do.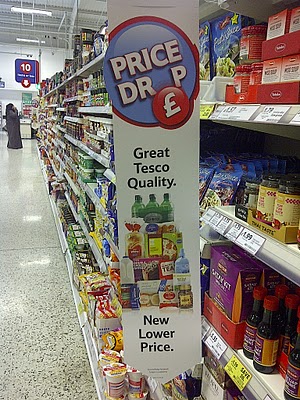 Despite mentions of branded price reductions, the focus is very much on own label.
Sainsbury's retain a strong own label and have just launched the 'by Sainsbury's' relaunch of their own label, similarly taste the difference has also had an overhaul. We all know Asda have invested millions and also pushed the quality of Chosen By You since it was launched last year, Morrisons announce their o2o – own label to own brand plan to the masses next month with fresh expected to feature heavily. The new Ready meals are going into stores next week with a full roll out the week after.
Tesco need to do something in the light of relaunches and the pending launch of Morrisons, to lose further sales would be disastrous, hence the price drop being focused on own label perhaps? They can also get the margin on own label to drive price cuts and additionally, as we've seen with the Asda price guarantee site, own label products are difficult to compare with weights, country of origin and specifications all differing across the retail landscape.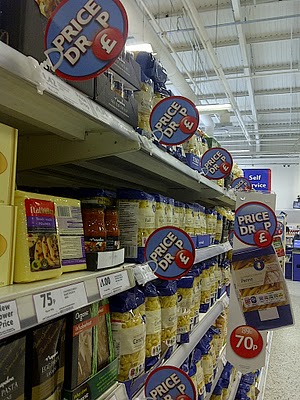 Key themes appear to be staples – Pasta in this case.
Whilst there were few branded items around in terms of price reductions, is it enough to wow the customers? Is 9p off Just Right enough to wow? Lest we forget customers are increasingly deal hungry at the minute and many of them are choosing to shop around to take advantage of the multi buys and spread their spend.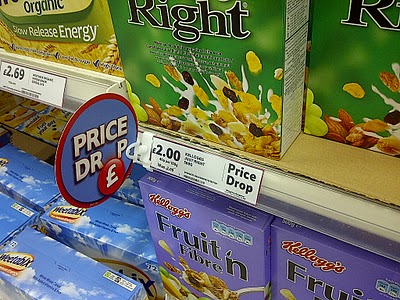 Is 9p off Just Right going far enough?
The POS was particularly bold as you would expect and some stores went further than their remit judging by twitter with one store spelling out price drop in Cadbury's Heroes tins with the main display being built as  Cadbury Roses. Whilst these are nice ideas, I always find following a set brief helps as what some stores think is fantastic actually ends up devaluing the campaign.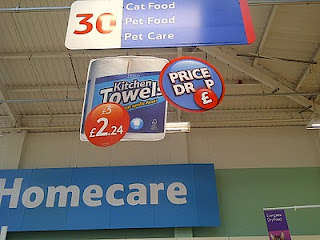 Hanging POS – graphical indications of product.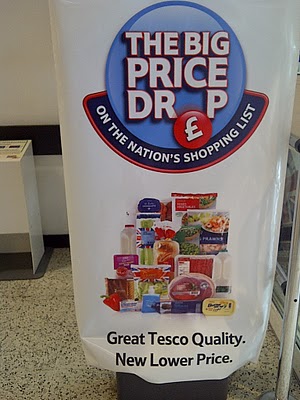 Security exit scanners also shrouded in POS
As with any campaign, there are certain things that may take things too far and possibly de-value the campaign, we've all seen the Chosen By You bin bags that certainly take away the 'feel' from the nicely chosen Chocolate Eclairs to wondering how and which lucky customers were given bin bags to trial.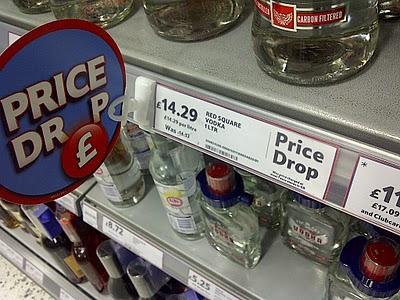 3p off Red Square Vodka – is it worth of mention?
There are instances within store that certainly make me think less would be more, less actual price cuts but more of a cut on the lines chosen. Advertising 3p off a bottle of Vodka – necessary? How about 4p off some cat food? Again, is it necessary? Nice sentiment but a bigger saving on bread may help the consumer more.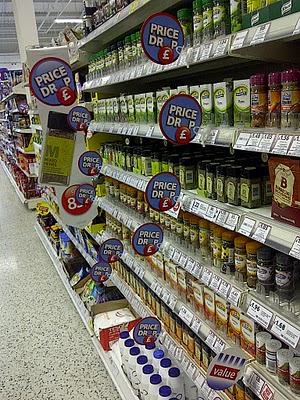 A lot of reductions across Herbs and Spices too. Too much?
Perhaps the biggest surprise was the raft of lines that were reduced across the herbs section, whilst I appreciate that people do buy dried herbs. They don't generally need them topping up weekly so to have a load of price cuts on those items seems strange, especially since the theme was to keep Britain moving around the shopping basket favourites theme.
Does the price of dried coriander really affect the hard pressed family? Whilst I appreciate they can't be half pricing everything as they'd be criticised for de-stabilising the market, they could have perhaps gone for a 'less is more' campaign and tried to make a few slightly deeper cuts across key categories. I have to question what difference 3p off a bottle of Vodka would make really.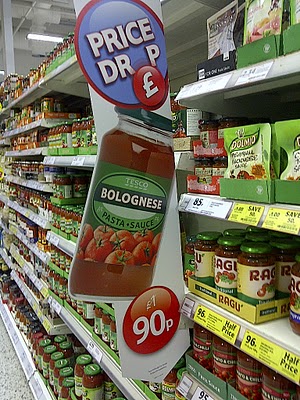 3 competing promotions for the 1 customer.
Going forward they really need concentrate on the promotional mix and ensuring it's right, with goods being on promotion more than ever, it's vital that the mix supports the price drop and doesn't end up confusing customers even more. Look at the example above – Ragu is currently on half price at 96p, so for 6p more the customer can have a trusted brand rather than the own label, higher up is the Dolmio sauce which is £1 so 10p more than own label.
Whilst the promotional package is changing shortly to (no doubt) reflect the price drop meaning space given up for the items on 'save'. They have to be careful that going forward, the products on promotion aren't just cannibalising from each other which would make forecasting demand and availability even tougher.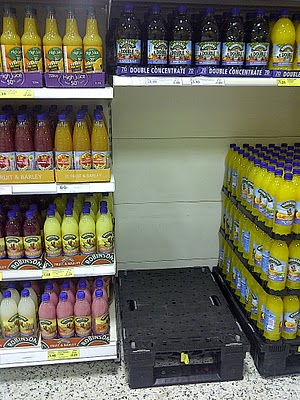 Opening day standards? Fill good apart from this.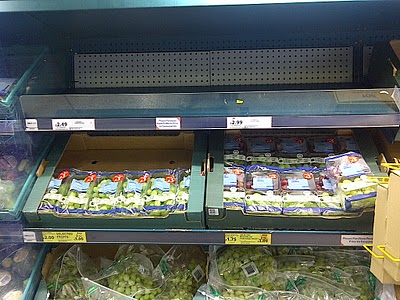 More gaps on Fresh Produce – disappointing.
Part of the excitement (certainly for me!) was the plan that all stores with their extra labour were to look like 'opening day' stores with perfect facing, near perfect availability and the like. Whilst the store I visited generally isn't in the best shape, there was an improvement but it wasn't to a standard that I'd expect considering the considerable hours that stores (allegedly) received. Of course the challenge going forward is to ensure that standards are maintained, we can all deliver a great shop in one night with extra hours but what about the weekend? The problems that stores face won't go away with one nights worth of investment.
Another interesting point is the 'clearance' that stores are currently undertaking to clear the warehouses ahead of Christmas but it did coincide with the 'new store opening' standard that Cheshunt wanted stores to adopt to drive customers in, the stories of queues and gaps later in the day were disappointing.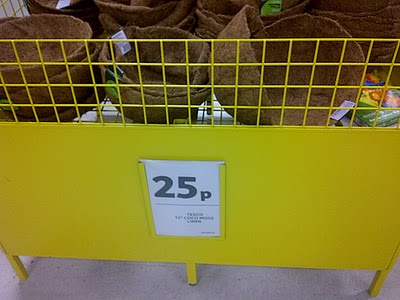 Hanging basket liner anyone?
There are stories of huge electrical clearances with laptops at £150 and other such non food items being reduced, tennis racquets and hanging basket liners were plentiful in my local store but why aren't these non food lines being cleared in a timely fashion? I know with seasonal lines there is an element of overstock anyway but a build up is never good for any store as it leads to less profitable sales as items are reduced to clear to return money to the bottom line. As Sainsbury's found out, leaving the problem means it's eventually a huge write down needed to clear the stock – Justin King had to take that action when he took the reigns in 2004.
As they move the campaign to price drop, they must be careful not to represent 'worse' value than pre-price drop, there's a tale on a forum that indicates they were putting out price labels that indicated the crossed out price was higher than the SEL being replaced, and then the price drop was higher than the SEL being removed! It can be somewhat of a phony war, especially with UK consumers loving a deal. The reduction in milk to £1.25 is a positive step but the multibuy (3 for £3) has gone – Asda are offering 2 for £2 and Morrisons and Sainsbury offering 3 for £3. Tesco only offering £1.25 a bottle isn't good value.
Overall, it's a step in the right direction with the price drop but I think post the hype and advertising, many customers on the social media outlets were relatively underwhelmed with what had happened. Going forward it's interesting to see how they'll tailor the promotional package and store standards, whether it will be a brave new EDLP dawn by Tesco or whether it's another push like the Price promise was earlier this year.