Around a week ago now, the Tesco employee forum had a somewhat cryptic message regarding a secret launch with 18 crates of POS arriving in store and the usual '10 times bigger than any launch that's ever been done before'. As of Wednesday 21st September, nothing has come out via the wires officially despite a few 'in the know' sources indicating it would be a price offensive.

Tesco launch was rumoured a while back via the forum and my twitter feed.
I speculated as much on Twitter on the 17th September with a few cynical comments about stock on shelves / happy staff being a possible announcement point! The amount of POS indicated that it would be some sort of price reduction push, usually when price cuts are done whereby it's an investment by the chain, there is advertising on each SEL indicating it's been reduced and showing that Tesco is once again your friend.
There were rumours of course regarding Clubcard and whether the hardly successful 'Clubcard 2' would be followed up with a triple points offer. For me if that was the case it would be getting very green shield stamps esque if they did something along those lines.
Another rumour was Christmas launch but I can't see how that would work, normally there's a launch and products to back it up Turkey and the fresh party food won't be available in store on Monday so why would Christmas launch?
I did hear that the Christmas decorations were going up on Monday, which would be a bit ridiculous for my money, I can't understand why the decorations are going up as early as they are anyway, you can understand merchandise as people want to stretch the cost out but garlands in September!?
If the speculation is right and it's a price announcement, will it mean a move to EDLP? It's not exactly being a rip roaring success for Asda as they continue to push EDLP whilst running promotions… It doesn't match up and with the promotional percentage of sales rising to 42%, a move to EDLP wouldn't make sense in the market. Especially since Asda are the EDLP pioneers with WalMart and they still can't quite get the mix right.
A raft of price reductions would though, consumers are being squeezed tighter than ever and whilst the retailers haven't done bad job of keeping inflation under control, rising fuel costs are a huge worry along with Christmas which is always an expensive season, people like to treat themselves at Christmas and price cuts now could hopefully see people start to stock pile goods.
If (as expected) it is a price cut campaign then it will be as interesting to see how their competitors respond, Asda in particular who used the price guarantee site so successfully when it was launched, further extending it to 10% difference between the retailers early this year. Does it resonate with customers though? They know Asda are cheap, that's why they shop there.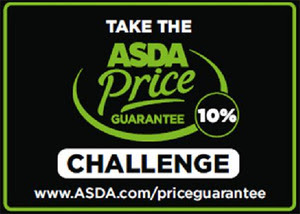 APG incorporating 10% – (c) Asda
Tesco will probably have seen that Asda suffered damaged profitability and lower 'income' from their division when WalMart announced their results a while back, Asda will have to repair margins and that may well see a few price rises in the interim as they seek to restore the levels of profitability. WalMart are never happy at the static market share and lack of progress but reduction in 'income' / profit is likely to pile the pressure on the team at Asda House.
Not easy to restore margin when the core business continues to under perform, struggling with availability and the offer being difficult to understand, certainly a couple of customers I spoke to thought a rollback was permanent and not for 12 weeks. Customers are also tend to be suspicious of price reductions as typically it reverts back to a higher price than it was pre rollback.
Will Asda be able to retain the 10% difference if Tesco do launch a price offensive? Or will Asda settle for being cheaper than Tesco across the full shop and accept giving away some money in terms of vouchers for not being 10% cheaper?
The story has progressed somewhat today with further indications that it will be a price offensive and that has hurt the quoted stocks with Sainsbury, Morrisons and Tesco(!) all losing slight value on their price. Ocado was really hurt and amidst the rumours was 10% down today, any price offensive by Tesco would affect Ocado (and Waitrose) due to their price matching campaign. Ocado in particular as they've still yet to prove the model works seamlessly in terms of a year end profit.
Who will be affected the most though? Stock answer will be everyone, it's just to varying degrees. Naturally you'd look at Asda but Wal-Mart will back them up no doubt on price so they'll respond and probably argue they they're cheaper. They could lose shoppers to Tesco but their test will be whether they can tempt them back in with varying store standards and availability.
Several have pointed to Sainsbury's being exposed, they have a much weaker product margin than their rivals with leasehold stores being a key reason. They could ill afford a price cutting campaign but do their customers retain a bit of disposable income anyway? Are they picking up customers who can't afford Waitrose and M&S?
Morrisons are possibly the most well protected as they're increasingly seeking to differentiate their offer with the strong fresh focus and promotional package attracting their shoppers into store. They do tend to price match on the quiet without a massive focus, they'd have to respond and have margins to support but EDLPKirkstall store for the direction that their business is going.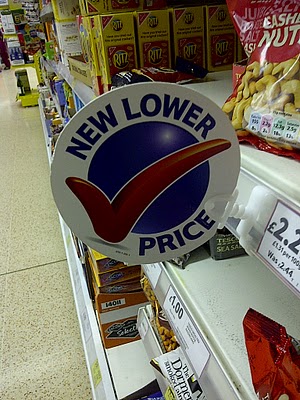 It's a lot of work to apply one of these to each price reduction!
In terms of the price offensive, it was clear once the crates of POS were revealed that it would be a price based message, when prices are reduced and money is invested in the cuts (IE hits to margin) then companies will shout about it. Tesco are no different and with the news that store managers are also having to work Sunday evening to oversee the work (and presumably standards) then it makes sense for it to be price.
It's a lot of work to carry out and if the roundels (above) are to be applied to each reduced price, plus the new price labels, hanging POS and any outside banners plus whatever else they decide to do. The need for manpower quickly adds up, the fact that Tesco are allegedly paying overtime makes it interesting as they've cut back on labour in stores for a long time, especially around tasks such as price changes, becoming ever more efficient and cutting the hours in store to drive the savings.
The one thing Tesco have to be careful of is delivering the customer a decent store, from an operational viewpoint they've been woeful in many stores recently with declining store standards, availability worsening and queues galore at the checkout, hardly surprising when they continue to reduce in store hours.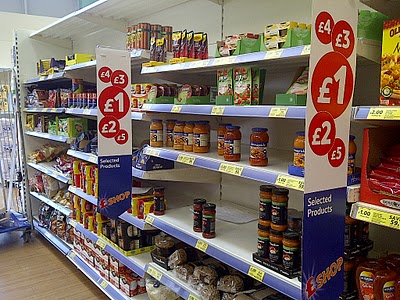 £ Shop display in store earlier today – complete with planograms indicating its a new layout?
The models they use for replenishment all work well but they don't allow for late deliveries, they don't allow for stores falling behind on routines. Quite simply once you fall behind with routines it's near impossible to recover as the store staff don't have time to catch up.
If they are to invest into price reductions and advertise the price cuts to the extent that they allegedly are with in store POS and no doubt press / TV advertising, then they need to make sure that the nuts and bolts of the stores are good.
If customers can get what they want and have a decent shopping experience, they'll be happy. Out of stock promotions, long queues and poor standards and they won't return. There's enough competition to make customers go elsewhere should they not have a good experience.
It will be fascinating to watch how the rivals respond if the rumours are true, perhaps as fascinating to see which products are cut, if it's big ticket branded items like Coca Cola, Cadbury's etc then will Tesco be picking up the slack or will suppliers be expected to share some of the short term(?) pain?
A weekly email covering the latest events in the industry; such as Tesco store operations, store visits or new promotional packages are all covered. Please visit our emailed retail insight page for further information.
Grocery Insight provide market insight on the UK sector with a focus on individual retailers such as Tesco. This insight is useful to various stakeholders and due to my store based focus. Insight can be delivered to suppliers to focus on growth opportunities, analysts and investors to assess the business performance and long term outlook and retailers themselves to assess best practice.