So, after Philip Clarke said he thought standards in stores were good, operationally. However highlighting that non-food wasn't great and had contributed to slow down, how did October 2011 progress?
Non-food was once again flagged as an issue, as were high petrol points, but the UK share of market and ROCE (return on capital employed) were highlighted as examples of the UK being an 'outstanding business'. Which it was and indeed is.
The first big fightback was the 'big price drop' which came via Richard Brasher, the UK MD who was later sacked by Clarke stating 'you need one captain of the ship'. Price drop looking back was the right move to reduce prices, however it was typically embroiled in a 'trust' scandal with research indicating prices had gone up before being 'dropped'.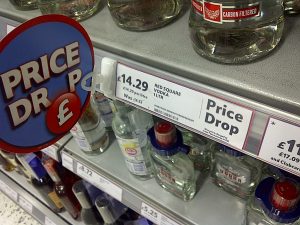 3p off a bottle of Vodka quickly undermined what was a good idea, and the 'spread' of pricing was too vast, across all angles. Focussing on the core Aldi range would have been preferable and staples are always good to highlight a price cut on. The big price drop also replaced the very successful (more so than Tesco expected) double clubcard points scheme, indeed hours were cut from store budgets (even further!) to pay for allowing 2 points per £1 spent in Tesco.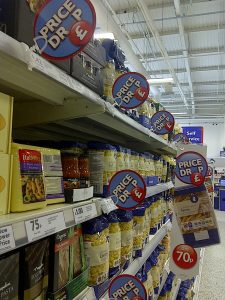 International performance continued to be average, Ireland started to become a challenge again as the discounters kept the momentum up, 7 consecutive quarters of growth in the US failed to alleviate losses, it was notable that price drop was seen as 'resetting the business and getting it back on the front foot'. Japan was exited as it was seen as a market that would never make money for Tesco.
UK LfL for the half year slipped into negative territory at -0.5%, with the trading margin 'edged down'. The big price drop only cost £200m, given that double clubcard points ended, saving £300m, the overall cost of the scheme was c. £500m.
April 2012 saw a slide indicating that underperformance was being addressed in the UK, along with the significant investment in price via the Big Price Drop. There was also a realisation that big stores weren't the answer, social media was increasingly popular versus traditional media and with industry space growing too fast, there is a shift to convenience stores.
There is then a slide that says we'll stop the big stores and do more smaller ones, more online and more personalised offers too, the next slide discusses 'get back to driving profits through sales' and 'putting more back in for customers'.
LfL were flat (0%) but weakened during H2, with the margin dropping down to 5.79%. Europe was the main challenge with a crisis tax charged in Hungary and distribution centre and non food write offs in Poland. Although profits still grew. The US saw losses decline but the venture still lost over £150m.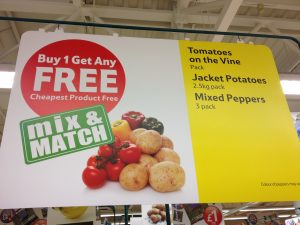 Of course, April 2012 was the announcement of the staff going into stores, over £200m was invested into coverage on fresh food, produce and checkouts, hoping to alleviate the concerns of customers that service was a huge issue. Whether these hours remain in the business now after another round of ideal schedules, natural wastage and 'heat maps' remains to be seen….
The 'wood' cladding on the refreshed stores was also highlighted, the refreshes were successful and a major improvement in many stores, untouched for years and in a poor state of repair. Long term, was wood the answer?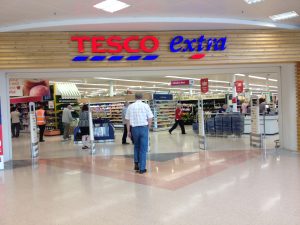 Also announced was the slowdown in space growth, no more big stores (well minimised) and the focus on online, Express and a multi channel world. Then the next slide says there's still an opportunity for Hypermarkets…. A conflicting message? The format isn't dead but the reality is, you wouldn't want to build too many.
Range and price was discussed, the coupons had started to make an entrance in the market, Tesco are heavily reliant on these spend / stretch coupons, indeed boosting a lot of LFL growth by using them in 12/13. Clubcard continues to be popular and targeting customers is a wise thing to do.
The biggest change to range was Value > Everyday value which set the bar high (if a little too high) in comparison to the other work undertaken since. Clicks and bricks too were mentioned, a push onto multi channel with mobiles, online and everything else. Phil Clarke at 54 likes to appear down with the kids, talking about IT at every opportunity.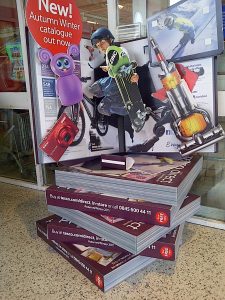 Click / Collect for Grocery is discussed excitedly by execs but the reality is that it's not that popular in the UK, this may change as convenient locations such as those within TfL tube station car parks open up, but the store click / collect points for food aren't overly popular. Tesco have developed a strong click / collect offer but their diamond in the rough is unlocking the Express estate potential.
It's easy to toss around words like 'clicks', 'multi channel' 'omni channel' etc, but the reality is Phil Clarke has aggressively expanded the online offering both in food and non-food. For that he deserves credit, the reality is that the stores / space remain an issue to resolve.
October '12 sees the announcement that 8,000 staff have been added to stores, how many are there now (Apr'14) remains to be seen, but   for a while there was a definite investment in people, helping service and the overall shopping experience.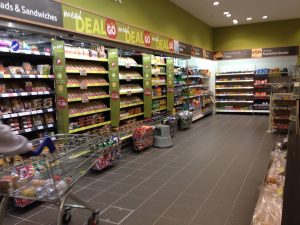 This immediately drove internal metrics around freshness, service and availability northwards to higher levels, there was talk of the new concepts such as the excellent 'food to go' department in refitted stores along with space reallocations on Produce, giving more space.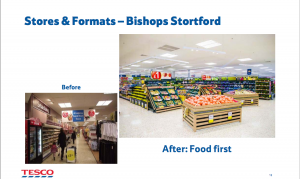 Range work was discussed too, with Everyday Value highlighted alongside work on Bakery (that has since been backed out of due to price concerns) and some solid work on ready meals too.
A launch of delivery saver which is now available at every online retailer (bar Morrisons) was successful and figures today show there are 200,000 subscribers to the scheme. Similarly the roll out of Grocery click / collect too has started, its not that successful.
Part of Phil being 'down with the kids' is talking about Blinkbox, Mobcast and other periphery businesses. These have a part to play in the wider world, especially in this digital age but they won't solve the structural issues within Tesco.
Of course, international continued to have issues, the Japanese business was exited and it was perhaps getting beyond even Tesco regarding the US venture with Fresh & Easy.
A footnote pointed to 'improving execution within the UK' – something that still hampers the UK business.
April 2013 saw things finally tip over in terms of the US, a strategic review was launched which essentially meant the writing was on the wall for the concept. Had it come in 2005/2006 then they'd have had the time to work at the format and make the numbers work.
Q4 saw a LfL improvement which perhaps underlined the investment and showed the plan was starting to work, the brand work was ongoing which highlighted the change from Tesco. Moving from a clinical relentless machine to one that is more human, the sterling work from Wieden & Kennedy on the adverts helped matters.
5.2% trading margin was seen as sustainable for the near future, it was 4.9% today (April '14), launching price promise helped underline the Tesco value aspect and indeed coming post horse meat, Tesco needed as much trust as it could get.
That's where we are now, it's been difficult to summarise the later years under Clarke, simply because the same themes around multi channel, stores, growing the UK are talked about but progress remains relatively slow. Except London of course that is growing well.
Part 3 next – this will take in the latest results and look at Clarke's performance against the metrics he has set both himself and the business.
The mood was upbeat today, is there a sense of problems being swept under the carpet? Or is there belief that Tesco aren't far away? A concern is that threats from Aldi / Lidl haven't been addressed bar talking about pricing on staples.
The next blog will discuss the 'hidden' aspects, consider the state of play; department by department and also look at the various store concepts.
One thing is for sure – the business is still phenomenally successful, making £3bn a year!
A weekly email covering the latest events in the industry; such as Tesco store operations, store visits or new promotional packages are all covered. Please visit our emailed retail insight page for further information.
Grocery Insight provide market insight on the UK sector with a focus on individual retailers such as Tesco. This insight is useful to various stakeholders and due to my store based focus. Insight can be delivered to suppliers to focus on growth opportunities, analysts and investors to assess the business performance and long term outlook and retailers themselves to assess best practice.