Today is 66 (sixty-six) days until Dave Lewis takes the helm at the UK's biggest retailer. Email subscribers have had a virtual walk around one store displaying particularly poor store standards today, and stores remain such a challenge.
Tesco it seems, continue to try  to deliver a champagne esque shopping experience on beer money. The alarm bells were well and truly ringing about their cost cutting mentality returning when Chris Bush at the investor day pointed to cost saving being 'in our DNA'.
This is probably part of the wider problem, part of why an outsider has been brought in, and part of why the UK is going backwards again.
Anyway, this site will count down those days before Lewis starts with a 'improvement point per day'. They are not ranked in order of importance, some are specific (store operations is a broad church) whereas others encompass wider parts of the business. There is much to do, so on with the show.
No 1. Twitter
Part of the Tesco 'hip and happening' culture, wading through execs with open necked shirts on, Chief Creative officers, Blinkbox and the Hudl, was the activity on Twitter. Initially, this was welcomed as retail is often a secretive industry.
Although people move from retailer to retailer and take with them rough ideas of sales figures and operational knowledge, there is still a great level of sensitivity around secrecy and internal knowledge, therefore Twitter is viewed with suspicion by store colleagues.
Tesco changed all that, first up, Phil Clarke joined and we had a few riveting tweets to keep us abreast of what was going on; we had  grammatical errors, criticisms of the Grocer 33 and an acceptance they were more expensive than Asda.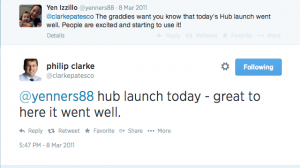 *hear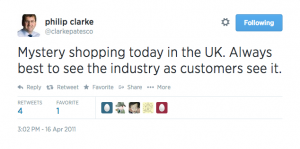 Needed more mystery shops….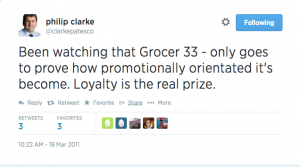 Endorsing your own strategy.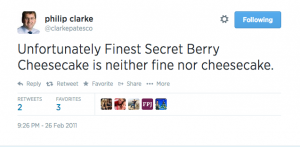 Criticism of the Finest range. Woe betide the buyer!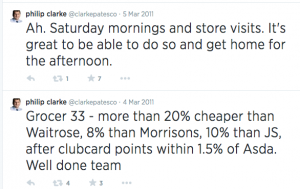 Early finish on Saturday.
Come the end of 2011 and he abruptly stopped tweeting, those in the know said he wanted to let others get on with the job in hand. Which seems ironic when he had a real reputation of micro managing, spending a day in week in store overseeing improvements to the household category for example.
The emergence of a brave new dawn for the 'to be' CEO on Twitter led to stores and colleagues adopting Twitter for themselves, within guidelines of course but it helped to see interesting imagery. Ones of stores as they developed from the shell were interesting, but it quickly became a way for 'high fliers' to showcase their wares.
Hashags such as #13/10 (reflecting excellent standards), #LEM (Love Every Mouthful) and #MMM (Making Moments Matter) are used when stores are shouting about their achievements. #funatwork is another, with stores at pains to point out that everyone is having a great time, the hashtag appears to show the world what a happy place the store is. #smileandchat
Whether the store is empty, displays are half full or indeed there are queues, this doesn't matter when there's a hula hoop contest. It's a prime example of the focus being completely off the customer.
Another great #smileandchat with a hula hoop contest! #funatwork #teambuilding #TeamPeel pic.twitter.com/L9IznYHeyK

— Tesco Bradford Peel (@TheRealPeel2168) April 25, 2014
The problem with Twitter for Tesco stores is that it's bordering on delusion for some, its a consistent stream of positive news from their store and an apparent disregard for anything that is happening within the wider business. Whilst stores aren't going to give themselves #1.3/10 for a display that look as though it's not been filled for a week, there is no balance at all.
@ProduceAcad2087 @markwinter1 @TescoWalsgrave ready for trading in the hot weather #greatavailability #bbq #abundance pic.twitter.com/DgT8cdBZLM — Steve Edwards (@steve0390) July 25, 2014
A positive comment sees dozens of RT's and favourites, with constructive criticism or areas that clearly aren't good enough ignored. It is understandable with their contracts stipulating 'appropriate behaviour' on social media, but a consistently positive stream of comments leaves people wondering what is really going on.
The bar is set too low in Tesco, average 'just doing your bit' behaviour is rewarded, twitter picture taken and values award / Thorntons overstock given out. It's all about teamwork, but with #13/10 given for a display that is simply filled to corporate standard, there isn't a push for excellence. Often the push for excellence extends into back areas, that customers don't concern themselves with. Look at these tweets (side by side) from a Tesco colleague and one from me. Focus?
@dresserman @CP_Whitf compare and contrast tweets about #tesco standards…. #whathappenedtocustomerfirst pic.twitter.com/cbusnMv4mY — Just Selling Beans (@BeansJust) July 26, 2014
A driver trekking up a steep hill in the snow with a customer's shopping is going above and beyond. Someone helping out on chilled within their shift isn't going above and beyond, it's necessary store management, allocating resource.
It isn't just the individuals trying to impress their seniors with tweets, the corporate feed also need to take a look at themselves.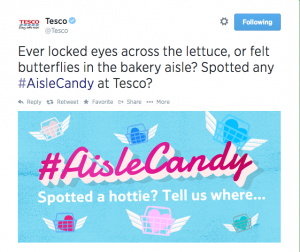 #aislecandy can only go one way, and that's the wrong way.
There is a degree of ambiguity around it, whether it means products or, more worryingly staff / customers is unclear. But it's not good, what does it mean? Doesn't tie in with any level of the branding and may make even make some customers feel uncomfortable shopping there.
So Dave, Twitter is by no means the most important aspect to resolve but social media is hugely important. The stores need to consider their output, so much is in no way connected to the customer or making the customer shopping trip easier.
More focussed output is needed, no tweeting their boss for brownie points. The corporate account also needs to consider its output, serving customers and offering information /marketing material is good. But #aislecandy ? Really?
They do a sterling job at replying to queries but need to leave the 'banter' alone.
It will also be interesting to see if Dave Lewis joins Twitter, given he's a big business to get around. He may well choose to, however internal systems such as Yammer are available too. It is difficult to tweet as a CEO as you have to stay on message whilst invariably being barraged by all and sundry.
So there's a presence, but it needs tweaking and tailoring for the audience – that's the first point of 66. Twitter. 65 to go!