A minor break from the '66' for Dave Lewis (there are 3 blogs to come!) as the Netto signage has been revealed via a planning site, and it looks like a definite change from the Netto we were used to.
Whilst the logo remains the same, the yellow is likely sharper than the one used previously and there is the sight of the familiar 'Scottie' dog denoting value (allegedly).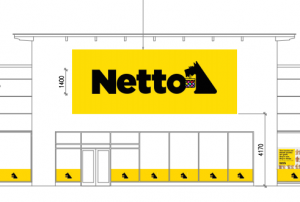 The greatest insight into the new brand / strategy from the retailer is the use of the window vinyls and the language within, so where there were graphics and promotions in the past – this time its highlighting differences, in a 'cheeky' IKEA like way.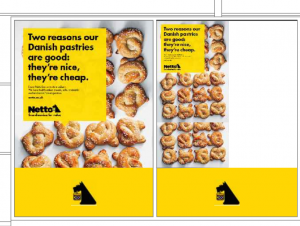 This is a major difference for Netto as the previous settlement didn't bother with Bakeries or anything of that ilk, it was a real 'no frills' supermarket. The idea that 'cheap' meant people would sacrifice standards and quality to shop there, it didn't work and 0.8% market share when they exited showed that.
The introduction of a Bakery is a step forward, Lidl have introduced them too with an efficient method centred around 'thaw & serve' products alongside part bake frozen. This works well and the keen pricing entices customers to spend more, thus pushing basket size up.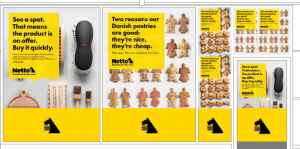 The language used in the PoS is cheeky, unlike the Netto of old with no personality, functional and low grade. The successful Aldi marketing campaign has shown us that the discounters can be cheeky, encouraging curiosity from customers. Little clues regarding specials other than them carrying a 'spot', encouraging the treasure hunter element.
Intriguingly, the PoS also gave way to a yet unfound 7th store location in Rochdale, this is intriguing as it is on the same retail park as their former store (now Asda of course).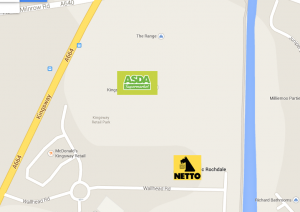 Netto have made good use of the demise of Comet, with a couple of locations now ex Comet stores on retail parks. This is the first time (so far) that Asda and Netto have gone head to head so close, Sheffield has a couple of Netto stores nearby but nothing like direct facing competition.
The signage looks good, and its clear that the Netto we will see soon will be a very different beast to the one bought by Asda.