So, a shiny new website equals a shiny new blog too, and thanks to Kurt from the US who came up with '4 feet to glory' as the new blog title. For those not familiar, 4ft is the typical size of a bay in store. The only way to accurately review a store is bay by bay after all.
It's intended to be a weekly focus on the news within the retail sector, with 4/5 bullet points per post as opposed to the epic posts we are perhaps used to….
For more periodic, detailed updates of the various happenings in the industry. Can I recommend our retail email subscription – it's sent out each week and numerous large retailers, investors and suppliers receive it. Join our retail email insight service, today.
Shameless plugs aside, we focus on Tesco today ahead of their results tomorrow. It is perhaps hard to believe that Dave Lewis has only been in charge for around 8 months given what he's had to deal with, accountancy problems, central and in store restructures, potential sale of businesses, sales of other businesses and top executives either leaving or stepping aside.
All of that is on top of a core business operating stores; performing poorly for a number of years out of line with the market in terms of SKU reductions and lower, stable pricing. Stores crippled by a lack of hours leading to poor levels of availability and customer service, with some stores getting a real focus and investment (Bishops Stortford, Chelmsford, Watford etc) and others left in the 1990's.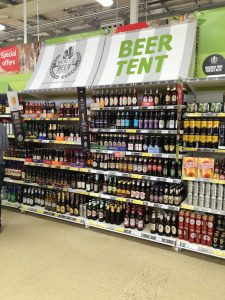 Overall – Lewis has done a good job in exceptional circumstances, all this in around 8 months. It's not been plain sailing – the recent in store restructure hasn't helped and I am unconvinced that Night Shift, Counters and Bakery are able to cope without supervisory input beyond management.
Some stores have been hard hit, losing management roles in light of falling sales and a changing business focus (towards online) but some stores do seem to be lacking in supervisory positions. Another hangover of the lack of activity before him.
Financially; it's likely to be unpleasant reading for investors on the 22nd and it's important we look at that. However the business still trades a profit in terms of its core operation, the losses arise from how property, stores and assets are valued by the company. With store sales falling, online and competitor growth – these stores are overvalued, land was purchased for supermarkets that won't be built and other newer stores will never take the money planned and now need their respective values adjusting.
One can argue that this should have been dealt with over a period of time, but either way – a substantial reset of the business is necessary. Again. The concern for investors is perhaps more about just how many resets is the business to have? We were at 3 profit warnings last year (two in two months), but those were necessary for financial reporting and then investing in hours and price, Philip Clarke did a few in his time too.
The argument is that, even after numerous losses and warnings, bar green shoots in stores they are still well off the pace. Reductions on Butter, Eggs and Bread came a full two months after Asda and this is a problem – the business isn't leading like it once did.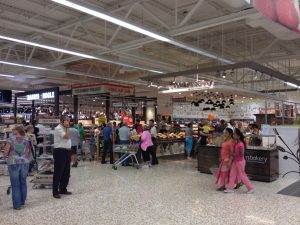 If there is to be a write down as significant as the guidance (and it must be guided for the newspapers to write it) between a loss of £3bn-£5bn then the business has to then stand on it's own two feet and progress beyond this.
So – the reasons to be cheerful? If we look at stores (which Grocery Insight does, exhaustively) then there are definite signs of improvement here. The core trip is better, hours are in place but challenges remain in terms of ranging, pricing and branding. The 'famous five' to look at are below:
1. Store Improvements – Hours and Standards
There has been a significant improvement within the standards seen in Tesco, certainly from the 'own goals' that we'd seen previously.
Stores bereft of hours were also bereft of morale, stock and in some cases – customers. However there is a notable step up in service levels, checkout operation and on shelf availability. Whilst the own goals are around, it's far harder to see these.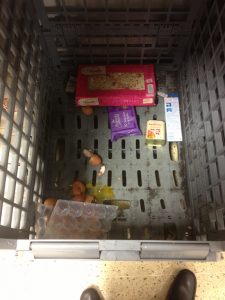 It was costly; make no mistake that the profit warning before Christmas was a direct result of the hours investment which has remained constant into the new financial year. Vitally necessary but expensive, less queues and more of a shop floor presence helps hugely.
The core store operation if we review hours and standards is much improved from when Dave Lewis took over in September of last year. Work to do, but better.
2. Improvement in the Offer – Price
There were clamours to resolve the price position at Tesco when Lewis took over, and there have been several campaigns to reduce prices across brands and own label products too. Dave Lewis said he wouldn't advertise the price cuts or embark on a large, far reaching campaign, he wanted customers to see the cuts for themselves.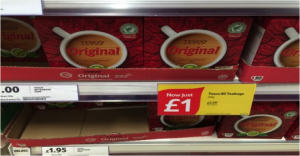 Pre Christmas saw a low key campaign on some own label lines but the headlines were saved for Christmas with their focus on Produce and the 'Festive Five' in particular. Since then, 2015 has seen a branded campaign (bringing prices in line versus Aldi on their branded assortment) alongside core staples that have also benefitted from price reductions.
Stronger prices on Bread, Eggs and Sugar have helped Tesco regain some momentum but they still a fair way off trading blows with the might of Asda and the discounters beyond that.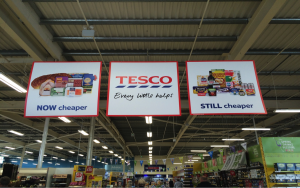 3. Ranges – The only way is down.
SKU Rationalisation is one of the common phrases in UK retail today, however it probably means as much as 'digital natives' and 'millennials' to many inside retail.
The balance needs to be struck by Tesco with their ranging, moving closer towards a leaner range with enough choice – rather than offering everything to everyone.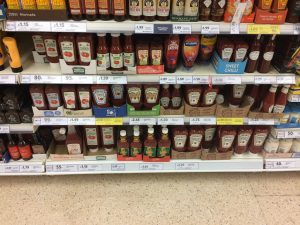 The increase in ranges was one of many unhelpful by-products of the Philip Clarke regime and it has meant that Tesco sell far too much, at high prices and this affects availability and annoys customers. Whilst Tesco can't sell 1 Tomato Sauce like Aldi would, they can move away from the 22 they do sell in a average sized store. Over 3 shelves. With every bottle barely fitting in.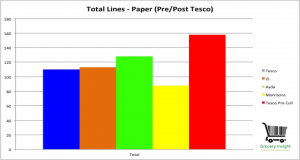 Paper was the category mentioned by Dave Lewis earlier in the year, highlighting the work that has been done here, reducing their range by 44% to enhance availability, reduce complexity and price. Selling more through less. (Red bar indicates where Tesco were pre Dave Lewis).
There remains work to do, a concern is the plan to 'go live' in September. Culling ranges creates products that require reducing in price and selling off. Another consideration is the selection process, highly paid consultants may be good at spreadsheets and data, but getting the correct range is more than just data.
4. Central Cost cutting
An unpopular opinion when considering what Dave Lewis would look to do with the business was the suggestion that a HQ may be closed to centralise the operation. Sadly, it was true and central headcount has been aggressively trimmed. I am led to believe that it took all of 6 minutes before the first voluntary redundancy request went into HR, people with long service perhaps reviewing the new world and wanting to get around to the Yacht they've always wanted to own.
Central cost cutting isn't new; Asda go through it most years as they shake things up and the other retailers are doing so now. Morrisons will cut around 1/3 of their central workforce when consultations complete and it's a reflection of the industry – Aldi and Lidl do so much more with significantly less.
Tesco had a number of people who were on the gravy train when times were good and a major criticism of the former regime was how detached the central teams became from the stores and customers they serve. Corporate jets, lots of expensive cars and drivers alongside a private Mayfair dining club membership and associated offices are perhaps evidence enough.
He has acted decisively here and bore the brunt of having to act due to a lack of movement from the previous regime around central headcount.
5. Branding
There isn't a great deal of movement on this front, but the brand itself has been battered by the Horse Meat scandal and then the accountancy issues that will likely run and run in terms of the criminal processes and shareholder lawsuits.
There is an issue with trust for the business, any pricing scandal or investigation typically includes Tesco and they are the biggest so are there to be shot at. However it is also true that they have been guilty of confusing promotions alongside everyone else.
The main concern for me when walking stores is the lack of messaging, there isn't anything really being said by Tesco to their customers. Morrisons cover Freshness, Sainsbury's heritage and quality with no one in any doubt what Asda excel at within the value arena.
What do Tesco do well? There isn't any messaging trying to differentiate and they are onto their 3rd value PoS template within the last 3 years seeming to settle on yellow / red once again. My critique has upset some within the Tesco marketing team in the past – but it's only opinion.
Lewis acted decisively here, sacking W&K and bringing in BBH to develop a new creative / advertising package to entice customers through the doors. Work is also needed within the store look / feel, lots of advertising is mis-matched and harking back to days of old or campaigns of old.
Love Every Mouthful was only around for 3 months before ending, you can still find PoS around stores even now. Bishops Stortford featured some of the new 'one voice' work around 2 years ago and this worked really well, however it never rolled out into all stores. Produce benefitted but other categories were neglected.
These five factors are all important and interlink nicely. However they are by no means the only five, there remains a lot to do, but on the basics of shopkeeping – a definite improvement and that's how they need to be judged going forward, whether investors are happy with that remains to be seen.
A weekly email covering the latest events in the industry; such as Tesco store operations, store visits or new promotional packages are all covered. Please visit our emailed retail insight page for further information.
Grocery Insight provide market insight on the UK sector with a focus on individual retailers such as Tesco. This insight is useful to various stakeholders and due to my store based focus. Insight can be delivered to suppliers to focus on growth opportunities, analysts and investors to assess the business performance and long term outlook and retailers themselves to assess best practice.