Quite the exclusive for the Grocery Insight blog and wider email subscribers; with the first look at the new Aldi store format for the UK. The discounter plans to open 70 or so of these refits this year as they seek to step their offer on further, beyond the 'discount' model and in to the realms of modern supermarket.
Of course, Aldi have grown hugely since the recession and continue to put down space at a rapid rate. This helps their Kantar sales figures thus more customers are able to visit an Aldi nearby, but refit / format work is relatively uncommon for Aldi.
Aldi do extend stores based on their sales and space where applicable; but to actually remodel a store (this is a new build) for a new 'world' isn't what Aldi do in the UK.
Lidl have done though, with their new Rushden store opening late 2014 showing their new format 'Lidl of the future' with charcoal perimeter walls, better lighting, more chilled space, better bakery and a feeling of premium discount almost. Skegness followed (demolition and rebuild) but further stores have had the refit applied without extensive building work.
Therefore Aldi have to act; not only are the major retailers sharpening up but Lidl have a better format, more in line with both the UK but also the expectations and boundaries of discount food retail in the UK. It's certainly sharper from Aldi; with a real focus on marketing messages, the tone of voice (to customers) around the store and the permanent signage is also strong.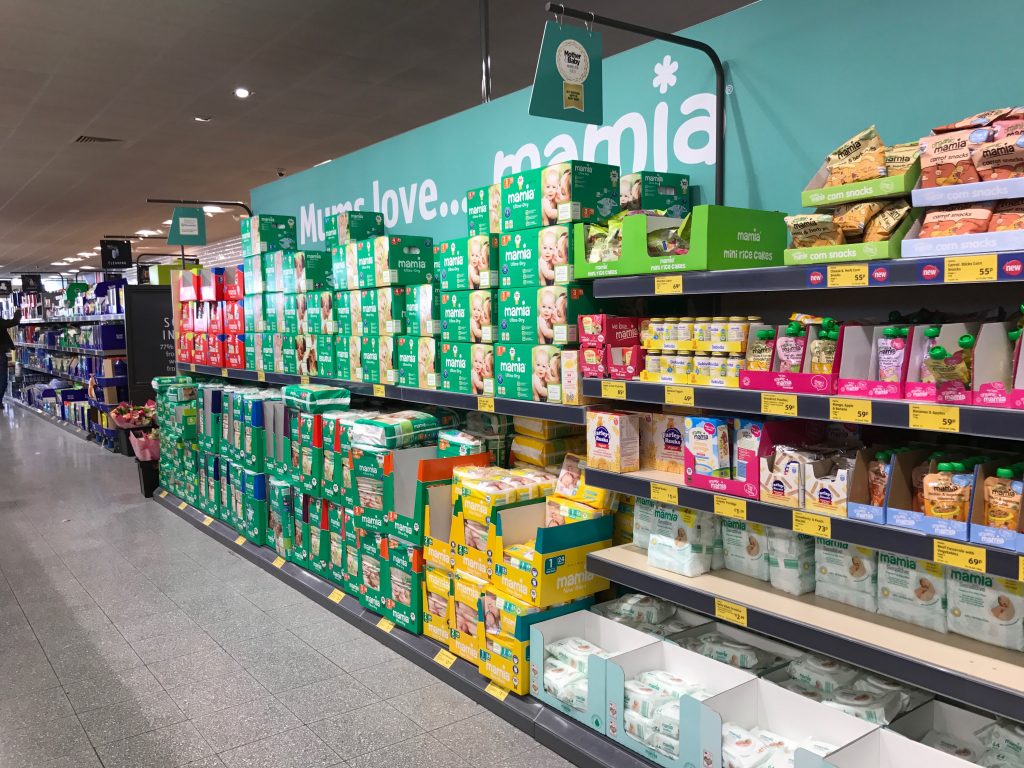 There is a nod towards the fresh range expanding with an aisle for fresh foods, ready meals and meat alongside a sharper Wines fixture. Big focus on Baby and Health/Beauty as expected, the Mamia display for Nappies and baby was notable also.
For more insight, imagery and a full breakdown of this new store format (alongside receiving a free PDF report) and what this means for the UK market – join the Grocery Insight newsletter service.  
You can pay via PayPal (no account needed) or simply Contact us to request an invoice.