Note: I'd recommend reading alongside the Morrisons Interim presentation which can be found on the Morrisons corporate site – Dalton's presentation starts from page 26.
After another good set of results from Morrisons and more positive spin from the analysts and commentators about Dalton Philips' energy and his plans for the future saw the industry positive about Morrisons future plans.
They've not actually moved the goalposts that much in terms of non food and online, both areas have seen acquisitions or part shares in companies but it's hardly a launch of the two brands next week, typical Morrisons taking their time to 'plough their own furrow' as Ken put it when buying Safeway. Not particularly caring too much about what everyone else did and doing things their way.
The 10% stake of Fresh Direct may raise questions about what that gets Morrisons, apart from Dalton a seat on the board (and a few nice shopping trips!) but whilst it doesn't include the technology, it does allow a team from Bradford to spend 6 months there tracking, mapping and taking all the information they can about how things operate.
This is a wise move, you aren't going to get that level of research for 10% of Ocado for example and even if you could, Dalton was hardly complimentary about the profitability of UK food online or indeed the fresh food offer which is patchy, admittedly an open fish / meat / cheese counter doesn't translate well to the web but I think Fresh Direct's success shows it can be done and I doubt there's a better matched business to Morrisons in today's market.
Importantly (and it was laboured by Dalton) that the profitability is there, but the UK retailers haven't particularly shown profit in the years they've been trading so it's now a 6 month research package and then process mapping in Bradford to assess how it will all fit together.
The store of the future is something that else that will be fitted together from learnings from the labs. The Shrewsbury lab has just gone live under 'liberate' whereby categories and lines were reviewed and 11% of floor space was gained and 1200 SKU's removed – categories such as Air Fresheners ended up losing lines and space, this is a wise move as it's generally regarded as slow moving product that ends up in warehouses tying up cashflow. Not sure whether the suppliers will be as keen!
It will be interesting to see whether there is a noticeable effect on sales with liberate, stripping out lines to gain 11% of shop floor space indicates that some categories will lose lines and it's whether the 'less is more' philosophy can work, also lest we forget this is before investigative work over encroaching into warehouse space is carried out. There are likely to be some relatively nervy suppliers in the next few months as this may well be rolled out across the estate.
Dalton's strapline appeared to be 'unbeaten on Fresh' and it certainly appears to continue with a slide showing that Morrisons retain a healthy lead over the competition in the brand tracker for preparing food in store and reinforcing the market street ethos of every single store (and factories / packhouses beyond that).
There were a couple of nice videos both of Kirkstall and then Shrewsbury (liberate) but unfortunately they are not available to unpaid bloggers or indeed internet surfers!
Bit more background for Kirkstall (especially since this blog was the first to break a story about it) the refit has cost £1.3m so far and clearly this level of spending couldn't be sustained for every single store, even if they wanted to. There are some changes that require significant time and money, such as the new equipment and movements of fridges, counters and the like.
There are the subtle changes that cost little, such as removing glass frontage from the cheese counter or opening the Cake Shop up a little so that customers can see even more goings on. Those are the tasks going forward that will be looked at and refined in order to provide lab input into all stores (signage is a probable one that will be rolled out) and those that will be store specific. Of course there is a future store that will have productivity, fresh and liberate all rolled into one to see how it fits together, a true acid test.
Kirkstall sales figures are also displayed with some fantastic sales increases – Produce +8%, Butchery +9%, Deli +31% and the self contained flower shop +43% with the slide stating that initial feedback and results are positive and encouraging. The backdrop to this of course is that the 9% increase on Produce may not cover the increase in wastage (rumoured on this blog to be £6k per week) so it's clear that a refining of the range and display is needed to continue the acceleration.
I've touched on the liberate process above but it's worth pointing out that another slide focusses on the fact that Dalton thinks they can drive an extra 750k sq. ft (in addition to openings and extensions, before any potential expansions into back areas) just by doing a liberate, by pulling out the poor performing products and cutting back on categories will benefit every store.
National to nationwide continues apace with 7m households without easy access 'setting the scene' in September, 400k sq.ft was opened against target for 10/11 but the target is 1.5m sq ft over 3 years…
Or is it? The next slide shows that the target is to be extended to 2.5m sq ft over the next 3 years, Dalton spoke a lot about Terry Hartwell (Planning director) and his sterling work assembling a team and hunting sites for development, the southern property office at Heathrow looks a wise move, interesting that cannibalisation from other Morrisons stores isn't an issue as they are so poorly represented in certain areas of the south.
As discussed before, there are plans afoot to transform the Morrisons 'own label' to become a 'brand' in it's own right, currently trading at £6bn a year – Morrisons want to improve that and close the gap on Sainsbury's who probably have the strongest own label for food. There was also talk of distinctive products being created and the slide had an example of Fish Fingers from the major multiples and Birds Eye, all very asthetically similar.
In terms of the gap, we are then told the gap has gone from 55% Brand / 45% OL to nearer 50/50 with own brand being grown by 5.1%, with 3,000 new lines being launched and 14 awards being won. A full relaunch is expected by Q4 and a thorough review is being caried out – rollout likely to be somewhere like Kirkstall for my money initially. Just would fit well with the fresh lab since Grocery is 'dated'.
Moving to the 'service' culture that exists within Morrisons, Sir Ken's heritage thinking has always being service with no frills, just good honest customer service. Marc Bolland introduced M(eet) O(ffer) T(hank) which was the benchmark for customer service on the shop floor, it's evolved to H(elp) O(ffer) T(hank) much to the chargrain of staff who question the cost of reprinting material and retraining for the sake of one letter. Interestingly Morrisons will employ a mystery shopping agency to measure this aspect and indeed queues at checkouts and possibly other aspects of the visit – availability, presentation, car park cleanliness etc.
Also a mention that Morrions is the largest apprenticeship provider in the UK with 48000 colleagues trained to NVQ standards, another bonus of having such a strong service culture – again much needed with the high level of counters in store. There has been a HOT service lab somewhere, possibly York where the other back office tasks are being refined and trialled.
Ambitious targets set for mystery shopper with 95% compliance across the estate along with targets to drive down labour turnover by 2% and absenteeism by 0.5%pts, both achievable targets and for my money they feed directly into Dalton's ambitions to get the company into the top100 employers in the UK.
Next set of slides are related to efficiency and the 'self help' I mention in the title, I'll do a proper blog on it's own about how to drive £100m of savings in store – bringing in examples from how the other retailers deliver one touch replenishment and the like.
Slide 47 (keep up!) relates to the 28 initatives that have been on trial in the York store, 5 have proved a success and will be rolled out across the estate. The removal of the pre priced banana cage and hanging bananas is one of the changes to all stores by July 2011. Dalton drew attention to the fact that it's £1m saved a year if an efficiency idea saves an hour in each store.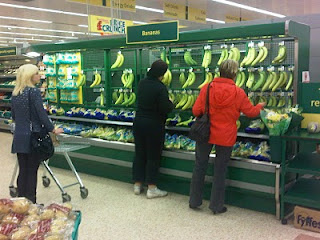 The banana cage – replaced by hammocks from July '11.
Within this will be the abolition of the heritage filling of shelves to ensure it's 'full' and gaps will be present for quicker more accurate ordering and tidying of the shelves will also be reduced with the focus on fill rather than tidy. The slide also points to automated stock taking which could mean the end for order pads, Mark Gunter was a big advocate of them but with him moving on, the scene could be set for that to be more automated and stores to retain control of promotional stock only (like Sainsbury's).
The other slide points to greater usage of shelf ready packaging which is something that Tesco have chased down for years, Asda in the last two years have really been aggressive in converting own label to shelf ready packaging and really driving that change and Sainsbury's have improved margin and reduced costs by using shelf ready almost exclusively across the store, of course the planograms have to be relaid for cases to fit onto the shelves and abandoning the practice of filling gaps will help keep layouts as per profile and thus drive through the replenishment in shelf ready packaging.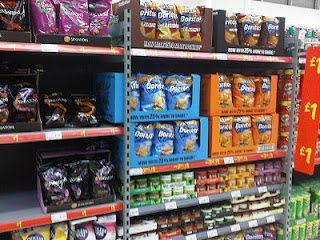 Doritos have relaunched their shelf ready case in recent weeks.
There are several other trials underway – I pointed to one in the second Kirkstall blogwhere adjusted Oven Fresh opening hours mean the counter isn't open for store opening rather opening slightly later to allow for better staff coverage throughout the day.
The ongoing system work continues apace with the 'biggest project of it's kind anywhere' being rolled out across the estate, Dalton said there was no 'big red button' for launch rather it being done bit by bit across the factories and stores, cash office and EPOS have been relaunched and most stores now have the Pegasus system live in store. There is more to be done and with the level of investment, you cannot see Morrisons continuing with manual order pads, they may move to completing the order on a handset like they do for Fresh Foods?
£100m+ of savings are expected to be realised when the system goes live across Produce and eliminates a lot of the manual laborious procedures for picking, packing and the like, certainly voice picking is being rolled out across the depot estate with very good results.
The new system allows for a dual pricing model (it won't go to Safeway's 15 different pricing structures!) but it will allow more than one, so where the key selling point was that you'd pay the same price in every Morrisons store no matter where it was… It was a system limitation rather than choice, with the new system there is scope for another price file, a good marker for convenience pricing models.
Indirect procurement was also identified in September by Dalton and cost is being stripped out of that by a task force looking at everything bought by the business (not for resale) so consumables, plastic bags, packaging, store building materials etc. Indeed the store build cost and time are being tasked with a reduction so no one is safe from the axe as it were, all these will improve the bottom line further but rather allow further investment and acquisition as the balance sheet remains strong with £28m saved in 2010 / 2011 and the target being £60m 11/12 and £100m 12/13.
Depots have long since been a bit lopsided with the midlands depots serving the most southern stores after Sir Ken shut Aylesford down and sold the land off, Bridgwater is opening Q4 and 70 stores will be served from there which completes the depot network with further sites not being ruled out.
Operational taken care of there – Dalton also outlined future growth opportunities, confirming that the convenience stores will be called 'M Local' and there was a bit of discussion to be had on the fresh offer but their feedback was that the fresh offer hadn't been cracked by any of the current operators and availability was also a challenge to be beaten. 3 trial sites identified in Leeds, Liverpool, Manchester.
Expecting more acquisitions in food manufacturing as the growth continues apace of the main estate, it stands to reason that more capacity will be needed. Positive news that Simply Fresh in Manchester (noodles, stir fry etc) and the Farmers Boy plant in Deeside both have doubled volume and reduced conversion costs by 12 and 20% respectively which is a great sign.
Particularly positive interim review and plenty for Morrisons to go at – I'll look in detail at the store operational side of things in the next blog as Dalton looks to save the £100m by 2013/2014.