Morrisons have never done things conventionally, even going back to Sir Ken's reign and his steadfast refusal to appoint the quota of non execs to satisfy the city, preferring to point to the '3 checkout girls' he could get for the price of 1 non exec.
Their tradition of doing things their way and retaining an element of surprise continued with the shock bid for Safeway, appointment of then unknown Marc Bolland, the unknown Dalton Philips followed him and recently, the buyout of Kiddicare which left analysts and commentators stunned.
Once the detail of the deal had been delved into though, it was lauded as a great move considering the technology that Kiddicare has developed, their reputation and their DC (and adjoining land) in Peterborough.
Today, the announcement of the year end interims has seen a rise in turnover, profits and the news of another purchase – 10% of the New York online food retailer 'Fresh Direct'.
There has been significant pressure for Dalton to succumb to the analysts and City's pressure and move into convenience (also 3 sites announced today, first to open July '11) and online (again despite there being a question mark over profitability).
It appears that he's taken the time since his first presentation last year to assess the various operating models that exist for online and they've decided to go down the route of taking a stake in an existing business which in this case is Fresh Direct in New York.
They make money which is vital (considering no one knows who makes what in the online market) and it so close to Morrisons in terms of the operating model. Whilst it does sell Groceries it is mainly focussed around the fresh food arena and more their 'market street' offering customised cuts of fish, meat and cheese. They also offer a large selection of fruit & vegetables which will tie directly in with the vertical integration that Morrisons have and are able to drive margin on.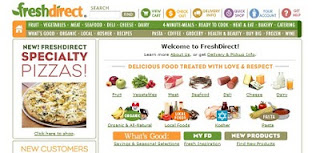 The screenshot above shows their focus on Fresh Food and indeed if you have a look at their tour, it outlines what they do to offer customised meat / fish and it's remarkably similar to what Morrisons already do in store – Marc Bolland did once say he didnt feel you could sell fish online. I'd level that the Fresh Direct guys are going to be the ones to outline how it can be done.
The big question is – who will be the lucky guys / girls to swap Bradford for New York?