Premiumisation has never been a word associated with Morrisons hammered in the press when the working class hulk of Morrisons took away Middle England's love in Safeway, they did away with the pizza counters, the lines that people bought (not enough people bought them though!) and brought in (to hoots of derision) a Pie Counter! Pies! Honestly, how northern thought the typical shopper of a Safeway.
We are now into our 6th year since the Safeway fascia disappeared from our high street forever and despite initial teething troubles caused by a great number of matters, the 'indigestible meal' has been digested, the company has recovered sales and 'optimised', consolidated and rebranded under Marc Bolland and now it's foraying into diversification and growth with Dalton Philips.
Since the takeover of Safeway in 2003, there has been significant chatter from the analysts who follow the food retail market stating Morrisons should concentrate on the other avenues open to them, with some even stating that Bolland should have considered a sale / sale+leaseback on the freeholds that the manufacturing arm owns. Thankfully Bolland decided to embrace this part of the business and make it the centre of the marketing campaign rather than a short term cash cow.
As Sir Ken said when commencing bidding for Safeway 'I have never been one for the short term.' This does explain his relative disdain for the city as well.
Not content with that we have the yearly merry go round of various analysts stating 'online needs to be looked into' (despite the fact we've never really understood what profit (if any) is to be made and Ocado have struggled for 10 years without yet making a profit.) 'Why are there no moves into convenience?' (Morrisons sold the small Safeway stores and have never had an operating model to support small stores) 'There is little non food in stores' (difficult to source space with Market Street) and the latest which is 'premiumisation' and the lack of opportunities to 'trade up'.
I do agree with the point regarding own label but I think it can become a bit of a sound bite without people actually understanding what is meant. Does it mean that Morrisons sells no posh food? Or is it that people go to Sainsbury's for their extra treat of a meal in, if so, why?
I'll try and explain why I feel the premium line struggles against the other heavyweights (Tesco's Finest*, JS Taste the Difference (TTD) and Asda 'Extra Special') from a store layout point of view and in general terms also. I've chosen Sainsbury's for the examples as I believe they extract the greatest value from Taste the Difference and also their layouts.
The issue of premium lines and Morrisons own label is something that's acknowledged by Dalton Philips and the hiring of Richard Hodgson and subsequent hiring of Belinda Youngs and Nick Collard provides a 'magic triangle' of own label heavyweights who have experience at developing brands. Youngs especially who previous to joining Morrisons was own label director at Sobeys (Canada) and former experience at Sainsbury's like Nick Collard and Hodgson has come from Waitrose who arguably have the strongest private label offer anyway and the brilliant 'Duchy Originals' as well.
The store managers conference two weeks ago had 12 points for 11/12 financial year and on the of the points is 020 – Own Label to Own Brand – Morrisons operate a split of sales that is 45% own label vs. 55% brand – the reverse is true at the other multiples so a relaunch looks likely. However something has gone awry since 2003, it was reported then that Morrisons did achieve the 55% vs. 45% split that is achieved by their competitors so perhaps this is the one legacy from the Safeway takeover, that everything has evolved bar the own label offer?
Another rumour (posted in a recent blog) was that 'the best' was to get an overhaul and a new name as the thinking needs to be that all Morrisons food should be 'the best'. This could be more of a marketing trick than any specific changes but there are naturally range and store execution issues that need looking at along with product.
The Best range has its history within Safeway and was part of the ranges that were harmonised into the Morrisons range post takeover, prior to that Morrisons didn't have a top tier range instead choosing to focus on their value credentials with 'Bettabuy' economy range, 'Farmers Boy' tertiary fresh label and the limited Morrisons standard own label.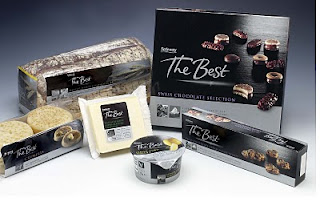 This is 'The Best' range from Safeway's annual report in 2002 – it's remarkable in that it's identical nearly ten years on bar the colour scheme changing from black to dark green. Sainsbury's TTD has had two relaunches (font and colour) in that time and Asda's Extra Special was relaunched last year and is showing good lfl growth. Naturally Morrisons have tweaked the ranging but the brand remains broadly the same.
Of course the fact the branding remains broadly the same isn't always a bad thing as tradition is important within retail, especially Morrisons but you'd have expected a branding change more so in the light of their rivals changing their top tier branding.
Morrisons are particularly strong on Fresh Food and 'the best' features prominently so for the purposes of this example I've chosen to focus on Fresh Food.
Within a store environment you can typically find 'The Best' having its own dedicated bay on Market Street as Morrisons tend to have ready meals living near Fresh Pasta and Pizza near the Delicatessen.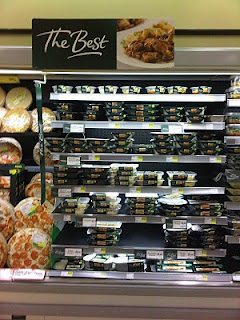 In order to drive impulse purchases, Sainsbury operate clear blocking within ready meals divided by regionality, for example Italian ready meals will be all within one or two bays to allow for ease of replenishment and to make it easier for the shopper, within the bay is a clear tiering between good (Basics) better (JS own label) and best (taste the difference). You can see the Purple TTD range on the top shelf in the picture below.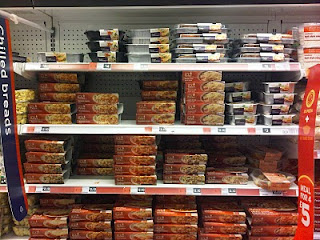 To drive the impulse premium purchase, Taste the Difference is located at the customers eye level on the top shelf, customers will generally look at eye level and above so this works well to drive sales of premium product and subsequent profit. If you were shopping the fixture then within Sainsbury you would be attracted towards the premium lines whereas in Morrisons you've already gone past them in your hunt for the Italian ready meals.
The blocking is also clear and defined, it also flows logically, and that has a lot to do with Sainsbury's annual category reviews to weed out poor sellers to make way for new lines. Sainsbury's leave gaps for out of stocks and stick rigidly to planograms whereas Morrisons are far more laissez-faire with layouts and happily fill gaps with any stock they have, thus when the full range is available it becomes illogical due to the layout not being reverted to planogram.
There is the argument that customers knowing that they want a treat for their evening meal will stop at 'the best' bay before proceeding to other bays and it has its own bay for differentiation, however the impulse purchasing 'sleep shopper' will shop around without much idea so having the premium lines within their 'regional' bay makes far more sense to drive sales.
It remains to be seen what Morrisons will do with regard to 'the best' and trading in general but Dalton's operational review on March 10th will set the tone for the year ahead and of particular interest is the roll out (or not) of the learning's from the Labs.
[convertkit form=2294317]