I've split this up into 3 parts as there is so much to cover but I am planning to write a report on the initial findings on the labs, productivity and the other aspects to bring it all together with some extra photographs I've taken.
If anyone from any walk of life is interested in the report (price TBC) then please send me an email.
Anyway – on with part 2.
There appears to be a shift in counter service with a the salad bar in the foyer becoming a serviced counter (although these people seem to be assisting customers rather than direct service), the olive bar staying as a non serviced counter (replacing the salad bar), Deli / Cheesemongers remaining the same and the Oven Fresh becoming self serve but requiring more staff to continue to produce chickens within the 2 hour guarantee.
Moving next door to the Cake Shop, this store was trialling the luxury Cream Cakes service counter that can also be found in Enterprise 5 but it's been removed in favour of a self serve counter offering new lines and core lines like Trifles and Muffins.
The great work done by Marc Bolland by increasing visibility of the open food areas has been continued here with the Cake Shop, Butchery and Bakery all benefiting from the lowered displays to add 'theatre'.
Each department has a strong colour scheme and black+white pictures.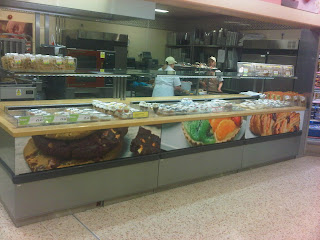 Lowered service counter with core + new lines displayed.
Counter even lower to allow further visibility into the preparation areas.
 
Bakery
Moving along to the Bakery (Cake Shops other products are sold on a rectangular table (similar to the Bakery) in continuing with the 'wooden' rustic theme.
The Bakery retains the brown colour scheme and again is another department with lower display units to allow visibility into the open food preparation area. Most notable about the Bakery trials are that there is a permanent sampler on hand offering the latest bread that they are doing – Wholewheat Sourdough bread was the offering when I was there. They offer a lot of other lines and also take advantage of the weights and measures act being abolished by selling 300g and 600g loaves as 'not so ordinary'.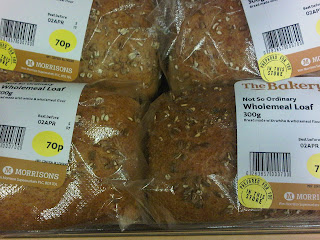 Offering a point of difference with a variety of lines without massive NPD investment.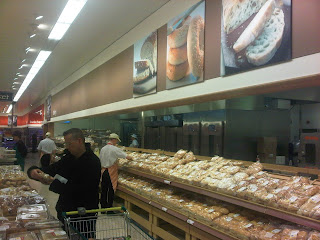 Products are sold from the island as well as the Bakery. Note the lowered units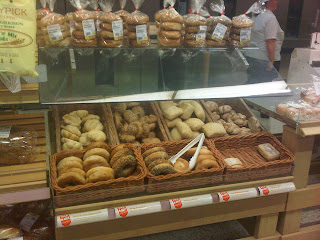 Loose items with pre packed bagels on top – rustic market table theme again.
Butchery
To complete the Market Street review, it's moving onward to the Butchery counter, this is another counter to benefit from a removal of 'barriers' to allow a greater view inside the butchery itself. The counter has also been extended which is a departure in itself as the competition have looked to cut back on service counters in recent years, interesting that Morrisons' trial concept features more counter space rather than less.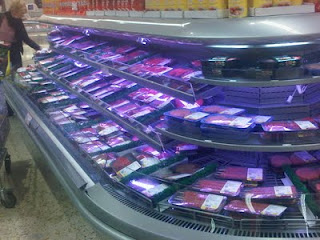 Some pre-pack meats now live within an island near the Butchery.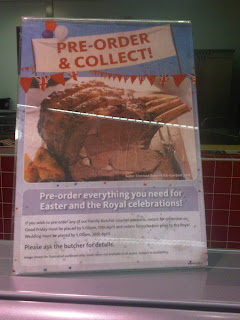 Benefits of vertical integration mean large orders can be met easily and drive good margins.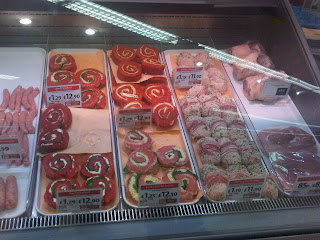 There are also new lines for the counter such as Beef Pinwheels and Chicken Florentine.
The lines above are a simple method to drive margins as the cost to prepare won't be significant if done in store, if there is a particularly good seller then the store can react to demand and produce more to drive sales.
Another line that has had good success is the instore produced sausage, the mix is sent in and the store produces the sausages themselves, the Butcher was telling me that sales have been very good, they sell out most days after producing a full counter of them.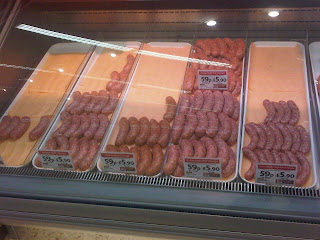 Another point of difference is the fresh sausages and another key margin driver for Morrisons.
The Butchery counter is another to lose the 'effect' of it being a butchers counter with a more standardised layout which is probably designed for a time and motion purpose – it takes 35 minutes to lay the counter out across the estate rather than varying times due to each butcher doing the counter slightly differently.
Products are displayed as per the meat so Pork is first, then Beef then Organic has it's own section which again is designed to drive margins and premiumisation as Organic is a continuing area for growth – certainly within Morrisons where it's never really been done properly.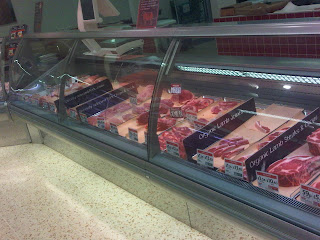 Standard counter layout with clear blocking by Meat type.
Interestingly, the end of the counter displays 'marble grain fed steaks' which are a predominantly North American line according to the chef (who we saw earlier in the tour). He told me he'd work Michelin restaurants and the like and these steaks were as good as anything he'd tried.
He thinks they will really sell well and are price £1 more per kg than standard steaks.To further highlight the point of difference, the Cows are grain fed on a farm in Scotland exclusively for Morrisons.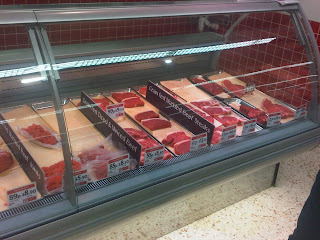 Cows are fed grain exclusively for Morrisons on a farm in Scotland.
There continues to be a real focus on 'freshness' across the store, Morrisons generally have the best lead times within the industry for Fresh Meat taking advantage of their vertical integration capability. They've always been renowned for Fresh food but along with the 2 hour Chicken guarantee, there is also a pledge that any meat 'cut today is gone today' meaning no carryover.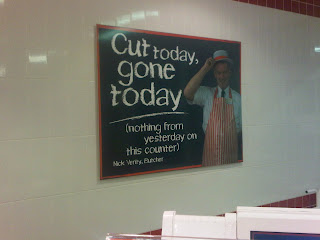 The 'freshness' is stepped up a gear with the 1 day meat counter pledge.
It may well be that the meat from the counter is then wrapped up for sale on day 2, it's still fresher than competitors meat that may have been packed, sat in a depot for a day before onward shipment to store after 3 days or so.
Dalton was speaking to the Telegraph at Christmas in a store discussing freshness and what a short lead time everything had, he said that his plans for Morrisons would broadly be 'sticking to the knitting' by focussing on Fresh and 'killing everyone in Fresh Food, thrash them'.
With Morrisons already being strong in Fresh food due to vertical integration and instore preparation, the step up in Kirkstall by only keeping Chickens on sale for 2 hours and cutting counter meat each day shows a definite level of intent to keep pushing the Fresh angle.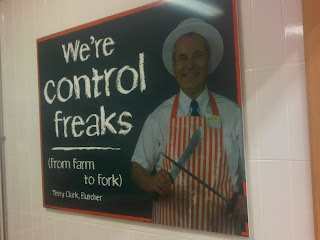 Focus on freshness but also traceability all the way down the chain.
 Beers, Wine and Spirits
This the final 'fulcrum' of the store refresh which sees the Beers, Wines and Spirits section be overhauled and moved. It's moved a few times since the inception of the lab and now rests in its final place just off Market Street near the Cake Shop.
What strikes you when you enter the Beers, Wines and Spirits section is the wooden 'Wine Shop' style display units with islands in the middle for beer and spirits. The section itself is split over two aisles with bulk box beers on the 2nd aisle with more display space given up at the bottom to aid productivity.
A noticeable difference with the new BWS department is that there are premium vintage bottles of wine retailing between £25 and £40 each, displayed in a glass case. Again this is driving premiumisation, margin and profitability and enticing in shoppers with disposable income who would otherwise go to Waitrose for their premium food – of course former Waitrose man Richard Hodgson is now Commercial Director for Morrisons, a lot of the new thinking is partly from him as well as Dalton.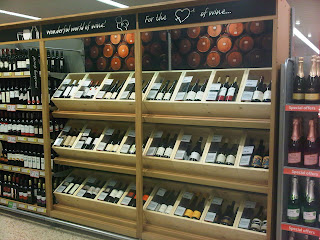 New vintage lines on sale to drive premiumisation.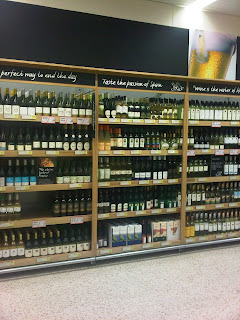 Bottled wine is sold by region.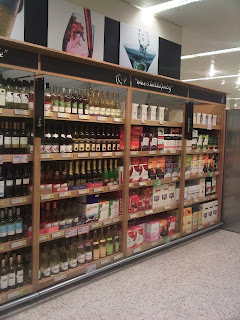 With Boxed Wine at the end of the aisle.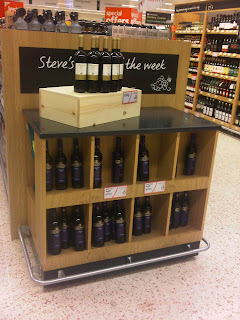 The aisle features 'Steve's choice' which is the BWS manager's choice wine of the week.
It's clear that after the marketing campaign last month to get people more aware of which wine is suitable for which food that this a key theme within the trial. Certainly with Fish & Meat forming a key part of the Market Street and wider Morrisons strategy, all products will provide good margin and driving complimentary purchases will drive profitability.
It's another attempt at a point of difference for Morrisons as this 'food hall' theme effectively turns into a one stop shop for an evening meal or dinner party as the traditional location of the Wine department is near the tills primarily for security reasons whereas this store has wine near the top of Market Street.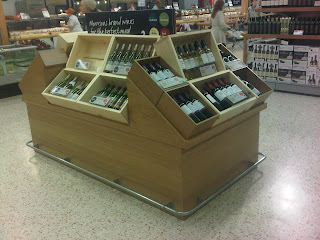 Much more of a focus on which wine is suitable with which food to educate buyers.
Each wine is colour coded for the specific meal suitability (note the gap also!)

 
 
Driving complimentary purchases is what retail is all about and any attempt to get a customer to spend more whilst in store is a sure fire way to success. Indeed to drive Justin King's sales growth when he set about recovering Sainsbury to former glory, staff were told if they could drive one extra purchase from a customer (legally, not just adding things to people's baskets!) then this would set them on their way to achieving sales growth.
Morrisons have historically benchmarked sales per sq.ft as their key indicator of success and boasting a high sales per sq.ft thanks (in no large part) to the numerous shippers, dumpbins, stacks and the like within their stores. What's interesting about Kirkstall is that there are no stacks or shippers to be found in the store, all dumpbins have been removed to allow for a clearer shopping experience (and to simplify inventory control as well no doubt).  This is the same situation at the Liberate lab in Shrewsbury where space has been created by cutting back on categories such as air fresheners for concessions that will drive footfall.
Some of the initial Liberate learning must have been put into action at Kirkstall due to the sheer amount of changes and the addition of the Peacocks clothing area that was doing a great trade when I visited. It only ranges the children clothes and is split across the power aisle which does at first glance make it look a little odd but it's a valuable footfall driver.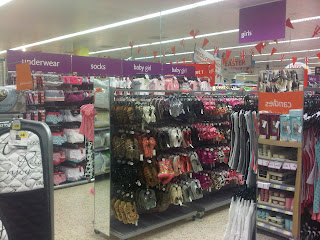 First 'half' of the Peacocks concession.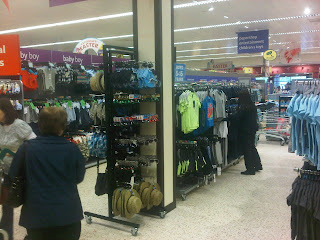 Second 'half' of Peacocks concession.
That's it for part 2! Next time out there's a bit of York productivity lab visit and the remaining bits and pieces of Kirkstall plus a quick look at the work that's been carried out on the own label relaunch that seems to progressing well with Fresh Pies and Quiche seeing an overhaul before a gradual roll out to the rest of Fresh.