So, the store concept at Kirkstall is finished now barring minor tweaks thus endeth the steady stream of blog posts for Kirkstall. However part 3 is here – not that much to cover now but there's a few interesting points for review before moving on.
I've also done a bit in York for the productivity lab but like any good productivity trial it wasn't too clear what was being done, a positive sign for Dalton that the labour saving devices implemented were not having any noticeable impact on the trade or operation of the store.
For the third part of this blog it's a bit of a sideways look at the own label revamp that's quietly going ahead, it's started with Fresh Food and there's some decent contrast pictures (old v new) on the packaging. These changes are nationwide so each store will now be seeing the new packaging across Fresh Foods.
So – for part 3 at Kirkstall.
Marc Bolland's famous signage overhaul cost c. £800k per store for external and internal signage refreshes and with 60% of the estate coming on stream post Safeway that meant that signage was updated after only 2-3 years of service. With Kirkstall seemingly trialling a new green / white signage scheme rather than the traditional yellow – it could be that the signage is changed again in stores.
It's worth pointing out that even within this store there has been an element of evolution as initially the signage was heritage yellow like the other stores before changing to a blue / white combination – however it resembles Tesco a bit too much.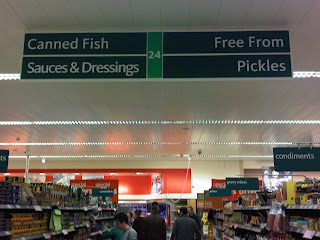 Evolution in store, a month before the overhead signage was blue + green.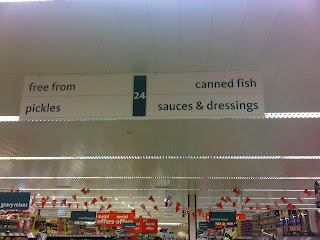 Before changing to a more neutral green and white colour scheme.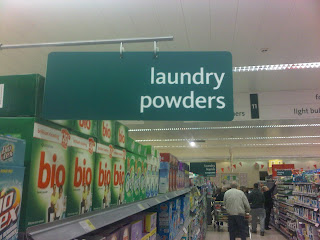 New 'bus stop' signage features green as the prominent colour.
A 'cube' sign for Frozen meat which is located near Fresh meat.
There are also a number of interesting labour saving ideas which haven't yet been launched in main estate stores and weren't present within York but one can assume these are likely to form part of the thinking for the stores of the future. Predominantly Beers are sold via pallets and stacks to take advantage of their bulkiness and usual x for y offers meaning more floor space is needed to keep pace with demand.
Health and Beauty is worth a mention (just to shoehorn in almost) as it's had a slight rebalance in space, the display units lowered and there are no rounded units on angles or circular display units, it's simply like every other aisle but the middle aisle of H&B has a small walkway between the two longer aisles.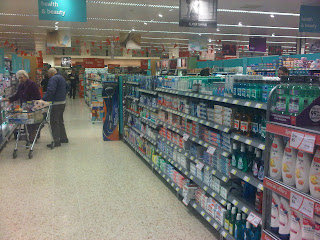 Between the two shippers is the split for movement – note the H&B Aqua colour scheme.
The difference with Kirkstall is that it doesn't have that 'clutter' that other stores tend to have in the way of stacks, pallets – there are no dumpbins on the aisles for example either (bar a couple of shippers on H&B) plus a 'clean' shopfloor means it's easier for inventory control when counting stock and indeed if Morrisons move to an EPOS based inventory model like the other big 3 (Sainsbury's, Asda, Tesco) then it will be far easier to count and order product if there's one product, one location (barring secondary space which is dictated by head office anyway after sales to the highest bidder!)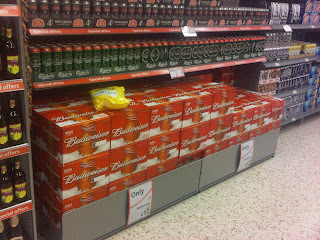 Bulk beers do benefit from extra space with an extended display unit.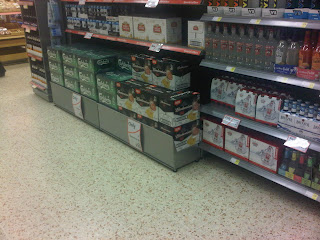 Beer offers appear to be displayed within Safeway style 'hotspots' rather than stacks.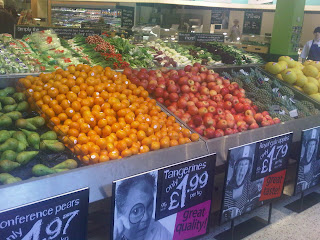 Produce feature new POS for offers and market style display of fruit.
As you enter the store you are confronted by the new Produce displays and a recent addition are the stacks displaying offers in a 'market stall' style with large clear POS displaying the special offers.
To the left of the store entrance is a self contained flower shop which offers flowers, plants, hanging baskets and bedding plants above and beyond what is available from the standard Morrisons store.
The flower shop at Kirkstall tends to focus on higher end value bouquets alongside the standard core offer, the picture below shows an example of what is on offer towards the 'higher end'. The shop also offers a wrapping and tagging service for £2 extra.
There is obviously extra labour involved in the Kirkstall trial across Market Street, especially on Produce but also the Flower shop requires more coverage due to it being a self contained shop so there are always staff around to serve, wrap and replenish.
As part of the trial the Flower Shop has to manually order their flowers into store so keeping wastage under control can be a challenge however i'm informed that Mothers Day floral sales were fantastic as customers really embraced the new range.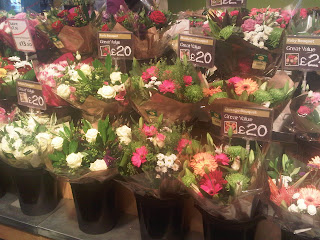 Much more of a focus on premium floral offer from Morrisons.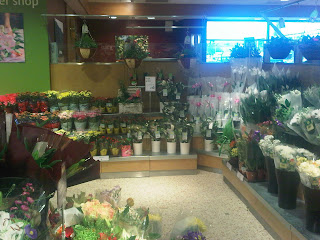 There is the usual floral offer along with a variety of premium ranges.
Perhaps the most interesting addition was the relatively late trial of the garden centre that sort of popped up outside, it's at the north side of the car park nearest the store and isn't particularly using any space (looks like it was a former colleague smoking area?)
The Garden centre (I'm told) has internally exceeded all expectations for sales and there is now a rush on to source enough stock to support another 24 to be rolled out across the country – complementing this one in Kirkstall and the second centre in Milton Keynes.
With the site laid out in the grounds of the store there is scope for using space for bulk lines, the electrical garden equipment for example is located on the seasonal aisle in store. The extended range for the more professional gardener lives within the garden centre outside, all Morrisons stores have been selling the bedding plants on 2 for £3 but Kirkstall have used their extended space to further grow their sales due to the increased floorspace they have.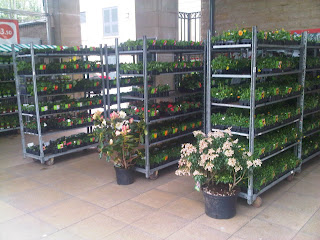 Store is able to use the floorspace to drive sales of popular bedding plants.
The store is able to sell further complementary gardening products such as plant pots and compost above and beyond what a traditional store can offer and it's a valuable footfall driver as well as selling relatively high margin products – again the store needs to increase labour spend as one person is required 'in the shed' to allow customers to pay for their items.
This allows customers to use the garden centre as a destination shop, getting their garden items from there rather than having to enter the store and face queues for example.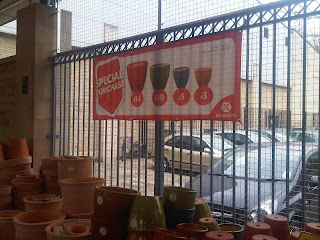 Different sized plant pots available in the garden centre.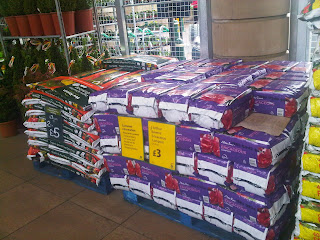 Bulk pallets for compost and x for y offers drive volume.
The remodelled store simply doesn't have space to sell compost in any volume without palletising so the garden centre works well in this respect. It also allows for extra space for lines that don't particularly sell in any great volume (such as plant pots) but the fuller product range allows for further purchases, especially with the current price of petrol forcing shoppers to make less trips.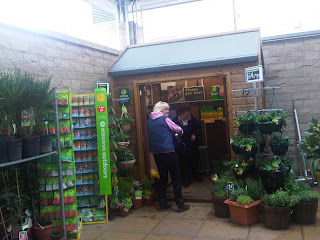 The 'shed' which also doubles as a checkout…
Back to the store and the 'fresh to go' offer is revamped as discussed, it's had continual revisions as sales and wastage figures are continually reviewed to allow for changes, here's a sample of the premium salad offering that they now sell. Bear in mind that Morrisons are strong on Fresh and traditionally have a good salad bar offering but the new range emphasises Dalton's pledge to 'thrash everyone in fresh foods'.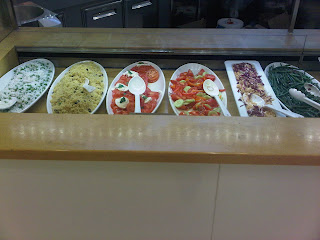 An example of the new premium salad bar lines that are available.
Along with more salad style lines than before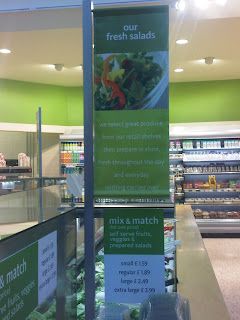 The 'promise' for no carryover is everywhere – a real fresh experience is the focus.
The 'fresh 2 go' area is designed for people just popping in for a quick bite to eat and changes throughout the day. In a morning there are croissants and pastries available that have been baked in store for commuters who may be after a pastry and a coffee before starting work.
There are other lines available such as hot soup, ready made sandwiches that can be heated up or toasted and as you can see in the last photograph – the full core range of sandwiches are still available for purchase.
Kirkstall is a real departure for traditional Morrisons and the air of being in something special hits you as you enter the store, I'd recommend a visit as pictures only tell half the story, staff are willing to talk and local morale in store is particularly high as colleagues are really proud that their store was chosen for the trial.
Apparently Dalton is in there so often that it's no longer a big thing when he arrives, I'm told he's very polite and always speaks to the staff, gets their opinion on things and is a real good face of Morrisons.
Moving on to a bit of Productivity lab at York, as I mentioned there really wasn't too much to see (certainly in contrast with Kirkstall) but then I didn't expect there to be many visual changes due to the nature of a productivity trial.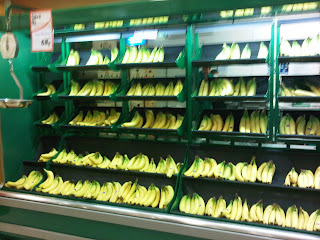 Major change is the banana cage to be replaced by hammocks – saving a lot of labour.
As we know from the interims in March, Dalton has already announced plans as per the trial at York to abandon the practice of pricing up individual bananas and hanging them in the cage. The move to banana hammocks will save huge amounts of cost and also make it far easier to replenish. The hammocks are to be rolled out to stores in May along with 4 other productivity initatives designed to save on labour cost.
The two initatives that are being seen in action already are the abandonment of facing up and gap filling although it's not fully launched until May. Many stores have started leaving gaps since early April as they try get ahead of the game, the positives outweigh the negatives and any gaps in a morning are thoroughly investigated so availability doesn't suffer.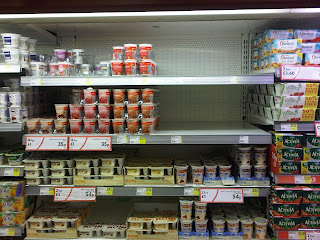 Some stores have started leaving gaps (early April) to allow for this change.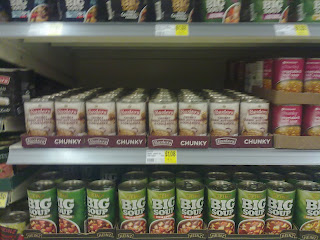 Stores also bedding down to allow for accurate ordering – a true picture of stock.
The plan with bedding down is to show the 'true picture' of stock which allows the order writer to easily see which stock is urgently needed and focussing on this 20% of OOS and low key orders means the 80% should essentially drive itself with typical sales rates.
The process also highlights stores that may be struggling with availability and filling gaps to hide this fact, Dalton speaks a lot about delivering 'the full range' which must be something he has seen on store visits. Stores not offering the full range by filling gaps, with Morrisons operating a manual ordering system there aren't many excuses for not stocking the range (unless they are part of the single case ordering system).
It's worth pointing out that the majority of stores I've visited are now leaving gaps and have been since early April, there are stores that still are yet to implement the change ahead of it becoming corporate policy in early May.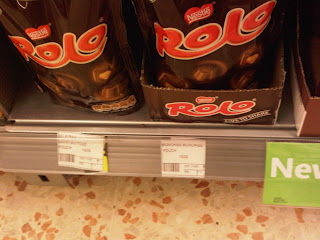 Gap filling will be a thing of the past in Morrisons from May.
York were pioneers of the abandonment of gap filling and facing up and as the trial appears to have been succesful without impacting upon sales, certainly Dalton isn't enamoured with gap filling as he noted at Loblaw that there was a 'lack of productivity' for both facing up and gap filling.
In terms of the competition, Sainsbury's do leave gaps and have aggressively done so since Justin King took the reigns in 2004 whereas Asda and Tesco do the same but use the tickets to inform customers that an item is out of stock, Morrisons it appears are going to go down the same route with some ungainly sized out of stock barkers on advertising sized paper.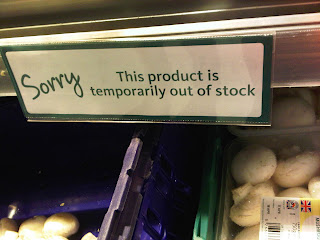 Large barkers advertising that items are out of stock – gap left.
I'd anticipate there to be a change in stationery to replace these out of stock labels that are not really workable or practical – however it could be a clever message to staff that these ungainly sized signs shouldn't be required in great numbers anyway!
Another interesting change noted was that the garlic breads were being replenished in their plastic delivery cases which doesn't look fantastic but from a time point of view must reduce time to replenish significantly, I know Sainsbury's did sort of consider this as a move when they were launching their 'lean' system in 2006 to save on labour.
The only issue is that cases within the distribution system generally aren't plentiful and I recall at least 3 amnesties at Sainsbury's where stores were encouraged to return all crates and pallets due to shortages, if this was rolled out to all stores then it would tie up more cases than now.
In terms of presentation and indeed probably sales it doesn't make too much difference but the time saved will be critical for this particular trial.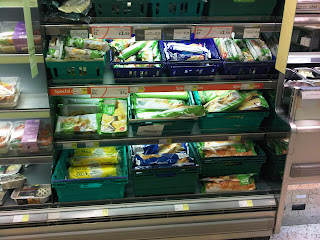 Garlic bread(no Peter Kay please) in plastic delivery cases.
Another observation on the way around was the removal of shelves in Paper and that Morrisons had leaned on their supplier for a shelf ready solution for Kitchen Towels. The result is an Aldi style cardboard pallet, true one touch replenishment and there is little reason why this couldn't be scaled up to the larger stores. The smaller ones may struggle as the nature of the store may wel mean that the pallet couldn't fit into the bays or that there isn't enough shelf space for the 'value' line.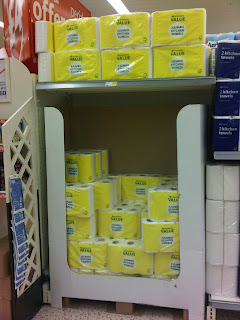 Pre filled pallets for 'one touch replenishment – perfected by Tesco.
A few comments have indicated that the ideas in the labs aren't really suitable for the smaller store and ex Safeway stores and I'd agree. I dont think there was ever a plan to roll the lot out everywhere, its not possible and the costs would be too great.
There are elements that all stores can take, the new signage for example is a nice way to improve the store image without breaking the bank or being restricted by space. The Produce trial isn't only restricted by space but also by demographic. Enterprise 5 is the biggest store in the estate and easily has the space but it's demographic is vastly different to that of Kirkstall, so there are a great number of factors to consider.
Overall the labs do herald a great new way of thinking for stores and indeed looking back to Daltons scope blog a while ago, they do show the amount of change that can be implemented before technology gets involved with the Oracle upgrade.
The York trial as mentioned wasn't too noteworthy but it was interesting in that it also provided a nice comparison between old packaging and new packaging which is quickly and quietly being rolled out across the estate starting with Fresh Food and in particular the pies and snacking area which benefiting from vertical integration means that any changes are instant due to the level of control.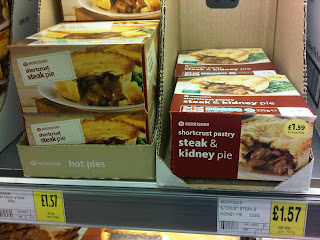 New packaging vs old packaging.
Note that the shelf ready packaging also carries the brand name and the product group which is presumably easier when the delivery is being sorted out, much of it still arrives on pallet boards and can be mixed up so this allow a bit of pre sorting.
The packaging looks far more 'Waitrose' stylee and that of a good food producer rather than the functional packaging of before. It's been soft launched throughout fresh and the Cheesecakes and desserts are being changed over now.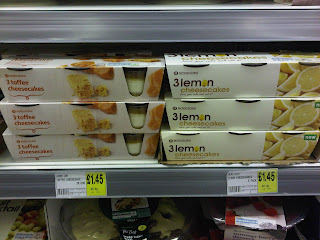 New vs old on Cheesecake too
Note that the new packaging has a 'window' to allow the customer to see the product. The packaging looks far more premium and underpins the drive to change from Morrisons own label to own brand.
I am also led to believe that further to the rumour of 'the best' being ditched, it turns out that a final decision has not yet been taken overall but Fresh is likely to not use 'the best' at all once category reviews are finalised.
The feeling is that all fresh food is the best so having a line as 'The Best' is confusing for the consumer. Certainly within Fresh Bakery it's changed over – previously Scones were sold with 'the best' cardboard base and label. These are now called 'Bakers Best' and retain Morrisons livery rather than specific 'the best' livery.
It could well be the plan that any tiering of Fresh lines simply go good (value), better (Morrisons label), best (Premium) as there appears to have been a rollout of 'Premium' Chilled Juice lines.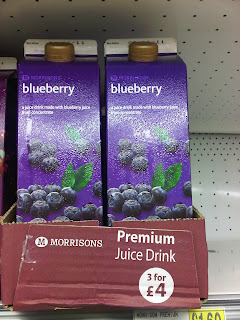 A 'premium' juice drink is another new addition to the range – a trial?
Here's the last bit that I neglected to put in too.
There's been a lot of investigation into how to display and replenish bread effectively, Warburton reduced their actual plastic trays to allow Tesco to fit them onto their wheel in display racks along with the other bakeries, Thornbury Morrisons were trialling the bread racks as well a year or so back but that has been removed for the shelves with the cases of bread underneath.
York have the pre filled wheel in racks but one cannot be sure whether it's succesful or not as it's not one of the initatives to be rolled out to store. York also (like Kirkstall) have the new style ladder racks with two shelves and a dump bin below for bulk stock.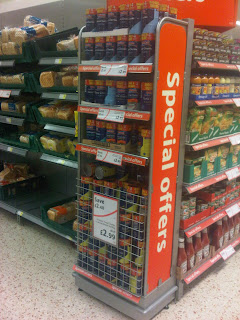 Bespoke shelving for bread to the left and the featured ladder rack with bulk.
So that concludes the Kirkstall, York, own label review – hope you've enjoyed it!
As ever, any questions – my email is at the top of the page. Next time out it's Convenience and a look at what's going on, some pictures of the Manchester site and some more information on Ilkley.