Kantar revealed their latest market share findings on 24th May and barely a ripple has been made regarding their findings, Tesco commence their UK turnaround under Phil Clarke with a 0.1% increase to 30.7%, Sainsbury remain flat at 16.3%, chugging along trying to improve profitability whilst not driving margin continues to plague the chains future growth prospects, although shareholders would happily take the current chugging performance rather than the mess that Justin King (CBE!) inherited in 2004.
Morrisons continued their stellar performance under Dalton Philips with a 0.1% rise to 11.9%, with the labs and their learnings to be rolled out, convenience trial, possible online trials, non food online launch, internal space races and plenty of new stores and extensions. With the latest acquisition to the Morrisons family with Flower World, the prospects look very bright indeed for Morrisons.
Does it look as bright for the 2nd largest supermarket Asda? It would appear not, Kantar shows them sliding from 17.5% to 17.2%, their growth being due to the Netto addition to the family. Stripping that out, the core chain slid 0.2% from 16.8% to 16.6% which is a terrible result considering most of the retailers posted growth in this period and the market did particularly well on the back of the royal wedding and bank holidays.
Why are things not improving at Asda? Market share is not an exact science and Terry Leahy in particular was critical of how it was calculated (mainly because it showed Tesco as having too big a share) but it's generally a good gauge of how the market is performing and who in the market is getting it right.
Despite the excellent relaunch of 'chosen by you' and the expanding Extra Special range, the much lauded quality push and the investment that goes with it, a 0.2% decrease in share is disappointing and points to deeper issues than product quality and product quality alone.
The Grocer reported this week that Asda are planning a 20% rollback across categories to boost flagging sales, whilst it won't (surely!) mean every line in the store, it's likely to see a lot of the big brands reduced by 20% as the retailer tries to kick start flagging sales performance in it's main estate stores by enticing customers into stores.
Speaking of main estate, the 'supermarket' brand conversions are kicking off as the Netto family is welcomed and incorporated into the Asda world, the Grocer also indicates that suppliers are being charged 'location fees' for their products to be stocked within the smaller supermarket. Obviously with the reduced store size there are fewer lines within the store so Asda are trying to leverage that with suppliers, the only issue being what if suppliers don't pay it?
Do Asda risk their fledgling format by not stocking what customers may want as the supplier won't pay the fees? Whilst I understand there is pressure within the business to recoup what appears to be a hefty £880m paid out for the chain, it can't be at the expense of customers or indeed range assortment. Can Asda confidently say they have trading goodwill to charge this fee?
It's not like the Tesco Express or Sainsbury's Local chain who have trading goodwill and a proven record of running smaller format stores, Asda don't have this so to ask suppliers for fees up front seems somewhat surprising, that's not to say that they are being asked to back a brand new chain as it's inevitable that Asda will get the supermarket format to work as thats' where their growth will come from in the future.
Asda ran into trouble with the CEO Andy Clarke having a 'Ratner' moment when he admitted their food wasn't good enough, to industry watchers and indeed the general populace, he was merely confirming what everyone already knew, the own label offering and indeed general 'food' offering was nowhere near adequate.
It had been good enough once and you can't blame it all on WalMart and 'low cost', it's more to do with the adage of 'standing still in retail means you go backwards' – as Sainsbury's reinvented themselves and with Waitrose managed to sew up the quality and middle ground offer, Tesco continued their progress unbashed, and Morrisons turned around their performance post Safeway and crucially, Marc Bolland started marketing their core strength of Fresh Food, it was somewhat inevitable that Asda needed to do something.
But Asda didn't, despite Justin King arriving in 2004, Morrisons acquiring Safeway around that time, integrating fully by 2005 as Marc Bolland arrived at 2007, Asda did nothing of note with their own label offering and continued with their rollback campaign with no real 'game changers', it hasn't been a continual slide though, in 2009 Asda were out performing the market with strong sales growth.
Fast forward to 2010 and you've got Andy Clarke coming in to inherit a chain very much sliding backwards, not just with market share but with universal appeal, although not overtaken by Sainsbury's they've came mightily close to regaining no.2 in the industry lost to Asda in 2004.
Andy Clarke had a turbulent start to his reign with Darren Blackhurst leaving (he of the ill fated 'less is more' strategy) which served to annoy customers who are loyal to certain brands. Whilst Utterly Butterly and 'I can't believe it's not butter' are similar brands, that's not to say that customers don't have their favourites and to delist one in favour of the other just alienates shoppers who can go elsewhere and buy the lines they want.
There is little doubt that the rollback campaign resonates with consumers but it's not particularly exciting, especially with the market becoming increasingly promotionally driven. Asda did have to give a little on promotions (whilst abandoning BOGOF's) as they tried to compete but that strategy appears to have moved to the EDLP model favoured by WalMart.Not only did he lose his Chief Merchandising officer but he was without a Chief Operating officer as Clarke left that role to assume the CEO position. That position was filled by Simon King, the former Tesco and Safeway executive which Charles Redfield coming across the pond from WalMart to fill the CMO position.
As I've posted on here and on Twitter in the past, if sales are slowing and market share is subsequently falling then it can usually be traced back to availability, there wasn't fundamentally that much wrong with Sainsbury's general 'offer' bar elements of uncompetitive pricing when Justin King took the reigns in 2004 but every single issue was underpinned by poor availability in store. Simply if the stock isn't there, customers can't buy it, sales don't go through the till and market share is lost.
With slowing sales and subsequent market share loss at Asda despite investment in own label and the premium offer, the acquisition of Netto and their 'game changer' – the Asda price guarantee which has seen it expanded to incorporate a 10% difference promise, now extended to non food. With it crucially managing to see off the Tesco price guarantee offer who revised their offer to 'just' the difference after they found people were exploiting the deals, blame the people but there must have been lower prices at Asda to exploit against?
The backdrop to the extensive investment is a sure sign that WalMart are committed to the UK market and want to see signs of growth, they are not used to being number 2 and despite their control of Asda heading into its 12th year, they are still to see any tangible march onto Tesco territory who remain unsurpassed.
You would expect to see some elements of 'green shoots' of recovery but there hasn't been much to get excited about despite the excellent relaunch of the own label and products being lauded as some of the best in their respective markets. Why? The price guarantee is a great tool and proves Asda to be the cheapest supermarket but we know they are!
According to one source, the problem lies within the general offer – 'they are trying to go back to deep cuts to compete, but WalMart USA are set against it' I'm told, with Charles Redfield running things on the merchandising side, he believes in the EDLP strategy where prices are rolled back across the store rather than deep cut offers for a set amount of time. Ironically the secondary strategy is what would enable them to compete more with the likes of Morrisons and indeed Tesco who are becoming more aggressive with their offer.
Asda know that their shoppers prefer half price deals alongside the rollback activity which enable them to enjoy branded products and if they don't get that, then they'll go elsewhere. The issue with that is flies in the face of the EDLP strategy preferred by WalMart.
However I still think availability remains to be a core issue for Asda.
You only have to look at the online site to realise that there can be simple issues that leave the customer disappointed with availability.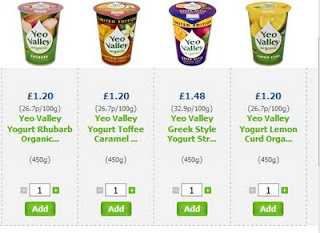 Screengrab from asda.com – 13th June 2011.
Above is a screengrab from the asda.com site, there are two Yeo Valley varieties there that are now discontinued, Toffee Caramel and the one next to it, Greek Style Strawberry was also a limited edition. Yeo change these every so often to take into account seasonal fruit and the like.

Toffee Caramel…. Oh wait it's got Mango in it? (c) asda.com 13/6/11
If you are a customer shopping online, you add a Toffee Caramel yoghurt to your basket but the Ltd Edition Mango and Passionfruit arrives, despite the website advertising a different product (there is the correct picture though) you'd receive the wrong product. I'm not sure how this would manifest itself on the delivery sheet (as a substitution or that you'd ordered Ltd Edition) but it would give the customer the impression of poor availability as they've not received what they ordered.
Online shopping is unforgiving and online customers have a perception that they should dodge queues and the madness of shopping but they should also avoid any out of stocks, date and quality issues which of course isn't possible but disruption should be minimised to ensure customer satisfaction.
That online issue above is possibly an isolated case, I've not gone through the entire catalogue of products! But the issue remains that a customer would be disappointed with their choice of yoghurt not arriving due to what is a simple website issue and it can lead to a loss of trust for repeat orders.
In store availability is where Asda look to struggle, despite their stock reduction process working really well in the back of house operation with warehouses now carrying far less stock than was the case three years ago, in store availability and 'gaps' seem to be on the rise. Does it point to busier stores or a supply chain not keeping pace with demand?
Asda have responded with a systems upgrade for their availability walk meaning each out of stock item now has a label printed off showing information regarding system stock, status of item in depots, date scanned and the user who scanned it out of stock, it replaces the generic green out of stock label.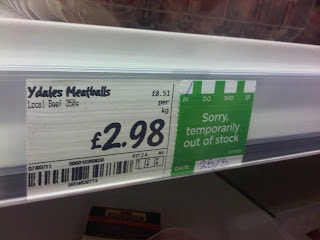 The old green OOS tag.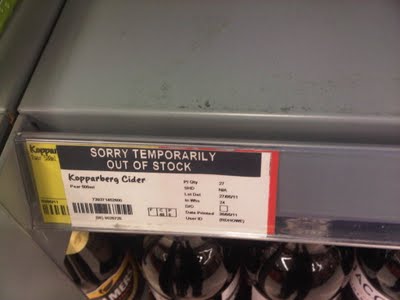 New style out of stock label – printed on shop floor detailing information such as perpetual inventory.
It does throw up some anomalies though, a replenishment system (broadly speaking) should drive another case into store automatically when the inventory level drops below half a case, so a case of 12 cans of red bull, once you sell 6, the order would be placed for another case to arrive into store (in theory just as you run out). That's a very simplistic way to explain it, there are other complications such as faster sales, larger inventory numbers, wastage, theft and the like that corrupt the 'system' inventory.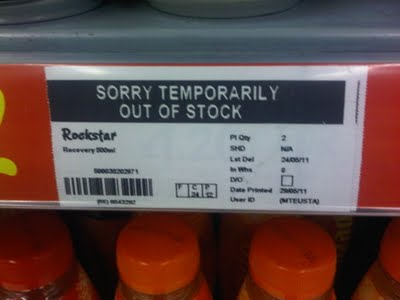 Strange that system inventory is 2 but nothing has arrived in store automatically as it's low.
The example above shows the anomaly where an item has dropped below a threshold (shelf can hold 24 cans) system thinks there are 2 remaining which should have triggered a restock order before going out of stock. It appears that its not arrived and the item is now out of stock, this can be replicated across the store and it seems strange that the automatic system isn't working as it should, there are a number of reasons for it such as inventory corruption or missed deliveries, also the forecasted sales do play a part but it's doubtful that it would have an impact here.
Another concern for Asda is the amount of out of stocks that can be put down to the D/O reason which means the Depot is out of product, there were a few on display when I visited and certain ones are acceptable (to a point) where it's popular offers or indeed one offs that are coming towards the end of their promotion cycle, but there are too many that are standard lines which should be kept in stock at depot to enable the stores to keep stock. Another source told me that Asda are advocates of 'stockless depots and distribution' with everything being geared towards that. If you can't hold a bit of stock in depots then where can you hold it?
This was the scene in the Pudsey super centre on 1st June, many UHT Juices out of stock due to the depot being out of stock, again there are possible reasons for this, supplier failing to deliver for example but with a depot being out it does make you think other stores would be light or out of stock as well.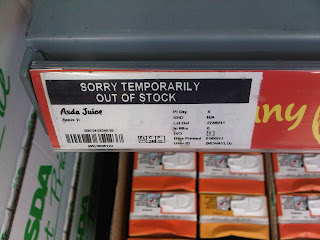 SEL indicating a 'x' where D/O is – the depot is out of stock to send to store.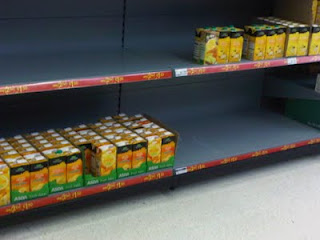 Few gaps across the UHT category – not a category likely to see spikes in demand.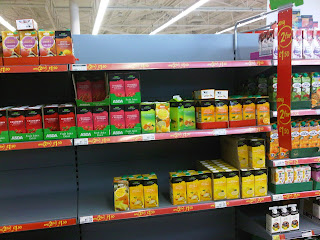 More of the category out of stock, disappointing for customers.
After speaking to some current colleagues, former colleagues and Asda House staff, it seemed that there was a disconnect between what HQ took the process for scanning off sales to be against what the process colleagues did. Some people within Asda instructing colleagues to only scan out of stocks which is very reactionary compared with a proactive scan when low levels and gaps are scanned and corrected.
The general theme is to scan out of stocks and low levels (which can indicate a problem) as the aim of the game is to set inventory levels correctly which in turn drives the automated replenishment system. If there are lines that are low in stock then it's worth scanning just to ensure that the system is aware of the low level, often it's wrong and once reset to the correct level it will resolve itself and deliveries can avoid a gap and ensure just in time replenishment. If the system is aware and nothing is scheduled for delivery then it can be raised to HQ, certainly Sainsbury's have that option via the handsets these days and Tesco can do it via their handset or review detailed reports on the system itself.
With the lead time at Asda being 24-48 hours for packaged groceries, Sainsbury's around the same although they can get out of stocks there sooner using gapbusters, where stock in the depot is urgently allocated for the next wagon if a store is out of stock after the morning scan, it's vital that inventories are kept updated to reduce the liability of a gap appearing on the shelf. Without that it's a very reactionary process.
It's a simplistic overview that I've given as there are a lot of issues that drive availability, since Andy Clarke came in I have noticed a greater execution of offers and in store presentation but previously (and it's still the case) capacities on the system are set incorrectly, if a capacity is set wrongly on the system – let's say you can get 36 cans of Red Bull on the shelf but the system is set to 24 cans then it will only order stock to 24 cans which will leave you with space on the shelf and possible low levels if sales are exceeding supply.
There are also issues with the offer itself, whilst the low price offers are well received it can serve to confuse customers when a multi buy is present but in the meantime Asda reduces the item price to make the offer meaningless. For some reason there isn't anything on the system that affects the multi buy if the lower item price makes it worthless as the picture below illustrates.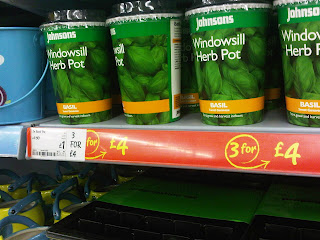 3 for £4 or £1 each – bargain.
This just confuses the customer who has to think twice about taking the item due to the confusion, why isn't anything set up in the system to remove multi buys if the item price negates the multi buy? That said the colleague should be removing the POS anyway as although the system generates the SEL's it is a human changing them over.
Whilst shopping on Saturday I had a look around at the availability, Saturday is a key time (as is Friday PM) where stores are busy and gaps can appear. I accept that and it's likely that many of the other local stores would be looking the same but the other 'big 3' aren't losing market share. I appreciate that the 5pm visit isn't a scientific model and in time I plan to 'gap count' each store over the week to see how many lines are out of stock at different times of the day to drive some real analysis.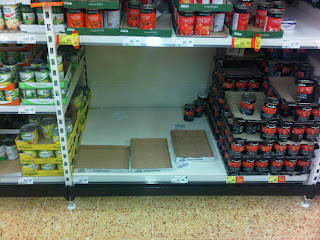 Canned goods – Smartprice tomatoes out of stock.
Asda were scanning gaps twice a day once upon a time and if they are still are, they are the last retailer to do so as Tesco abandoned the process last year, indeed Sainsbury's have locked their inventory adjustment windows now so changes can only be made first thing and then after 6pm. Obviously Morrisons are not part of this piece as their manual / HQ allocation system is effective for them and they support that methodology.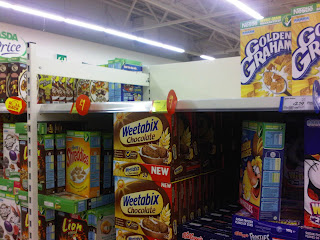 Out of stock on promotional products.
Disappointingly a lot of products on promotion were out of stock which is a twofold issue with customers, firstly they may well be only shopping with Asda due to promotions / rollbacks on their favoured products. In this case the chain needs to be retaining these customers rather than losing them when the promotions changeover and secondly, customers are suspicious of out of stock promotions seeing it as retailers perhaps not sourcing enough stock? Certainly it was a tactic in the old days where retailers would get 2 of a promotional item in and sell out 5 minutes after opening. Not saying Asda are doing that, demand has just outstripped supply but it would be interesting to see if any of these promotional items were in the warehouse.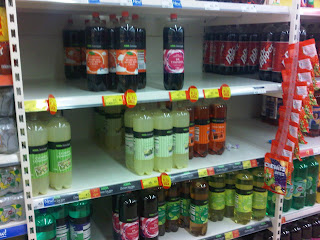 Popular 'pop' is the new range – all on rollback but some OOS.
When trying to grow a brand, in this case 'chosen by you' then it should become an obsession to ensure all those items are in stock. I'm not saying forsaking all others as each item is equally important but when the business is spending the amount it is on relaunching and then advertising the own label it helps to try keep as much in stock as possible so that all customers can take advantage of the offer and hopefully some will convert their spend to the 'chosen by you' range.
Whilst there are a number of reasons for out of stocks, some may think you accept some at 5pm on a Saturday (I do agree) there are a lot of items such as chopped tomatoes (low price) that shouldn't be out of stock, considering the space that is given up to them as they are a fast moving bulk item, its' disappointing.
Out of stocks and availability are key things for retailers to get right but it's a complex science, I've tried to give an overview of how it works but there are a number of other factors such as items scanned at the checkout, if when Muller are on their usual multi buy offer, the checkout scans the first one then repeats it 10 times. You get 10 Strawberry Fruit Corners taken off your system figure when only 1 has been sold thus corrupting the inventory and meaning when an item actually runs out, the system thinks there's 30+ left so no re-order is placed, once corrected you've then got to wait for it to arrive into store.
One thing is for sure, the strides the business is making with the branding of the own label, price guarantee and the like will count for little if the availability can't be improved to ensure people can buy what they want. I accept that new lines are difficult to forecast but its vital that the new lines are available for people to buy. It's a difficult balance to when trying to stack it up against warehouse stock and wastage but a balance that the other retailers also have to face.
Other retailers like Sainsbury's who are continually expanding their space, Tesco working hard under their new regime with Phil Clarke trying to kickstart the UK empire once again and Asdas local neighbours Morrisons firmly on the uppers with the former WalMart man Dalton Philips, a tough battleground will only get tougher in the UK for Asda.