As the opening date for 'M' Local Ilkley gets ever closer I re-visited the store last week to chart some progress as it's been a while since plans were submitted and accepted, not only that there has been some development with the 2nd trial store in leafy Wilmslow, Manchester and the 3rd location given only as 'Liverpool' can be revealed in this very blog….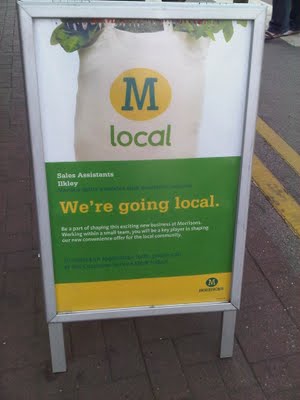 Sign of imminent opening, General assistants are recruited via adverts at local stores.
With store building work, changes internally is generally where the big things happen – obviously from a former college office building to a convenience store for Morrisons is as big a transition as you could perhaps get, so obviously there had to have been some exterior amendments as the first trial store is prepared for opening.
Since the plans were revealed, it has been difficult to picture how the store will turn out in reality but there is some progress on the externals of the store (it was a brilliant day for photographs in June!)
Ilkley Convenience in April when work commenced with fencing.
 
The building has been reshaped by Morrisons to allow access at the side of the building in the picture above, previously the entrance was at the front of the building allowing just a standard one in one out access which wasn't suitable for what is hoped to be a busy convenience store.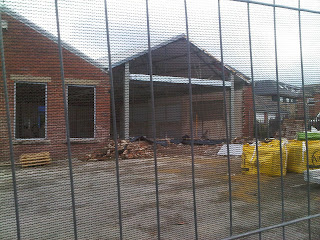 New windows are in and the entrance is being rebuilt
Plans were amended soon after submission to allow for a new roof to be added to the building as the previous one was old and not likely to be particularly sustainable for a new store selling food. As is typical of Morrisons, they take great care to make stores look good, as we know Safeway were deferring years of routine maintenance which Morrisons had to remedy when they took over hence the profit warnings…. (ok, I'll stop now!) but the building looks far more presentable now than when it was owned by the college with the brickwork being cleaned up and the car park obviously being relaid and surfaced it's positive for the local community who are (quite rightly) very proud of their town centre and history.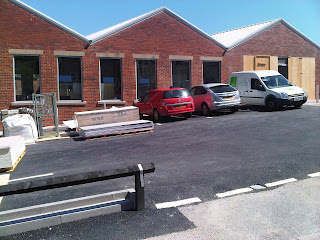 Ilkley convenience store (3rd June) with new windows, roof and remodelled entrance.
The externals of a store are important and Morrisons have taken care of this aspect too with the addition of some plants and flowers alongside newly laid paving to ensure the store blends in nicely with its affluent surroundings. Indeed the Michelin starred restaurant 'The Box Tree' is merely just around the corner!
The local Ilkley residents seem relatively happy about the arrival of 'M Local' which underlines the fact that unlike some of their rivals Morrisons are welcomed into areas in which they wish to trade. Reading the local  forum Ilkley-More they seem happy and one user points to the fact that there are bicycle stands to lock your bike up, a nice consideration from Morrisons.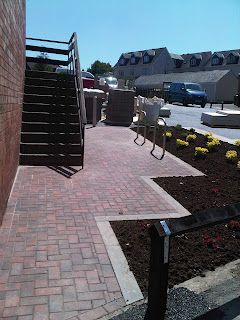 A good external environment for the store with bicycle stands.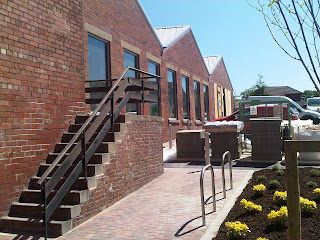 Another angle looking across at the store.
As work progresses on the store, there is a separate planning application in for the signage for the store, despite it being relatively low key and designed to fit in with the environment, there were complaints from the residents that the 'fresh food everyday' wall painting was too large and it would be considered acceptable if that was reduced, a signage change was submitted  (7th June) and the plans were approved today (9th June) with the change accepted. The side wall painted sign on the image below will be reduced to preserve the conservation of the area.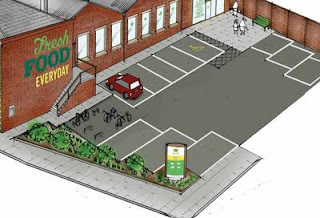 'fresh food every day' on the main wall – too large?
In other convenience news, it's with thanks to the Manchester correspondent for news that the Wilmslow plans for converting the office block into a convenience store were approved on 7th June. This is another shot in the arm for Morrisons as another hurdle is passed with their second store opening later this year, it's clear that there have been several considerations regarding the store, with it being a non specific building it can be difficult to work out how things will work with shop floor space and warehousing for example.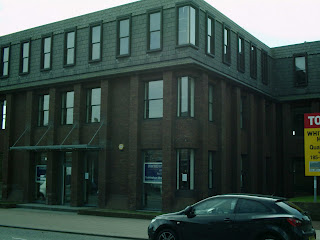 All systems go for Wilmslow.
They are onto their 3rd revision of the plans now and have decided to have the main entrance (just in the shot there) complete with an access ramp and the the main store being within the ground floor building, there are existing double doors for the office entrance but they remain on the plans, presumably to allow access to the offices above?
Car parking will be taken care of with side roads at either side of the building being in and out. Local resident comments and objections appeared to be regarding parking as there aren't many spaces. Morrisons have assigned 10 spaces for shoppers in the car park which should be sufficient whilst gently encouraging people to walk to the store, there were further plans in place to adjust the car parking and landscaping to the rear of the building but according to the planning officer they have been removed and the plans revised.
Naturally there are a lot of revisions inside of the building with it being split up into several different offices and rooms, these will all be cleared to create a shop floor, small warehouse trading environment with plant refrigeration and air conditioning units externally. There is nothing further for signage yet as that will be applied for separately but there are notes on the plans for the totem sign outside, with M Local on and the opening hours, store services and presumably a wall sign will also be added.
In terms of the 3rd location, it's been a real hunt for the Manchester correspondent and myself but he managed to find the site on the Morrisons jobs site and then through working backwards managed to find the application and subsequent licensing application.
The store appears to be part of a development on Queensbury Way, Widnes with Greene King building a Public House and a few other smaller units along with a convenience store. Although no direct mention is made to Morrisons, a google search does reveal that a licensing application has been made and with that there have been a number of neighbour comments no doubt concerned about the possible anti social aspect.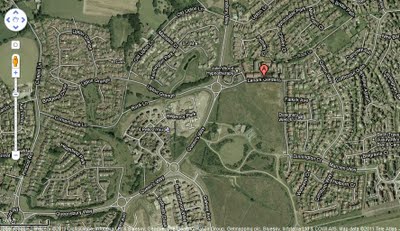 Map showing the rough location of the store, plans indicate opposite Marker 'A' (c) Google Maps
Houses can go for up to £400,000 for a 5 bedroomed house so the area looks relatively affluent albeit not as affluent as Ilkley. The store would be well served with a captive audience considering it's within the large housing estate and indications were it was commuter based which doesn't appear to be the case but Widnes train station is only a 1.3mi (according to google) walk from the proposed development.
In terms of supplying the store with fresh cuts of meat like they will be doing Ilkley via Keighley, that won't be a problem with the Morrisons superstore at Widnes only 2.5mi away.
As Widnes is too a trial store – one of the 3 that Morrisons have selected, then it's expected that there will be a decent amount of churn with the internals of the store, like Kirkstall that is an ongoing canvas of change, it's expected that Ilkley will see revisions each week on layout, flow and ranging as the model evolves and I'd hope that residents would be encouraged to nominate lines they'd like to see sold in store
It's great to see Morrisons 'ploughing their own furrow' as Ken puts it and doing things their way. As they always have done despite pressure from 'experts' indicating otherwise. Convenience will feature fresh food and not be 'identikit' stores like their rivals and perhaps be in unconvential areas and in non-retail buildings. It is a trial after all!
Widnes looks like another fantastic site for Morrisons and with these three sites really pushing the envelope in terms of their locations in primarily affluent(ish) areas, a different operating model and going after sites that aren't typically retail buildings, the future is bright for Morrisons, the M Local brand and of course under the stewardship of Dalton Philips.