After the UGO press call in January, I was keen to monitor the ongoing progress of the fledgling chain as it slots into the Haldanes family and enters the retail battleground that is the discounter market.
You have to admire Haldanes for making this move into the discounter market, especially in the UK which has seen off operators such as Kwik Save and Netto (ironically which is how UGO came about). The reason is that the two stellar German operators have more or less sewn up the discount market in the UK.
Despite Aldi and Lidl having low market shares in the UK, they have successfully seen off the retailing Goliath that is WalMart in their homeland of Germany and their expansion continues apace across Europe. Although they have low market shares in the UK, they are outperforming a stagnant retail market and have seen off Danish retailer Netto who packed in after nearly 20 years in the UK.
Of course this is how the UGO chain came about with 20 stores divested by Asda after their purchase of Netto. Haldanes, led by Arthur Harris purchased 20 of the stores along the M62 corridor and branded them UGO which is 'the Netto cake with the icing from UGO'. The press conference in January hinted at a lot of developments such as consumer credit, home deliveries for non food and a fuller range for the 'full shop'.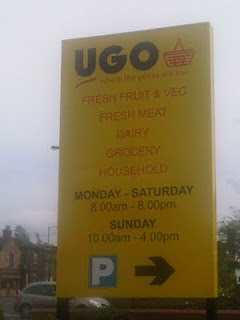 UGO – new sign but same difference?
Each store was closed for 20 hours whilst the re branding exercise was carried out, despite the colour scheme being exactly the same as Netto, new signage was put up both externally and internally and minor changes took place internally with some product movements as ranges were expanded.
Bradford Tong St was converted in early May and I paid a visit recently to check on progress of the fledgling chain. Tong St is a strange street that tends to mix commercial and residential along a main road into Bradford, the store is about halfway along the road near a large new build Secondary school and around a mile away from the Asda superstore in Bradford.
The store sits on it's own half of a retail park with the other half populated by a Superdrug outlet, Iceland and a couple of defunct units. It's on the edge of the Holme Wood estate which comprises primarily of families on budgets and used to see the Netto take £60,000 per week which is good money for a discounter.
Whilst the Netto was a busy store pre conversion, when I visited the store was particularly quiet and notable comments from the customers were 'it's not changed much' and I even spotted some Netto POS with the 'special deals' shelf edge stripping still present in store. Whether UGO want the brand to be synonymous with Netto and the good and bad aspects of that brand isn't clear but it resonates as Netto judging by this customers reaction and indeed the store environment in general.
The two images above show the similarity between the two chains, on the left is the UGO entrance sign stating cards accepted and no smoking et al, on the right is the Netto entrance sign. Bar some subtle logo changes the signs are virtually identical, this is clearly the route that UGO wish to take – Netto with bells on.
Clinging onto a former brand is generally considered a no-no, there was pressure in some parts for Morrisons to convert their stores to Safeway and use that banner or indeed use Morrisons in the north and Safeway in the south?!? Thankfully Morrisons followed their plans through and removed the name from our high street forever as being associated with a failing business is brand suicide.
There are reasons for keeping the Netto branding as it does equate to good value products, but the brand is tainted with poor quality and indeed the brand became more downmarket than their German competitors for example. UGO have to be careful with their operating model to retain that low price ethos whilst providing more than Netto used to.
Sadly, the price ethos looks to have been lost in translation with the Nisa today buying agreement severely hampering any efforts to match Nettos former low price model, despite the former not being as cheap as in previous years it did at least offer some element of competitiveness in the marketplace. Selling single cans of fizzy drinks for 56p simply won't appeal to the demographic used to limited assortments and low (ish) prices.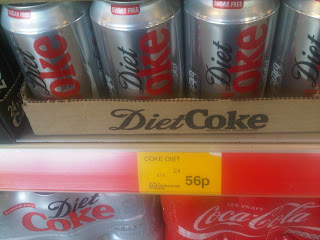 Single cans for 56p – somewhat pricey.
Upon entering the store, it didn't look different at all from the Netto bar some overhead signage and a closer look at the shelves revealed a lack of own label bar the 'heritage' Nisa label on Produce and Fresh Foods. In addition to that there were expansive amount of product categories, a high number of squashes and drinks in proportion to the store size for example.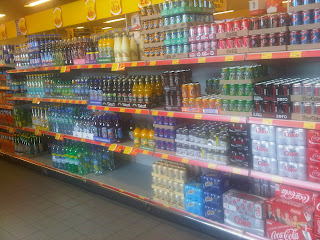 Huge selection of drinks in UGO.
The UGO launch is based around continuing with the specials that were so popular with Netto, the twice weekly leaflet and 'one offs' are an important part of driving footfall into the store. When I visited there were some excellent deals such as half price Innocent smoothies and a lot of BOGOF's across the store.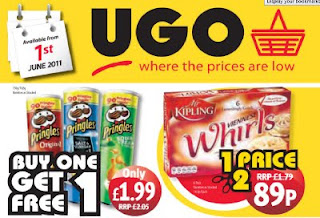 Fantastic array of offers at UGO – carrying on the popular leaflet too.
These offers are key to get customers into the door but the last thing UGO need is another Safeway 'hi-lo' pricing disaster whereby customers come into store cherry pick the offers and leave without buying anything full priced (with margin).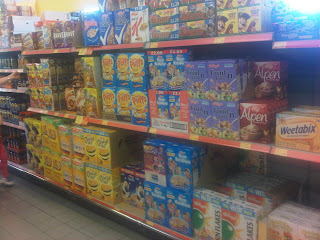 Large range of cereals but the majority are branded due to the lack of own label offer.
That is where the problem comes in as predominantly UGO are stocking branded lines across cereal, drinks and Grocery and due to their buying agreement with Nisa, it's priced at a premium compared to their own sourcing arrangements would no doubt see deals being leveraged for volume.
At the press conference COO Richard Collins said it may be that they'll look at their own supply chain and sourcing agreements in time, there is a considerable cost involved and expertise needed to set these up and operate them which I do appreciate and I'm sure it's all in the pipeline at Haldane House.
UGO recognise that the non food spot lines are popular with shoppers and another way to drive footfall without giving away margin, these lines are sourced directly by UGO and delivered into their stores via another carrier, a lot of items were well priced at £1 when I visited and the area looked well shopped with roller brushes and paintbrushes priced at £1 along with other hardware goods. A vital area to maintain consumer interest by not advertising the lines but having a 'treasure hunt' effect to entice customers into store.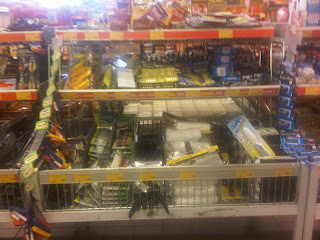 A good range of non food 'spot' lines available in UGO.
The rebranding job inside hasn't particularly been a rebadging exercise like some conversions are, simply sticking their own logo over existing material has happened in the past but Haldanes have spent the money re-doing the signage despite sharing the colour scheme with the stores former owner, even adding components like overhead signage and their 'hot spots' for promotions in the aisle.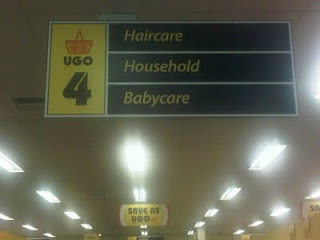 Overhead signage with aisle navigation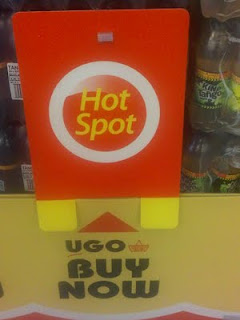 Hot Spots in the main aisle with POS for stand out offers.
It's early days for UGO and there are a few stories flying around post conversion about how well the chain is performing, the recent court action with the Co-Operative over some former Co-Operative (now Haldanes stores) that were purchased won't have helped confidence within the chain, although the recent attempt at establishing some vertical integration with the purchase of Woodhead bakery will help with supply into the stores.
Fledgling chain as it may be, customers are notoriously disloyal and if they find prices too high in a store, they won't go back. Especially knowing that items are cheaper elsewhere via the power of the internet along with word of mouth and advertising, the consumer has several weapons in their arsenal against high prices.
For my money, UGO need to look at developing an own label value offering along with a tertiary brand that offers customers some lower price points without necessarily giving too much on quality, of course these brands take time to develop so they are against the clock but that would give customers of these stores products that may fall more within their price bracket, especially with the Heritage (Nisa own label) not particularly appealing.
You do expect an element of strife with deliveries and overstocking, availability and the like so I plan to do a follow up visit to see how things are bedding down but one source tipped me off that all ordering is done via phone at the minute; Bakeries, Milk suppliers, Grocery, Non Food all have to be ordered manually then 'phoned in' almost like we have gone back 25 years!
This must take a good proportion of time and with the discounters having well honed lean supply chains and systems measured and continually reviewed to try and save more time, there will be doubtless plans to resolve the ordering system as UGO do take Netto systems with them in the acquisition but wireless handsets to enable stock ordering, reductions and other 'lean' initiatives would make the chain more robust.
You've got to wish them all the best, especially in a competitive retail sector and an even more competitive discounter sector. There is potential with the brand, the offer and the stores to do more but fundamentals of product supply and price remain to be resolved in these early days. I do plan a follow up visit to see how things are bedding in post conversion in a few weeks.