I heard via the drums (the M company magazine and via email) that Swinton had been selected as the next 'lab' store, despite there being no specific mention of what was being trialled, I decided to take a trip across the pennines and have a look at what was being done with the smaller sized stores outside the heartland.
To provide a contrast, Kirkstall is a heritage Morrisons store roughly 40,000 sq ft whereas Swinton is 22,000 sq ft and an ex Safeway which lends itself to issues around space for counters and backup areas.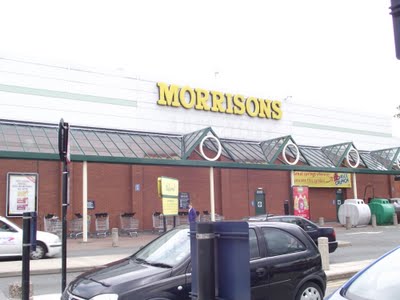 Morrisons Swinton – one of the many former Safeway stores in the estate.
Upon entering it was clear that the lab hadn't yet launched, there was no new Produce offer like Kirkstall as the old fixtures remained and with the store looking very traditional, I wasn't sure if I'd got the right store!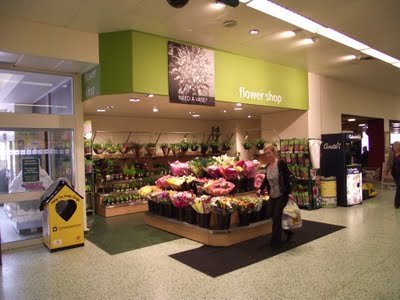 New Kirkstall trial flower shop in Swinton.
Happily I had the right store, the flower shop has been rolled already and is the first phase of the lab which will ultimately see a rebalance in space, chilled foods moving location (like at Kirkstall) and the introduction of the new style Produce area plus more non food.
Limited non food selection – hidden away down an aisle.
It does seem from talking to the management in store that the biggest aspect of this lab will be learnings gathered from the 'Liberate' trial at Shrewsbury. To gain space in Shrewsbury, ranges were reviewed and poor performers were removed from order pads and delisted to make space for Peacocks plus new ranges, Swinton was due to get Peacocks but space limitations mean Peacocks sadly can't get the range in.
At Shrewsbury, particular interest was paid to Dalton's favourite product Balsamic Vinegar, he discussed this at the interims regarding the 16 different varieties on sale in stores, it's this sort of extensive range that simply isn't needed. Other categories such as Air Fresheners were cut from 168 lines to 92, with plug in air fresheners also seeing the axe as it was revealed that 58 different varieties were sold in Shrewsbury. How many do you need? Really?
Suppliers are clearly going to have to work harder to gain listings in store as the range gets tighter to make space for the new Produce range and other initiatives, using projects like Liberate save capital expenditure for new stores rather than extensions. The exciting aspect of 'liberate' is that this is purely looking at shrinking ranges to make space for new ranges, moving shelving units and using up sales floor space, this is without the movement into foyer space that Dalton mentioned on the analyst Q&A. Many traditional Morrisons stores have huge foyers for people to stand around in, historically they housed trolleys as well.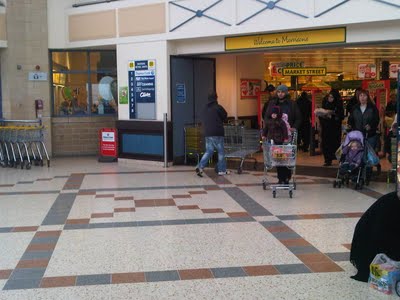 Large foyer area at Victoria, predominantly used for trolleys.
Enterprise 5 foyer area to north entrance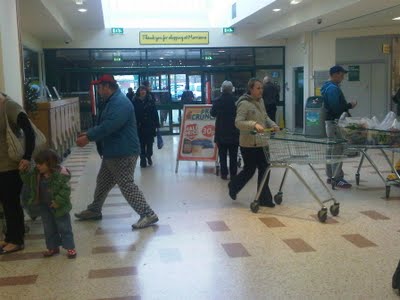 Enterprise 5 main entrance area
These are two stores in the heartland have space that can be utilised should it be required, certainly Kirkstall had a similar area to E5 until the lab was launched, then the Produce department was brought right up to the doorway. So it's not just new stores, extensions and removing poor selling products, there is a lot of scope throughout the business for more space to found.
Dalton did allude to also looking into using warehouse space that would (hopefully) become unused as the various replenishment trials continue across the estate, these encompass all manner of stores and new ways of working, deliveries arriving on wheels rather than pallets, full night shift replenishment etc. Dalton did a great interview with the Telegraph at Christmas where he spoke about replenishment and vertical integration and in particular one quote jumped out:
"You can tell how well a shop is run by looking at its stock room. Period."
Despite their stellar availability performance down the years and heavy manual control, stores still seem to carry higher than industry average levels of overstock, some of it is carried as true 'just in time' replenishment whereby fast sellers are replenished throughout the day. However much of the excess stock is down to poor ordering, with ex promotional stock being the biggest culprit. That rings true for other retailers who operate automated ordering systems, the promotional overstock issue isn't limited to Morrisons.
The one major difference that is continually picked up when speaking to staff is that promotions are rarely 'run down' with the ethos of Morrisons being 'always available'. Stores order promotional stock and with sales being variable they don't want to run out. Manual ordering has the benefit of preventing out of stocks on promotions but it would give greater control to the stores if promotions could be 'run down' towards the end of the cycle to prevent a build up of ex promotional stock.
It's interesting to note that gondola pallet ends have been stopped in Kirkstall since the lab was launched, this obviously helps the stockholding position as not as much stock needs to be carried, rather replenish more often than have a full pallet of stock. It doesn't appear to have affected things too much at Kirkstall who used to sell ridiculous levels of bulky stock from the palletised ends when the students were at University. The ethos seems to be very much if Kirkstall can cope without volume ends, any store can.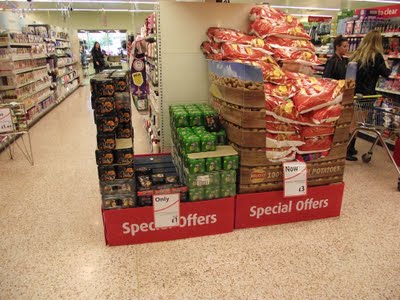 As part of the lab 'Volume ends' are replaced by standard ends.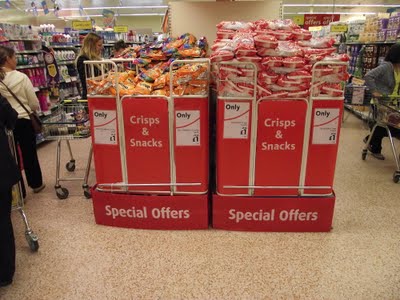 With stock reduction on the agenda, standard ends will help to reduce stockholding.
It will be a challenge for Dalton to adjust the high overstock levels that stores carry for any number of reasons, it's clear that the manual system works well for stores but its variable, an automated system gives you a consistent process but I believe manual is preferred as it drives sales. One thing is certain, a supply chain operating on 12 hour leadtimes (shortest in the industry) should translate to the lowest store overstocks, not the highest. There are further areas in which space can be driven in stores but the warehouses in particular are very much a longer term project.
Swinton is one of those stores that doesn't have a large warehouse so the 'Liberate' project is an interesting choice of store for the lab, less range means less stockholding and more sales space. Indeed there is no concrete reason why Swinton was selected other than Morrisons wanting to trial a smaller store and Swinton having a lot of potential despite the store being largely ex Safeway fittings and fixtures.
It was great to get some time to speak to the store management about what was really going on, John Killeen (ADM) explained how things were going to work. Although the trial is in the early stages, the flower shop opened for business on Monday (20th July) and space was gained by removing a backup chiller that was in that space and knocking the wall out, they are to gain the full Produce offer like Kirkstall along with a few other modifications like adjusting the range and taking learnings from project 'liberate'.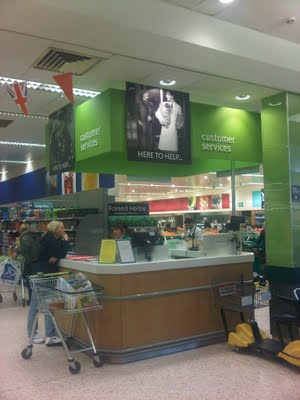 As seen at Kirkstall…. Swinton gains a 'cube' customer service pod post refit.
Despite the flower shop trading, it didn't yet have the full range in place, SGM Steve Bishop revealed that they (like Kirkstall were initially) unsure if they could sell £20 bunches of flowers but were going to trial the range on a weekend. I pointed to the quality of the floral offer at Kirkstall and he agreed, the store management team have been making weekly visits to Kirkstall to review how the Produce and Flower shop will work and indeed to gather learnings about the conversion and challenge of managing the new department with its raft of loose items and new lines.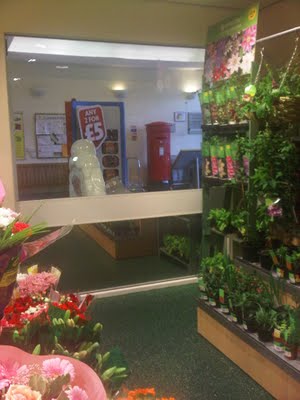 Flower shop at Swinton will also feature the gift wrap upon store re-opening.
Swinton don't get the full 'street' offer due to space constraints but planning permission is in place should the initial parts of the lab work well, the store really wanted the 'fresh 2 go' aspect but it couldn't be incorporated into the store. The management team were most impressed with this at Kirkstall, like many Morrisons the store has a strong lunchtime trade and it's felt that the Fresh 2 Go would benefit the store, to be fair it's such a diverse and quality offering that it would benefit any store.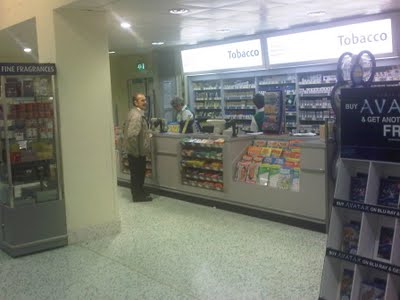 Cigarette Kiosk moves to behind checkouts.
A main plank of the Kirkstall rebalance (and Shrewsbury's 'liberate') was the continual learning process with tweaks continually made (even now to an extent), learnings have been taken straight into Swinton with space created by moving the cigarette kiosk (traditionally a large part of the Morrisons checkout area) down behind checkouts along with news and mags. This allows the sales floor to be purely trading departments, and creates the space for the smaller 'cube' customer service desk and larger Produce area.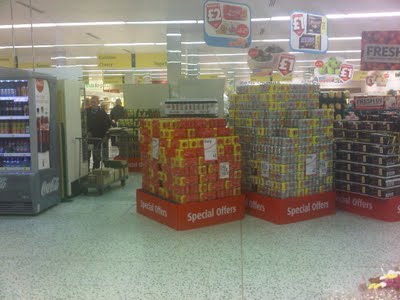 Space created by moving the Cigarette kiosk, this will form part of the new Produce department.
Liberate gives way to a lot of range churn whereby the usual suspects are reduced in numbers but all ranges across the store are reviewed and nothing is safe. I did hear that Dalton was a big advocate of looking at the 'bottom 20%' of ranges with buyers and supply chain actively looking to cut those out whilst constantly reviewing poor sellers. Space is a vital commodity within retail and with Morrisons continually expanding with convenience, new builds and acquisitions of former Netto stores, ensuring that the existing space is flexed and used to its capability is as important.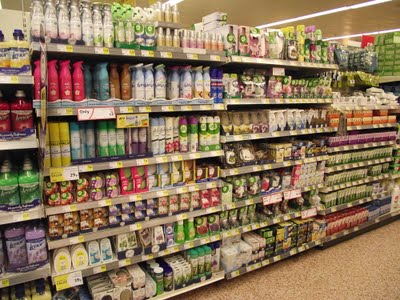 Categories like Air Care are targeted by Morrisons when 'Liberating' space
It's not just ranging that highlights space usage, the recent move to abandon gap filling saves on labour but also highlights availability problems. Some of these gaps are wasted space as SEL's are left on despite the line being discontinued or unavailable thus meaning a permanent gap. With Morrisons moving to gap scanning post night shift fill, this means that these sort of issues can be resolved, ensuring any gaps on shelf are true out of stocks rather than wasting space having a gap for a line that will never return.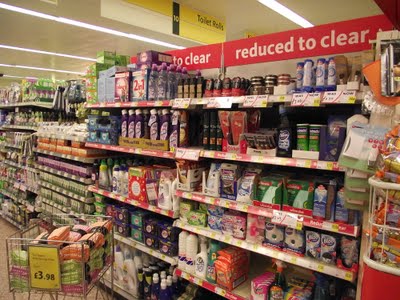 'reduced to clear' bargain sections in store
The lab concept isn't purely new layouts either, Steve also revealed that his store were trialling a new method of dealing with lines that are delisted and no longer sold by the store. The lines that are delisted are unique to Swinton and centrally reduced so they scan at the reduced price. Traditionally Morrisons would preserve margin by sending these lines out to other local stores for them to sell through, Morrisons are likely to look to roll out the lab concept further so then the stores available to take delisted products will diminish. Taking a hit on pricing now to remove discontinued stock is a wise move and it's interesting to note this change in tack.
Morrisons traditionally protect the sales space and believe in pristine conditions for the customer to shop in with minimal disruption if anything extra is going on. You only have to look at the Safeway takeover where 4 stores were converted and re-opened a week until the programme was completed to see the importance they place upon that, to be selling delisted ranges in a 'bargain' aisle certainly goes against their tradition.
Discontinuations within the Cereal bar fixture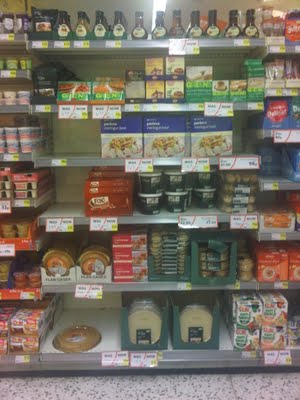 More discontinuations within the home baking section
Whilst there are areas that are a bit of a 'jumble sale' with an assortment of discontinued products in designated areas, as the pictures above show there is stock that is being sold through in its home location. Once the stock is sold through then the SEL is removed and other lines are dressed across to fill the fixture, lines are then removed from the order pad to prevent further ordering, there is always the concern that customers will be upset at losing their favourites. The store are putting a procedure in place to escalate any lines that are requested a lot with a view to getting those back in, obviously it has to be a strict process otherwise fixtures would be filling up rapidly in no time.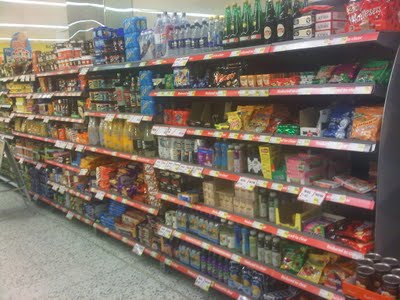 Aisle of discontinued lines for reduction and sell through – centrally managed.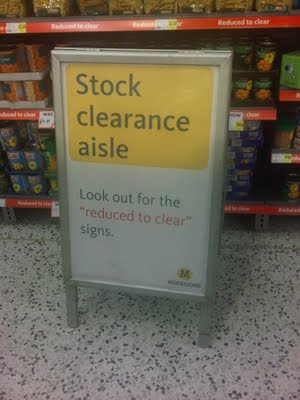 Advertising for the sale.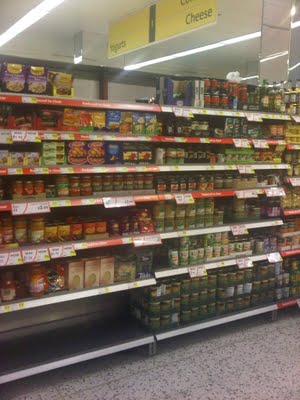 More of the reduced to clear aisle.
The store has some time until the refit process is completed with minor works ongoing until the store is rebalanced from Sunday 25th July with the grand re-opening on Tuesday 27th July. The store is only closed for one trading day (Monday), Steve hopes to have the discontinued lines sold through by then and for the warehouse levels to be particularly low post refit and 'lab' launch.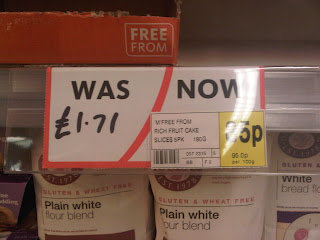 Strong reductions on discontinued lines ahead of Liberate / Fresh lab go-live.
I asked the store manager of 10 years why he felt Swinton was selected to be the next lab-
'the demographic of the area is good, there are other retail stores like B&Q nearby. Worsley is just down the road along with the University campus not too far away either' –
Steve Bishop – SGM – Swinton
The store is still ex-Safeway in fabric as many of the stores were tidied up, painted and then re-opened without massive remedial work to the building. Some stores are now looking dated despite the new signage added to the estate in 2007 with historic fridges from the Safeway era remaining in stores. It's clear Morrisons see the store as one with potential to better their excellent sales per sq ft and weekly sales figures (and no, I'm not going to tell you what they are!)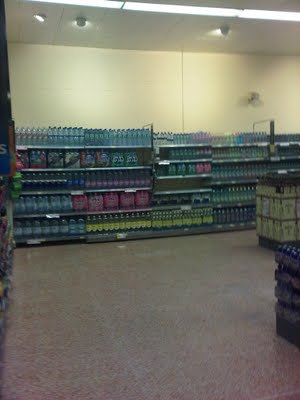 Lot of floorspace at the end of the store to be better utilised.
Another aspect of Liberate will be to add more aisle space where possible, that rings true for all refits though. Despite Enterprise 5 losing floorspace to the Peacocks concession last year, Grocery gained 4 aisles despite losing floorspace to Beers Wines and Spirits. Guiseley have just had their homeware refresh and are gaining an extra aisle as the business looks to drive more sales space at every opportunity by removing needless 'empty' space and modifying existing aisles and units.
Reduced to clear section on Frozen Foods.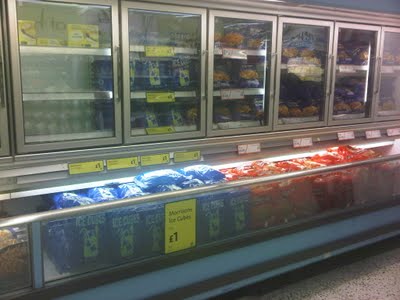 No gaps as Morrisons trading mentality shines through with seasonal lines to fill the space.
A lot has been learnt from Kirstall and it seems the main plank of the plan when Produce is added is that Fresh food moves around and some frozen food space is sacrificed. Not a bad thing when you consider it's not necessarily what space you have, rather than range you choose to sell – look at Aldi and Lidl as examples of that.
The store does look dated now and the fact its a former Safeway shines through, it's not falling apart by any stretch but compared to the heartland stores around Yorkshire and indeed the flagship store at Kirkstall it needs some updating, the lab will bring new signage and a brighter feel.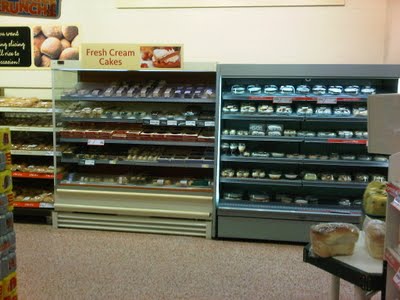 Two different fridges from two different eras.
Another difficulty faced by the store is that they operate 3 types of shelving in this store alone. Safeway had a number of different shelving units and Swinton has somehow gathered all 3 over various areas of the store. This makes new planograms difficult to follow if they don't match up with what Head Office thinks they have, I was told a story of how the store had got some more brackets to hold the shelves for a recent range review, only to find that they didn't fit the unit!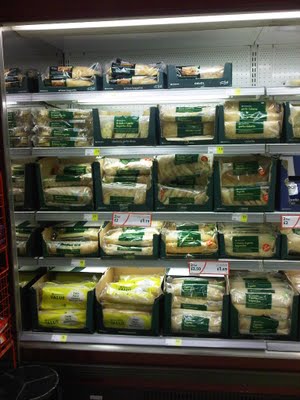 Planograms / shelf profiles need to match up as shelf ready packaging solutions are rolled out.
It's not a unique situation as I understand that a few ex Safeway stores struggle with this issue, the former supermarket group choosing to use more than one type of shelving system. Dalton had implemented the no gap filling policy and subsequent 'respect the planogram' programme at Loblaw, it's likely then that each plan will be revisited to take advantage of shelf ready solutions already used extensively by their rivals. If a planogram isn't followed then it's likely to cause overstock, wastage and productivity issues as the new plans won't fit onto the shelf correctly, the challenge for merchandisers is to get the correct plans for each store based on their shelving systems which is not an easy task.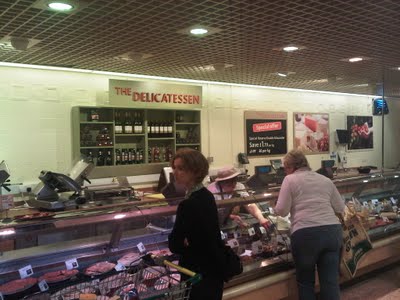 No room for the new 'street' offer but planning permission exists for an extension.
Despite the full 'street offer' not initially being added to Swinton, the store is hoping for the graphics that Kirkstall have, ADM John Killeen told me he was speaking to his butchers about the graphics that Kirkstall have (see below) and that his staff bought into that saying they hoped it would be implemented there.
It does create a sense of pride and ownership, especially with the POS highlighting their skills as butchers and also for Morrisons to show their skilled staff to customers, It would be great to see the POS and signage be added to Swinton as it would every store, it's really uplifting and far brighter than any previous guises.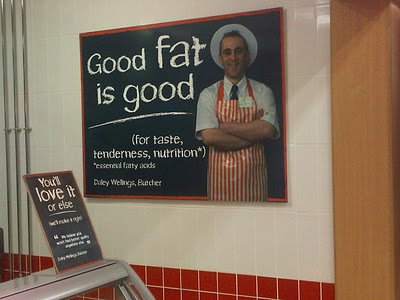 Will the 'personalised' POS as seen at Kirkstall with the instore butchers be incorporated?
It's clear that Morrisons feel the lab format is working and can be scaled up and down to different stores. Produce and Fresh is the focus for Dalton with his 'unbeaten on fresh' strategic point on his 'different and better than ever' theme. He's wise to take advantage of that aspect as he knows it's where Morrisons are strong with their vertical integration affording greater control over ranging, quality and most importantly – supply.
"old style produce" soon to be replaced by the new flat tables.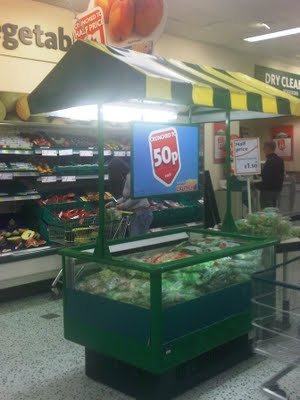 The Fridge units remain but the 'market overhead' is taken off.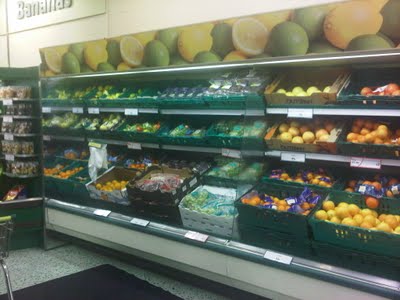 Retro 'lemon and limes' overhead, Safeway had something very similar…..
I'll be going across again on opening day to chart the changes and see how the new bits slot together, I'll be trying to get across again before that to see what else has been going on but with a good set of before pictures above, it will be fascinating to see the changes brought about.
The lab concept will improve the Swinton store massively and give the store a real point of difference in the local area and attract new customers. I was told customers are travelling from all over to try Kirkstall out so the same is hoped to happen with Swinton.
It's really positive to see that the labs are being rolled out outside the heartland as it shows a real commitment to the 'stores of the future' and being different and better than ever.