Possibly one of the most impressive hires by Morrisons was Richard Hodgson who was the subject of an 11th hour Morrisons bid as Asda (allegedly) waited with contract in hand. Dalton captured his new right hand man and he joined Morrisons from the buoyant Waitrose where it's understood he left due to a yearn to return to the north (and why not!?)
Hodgson is said to drive a hard bargain and his commercial nous is a real asset to the management board, indeed some dubbed Waitrose 'Wasda' due to their sharpened negotiation tactics and buying terms with Hodgson at the helm.
Hodgson is more of an impressive hire when you consider he has experience at both ends of the scale, at Asda he clearly will have grasped the value, EDLP proposition plus learnings from WalMart coupled the quality offer and price sensitivity (via Essentials) that he managed so effectively at Waitrose.
Other hires were Belinda Youngs who joined Morrisons from Canadian retailer Sobeys along with the Waitrose chef Neil Nugent as Dalton sought to build an own brand development team. Philips targeted a shift from 43% OL 57% brand to the 55% OL 45% brand split enjoyed by other retailers who have also been busy developing their existing ranges despite a good split of sales.
I'm a fan of looking backwards to look forwards and seeing what Dalton and Belinda had managed in Canada may give hints to what's being planned for Morrisons. Loblaw are well known for having a very strong stable of products as discussed in previous blogs, Presidents choice is their lead brand – one comment on the blog was that Morrisons should adopt 'Kens Choice' as their version of presidents choice considering Sir Ken is life president of the chain he founded.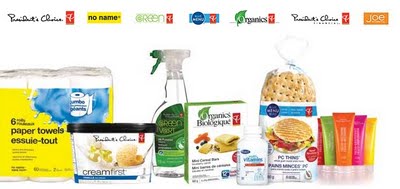 Loblaw's stable of Private label brands. (c) Loblaw.com
Loblaw have their stable of standard brands, with additions like 'green' focussing on the ever growing importance of ecological environmentally friendly solutions. The bottom tier is 'no name' rather than Value/Basics and other similes. There are also specific labels for 'organic' and 'blue menu' the healthy eating option is popular with shoppers.
Whether you define a brand as one that could be sold in other supermarkets and stores rather than its parent is a moot point, certainly Tesco developing their venture brands means they think its viable. I don't think they'll sell them in other stores but 'Choka Blok' will be viewed as a brand in its own right. Similarly Aldi have found favour with their private labels produced only for them, it tends to generates a sense of loyalty.
Sobeys also have 'gourmet minute' which are their freshly prepared meals made in store, whilst Morrisons already cover this with their fresh Pizzas, sandwiches and salad bowls, a move to make more 'meal solutions' prepared in store would be a possibility.Belinda Youngs former employer Sobeys are another company with a strong brand family, their base brand is 'Compliments' with the premium offering 'Sensations by Compliments' with other brands for Organic, Eco friendly and healthy eating. Their value proposition is S!gnal which again has it's own area on the website and is developed as a brand in its own right rather than a bottom tier offering.
As discussed above, Tesco are busy developing their own brands, with Asda having launched 'chosen by you' as their main own label offering. Evan Sainsbury's with their strong own label offer are relaunching their standard tier as 'by Sainsbury's' which proves the battleground is intense across the major chains.Whether Morrisons can produce ready meals such as Lasagne in store remains to be seen, there is certainly scope to take advantage of the craft skills and responsive supply chain that Morrisons have by producing more meal solutions in store. How far that goes remains to be seen as there are considerations needed around labour cost along with further complexity in the supply chain, it would give them a major selling point with 'fresh' ready meals for example.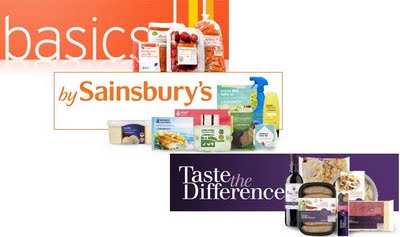 Sainsbury's OL tiering – good, better, best – Basics, By Sainsbury's, TTD
Morrisons own label issues go back to their Safeway acquisition, before the takeover Morrisons didn't have a premium label nor a kids range. It didn't particularly push its own label offering, preferring to focus on promoting branded goods whilst offering 'quality and value' on fresh and grocery items along with the famous Market Street offer.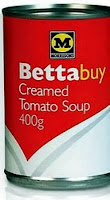 Bettabuy Soup – Morrisons own value range until 2007 – (c T&A)
Prior to Safeway, Morrisons had the healthy option 'better for you' and the red coloured 'bettabuy' value range which replaced the previous 'Farmers Boy' offering named after the factory of the same name. Morrisons did offer small variations in the range such as their 'Organic' and 'Free from' ranges but these were sporadic and the range suited their needs as a relatively medium sized supermarket group.
When Safeway were acquired the real problems were obviously financial with profit warnings and an expensive conversion process. Once a store was converted, customers who were used to Safeway's choice of brands were greeted by a lack of own label choice and complaints soon followed.
'Eat Smart' and 'The Best' were relaunched under the Morrisons banner but well heeled shoppers weren't enamoured with pie counters and the wider range in the early days, they departed as Morrisons reduced prices to remain competitive and arrest the slide.
Its not to say that their method was the wrong one, Morrisons inherited a company with severe trading issues and took the correct remedial action to convert the business to the uniformity of Morrisons ensuring the long term outlook would be positive.
At the end of the day, all they have to offer is price. Their current product offering isn't good enough for the customers they have acquired –
Chris Gower – Man Securities (speaking in 2006.)
When Marc Bolland arrived in 2006, he set about changing the logo, branding, in store feel and strapline. He also instigated changes in the packaging of own label products with 'the best' changed from black to dark green and the packaging changed to incorporate the new logo. At the same time 'Kids Smart' was launched and Bolland increased the own label range from 28,000 to 30,000 as he sought to improve the range.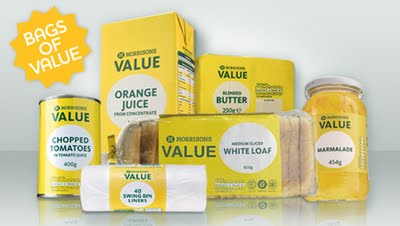 The 'value' range (replacing Bettabuy) introduced by Marc Bolland.
There has been little in the way of true development since then, the brands have evolved with new tastes and there are new sub brands – 'Fresh Ideas' is the easy cook option along with 'dinner made easy' meal kits that went from developmental idea to market in 6 weeks.
Indeed the own label has been criticised for being too basic and not focussing on a premium market, whilst there has been some good development, much of the existing own label is unappealing. At Kirkstall for example it can be like shopping in two different shops, Grocery being relatively old fashioned with 'old' Morrisons and the new market street 'fresh market' offer being vibrant and new.
It's less clear at Swinton perhaps who opened as a new 'fresh market' store on Tuesday (26th July) but compared to some of the fresh food ranges, Grocery looks dated and a relaunch is eagerly anticipated.
Someone who shopped in the stores recently and isn't a regular Morrisons shopper said it was like the 1984 film 'Repo Man'. The store in the film has products with little description on them, so Beer is sold in a tin with 'beer' on it, nothing else.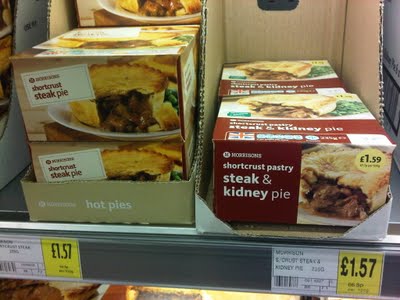 Left – New packaging and Shelf ready case, Right – old style packaging rolled out in March.
Own label was targeted by Dalton as an area for improvement with the split between OL/Brand (mentioned above) being weaker than the competition. There has been a steady stream of lines coming into the store across Fresh Foods since March with the chilled quiches and pies being repackaged, crucially they are now being merchandised in shelf ready packaging which ties in with 'respecting the planogram'.
Whilst rumours continue that 'the best' plays little part in the bigger own label picture for Morrisons, with indications being that they'll focus on a stable of brands rather than a traditional 'good, better, best' hierarchy. Merchandising and planograms remain a challenge across some categories, however as you can see in the picture below, 'the best' retains its rightful place at the top of the bay at the customers eye level.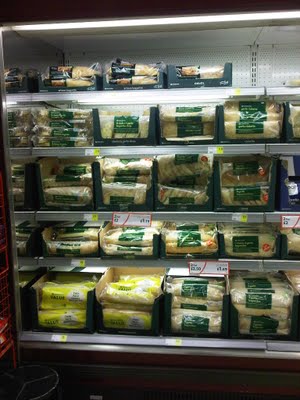 The new plans feature more shelf ready packing and a better merchandising strategy – The best at the top, Value in the base.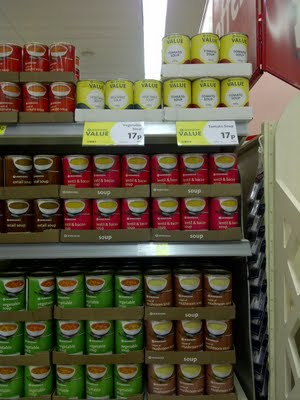 Whereas on soup – Value has a place at the top of the bay in a typically premium position.
Its clear with the two examples above that merchandising remains an issue across the business but as categories are reviewed,clarity and uniformity should follow throughout the business via new planograms.
It's of little surprise that own label has been relaunched first in fresh food, especially with quiches and pies being supplied by Farmers Boy meaning they can be far more reactive than having to go via a 3rd party supplier for packaging redesign and reformulation where applicable.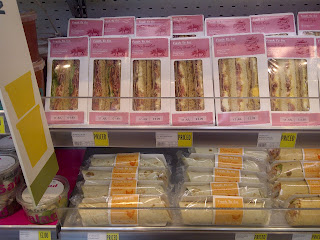 Greater number of pre packed sandwiches in Kirkstall.
Firstly it's worth taking a look at Kirkstall who seem to be trialling a number of new initiatives on fresh food (again!), particularly sandwiches that are now entirely pre packed and delivered to store, bar 3/4 lines hot lines that are produced in store. I'm told that a relaunch is expected on the instore produced sandwiches but it was still prepacked on Monday (25/7) when I visited.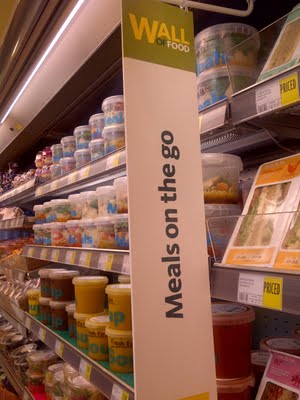 'wall of food' advertising on Fresh 2 Go.
Whilst Kirkstall continues to evolve it's food 2 go offer, perhaps giving some insight into what is expected to be rolled out across the estate – a 'wall of food' is the name for the sandwich counter with fresh soups, noodle meals and salad bowls available. Whilst these are currently delivered to store, it could be something that the Fresh2Go teams could prepare in advance to further push the 'fresh market' ethos.
The pending own label release will see Morrisons try and lift their offer to a more premium audience, its well known that with stores in places like Guiseley and now Ilkley in Leeds to name but two trading well. The well heeled shoppers do appreciate Morrisons and the brand tends to have universal appeal but there is more premium to be added. Kirkstall have started trialling further elements of this new style thinking on the Cake shop: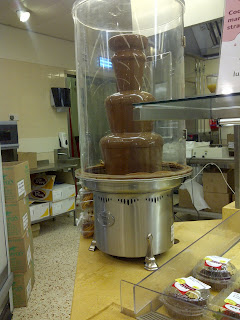 Chocolate Fondue! – The store also sells chocolate covered Strawberries / Marshmallows from the fondue.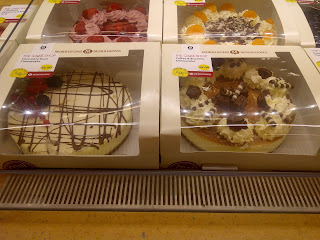 Hand made cheesecakes – right down the biscuit base – premium price at £8 but sales are good.
In terms of the general own label improvements, there have of course been subtle changes as documented above and in previous blogs, but the bigger programme is shrouded in secrecy until October. There are rumours whether 'the best' fits in with the wider picture with ready meals allegedly not featuring any 'the best' lines. I hear that 'traditional' is one of the sub brands to be used on ready meals but correct merchandising and execution will underpin this investment and activity by Morrisons and it's suppliers.
To see if there were any other areas ripe for improvement and indeed any areas that were indicating signs of things to come, I had a walk around a store and noticed a few things:
Presumably nothing is off limits both in terms of reformulation, relaunch and new products but UHT juice merchandising jumped out as being an issue. As I've mooted before (and Morrisons have adjusted their new plans for Garlic Bread for example.) 'value' should be on the bottom shelf generally speaking with own label roughly in the middle and your premium offer at the top.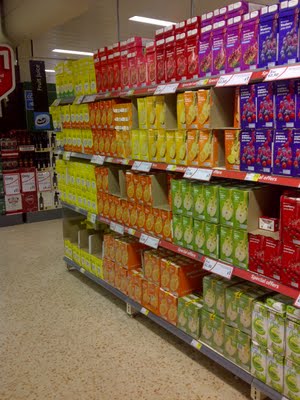 UHT Juice – packaging refresh to come?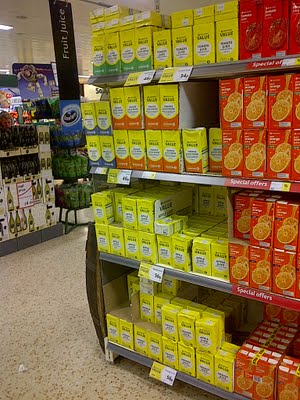 Full bay of Value means customers are drawn to lower priced items.
Morrisons traditionally seem to be giving up full bays for Value products which can explain why there are struggles for premiumisation. Not that you want to make it hard for customers to find 'Value' but certainly display the alternatives to allow the undecided shopper a broad spectrum of choice.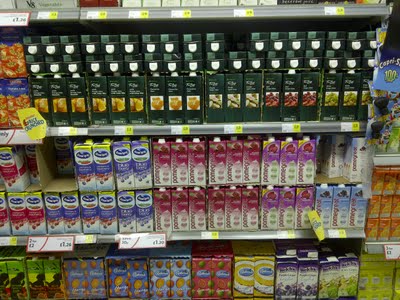 'The Best' looks attractive but does it stand out enough? Not when merchandised with speciality juices like Rubicon.
In terms of the rebrand and relaunch of 02o – Own label to own brand, there is a lot of scope for Morrisons existing own label products to be 'different and better than ever'. Which of course is the strapline for Daltons plans and very relevant to the own label and other relaunches and changes.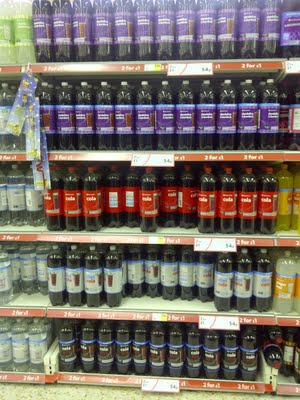 Own label drinks will be relaunched to replace the somewhat functional design.
There are areas around the store where the branding tiering doesn't really make much sense to shoppers, nor does the merchandising hierarchy. It's examples like below which make you appreciate why Morrisons have struggled to attract customers to their own label. The own label variety doesn't look too bad but its merchandised next to the 'value' range which looks very similar at first glance.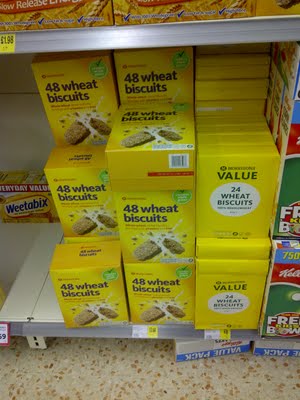 Is there a driver to convert customers from Weetabix to own label?
Confectionary is an area of the store that is traditionally taken over by the brands anyway, with any own label offer usually confined to a small range of own label chocolate and value range. Good merchandising is vital to accurately divide product groups, customers will not spend an age looking at treats and generally the boxed assortment (Roses et al) should be merchandised together.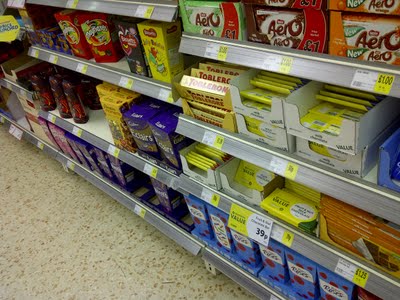 In this instance, Roses are below block chocolate with Value creeping higher up the bay.
Merchandising is being tackled with a document from Richard Hodgson being sent to stores indicating what merchandising standards are being implemented and why they need to be rigidly followed. The ceasing of gap filling highlights poor availability and also means layouts are likely to be left alone as staff won't be moving products around to fill gaps. The revised layout plans that come with the relaunches will make the store easier to shop which will drive sales and of course subsequent profits.
Lest we forget that Morrisons made c. £860m profit in the last trading year and reported record turnover and profit, all these initiatives are designed to make the business more robust for the long term and will add profit to the bottom line at a relatively low cost.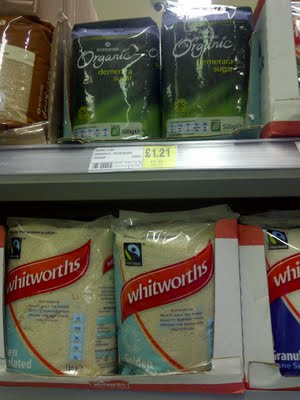 Will Organic be given a greater role in the relaunch?
Whether the premium range will remain on Grocery isn't clear – allegedly it will go from Fresh Food but the pictures below show it's not clear.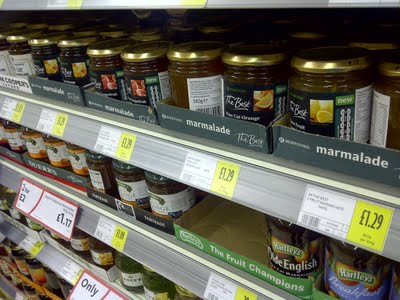 'The best' available on Marmalade but these lines are 'new'.
The Best marmalade is flagged as 'new' on the product which doesn't indicate that the brand is set to disappear anytime soon. It could be that Morrisons decide to retain 'the best' across certain areas of the business and it would indicate that spreads are one area where it will remain?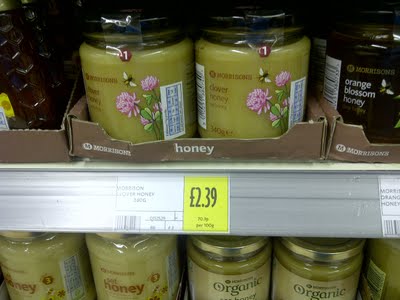 New Honey design – this is the sort of packaging / branding to be expected?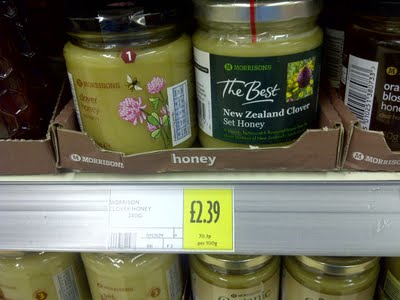 Until you realise that 'the best' Honey is being phased out and replaced by standard own label.
So with spreads having some new 'the best' lines but Honey losing 'the best' and having those line replaced by standard own label with new packaging and 'branding'. It's difficult to read into what the finalised strategy will be, sharper Waitrose style packaging will certainly feature like the Honey above.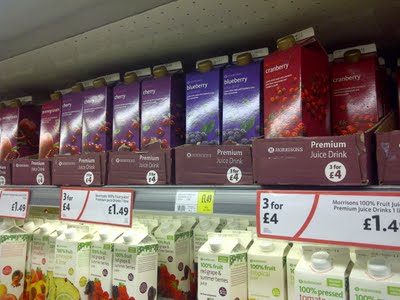 As spotted earlier – Juice is flagged as 'premium' rather than a monicker such as 'the best'.
The chilled fruit juice has been revamped in recent times with all but a few core lines left to be made over, Morrisons have been selling their premium juice for a while now and it does look to have a premium look about it, subtle and merchandised correctly on the top shelf.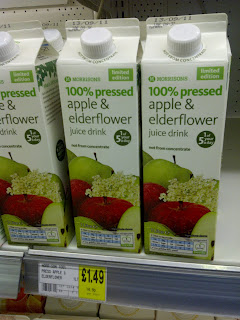 Not from concentrate Juice has been recently repackaged .
Morrisons have recently changed the packaging on the NFC juice to bring it in line with the new branding and smarter Waitrose image that they are trying to take their own label to. You can see there is still work to do, certainly on this range of new juice drinks which are designed with the old branding in mind.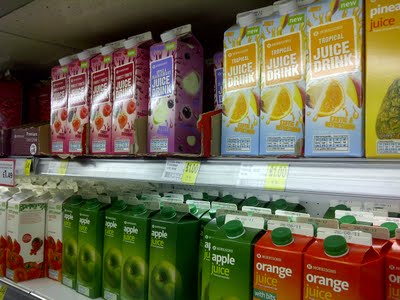 Old style branding with a large description.
There were rumours that indicated Morrisons were looking into extending their vertical integration with a possible acquisition of a full scale dairy. It would make sense for Morrisons to secure their dairy supply and it would fit in well into the portfolio.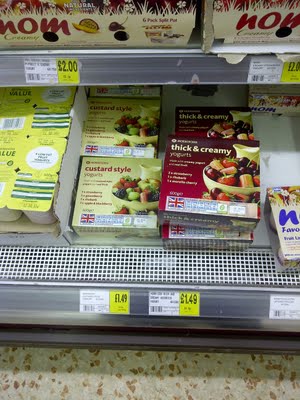 A relatively small range of own label yoghurt's – a dairy acquisition could change this?
No news on a possible target but looking at the dairy side of the range, there are gaps that can be exploited, certainly within yoghurt's where Morrisons are relatively under represented when compared to their rivals, especially with Tesco launching Yoo yoghurts earlier this year.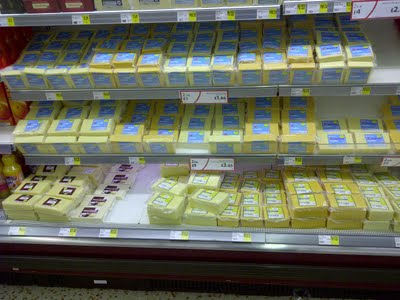 Basic own label cheese range at Morrisons – packaging bland and unappealing despite a good price point.
Of course any potential acquisition wouldn't feature just milk and yoghurt's, they would look to leverage scale on cheese for example by guaranteeing supply but then looking to the factories to get new ranges to stores quicker than anyone else. Cheese is an area ripe for development, especially as it's an area that the premium focussed shopper tends to visit and a good range is vital.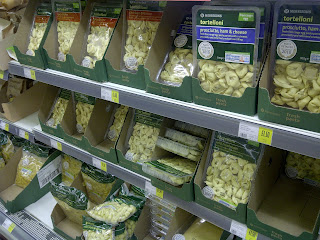 A greater range of shelf ready packaging is now visible on the cooked meats / quiche aisle.
The quiches / pies aisle has been very much a test bed for the increase in shelf ready packaging and redesign in product, as I've mentioned above – Pies and snacking were changed some months ago to the newer packaging style but the Quiche below is a sign of what to expect from the 02 relaunch.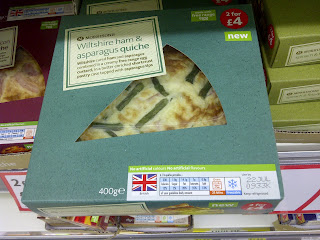 Great quality packaging – a good premium product at £2.39 – good price base.
There are other areas that Morrisons are expanding their range into, for example the traditional grocer that Morrisons are never had a particularly strong antipasti range for example, nor would you expect to see a Homous selection but Morrisons have redesigned the packaging and it looks more high end than before.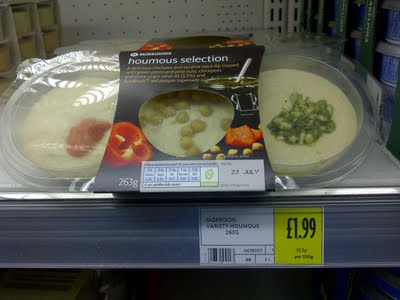 The new packaging gives the lines a premium feel.
There are exciting times ahead for the Morrisons brand and with the relaunch expected to be completed by October, converting Morrisons shoppers from brand to own brand should be a relatively simple exercise judging by these early examples of both merchandising and product design. I'll keep revisiting the own label development as more news and products arrive into store.
Keep an eye out this week for the Swinton, Manchester revisit. It's now a fresh lab and there's a full visit report to come.
A weekly email covering the latest events in the industry; such as Tesco store operations, store visits or new promotional packages are all covered. Please visit our emailed retail insight page for further information.
Grocery Insight provide market insight on the UK sector with a focus on individual retailers such as Tesco. This insight is useful to various stakeholders and due to my store based focus. Insight can be delivered to suppliers to focus on growth opportunities, analysts and investors to assess the business performance and long term outlook and retailers themselves to assess best practice.