Despite Morrisons long standing aversion to non food taking over vast areas of stores, they've always retained a small selection of goods but predominantly (much to the analysts of yesteryear's chagrin) focused on a fresh food proposition. It may surprise readers that Morrisons were quite the trailblazer in the 70's with a standalone non food operation named 'Lifestyle' opening in 1976 with the main anchor store in the Merrion centre in Leeds.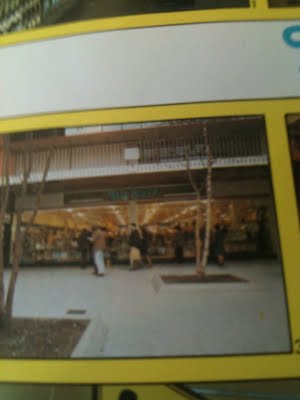 From the Morrisons annual report – 'standalone' Lifestyle store in Leeds (apologies for the poor pic quality.)
Ken notes in various reports in the late 70's and early 1980's that the Lifestyle concept was progressing well with 'a good long term future'. It looks as though new stores around that time (such as Hunslet and Yeadon in Leeds) incorporated a good range of non food with lawnmowers and garden tools featured in the store. Yeadon saw an uplift of 50% (100% overall when the store reopened) on non food when the store added the lifestyle department.
The success was evident as the Lifestyle model moved to its own 18000 sq.ft warehouse in 1977 as Ken built for the future with bespoke warehouses and factories for the wider chain, Lifestyle was so successful that it moved to a larger facility in 1979 (72000 sq ft) but then had two directors in two years with the standalone store wound down in 1981 with Ken citing high rents as the reason.
Ken comments that despite the relative success of Lifestyle, the economy was poor at the time with a severe winter thrown in, it probably lead to overstocking and poor sales probably meaning the warehouse was full of stock considering the longer lead time from the continent and beyond. I don't think the departments within the stores were wound down straight away but there appears to have been a much larger focus on food until Safeway were taken over in 2004.
"We're grocers at heart. We want the non-food to complement the food, not dominate it."
Andrew Pleasance – H+L Director speaking in 2003   
In 2003, 10% of Morrisons sales were non food and heartland stores (113 pre takeover) had developed with the market street concept requiring extensive back areas for preparation and stockholding along with a strong food offering. The non food offer was minimal, limited to the basics and totally at odds with the extensive Safeway offering that was inherited with the famous mountain bikes, jeans and tv's sat in a depot.
Fast forward to 2011 and Dalton Philips announces a plan to sell non food online via the Kiddicare platform once ranges are sourced and the plan is finalised, that's expected to be in late 2011 going into 2012 with click & collect and order pods likely to form a major part of the ordering process.
The question is, where and why did Lifestyle and their excellent range go? They were ahead of their time with gardening equipment and clothing in stores in the late 70's and early 80's especially when you look at the growth of Tesco and Asda and indeed the relatively successful Asda Living format.
30 years on with Peacocks going into stores, the Garden centre success and this new range for Home being launched at Morrisons, it looks like Dalton is rolling back the clock.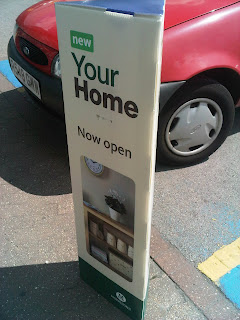 Car park bollard signs advertising the new 'your home' department.
It's worth pointing out that Morrisons continue to shy away from expanding stores to accommodate more non food like Sainsbury's have done, choosing to expand or refit stores to feature more food or the full market street offer. A prime example of this is Swinton where project liberate is going on to free up space for the new Produce concept featured at Kirkstall. Naturally the non food range will expand but it isn't the sole driver of the liberate project or indeed the possible future expansion.
Local stores close to the blog like Enterprise 5, Girlington and Guiseley have all received the new range recently and these stores haven't received more space from the core assortment of food, rather they've taken advantage of freeing up space with the Techno desk being discontinued and adding party goods and children's toys along with a revamp of the homeware section.
It was first trialled in the Thornbury store with variations on the model and the 'fresh ideas' theme, it was then rolled to Kirkstall and moved around as part of their lab plan. Initially the non food lived where the new Beers, Wines and Spirits aisles now are (that was also H&B in the old days!) but now it's moved along and forms part of the non food offer with Peacocks and then the toys, entertainment and party goods.
It's a good revamp of the offer and the focus is more along the lines of Aldi – focusing on a key number of core lines and getting the quality spot on for the offer. Whereas Tesco, Sainsbury's and Asda go for a vast range with tiering such as Value mugs and Sainsbury's 'Different by design' for example, Morrisons have not gone down this route and adopted a limited offer focusing on good quality and value for money.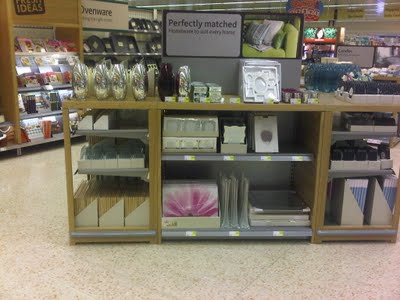 New Homewares department at Morrisons.
There are functional items like pans, knives and other kitchenware which are limited in selection but of good quality, certainly there are more kitchenware than before and ties nicely in with the fact Morrisons provide good fresh food for cooking at home.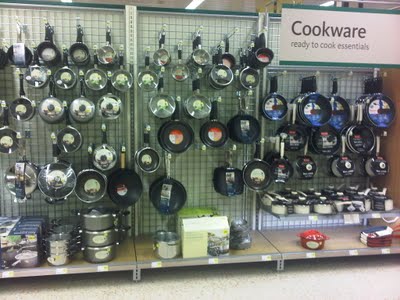 Great range of cookware available.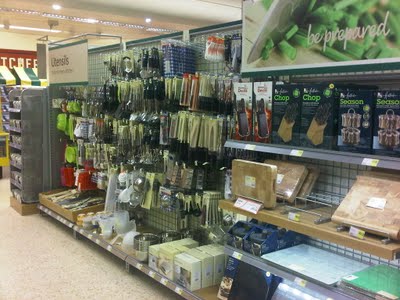 Utensils and knife range – strong merchandising.
There are also a range of appliances including a range of Value lines for microwaves and kettles which will prove useful for those on a budget along with the stores in student areas. With the deal in Hong Kong likely to drive better prices and supply agreements, there's likely to be a lot of focus on this area as the sourcing office start their work.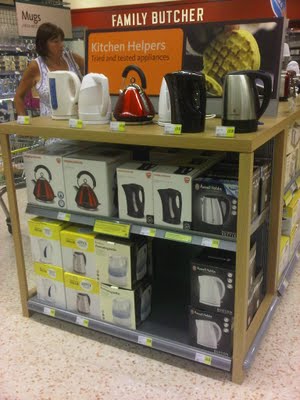 End of units featuring a range of kettles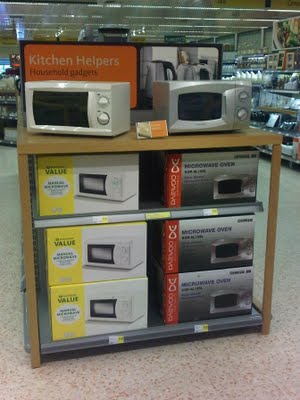 Opposite end featuring microwaves.
The merchandising encompasses two aisles with an open space in the middle, this is taken up by angled units on the shop floor along with a 1/4 central aisle for remaining goods like bedding and duvets. These angled units feature more fashionable units for the home which are well priced and relatively stylish for items bought from a supermarket.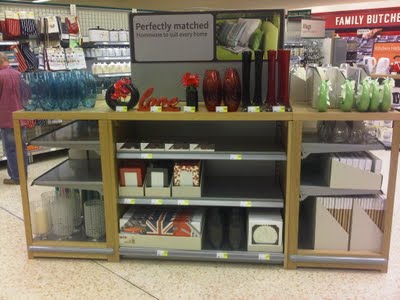 Angled units showing stylish items for home.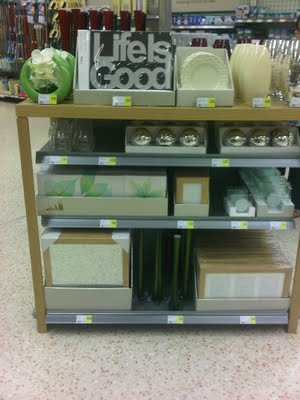 End of a unit with other 'fashion' items for the home
What Morrisons have done particularly cleverly is group items together in terms of the room that they are used in, whereas many retailers tend to block their towels all in once location, Morrisons have done them across the area of usage – so with bathroom towels, accompanying items such as handwash dispensers and weighing scales are merchandised.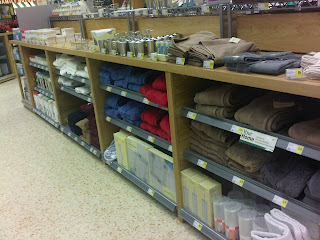 Towels merchandised with other category drivers like handwash dispensers and other impulse buys.
The new department also does a good level of bedding sheets and duvets which underlines the focus on items that are 'essential' and underpins the quote mentioned above about the non food complementing the food rather than being a  'destination' department.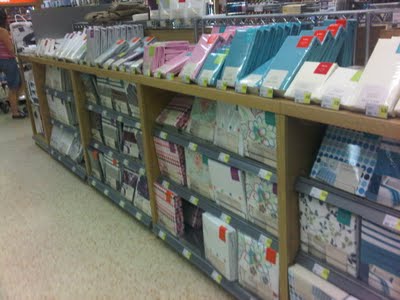 Good range of bedding sheets and duvets in store.
Non food is an effective margin driver and rather than it being a desperation tactic by Morrisons to start driving margin upwards, it's more like a tactic to underpin their existing margin by offering more to customers, driving impulse buys and enjoying the 'low hanging fruit' that is available.
The move to online non food is in the pipeline, it's due to launch using Kiddicare's platform and rumours are abound that some areas of non food and Wine are the first that Morrisons will move into offering online, it makes perfect sense to start leveraging the offer in store now ahead of a full scale roll out later in the year.
Seasonal space has also been utilised in stores for a much sharper seasonal programme than in previous years, many stores have a 'seasonal' aisle which houses Christmas and Easter lines along with other events such as gardening, Asda tend to do a 'big cleaning' event as well along with the ever popular wine event.
Morrisons have been particularly sharp this year with driving products into stores for events, the gardening range this year has been very well received with a roll out of the garden centres in some branches. The seasonal space is also driven by 'back to school' with Morrisons foraying into stocking a range of uniforms for kids along with the usual stationery, school bags and lunchboxes.
Another interesting snippet from the M Local day on Friday was the comments regarding clothing, in particular Richard Hodgson stating that they continued to look for a clothing supplier and that a deal with George Davies looked 'unlikely'. Whether the Sunday paper speculation actually had any foundation or if it was just unlikely they'd go with someone like Davies is unclear, as is the identity of a prospective partner and how that would stack up. Given Morrisons penchant for buying up suppliers to secure the supply base (and costs) it would be no surprise to hear that they'd purchased another company.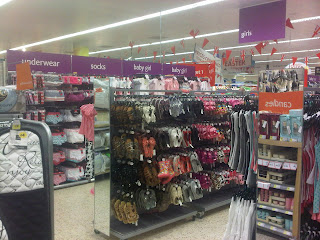 Peacocks kidswear concession in Kirkstall
Peacocks will obviously be considered as a potential target by many considering the tie up they already have with their full size concessions in Enterprise 5 and Manchester, with smaller children's ranges brought into Kirkstall to complete their offer too. The new lab store in Swinton was planned to have a Peacocks range as well but due to space constraints its had to be abandoned.
To add further coincidences, Allan Leighton is chairman of Peacocks who are available for sale apparently, Leighton is a big friend of Sir Ken rating Morrisons alongside WalMart in terms of their ability to trade supermarkets at one time.
There are obvious drawbacks though,  Morrisons would likely inherit a load of stores that they don't want or indeed have any interest in trading from, many would be unsuitable for food retailing and Morrisons clearly don't want to go down the crowded mainstream fashion route, rather choosing to focus on the childrenswear sector.
It's clear that Dalton won't change the fundamentals of the business with non food complementing the food rather than being a destination in it's own right. Childrenswear in stores fits in really well with the core demographic of shopper that Morrisons attract and can drive impulse purchases.
Morrisons don't want to be losing business to the vast number of retailers offering clothing along with non food as 'everything under one roof' becomes ever popular with the rising fuel costs.
I did mention Morrisons were using their seasonal space better and recently had 'holiday' items such as suncream, books and other little games and things for the kids. Part of that range was kids swimwear and holiday clothing which was sourced via a family run Bradford based fashion company 'Crew 2000' who source items for Sainsbury's and Arcadia amongst others.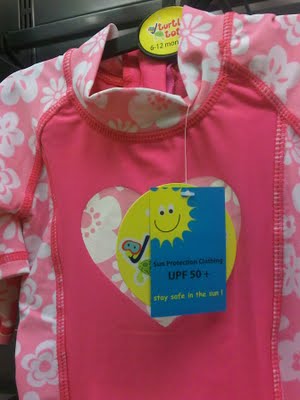 Crew 2000 sourced clothing lines in Morrisons.
Crew 2000 themselves form part of the larger Harrow Holdings group with other companies who source non food items such as picture frames and soft furnishings, they could well be a target for Morrisons as they seem to fit the demographic of family run business and it would allow Morrisons the chance to guarantee supply, if they choose to add clothing to their vertical integration chain, that does seem unlikely as Morrisons state they are looking for a partner.
There are numerous other candidates for a partnership agreement and its not possible to run a slide rule over them all, these two jump out as one is Bradford based and the other has concession stores in a number of Morrisons outlets. The fact that Morrisons are looking to expand into clothing should appease many who felt the chain was too slow to react to trends such as non food, convenience and online.
These three areas are all ones that Dalton has identified (amongst numerous others) and commenced with trials for M Local, a refreshed non food offering and with non food going online in the near future as part of the purchase of Kiddicare using their platform, the pace of change continues to be rapid.
Of course these are wider strategical moves, I've not considered the scale of change in store with own label relaunches, replenishment changes and the much lauded lab concepts being rolled out to other stores starting with Swinton later this month.
It shows no signs of slowing down, when Dalton was questioned about the rapid pace of change he instigated at Loblaw, he refuted the 'pace' and said if anything it needed to be quicker., he shows no sign of slowing down in his current role with Morrisons continuing to perform well, with their new trials bearing fruit and others commencing, its clear this pace will be needed considering the amount of scope that remains available.