The title of this blog is bold and after spending 3 hours with the management team at M Local, it's something I firmly stand by. As seasoned readers will know, this blog retains a bias for Morrisons (like an analyst maintaining a buy recommendation if you will) but that's not to say they are beyond reproach, however there's no need for criticism with M Local.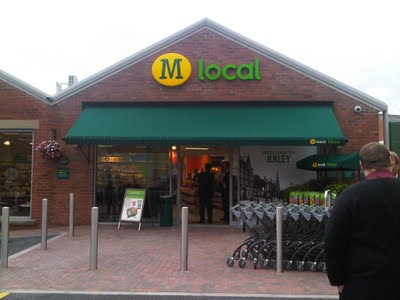 M Local Ilkley – a real departure for the convenience model.
With the M local trial store now open in Ilkley (and as I left, doing a ridiculous level of trade) I firmly believe that this model can be scaled nationwide as the offer is superb and with the convenience market booming and growing. Of course there will be refinements like there have been at Kirkstall – indeed that's been an ever moving feast since it was refitted last year with learnings taken from there and Shrewsbury and to be used when Swinton is re-opened in late July.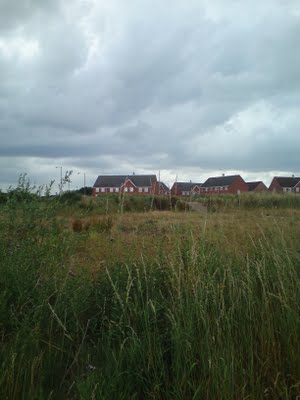 Although not much going on at Upton Rocks, Widnes – building work starts soon.
M Local Ilkley is a 'lab' trial store along with Wilmslow which is due to open in 3 weeks in Manchester, these are stores that will likely have continual refinements as the model is tweaked to suit the business and indeed the local communities that they serve. It does look likely that Upton Rocks in Widnes will roll learnings into a 'finished' model when that store is built later this year as part of a wider development including a pub and other shops.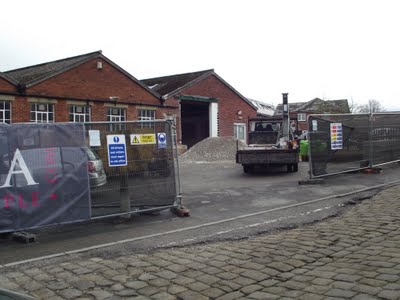 As the building was in late April.
So in terms of the M Local store at Ilkley, there are pictures of the initial store when it was but an adult education centre with no rear access or nouveau windows so for Morrisons to turn it around as quick as they have done is fantastic. Obviously it's 'new' but the store itself is finished to a very high standard with nice little touches like hanging baskets at the side of the store.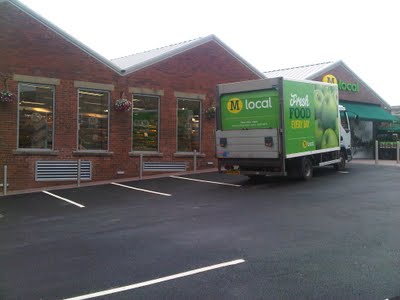 Completed and ready for opening – complete with its own truck!
As you'd expect there are is a huge focus on Fresh Food which is the main plank of the corporate and convenience strategy, it's not just lip service like many retailers who claim they are 'fresh'. Morrisons retain the vertical integration and they retain the point of difference over their rivals whilst utilising Fresh butchery, fishmonger and bakery skills in a convenience store via a hub and spoke model.
How is it done? Well it's a 'hub and spoke' model which I don't think is used elsewhere in UK retail, Krispy Kreme doughnuts do use the same model however to produce their doughnuts and then ship them to concessions like in Tesco.
A larger store supplies the Local store (using the wagon in the pic above) with their fresh products like bread, meat, fish and some cream cakes which are ordered at store level (using store level data) and then delivered in the next day, so any cut of meat, fish or a loaf of bread in M Local is fresh that day.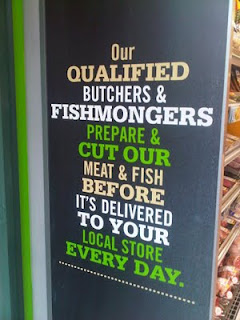 The Fresh 'promise' from M Local.
Quite a point of difference when you consider many of the rivals in Convenience tend to bake off bread and only sell ready meals and pre packed meat which isn't renowned for it's freshness at the best of times. The bread is baked in the hub store and delivered in, interestingly it's also 'naked' bread which is bagged up when the customer wants to purchase rather than packaged elsewhere.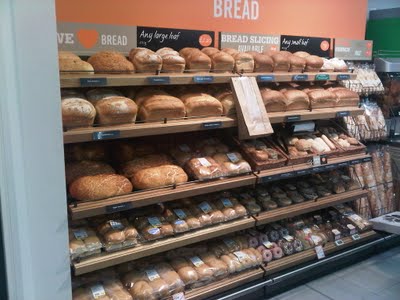 Excellent range of bread, rolls and confectionery products.
The hub and spoke model has been used to some success with the Netto conversions as a larger store has been assisting stores in producing bread, Ilkley are the first store to actually use a store for their delivery needs which obviously means there is a requirement for a Morrisons near any new M Local which isn't a problem in the north but as you venture into the South East for example, it may well cause problems.
The hub store does supply lines where it's half a case or less or where there are same day requests, where it's full case traditionall orders, the depot takes over and supplies into the store via the small wagon. The warehousing and replenishment is interesting as it's the first ever Morrisons store to be fully on 'wheels' rather than palletised.
The store is fully SMS managed via allocators at head office, usually a store (even the Netto stores order their groceries with the order pad) will order grocery items manually with Fresh Foods relying on stock counting and manual allocation at head office. This store is different in that areas of the store are counted at different stages with gap scanning done daily and forming a huge part of the ordering process, allocators are also sat at head office watching sales and listening to the stores feedback with the hub helping out where applicable, there is no manual ordering but the store are able to react to out of stocks and request these via Keighley, sending their truck to collect them to minimise lost sales along with short term requests and any customer orders for non ranged items.
To 'bridge the gap' and not to miss sales, normally stores can order and plan ahead of demand and hold buffer stock in the warehouse for lines that are quick selling and replenish 'just in time' – M Local don't have the space to either hold masses of stock or indeed the ability to replenish due to the nature of the store size so the hub store will hold slightly higher volumes of stock for Ilkley who uplift as / when they need to.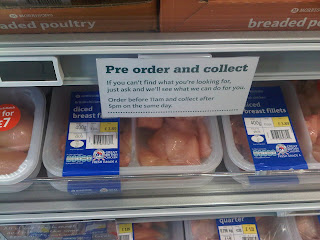 Pre order and collect – extends to televisions and anything within the Morrisons range.
There may well be questions over efficiency with regard to the truck going backwards and forwards and there being no specific delivery time like JS Local and Tesco Express for example but this harks back to Sir Kens motto 'we'll plough our own furrow', Dalton reiterated it today that they are trialing convenience their way.
One of the biggest costs to a business is lost/missed sales due to poor availability and if Morrisons can bridge that gap by using a manual solution and more regular 'little and often' deliveries then it will transfer to the bottom line especially in the early days where people will want great availability and Morrisons have clearly put thought into a flexible solution for M local in the early unpredictable days.
The biggest shift for efficiency is the introduction of eSEL's (electronic SELs) which update overnight with any price increases or decreases, however its worth pointing out that Morrisons charge the same price in Ilkley as they do in any superstore up and down the land, maintaining the legacy of having one price file. Grant Henshall (store manager) estimated it saves 10 hours per week in labour by not having to change SELs over manually (bar a few on produce admittedly.)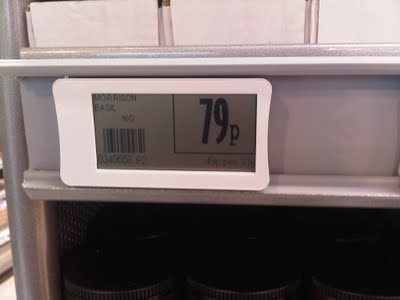 eSEL's – a real efficiency driver.
The investment on systems kicked off by Marc Bolland to the Oracle suite is now paying dividends as the eSEL solution feeds into a Oracle database, with Morrisons using their technological ability to order for a full store, price up the store along with the new software powering the checkout and back office solutions. These initiatives will drive cost savings across the estate, athough eSELs are limited to convenience trials for the time being but it's particularly positive to see them in here.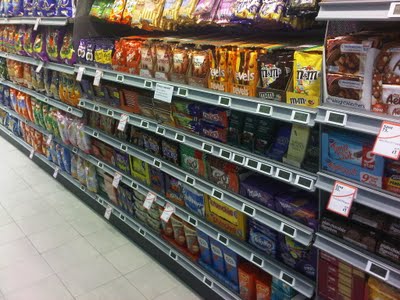 A good example of 'the best' entering the range is on chocolate – no own label bar 'the best'.
As you would expect, there will be a lot of change in range as the team work quickly to assess what is selling, what's being requested and what isn't really moving, as it's a trial store, the format isn't tied to any supplier deals so the store has full carte blanche to range what the customer wants. With space at a premium and the residents of Ilkley enjoying Tesco Finest lines (2nd highest selling store of Finest behind Kensington, Chelsea at one time) then it's to be expected that more 'the best' lines may be requested.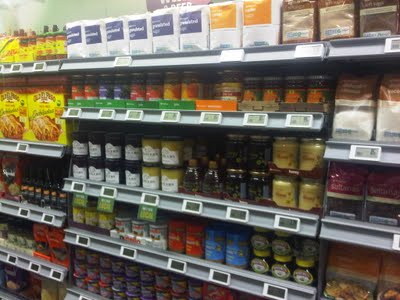 As space is limited – range is reduced accordingly.
The esel solution is particularly easy to adjust if a new line comes in, presumably any discontinuations will be uplifted to sell in a larger store. The esel is reset at the back, the new line scanned and then it marries itself up with the new product, after 5 seconds, the esel reloads with the new product information.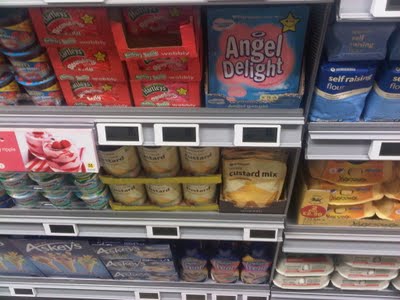 Clear brand leaders such as Angel Delight are stocked at the expense of own label.
As the store features more Fresh than any of the competition (up to 40% more), there is less space for Grocery. Nothing is left out in terms of categories but obviously there are certain lines that aren't stocked, Dalton explained that the logic used was if there was no clear market leader (dried pasta, Jam) then the own label range would be stocked, lines such as Chocolate spread where Nutella is the clear leader they stock this and not the own label variety. With products such as Jam, there is also a Local variant that is stocked in the store to provide a local option for local residents, as Morrisons are going into these local communities they recognise that local products are popular so they do what they can to stock them.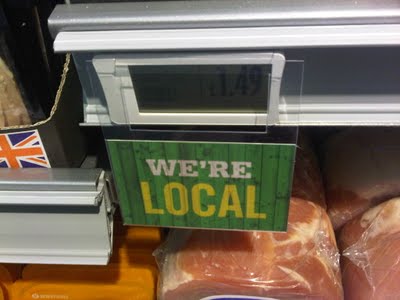 POS on local lines in store.
This does tie in nicely with 'o2 own label to own brand' project where own label is being grown to 'own brand' and sales are forecast to rise to ensure that the split is 55% OL vs 45% brand which would bring them into line with the competition. Exposure to the Morrisons own label for lines such as Jam can only be a positive move for this plan as Morrisons try to grow their own label sales and share.
The focus on fresh food doesn't just extend to the hub store sourced Meat and fish, there is a great range of Produce, fresh meal ideas and food to go ideas with the same prices as at Morrisons stores. Traditionally JS Local and Tesco Express do add a price premium for their food to cover the extended costs associated with opening longer but Dalton Philips stated that he and Morrisons 'would not be beaten on price'.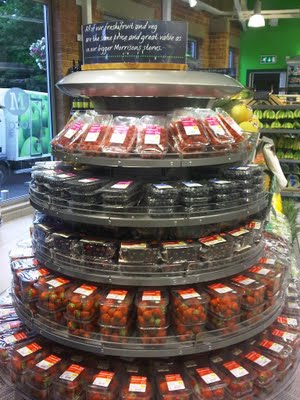 Freshest produce with the same price as a Morrisons store.
As at Kirkstall the display of product is innovative too, obviously there are shelf ready considerations with some of the Produce but the store doesn't have 'standard' aisles like you see in many Co-Operatives for example, there's been a real focus on making it feel artisan and not just another convenience store.
Certainly the level of Produce and 'fresh' had Booths worried, they have a store in Ilkley and spent the day in an advertising truck driving up and down past the Ilkley store reminding customers that Booths sold Produce too!
Artisan style Produce section with lines decanted.
Another area that has been identified as a 'need' for customers is meal solutions, Morrisons have their very successful own range of meal kits whereby you can buy a pack with all the ingredients in for a meal for £4. Where Kirkstall have identified a need for 'food to go' customers with their excellent Fresh 2 go range for customers popping for a sandwich, Ilkley and the convenience model appears to cater for customers who are in need for dinner inspiration or wanting some Fresh food for their evening meal.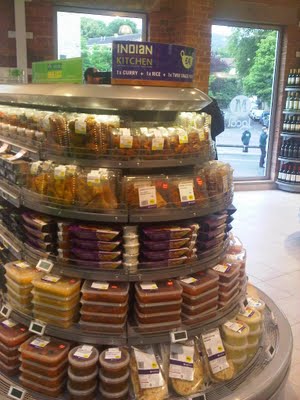 Fantastic value Indian meal deal for £4 with freshly packed items such as Samosas.
The store is laid out like a typical convenience store with expensive spirits behind the checkouts along with cigarettes, however as you enter the store, there are two 'islands' with meal solutions on them before the Produce section with Fresh Meat on the back wall. So whilst Kirkstall has the entrance area for food to go customers, Ilkley has the first 'aisle' area of the store for shopper in search of meal solutions rather than traditionally having Bakery or even alcohol.
Italian meal solutions on island one – Pizzas, ready meals and pasta.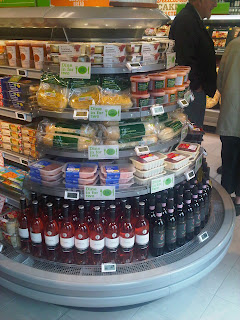 Italian meal deal on the end of the 'island'.
Not only does the store feature items for a shopper wanting solutions for the evening meal, it also features pre cut cheese, olives and hams from the Market Street Express area that you would see in a larger store for example. It's clear that Morrisons see this as an area for ample opportunity as the islands also feature wines that can be picked up on the go with local beer on wall mounted displays behind the islands.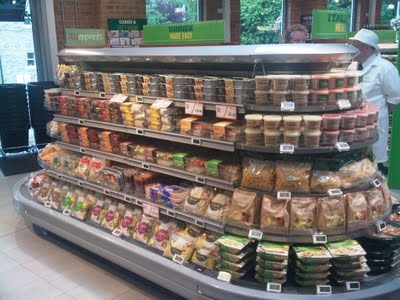 Good range of ready meals here – with real meal solutions and the 'deli express' on the end.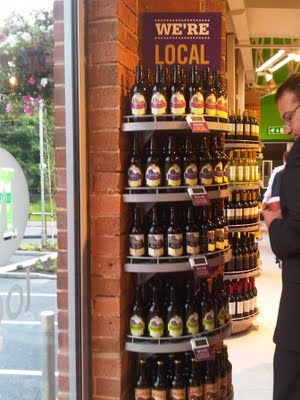 More meal options with locally produced beer on wall mounted racks.
The store ranges a lot of items and it's enough for a full shop (albeit slightly restricted) but for a top up shop it's absolutely ideal, the fresh focus is excellent and pre cut meat and fish is unique and a deal breaker for me within the convenience chain. It's so fresh something that you just dont get at the rival convenience stores.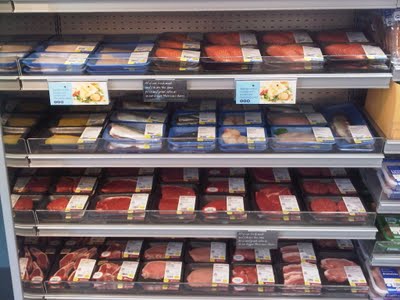 Freshly cut meat and fish – M Local the same price as in a Morrisons store
Whilst there is a focus on fresh food which is the point of difference for Morrisons in general and a huge plank in the strategy and selling point for convenience. There are other fantastic pieces of innovation in the store that both capture the attention and represent remarkably simple revenue drivers, with convenience stores only being a maximum of 3,000 sales per sq ft, every bit counts towards store takings.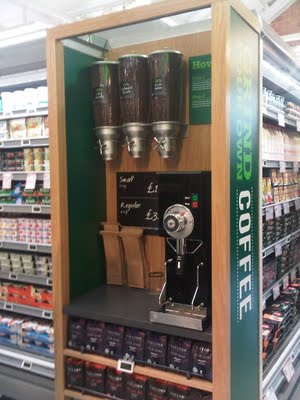 More innovation: grind your own coffee and take it home.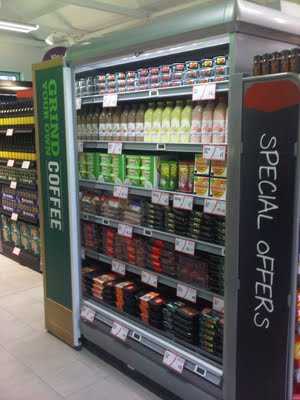 Endcap with featured offers but note the new style POS recently seen in Kirkstall!
What Morrisons have been particularly clever to do both here and at Kirkstall is marry up the quality offer with a revitalised store environment thus attracting their usual customers with the core offer and attracting new customers with the quality store environment to entice them in. Ilkley works on both levels however thirdly it works fantastically in Ilkley due to the fact that the new store isn't Tesco.
Local residents were deeply unhappy at the high courts decision to allow Tesco to build a larger store after Bradford council rejected the plans, the feedback I received was that residents would use M Local over Tesco and were so pleased with the new store.
As you'd expect for a convenience store, there's an excellent range of wine but it fits in with the 'food' theme as Morrisons have incorporated a Wine Selector screen into the aisle so if you're having a Curry, you can enter that into the selector along with your preference of Red or White and the screen will provide you with a recommendation.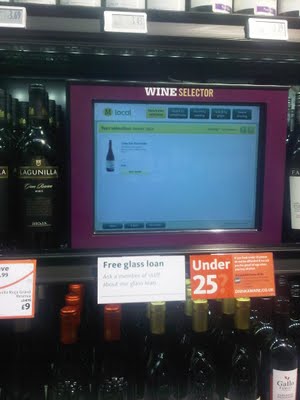 Wine Selector – never seen before in a Morrisons store.
In addition to the wine selector and general strong offering on Wine, its good stuff. As Dalton pointed out, their Wines have won awards galore including some at the prestigious Q awards where some retailers weren't even entered. Its this consistent delivery of excellent quality product at excellent pricing that's the cornerstone for stores like Ilkley and Kirkstall to be so successful.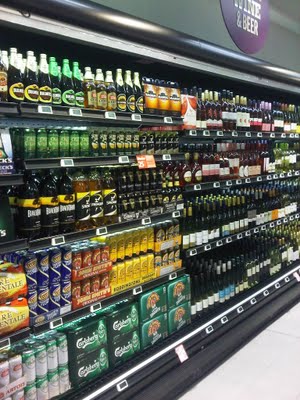 A vast chilled beer and wine range.
Another clever tweak is the increase in space for chilled wine and beer, a common complain in convenience and main estate stores is that they don't retain enough chilled space for alcohol, so literally you can go into the store and pick your meal or ingredients for and your chilled drink in one shopping transaction.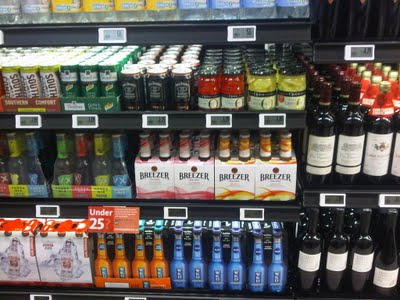 Tonic water just out of shot but jars of lemons and cherries well merchandised with alcohol.
Despite the new era for Morrisons under the ever ambitious Dalton Philips, the trading ethos of the company continues with the plans and store flow cleverly incorporating tonic water and jars of lemons with the Beers and Wines. The rest of Grocery remains relatively standard but it's likely to change as sales patterns emerge and the like, the key thing is that Morrisons will react to sales patterns and make the space work.
A clearly important part of the stores of the future is a good food to go offer, obviously it's a huge part of Kirkstall with that area being moved to the front of the store, with Ilkley it's at the front of the store and there's a superb offer with a number of interesting developments for the format.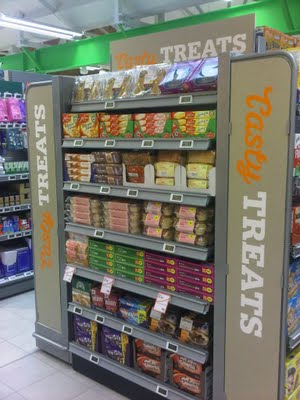 Pre packed Bakery products are displayed on an end near checkouts with good strong POS.
A groundbreaking move is to incorporate a salad bar into a convenience format with product from the hub.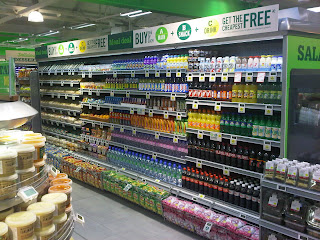 The sandwich 'meal deal' – cheapest item free.
Tesco appear to be looking for constant ways to drive efficiency into the Express format with restructures and consistent lean store adjustments, it's not so simple with convenience as customers expect the same level of service but with less staff and space. Newspapers as an example need to be replenished early on and then returned once unsold with the relevant notes attached, these are tasks that all stores do but they are time pressured in a convenience environment when there are other elements (such as bake off bread) to do.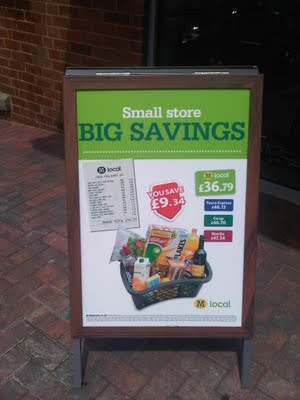 Competitive pricing by Morrisons – no stunts since pricing replicates the main estate.
Morrisons appear to be accepting that there will be a higher level of staff cost as they drive through the quality offer across the store, salad bars that take time to prep and the freshly squeezed orange juice machine that will need maintaining, cleaning and juicing!
These items drive margin and impulse buys which in turn drive profitability, customers can go to the competition and experience identikit convenience stores but M Local is clearly something different, exciting and scalable no matter what the demographic.
It all goes back to the scope that Dalton has, the business is growing profits and continues to perform well in the Kantar figures but has just launched the first convenience store today. An innovative trial store that will perform well and as the model is refined, see more growth in store numbers.
It's irrelevant whether Morrisons are late to the game with regard to convenience, whilst Tesco Express and JS Local have a number of stores in their estate, nothing can match what Morrisons have done with M Local in Ilkley and will continue to do so as they roll out the format nationwide.