Leafy Wilmslow with its Aston Martin garage, Toni + Guy salon and upmarket Space.NK.apothecary (posh high end moisturiser/make up retailer) isn't traditionally what you'd associate with Morrisons or indeed their fledgling convenience chain M Local as they opened their second convenience store here on Monday.
It's perhaps testament to Dalton Philips and his work in the first 18 months (and Bollands prior marketeering skills) that's shifted opinion and perception of consumers towards Morrisons being a destination for Fresh food but also an increasing premium offering whilst not losing the value focus that made them into the success story that took over '4 times bigger than themselves' Safeway in 2003.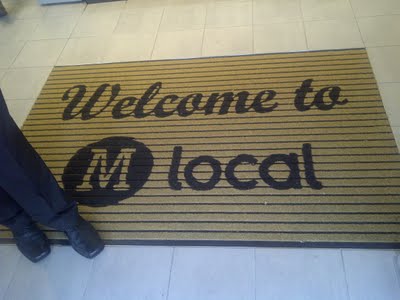 Welcome to M Local Wilmslow.
Opening in Ilkley then Wilmslow shows the confidence in their operating model and the general offer as its condensed into a much smaller range for the convenience model, catering for top up shoppers, some doing a larger shop, lunch on the go plus those looking for inspiration for an evening meal.
Wilmslow is arguably more affluent than Ilkley with the Aston Martin garage next door to the store and relatively large town centre it's bigger than I envisaged. Morrisons share the street with Toni + Guy and a few independent retailers and are at one end of the high street leading to a busier area. In terms of food retailers, they share the town with a Waitrose (plus Bollinger at £103 a bottle), Sainsbury's Local and a Tesco Express.
Indeed feedback when the store opened at 9am on Tuesday was that customers were pleased Morrisons had finally opened a store in the town, which further underlines Morrisons broadening appeal to even the affluent shopper in a town like Wilmslow.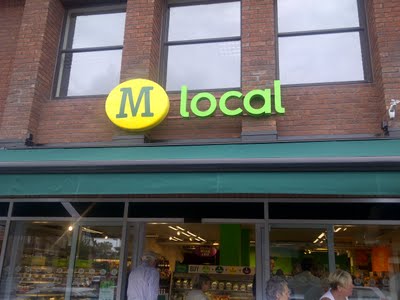 Wilmslow the latest addition to the M Local stable.
Upon entering the store, its clear that its another building which wasn't planned as a supermarket or indeed a convenience store as there are supporting pillars and an unfamiliar layout to contend with, it has to be said that  they've done remarkably well to retain the focus on Fresh arguably better than at Ilkley with the shop being at a different angle but with clear divisions apparent.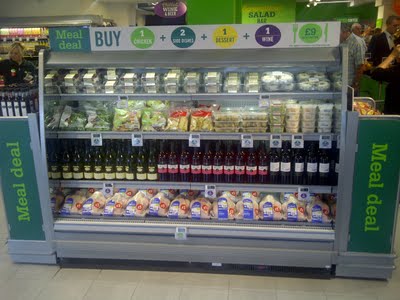 Revamped meal deal – located just inside the entrance of the store.
As you enter the store, the meal solutions area is evident, in fact all core fresh food is in the first 1/2 of the store, only when you venture further back into the store do you come into contact with grocery which is almost hidden away down in a corner of the store. The other half of the store contains the checkouts and more fresh food with the  bakery, salad bar and the lunchtime meal deal offer.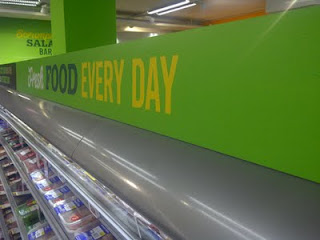 The Fresh food message is never far away.
The evening meal deal is the first thing you see upon entering the store and its been revamped to include a whole chicken, 2 sides, 1 dessert and a bottle of wine for £9, it has been tweaked slightly as customers were getting confused with the meal deal in Ilkley so its now located in one chiller. I'm sure in time the meat would be changed but it represents great value with the wine included.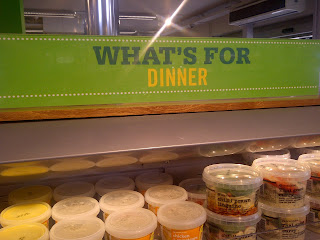 Meal solutions are a key focal point for the M Local trials.
The store layout underlines Morrisons single minded Fresh focus and their convenience model backs this up, of course they've also got the support of the hub store – in this case Cheadle who supply the meat, fish and other in store craft lines for the store.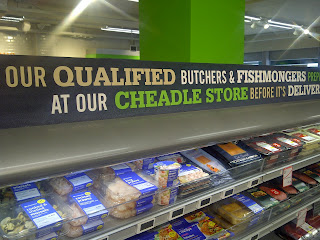 Via Sir Ian Gibsons suggestion – the hub get some press for their efforts in store.
I was particularly interested in Wilmslow to see what tweaks had been made considering Ilkley had been open for little under a month, there are always things to improve upon and it was noted that the location of the bakery area in Ilkley didn't make much sense.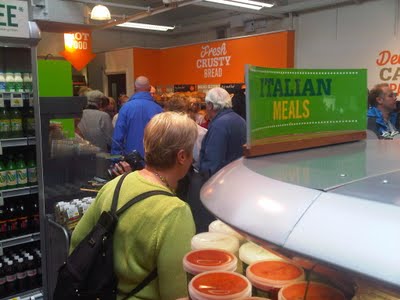 A long queue at Ilkley means bakery is inaccessible to the shopper
At Ilkley the queue system went past the bakery department and down one of the aisles, so it was impossible to get your bread until you had reached it in the queue, then you had to effectively shop whilst in the checkout queue for Bakery products.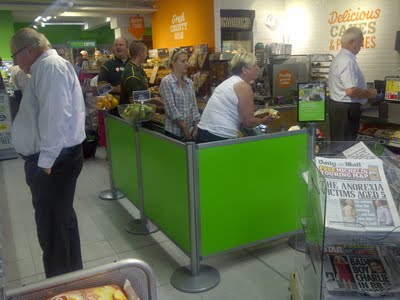 New queuing system at Wilmslow, taking customers away from the Bakery.
There are obviously changes based upon the fact that there's a layout difference between the relatively clear flowing store that Ilkley have against the former office block that Wilmslow is. There are difficult pillars to work around and little areas that have had to be worked with to incorporate areas of the core offer without disrupting customer flow.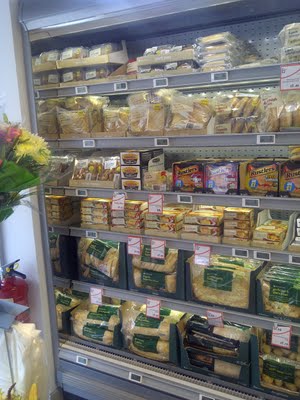 A strong selection of own label products in M Local.
Wine and Beers are in a small area at the back of the store. The left hand side of the store contains ready meals, fresh pizza and Fresh produce with the square footage of the entire store being the same as Ilkley at 3000 sq ft.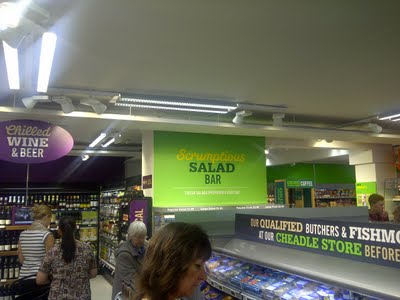 Clear division in store – left hand side Wine, larger salad bar then right hand side – Grocery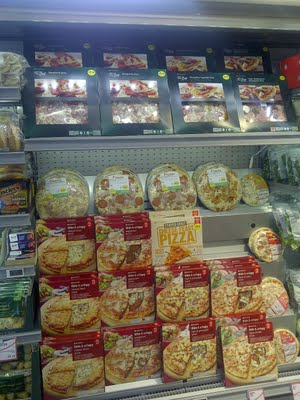 Strong focus on Pizza in Wilmslow with in store produced ones available too.
As Dalton targets o2o with Morrisons targeted to close the trading gap to ensure their own label sales reach 55%, the layout of M Local indicates that they intend to meet this target by ranging lots of own label on fresh and dry goods. Admittedly Fresh foods is generally dominated by own label anyway but Grocery does have the logic of 'no brand leader then it's Morrisons
I had heard that Morrisons were looking at their range hierarchy in general as many stores have ranges driven by what the competition is like in the area, rather than the demographic of the area. Ilkley historically would have had a value based range proposition as the competition is strong with the Co-Operative, Booths and Tesco in town.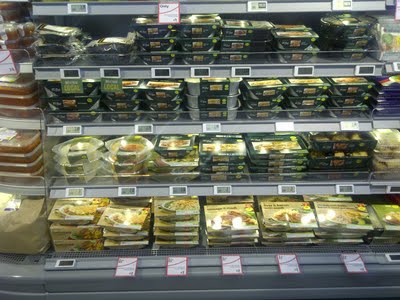 A good range of 'the best' premium products in Wilmslow.
The convenience ranging is now based on demographics so with Ilkley being relatively affluent (along with Wilmslow) they have ranges tailored to what people will want to buy. As the convenience model is a trial Morrisons have full control over ranging and they won't be adopting Asdas approach of asking for listing fees as they did with their Netto conversions. Going forward the main estate will potentially start to change their ranging based upon a number of factors and not just local competition.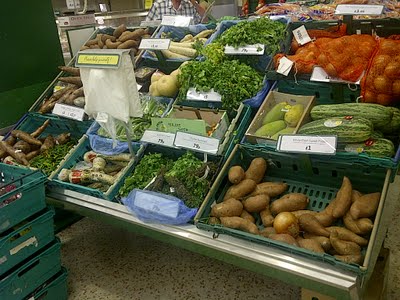 Larger , smarter ranging? Enterprise 5 now ranges Asian Produce such as Okra
The own label refresh is much needed as we know but with the new fixtures, fittings and new style POS theme throughout the store, the ready meal packaging really harks back to a former time for Morrisons, the revamp cannot come soon enough. Kids Smart doesn't particularly work well enough for example.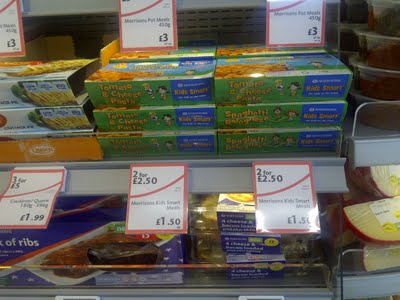 New private label revamp will be eagerly anticipated by the business.
The store has an excellent range of Fresh Produce which is sold at the same prices as at the larger Morrisons stores, the brutal simplicity of Morrisons is evident on the cucumbers, usually within retailers they sell Cucumber portions under a different SKU and these are sent in as separate products from the main cucumber. Morrisons simply cut a full cucumber in half and retail these as cucumber portions which can maintain availability during busy periods.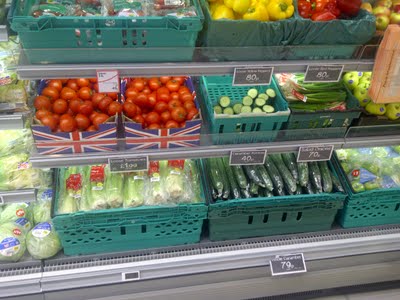 Half cucumbers – simple!
You'll note above that there's different pricing solutions on display, the eSel is present next to Celery whereas the other products appear to have the Kirkstall/Swinton POS with the chalkboard style font whereas the special offer barker is in the standard white/red as seen in main stores. Whether the Produce signage will be rolled out to all stores remains to be seen but it would be a positive move from a presentation viewpoint.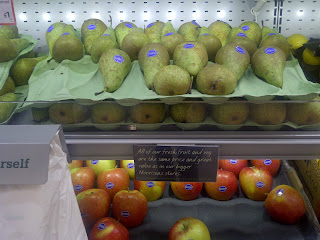 Stores sacrifice elements of efficiency for presentation.
There are elements of the efficiency plans that are sacrificed, as above on Produce where Pears and apples are decanted from their case and sold from their layers, they can afford to sacrifice elements of efficiency really with the amount of fresh food that is being sold within the M Local stores, especially if it drives customer purchases.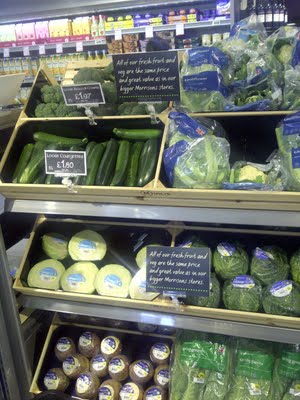 Vegetables decanted from delivery cases into the store display units – the price pledge is everywhere too!
Whilst their strategy is fundamentally fresh based, it works two ways as Morrisons clearly retain a very good margin on Fresh food due to their vertical integration but they also have full traceability and control over the supply chain which helps them react in the case of poor / excellent weather for example. They can afford to be creative with displays and efficiency as they can still drive margin with products produced in larger stores.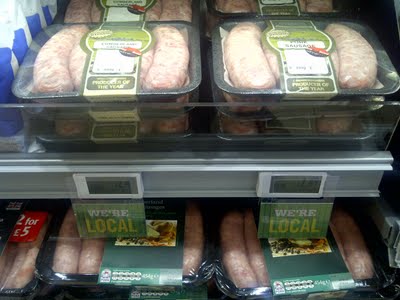 Local Andrews Sausages in Wilmslow with the 'local POS' attached.
Another push into M Local territory for Morrisons is their focus on locally produced lines, they've sourced more local produce in Wilmslow and surrounding areas and not just gone for something 'lancastrian' like Hollands Pies, rather opting for individual local lines like Andrews Sausages and Roberts bread which is vital with Local convenience stores – selling local products in a limited range can build loyalty.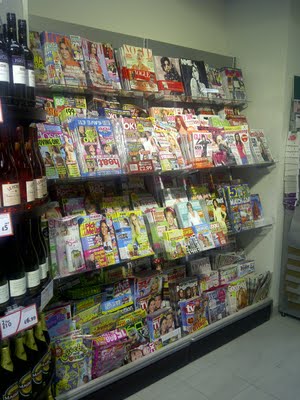 Good range of magazines in Wilmslow.
Another change is that there is no room for magazines at the front of the store like at Ilkley, they are located near the Wine in Wilmslow whereas newspapers are in a small display at the checkout area, often magazines can be an impulse purchase for those planning a night in so siting them here makes real sense. Space is at a premium in convenience stores, especially where (like here) Morrisons take over a building not necessarily designed for retailing.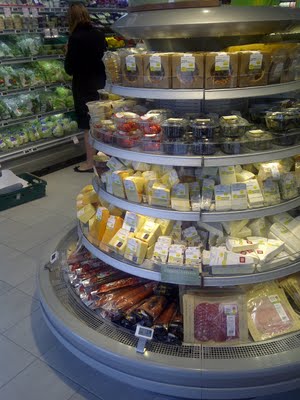 Not just standard 'fresh' lines, the cheese will have been cut and wrapped in Cheadle for Wilmslow Local.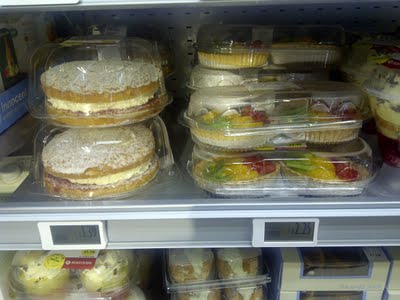 Strong selection of 'really fresh' Bakery cream lines.
The Cheadle store does supply a lot more products than just meat and fish with Morrisons utilising their craft skills in hub stores, like Ilkley, Wilmslow ranges a number of fresh cream lines that are prepared in Cheadle and delivered into Wilmslow. This is another key point as often cream cakes from larger manufacturers are far older and not as 'fresh' due to transit time from factory to depot and then back out to stores.
For convenience shoppers to experience a Victoria sponge or fruit tart made that day is very different and represents a real point of different for the convenience market and indeed it will probably be fresher than some of the lines in a main competitor supermarket.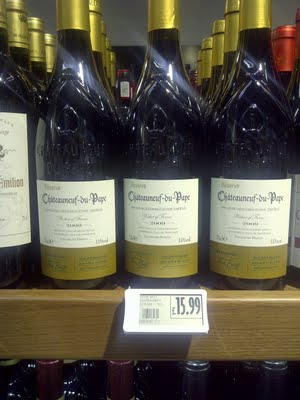 Strong price point and not immediately clear it's OL – a good wine too.
The Beer and Wines section is well presented and features a strong range of wine and beer which again feeds into the meal solutions category that M Local are trying to meet, consumers do enjoy Wine and Morrisons are tailoring the range to suit all budgets and even ranging their own label 'the best' wine to capture all manner of shoppers. Another similarity with Ilkley is that the majority of Wine is chilled which again caters for evening meal shoppers.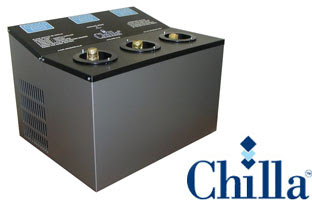 A Chilla – similar contraption was seen in Waitrose (c) brandrelations.co.uk
Waitrose did have a Wine chiller machine where you put a bottle in the machine and went back around 10 minutes later and it would be perfectly chilled – an idea for Kirkstall perhaps? Especially since the cost to put refrigeration units in a main supermarket would be too vast both operationally and to install.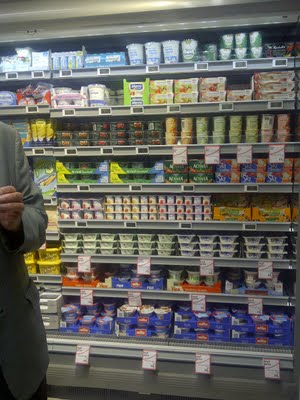 Small range of yoghurts and cheese which form part of the core 'corner' area.
Unfortunately I was unable to get a picture of the enlarged salad bar (due to the trade levels) but this has been a success story of the Ilkley store so Wilmslow have benefited from a larger salad bar along with bottled fresh orange juice, the cups of fresh Orange juice have sold so well that the decision has been made to bottle it as well. The salad bar is sited just before the 'corner' for Grocery and core Fresh – yoghurts, butter and Milk.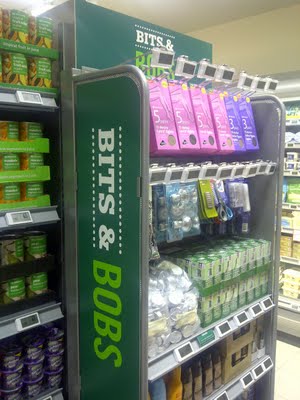 'bits and bobs' ladder rack with essentials.
Something that was missed on the last visit was the 'bits and bobs' ladder rack which contains most of the things that you could think of that households need, lightbulbs, tea lights, tights and shoe polish form part of this small range which doesn't form massive amounts of the shop but does cater for the top up shopper or someone popping in for a household emergency.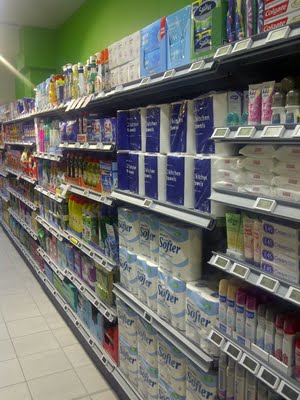 A good range of grocery and household products.
The range is the same as Ilkley (despite a couple of tweaks at Ilkley since opening) so the Grocery range is the same logic of there being no clear brand leader on dried pasta for example, then Morrisons own label is stocked, whilst not a perfect logic as individual tastes differ, its the best approach for a limited range store.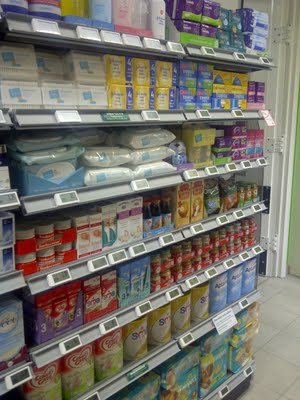 Along with an excellent range of baby products to cater for all tastes of milk.
Another category which performs well on own label is Frozen, there are brands at work such as Birds Eye and Hagen Dazs but a gap analysis will generally show that the supermarkets also have their own label comparatives. Certainly Morrisons are driving their own label sales by ranging a number of Frozen products, in some cases alongside branded products, Hagen Dazs does fill a niche but its interesting that Morrisons also have their standard tub of ice cream on offer too.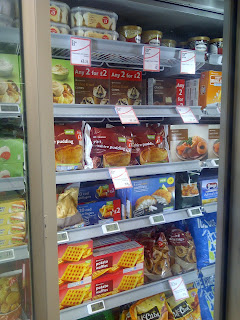 Good proportion of own label ranges on Frozen.
Perhaps some thoughts can be given to the eSel trial and how they fill the gap with advertising offers, the smaller red/white POS looks good and stands out but I wonder if a more digital solution could be found in the future. Certainly the eSel could flick between the price and the offer but then it wouldn't stand out to customers, I think there could be work done on the red/white POS that would be more in keeping with the new colour scheme and design of M Local.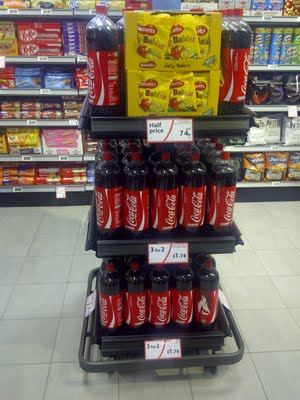 Promotional space for impulse purchases.
In keeping with the trading ethos of Morrisons, they've always done things to drive impulse and complementary purchases (instant custard next to the Bananas anyone?) and space has been found for  a couple of extra display units with offers on. These are typical impulse purchases such as Coke and sweets.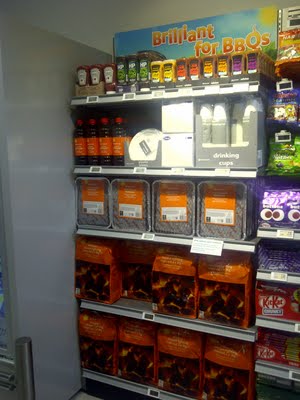 Seasonal space is important, can be utilised for Christmas, Easter etc.
As with many stores these days, seasonal space is important and is key to drive footfall especially when the weather is hot and it's BBQ season for example. Despite Morrisons aversion to giving up space for non food, its happening with Liberate as Swinton gained homeware and a seasonal aisle. They have managed to find space for a bay for BBQ related merchandise, obviously if these are unsold the beauty of the hub and spoke model is that they will presumably be returned back to the larger hub store to sell through.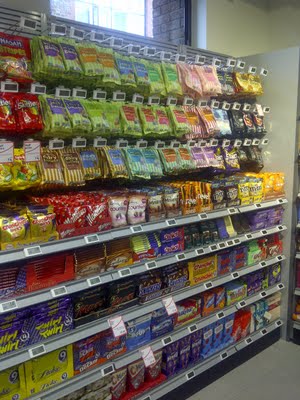 The hanging sweet bag pegs remain.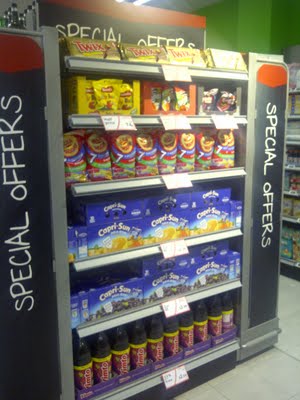 Promotional end features new POS – slightly tweaked with some red added to the tops.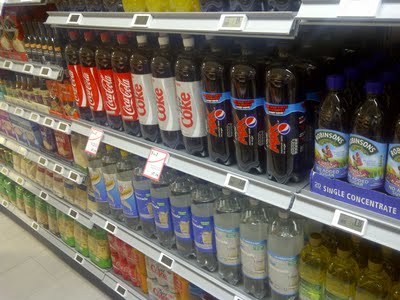 Ranging in action – Coke / Diet Coke market leaders but Coke Zero evidently yet to overhaul Pepsi Max.
The Bakery department flows a little better in Wilmslow with Plant bread and rolls alongside cakes rather than flowing around to a gondola end like at Ilkley. There is a strong range of cakes with some Morrisons own label goods like Gingerbread men along with Morrisons own label bread which is vertically integrated via Rathbones so again it represents good margin.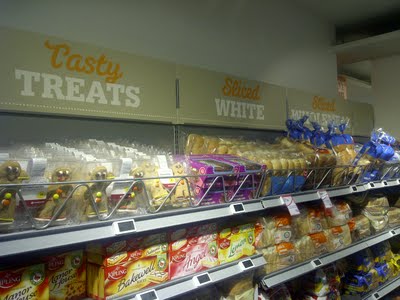 Bakery products divided by header boards for each product category.
Interestingly, it doesn't appear that Mr Kiplings pies are noted as a brand leader with customers being steered towards the own label pies rather than the branded equivalent, Cadbury's mini rolls are available as are HobNob flapjacks for where there is no own label equivalent.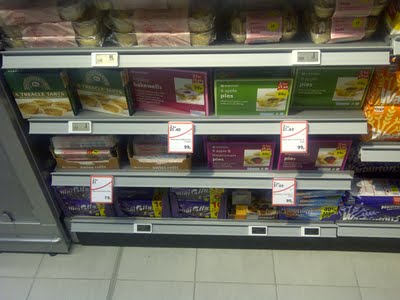 Morrisons own label pies available as opposed to a branded equivalent.
Wilmslow also has the 'grind your own coffee' stand that had been used early on when the store opened so its positive that customers are buying into the experience and grinding their own, it could be a useful gadget to drive repeat purchases and it also underlines freshness with the 'freshly' ground coffee machine. It adds some retail-tainment' (to quote a Safeway buzz-word) with customers having to get involved adding theatre to the shopping trip, especially a top up shop which is usually a very functional trip where you are shopping for something very specific rather than a 'big' shop for example.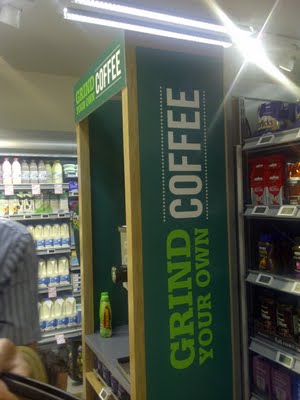 Space is made for 'quirky' ideas such as the grind your own coffee  machine.
The Bakery is strong in M local with fresh bread baked at the hub store then sent into Wilmslow, as I mentioned its easier to get to the Bread now a queuing system has been introduced at the checkouts, its a good assortment and all the bread is 'naked' to show the freshness, there are also an assortment of loose rolls on 2 for 50p offer with the bread at single price points to simplify things for customers.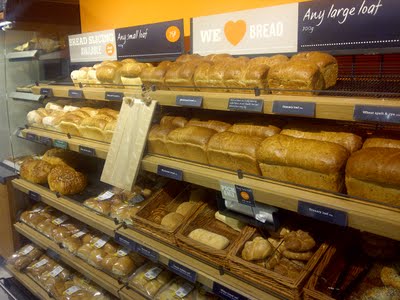 Couple of gaps after strong opening day sales at Wilmslow.
Despite the increasing focus on premium and 'fresh', the value ethos of Morrisons hasn't been abandoned and indeed Morrisons are rather focusing on the areas for improvement rather than abandoning what has made the business successful for so many years. An example of this is the excellent meal deal where a sandwich, snack and drink can be bought with the cheapest item being free.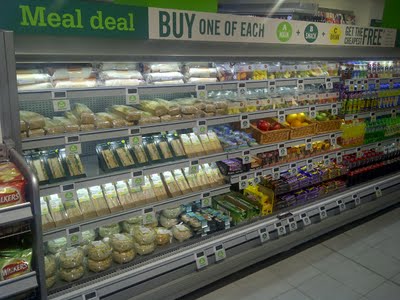 Strong meal deal with some freshly prepared hub store sandwiches and pasta pots included.
This represents excellent value rather than the usual pegging of a deal at lunch for £3.50 for example as inflationary and cost pressures will see certain items delisted due to their high price point, meaning the set price deal isn't as good value as perhaps it once was. The cheapest being free means there is scope to have a larger assortment for customers to pick from, with some sandwiches and pasta pots being prepared in store, they attract a higher margin anyway so the profitability side of things is protected.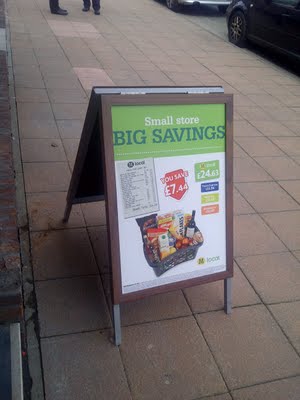 Another local price comparison showing M Local value vs local competitors.
Of course it's not just price that Morrisons are competitive on, despite the above sandwich board showing that they are cheaper than the competition in the convenience market. They also beat them on fresh as even the large supermarkets won't have food as Fresh as M Local or indeed another Morrisons store. The benefit of M Local is two fold, not only are they cheaper than the competition, they are also selling fresher product due to in store crafted products being transported to Local store, that's without taking into account the vertical integration getting packaged products to store faster and fresher than the competition.
I've tried to be a bit more objective this time around trading and ranging rather than just the 'fit out' and design of the store. It was important that was covered at Ilkley as there were many aspects that were different with it being the first look, operationally does M Local stack up?
Rivals do question how sustainable it is, both at the hub store and with the high number of deliveries per day. I'd say you have to take into account Morrisons excellent margins, increase that when you take into account fresh products and again when you consider in store crafted products. This more than trades off against more frequent deliveries which can also drive profitability as with hub stores able to react to trade spikes (sandwiches, meat, cream cakes etc) in their own stores then M Local react too so as not to miss out on sales. We've all been to convenience stores that have more out of stocks than in stock on key lines during hot weather for example. The hub and spoke model will cover this eventuality and with deliveries being 'little and often' it enables stores to target key areas at the right time rather than wading through a huge delivery in the morning.
The hub stores prepare their lines daily so an additional order for a local is unlikely to create major issues with their ability to supply and meet demand, obviously there may have to be a minor investment in labour at the hub store but the real challenge will likely come when Cheadle has to supply two M Local stores when the chain is expanded ahead of the successful trials of course!
Dalton perhaps has M Local expansion in mind as he seeks to aggressively add space to the main estate with store plans and opening dates announced almost daily, indeed a blog is forthcoming on the store opening plans that Morrisons have in the pipeline such is the number of them.
There are questions over in store efficiency and how the store will be replenished with tight aisles and most of the space used for 'bits and bobs' ladder racks, grind your own coffee machines and promotional stands, obviously many of these stores replenish in the hour before they open and as they trade, their deliveries can be arranged from the hub store for quieter times to aid productivity and a real step towards that is the absence of pallets from convenience with everything being delivered on wheels to aid replenishment time.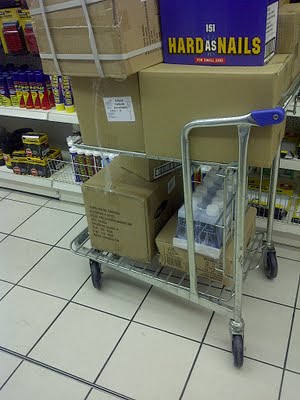 As seen in Poundworld, wheels like this would be useful for replenishment.
I did see M Local staff replenishing almost case by case on opening day which can be excused due to the peak trade as customers check out the store, usually that wouldn't be the case as it's neither workable nor efficient on a longer term basis. One solution could be perhaps to reserve a small area in store to park a small trolley with stock on for replenishment, whilst these trolleys (seen in Poundworld!) are not large in size, they have the ability to be stacked quite high with product so larger areas of the store could be replenished.
Like Kirkstall, Swinton and Ilkley, Wilmslow is a lab store trial and its interesting to note the subtle changes that have been made here despite Ilkley only trading for 3 weeks. When Widnes opens (end of this year is looking likely with it being a new build) that will be particularly noteworthy as the learnings from both convenience stores will be rolled into that store before Dalton updates on progress in March at the interims.
'Different and better than ever' is the tagline Dalton uses for Morrisons and I think both convenience store trials satisfy that criteria with their focus on Fresh food shining through again. All eyes will be on St Albans store as they get their lab learnings next with a purpose built flower shop/Garden centre along with the other improvements – exciting times ahead as countless other things continue throughout the business.