Its been a while since the last blog, for which I apologise, Indeed this blog will be a bit shorter than usual as I try tie up the latest happenings with the Kirkstall lab store and indeed wider changes within the business, the ready meal re-launch is soon which will feature in the blog as will a look at in store bakery; an area I feel Morrisons undersell themselves somewhat.
As further stores are seeing the new 'fresh lab' it looks like the initial results from Kirkstall have been particularly positive and sustainable. With the nuts and bolts (wastage for example) now well honed as Morrisons push their 'premium' offer to customers whilst retaining their value ethos which has served them so well down the years.
As you'll recall Swinton have just had their refit and got the new Produce department, new signage and had a Liberate done too which has seen a great area of space 'earned' for increased homeware and a better range for the customer. It seems that there is a real push to revamp the former Safeway stores which it has to be said are looking tired six years on.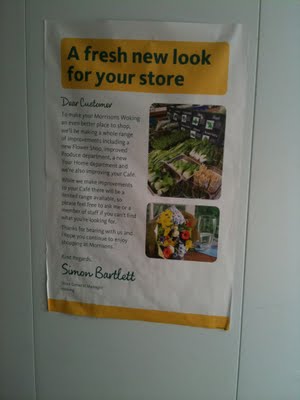 Woking next in line to get a refresh – Thanks to the Woking correspondent for the pic.
As the lab learnings are rolled out with St. Albans getting a real change with a store extension to incorporate a  combined garden/flower shop along with the full lab experience with an increased 'fresh 2 go' offer along with the new Produce, new signage and no doubt a Liberate project.
It seems that Woking are another store not previously on the radar who will also benefit from the 'lab' learnings with the store also getting an extension and the Fresh lab. Very encouraging signs that other stores are benefiting from the learnings at Kirkstall.
There appears to be two distinct patterns of roll out, certainly with capital in mind as it's not possible to tweak every single lab store as much as Kirkstall with their weekly changes. Whilst some stores will benefit from the full roll out with market street adjustments such as the cheesemonger, these appear to be new stores such as Wrexham and Glasgow (Merchant City) along with Shrewsbury – they who were the trial store for the Liberate project anyway.
Other conversion stores get the 'halo' effect of new signage and the lowered Produce tables which combine to give the customer a clear view right to the back of the store, Swinton got this effect which uplifts the store and has much more of an impact than the previous layout along with the better ranging via Liberate.
As mentioned above, each time you visit Kirkstall there is something different, particularly noteworthy is the move to shift Wines from country/region of origin to their taste which brings a whole new dynamic to the wine section, admittedly the 'buffs' are unlikely to be pleased but many wine drinkers have no real knowledge and will stick with their tried and tested Hardys / Jacobs Creek et al.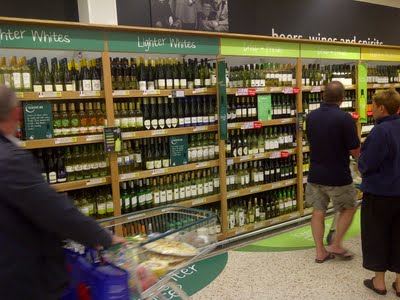 Wine by taste rather than regionality.
Devising the aisle by taste makes customers think whilst shopping and initial results are positive. Its this sort of trial that couldn't be done in every store as there are several dynamics around ranging, display and merchandising that need to be tested and adjusted – hence the need for Kirkstall to be a test bed.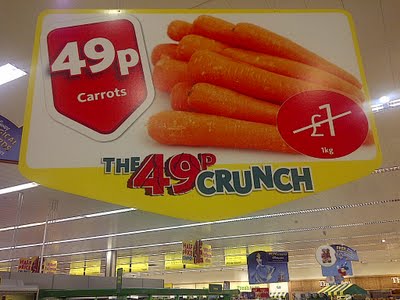 Strong 49p advertising in core stores, but no hanging POS in the lab stores.
There is a real Waitrose feel to the trial stores with Kirkstall having an absolute absence of any hanging POS at all, despite the strong 49p price crunch currently ongoing across the Produce department, there is no hanging advertising in Kirkstall as other stores in the estate feature it prominently above each relevant product.
I mentioned above that a core reason of the Produce being rolled out to more stores is the wastage bill being reduced, when the trial was first incorporated it featured far more loose Produce than Morrisons had ever carried. Typically loose Produce is avoided where possible due to wastage issues and simplicity means a barcoded pre packed solution is favoured. I have touched upon the 'fine mist' before but its worth a look.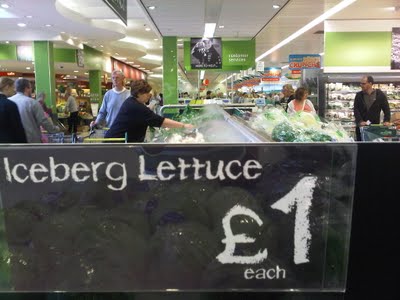 Hyrdo Pipe blowing a fine mist onto the Produce to allow longevity.
As we know the 'fresh lab' features predominantly loose Produce and it was discovered that despite the beds of ice, the vegetable leaves were wilting in the store heat. To combat that, a hydration solution was installed whereby a pipe blows what looks like steam onto the Produce, it's actually a very fine mist of cool water that is blown onto the leaves of the Produce to retain the freshness.
It's not only the mist of water spray that has brought wastage down since the trial was started but a real keen focus from store staff. Whilst loose produce and high waste bills in the early days were totally alien to Morrisons, it has been brought back to acceptable levels with the responsive supply chain within Morrisons working to de-list lines that weren't selling but they continually change the ranging with truffles being introduced not too long back to further enhance the premium credentials of Morrisons.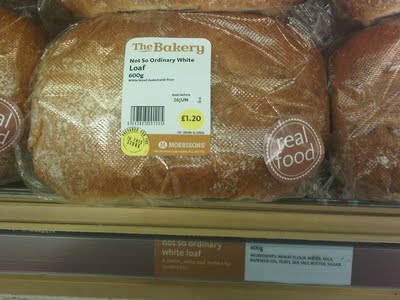 'not so ordinary' Loaf – 600g rather than the standard 400g / 800g.
Further enhancing the premium offer is the 'real food' moniker that is attached to certain products across the store, hand made cheesecakes are now available in store. They do carry a premium price but if a customer is looking for a dessert for a dinner party, then rather than going to M+S or Waitrose, there is a fresh hand made option in Morrisons.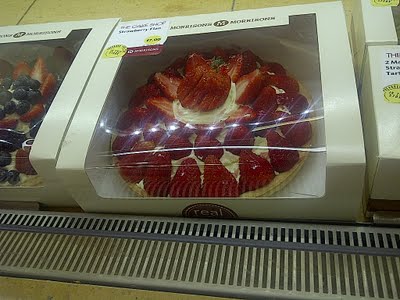 'Real Food' Strawberry Flan.
Whilst Morrisons won't necessarily be a destination for the well heeled, its a matter of changing the perception of the business with subtle tweaks like this hopefully rolled out nationwide, it won't be long before that is the case as word spreads around  about Morrisons and their new ranges of food.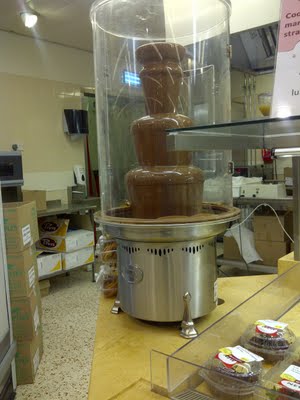 Chocolate Fondue in Kirkstall – provides theatre and drives a bigger range of products.
To further drive the number of lines that are produced in store, a chocolate fondue has been installed in Kirkstall, its used to coat some lines in Belgian chocolate which not only adds variety to the range but also drives profitability with the coating of some croissants or Strawberries in fresh chocolate not being labour intensive and representing an easy way to drive margin, especially with Strawberries coming through the Morrisons Produce packhouses.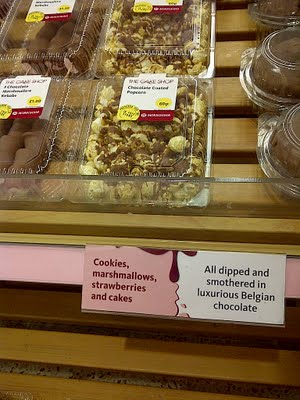 Fresh Belgian chocolate – easy way to drive margin with all lines prepared in store.
There are some more interesting trials and changes, the sandwiches for example have seen an increase in the  lines being prepacked and sent in via the depots, with stores to focus on a more premium sandwich rather than standard lines being prepared in store.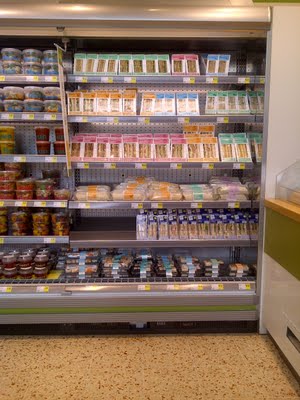 Standard range now made off site and delivered to stores.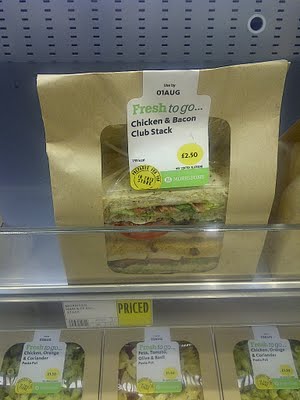 New premium in store produced sandwiches
The new range of premium end sandwiches retain good value whilst also driving further margin as Morrisons continue to position themselves as a real alternative for those wanting M&S and Waitrose food. Whilst Morrisons retain their ethos of quality, value and the absolute basics of store operational execution.
Lest we forget that Morrisons didn't have a premium tier until 2004 post Safeway, the basics of developing a premium range are slightly alien, there is no doubt a lot of this is being driven by former Waitrose man Richard Hodgson but it's seen as a much needed area of improvement.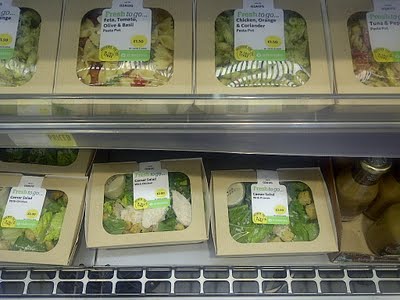 Hand made salad bowls at Kirkstall.
It's certainly positive from a shareholders viewpoint, the margin for Morrisons is strong anyway post Safeway compared to Sainsbury with Tesco are way out in front given their scale. Premium ranges attract a good margin and coupled with in store prep drives the margin higher, the better ranging is a positive move.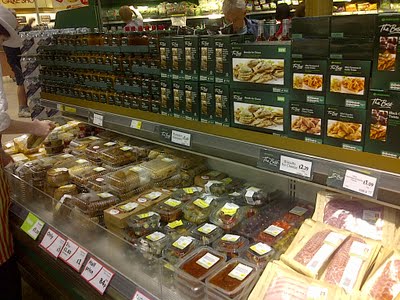 Another push for premium range growth by siting 'the best' near Market St Express.
Another consideration of the in store preparation is the ability of Morrisons to react to peaks in demand by producing more salad bowls/sandwiches  where the weather permits. Naturally by preparing lines in store it means that they are not reliant on suppliers for new seasonal ranges either, I'd expect some interesting moves in Kirkstall for the coming winter months and they can get in store items to 'market' so much quicker than anyone else.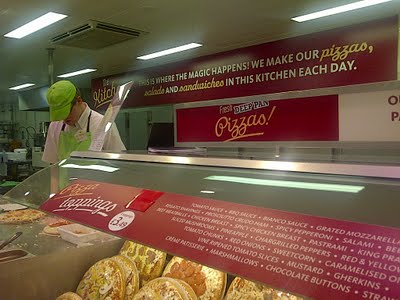 Pizzas, salads and sandwiches all made here!
In store prep is something that has been advertised extensively and is now well ingrained within the customers mind, Kirkstall have changed their counters a few times since the lab was incepted, the previous olive bar which changed to a pizza bar is now labelled 'the kitchen' with signage indicating that 'this is where the magic happens'.
In many stores, its not clear where sandwiches are made with salad bars housing a lot of the prep for pizzas and sandwiches, despite Marc Bolland reducing the clutter so customers could see the preparation in many stores its not totally clear where things are made. Its nice to see it tackled in Kirkstall with 'the kitchen' as customers know where the pizzas are made, they can request their own varieties which isn't always the easiest thing to do in Morrisons unlike Asda with their excellent Pizza counter.
As we discussed range and premium lines earlier on, I'll leave you with this pizza; the 'sweet treats' that appears to be on trial, showing that anything (absolutely anything) is up for discussion. Priced at £3.49 it has been selling well according to staff.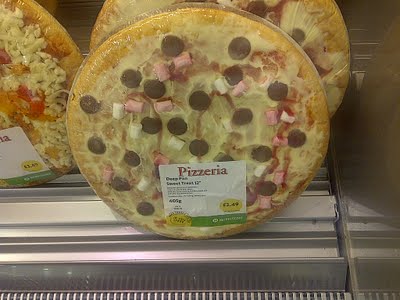 Sweet treats pizza – yum!?!
Which is perhaps surprising when you consider it's a pizza base, with vanilla custard, chocolate buttons, strawberry jam and marshmallows…… Acquired taste maybe but Morrisons are clearly thinking outside the box with their development of own label, all eyes are on the ready meals which are due for relaunch shortly as the o2o – own label to own brand project kicks off.
A weekly email covering the latest events in the industry; such as store operations, store visits or new promotional packages are all covered. Please visit our emailed retail insight page for further information.
Grocery Insight provide market insight on the UK sector with a focus on individual retailers such as Tesco. This insight is useful to various stakeholders and due to my store based focus. Insight can be delivered to suppliers to focus on growth opportunities, analysts and investors to assess the business performance and long term outlook and retailers themselves to assess best practice.