The good old Bakery, an area where retailers love paying lip service to, 'we're investing x,y,z in freshness' and the usual PR that comes out whenever a story on Bakery is released. How fresh is fresh when Bakery is concerned?  The answer surprisingly is not very, in some stores, bread and rolls are frozen (or sent in part baked) and then baked off in the specialist ovens. Whether its scratch or part baked bread, the smell of fresh bread is proven to drive customers to the Bakery which is often why they are sited at the back of stores to ensure customers have a good walk around!
It's an important category to customers, fresh bread is a staple product and it can be volatile with regards to availability; especially later in the day. Freshness is key but despite companies pledging to push 'freshness', many a loaf of bread or pack of croissants have been baked off at 5am and packed before being left all day.
Surprisingly even high end chain Waitrose (ripe for profitability drivers such as handcrafted breads and the like) exist purely on part bake bread that is simply 'finished' by being baked in store, packed and sold as 'fresh'. It's freshly baked but not made from scratch; not made from flour, water and yeast like most of the big 4's stores do.
Admittedly there are some Sainsbury's and Tesco stores that do just use part bake bread, which is sent in via the bakeries (Allied, British or Warburtons) but these are typically smaller stores that don't have the space for a full Bakery prep area. Part bake is useful in stores such as Expresses and Locals and some of the smaller supermarkets, Morrisons with their M Local model use a hub and spoke model with a larger store baking from scratch and sending finished goods to the convenience store. Morrisons also use this model with the converted Netto stores who receive scratch products from the nearest superstore.
As it's Bakery, you can sort of add in the cream cake / confec / pastries offer too considering the two are related in many stores that you visit. Due to time and skill constraints, the majority of these pastries are part baked, frozen then baked off in store. They are then 'finished' by glazing to give them a 'sheen', in terms of in store produced goods, Morrisons produce many of their cream cakes and Gateaus in store. Significantly more than their closest rival Sainsbury's who still retain some in store preparation on cream cakes with turnovers and eclairs but its particularly sporadic across the industry these days.
Whether it's right or wrong, retailers like Tesco have identified by stopping in store production of cream cakes they can remove labour and save on wages. By pushing forwards a store-wide lean strategy which includes standardisation of departments; by replacing the variable quality of in store produced cream cakes with a standard (if uninspiring) quality via a factory then the saving on labour is huge but equally the margin on in store produced goods is significant and the benefit is you control the availability too.
Bakery is a labour drain on stores that produce scratch bread, for example we used to take 10% of what Fresh Foods took in my former role but at a greater profit margin, we would use double the hours in a week that Fresh replenishment did. The margins are vital but whilst Muller yoghurts are replenished on the shelf in one tray, each croissant or cookie has to be laid out on baking trays, each pack of cookies, croissants; each loaf of bread has to be (firstly baked) but then packed and labelled then replenished – one by one. You can understand retailers looking to reduce labour cost in this area but not at the cost of freshness?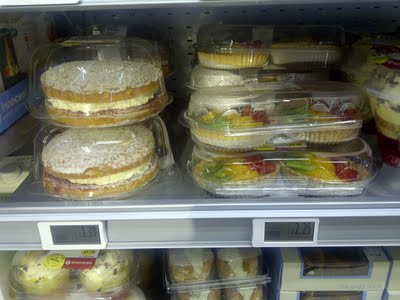 In-store produced cream cakes – in a convenience setting.
The trade off is quality, as we know the factory made cream cakes don't offer the same level of freshness that in store produce does, along with additional concerns such as wastage arising from damage on delivery or short date coded product. Not only that but being at the mercy of suppliers means there is the risk of short deliveries, delivery failures and potential availability problems (in fairness as there is with a lot of product across the store).As the picture illustrates above, Morrisons retaining the in store production means they are able to differentiate their offer in their superstores and the recent convenience trials with a larger store supplying craft lines to their convenience neighbour using the hub and spoke method.
As the title suggests, the focus is on Bakery but in 4 of the big 5 (Asda, Tesco, JS and Waitrose) they all operate the confectionary arm allied with the Bakery, only Morrisons operate the Bakery and Cake Shop as separate entities as it were. It's as good a place to any to start.The lines sold via the confectionary side of the Bakery are all frozen lines (Danish pastries, cookies) which are baked off, finished (with glaze or decoration), packed up and then sold. Some of the other lines such as Flapjack trays and Muffins are 'thaw and serve' which literally means they are thawed from frozen, labelled and then sold.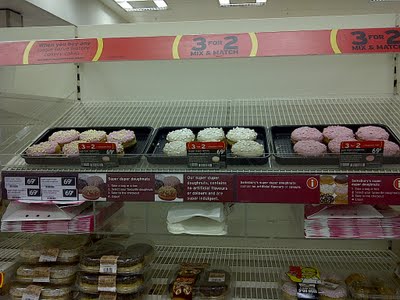 Sainsbury's 'super duper' doughnuts – an example of thaw and serve produce.
The 'super duper' doughnuts as seen above are a good example of a bit of new product development, the confec category is relatively unloved with not much development seen in recent years. It still remains a static category with the same 'runners and riders' such as apple turnovers, cinnamon swirls and other Danish pastries ranged in every store you enter.
Morrisons and Asda sell a variety of fillings such as custard, apple and jam. Many of the retailers who do scratch doughnuts do get frozen ring doughnuts frozen, then prove them (put them in a hot atmosphere to enable them to rise quicker) then fry them off.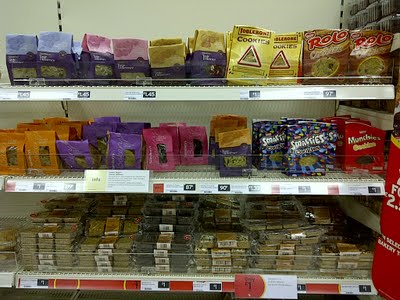 Cookies are another example of frozen 'bake off' goods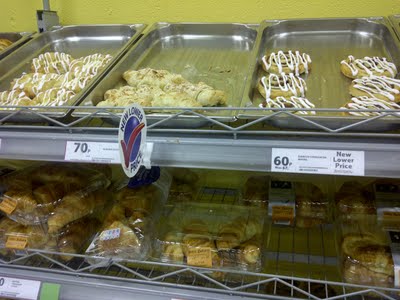 Tesco (and express) retail their pastries 'loose' to allow customers to mix 'n' match.
There isn't much skill involved in the baking of sweet product these days, even Sainsbury's in the old days used to do their own doughnuts, top them with chocolate then dip them in chocolate shavings. Now it's all frozen thaw out as the thirst for saving an extra hour in each store continues. Tesco do add the icing swirls  and the icing sugar themselves but it's a much leaner process with a mere 'finish' applied to the pastries.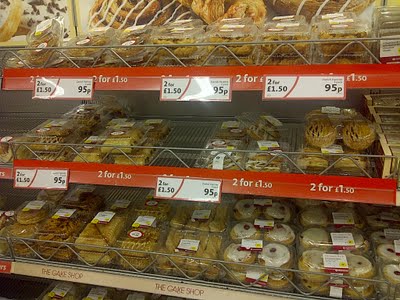 Morrisons have a mix of bought in and in store cakes  -strong POS but why extra advertising?
There are different variants of cookies and doughnuts that appear in stores from time to time; Rolo doughnuts and Toblerone cookies to name but two. Generally speaking that's it for the category and in terms of development it's difficult to see where else it could go. The category serves a purpose for fresh sweet treats but without specific equipment such as fondue(!) like Kirkstall have installed for their chocolate dipped croissants, you're reliant on the suppliers for NPD.
Whilst the range is broadly the same, quality differs as does availability. A big misconception that store managers have is that Bakery should have full availability all the time as you have all the stock either in the freezer or in flour, water and yeast. Not always the case as items take time to bake, then cool and unless you get the replenishment as JIT (just in time) then you can incur wastage as the items are ready to sell too late in the trading day. It's pretty vital that stores split the bake up throughout the day to maintain availability, minimise wastage and maximise the freshness.
Part baked bread is essential for stores that don't have facilities but it does put you at the mercy of the bakeries that supply you, if they short deliver for example then you risk disappointing customers. Scratch stores do have the ability to bake products from scratch and can meet increased demand, if the weather is going to be hot then rolls production can be increased for example.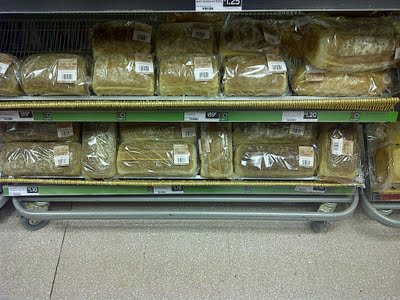 Organic bread is sent into store part baked.
One difficulty that stores face (certainly Sainsbury's do) is organic bread which has to be sent in part baked due to the nature of the production process, with stores producing standard bread it's impossible to guarantee that organic bread wouldn't come into contact with non organic flour. It can create issues within stores as scratch stores handle their own production planning and amend the system generated orders for flour and yeast accordingly. Store staff have to remember to scan and count the organic lines due to the fact that they come into store via a supplier and as such as ordered through a standard replenishment system.
Sainsbury's tend to focus strongly on their Bakeries with all bakers and managers going to the new Whitworths college so staff can learn how to bake properly and not learn the shortcuts that stores may have for certain items! Also JS have taken on Bakery apprentices to fill the skills gap and train the next generation into the art of baking.Relaunching their in store offer in 2005 to incorporate wicker baskets (like Somerfield at the time) they have kept that 'feel' for the Bakery with a continuing focus on good quality, with tweaks like French sticks all being produced in store from scratch and abandoning the practice of keeping a stock of frozen ones if scratch ones sell out, effectively forcing stores to produce more scratch product.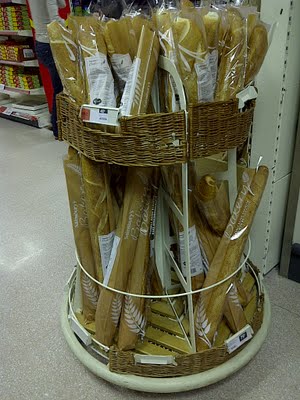 French sticks – all produced from scratch.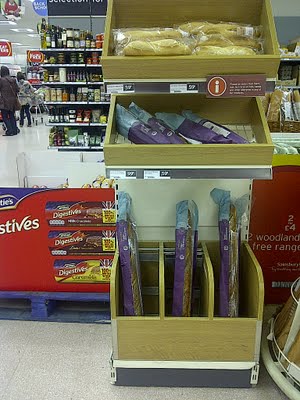 Another push for premium – JS also sell Taste the Difference sticks made with special  flour.
Their investment in labour remains relatively constant but attempts at reductions have been made, hurdle rates for items to speed up production such as roll plants (where soft rolls are made in a machine rather than manually and then rolled out) have been reduced. Smaller stores are now receiving these labour saving devices rather than them just being restricted to larger stores.
Whilst Sainsbury's do look to make the process more efficient with the use of machinery, they do retain skills on bread and produce a range of artisan bread from scratch alongside their frozen offering. These are sold under the banner of Taste the Difference with stores selling breads that are hand crafted such as Coburgs and certainly in the north – a well fired loaf which is deliberately burnt!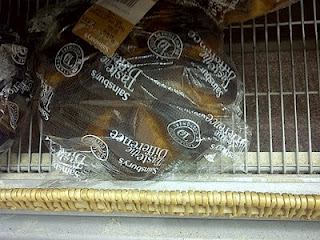 A handcrafted well fired loaf – note the artisan style pattern created by cutting the dough.
Some stores that are large enough for scratch production but not taking a lot of money have a 'Genesis' machine that does all the mixing for bread, rolls and sticks on individual settings, it does de-skill the process somewhat but brings a standard uniformity to the product as the user only has to add the ingredients before putting it in a prover then into the oven once risen.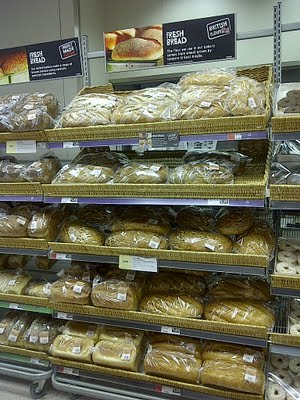 Strong  scratch range of tiger bread, bloomers and standard loaves – focus on British flour.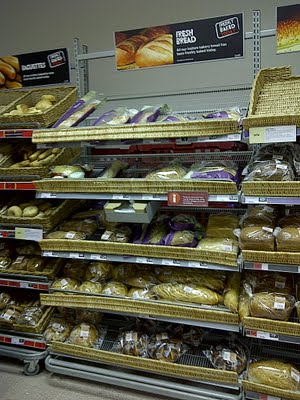 All bake from frozen breads sold under the 'taste the difference' banner.
Sainsbury's do well to implement their quality tiering into the Bakery with the bloomers and artisan bake off bread being sold under the taste the difference tiering. The bloomers are made with special TTD flour to justify the premium price and are have designs cut into the top of them before baking. They are mainly the same bloomer with variations such as topped with poppy and sesame seeds.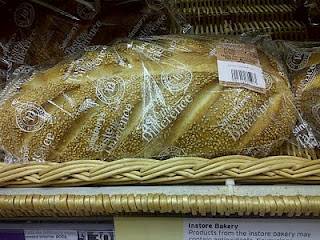 Taste the Difference seeded Bloomer on sale in Sainsbury's – great quality.
The distinction with packaging is well done by Sainsbury's too with the bread being wrapped and packed in the purple packaging or wrapped and sealed in clear wrap that has the 'taste the difference' lettering adorning it. Sainsbury's are good at pushing their premium offer with the Taste the Difference resonating strongly with customers and they do it very well on the Bakery too.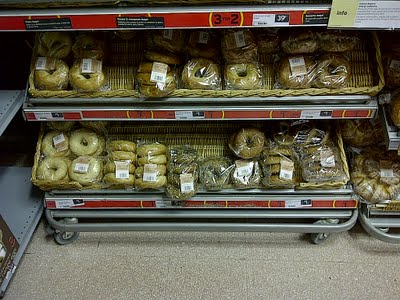 Pre packed bagels are sold at a round pound.
In terms of the general offer, bread is often sold at a standard price with Sainsbury's tending to focus on simplified price structures on items like multipack bagels (£1) and the rolls being on an x for y of 3 for 2 like a lot of retailers, attempting to drive multiple purchases.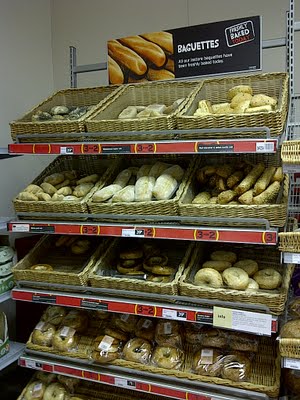 Loose rolls and bagels available on a 3 for 2 deal.
Soft Rolls are also on an x for y of 2 for £1 but as summer hits full swing this is tweaked to drive customers to store in an attempt for them to get the full BBQ package from JS. There is a standard offering of rolls with little duplication, finger rolls are only available white, soft rolls are sold in packs of 4 or 6 with freezer bags available on request. The same with wholemeal and harvest grain which are in packs of 4 or 6 with snack rolls also available. There are cheese topped baps and some pain rustique and French boules (frozen) in there too, it's a standard offering to enable bakeries to produce efficiently.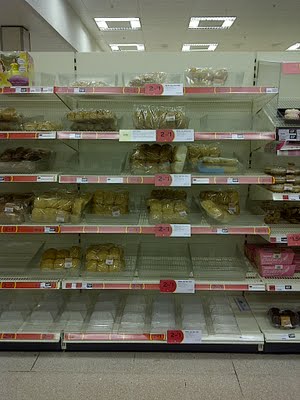 Soft rolls on a 2 for £1 deal across the category.
Despite the previous critique of Asda on this very blog, I plan to be complimentary to them regarding their Bakery. I remember pre WalMart days we'd troop to Asda and be told that their bread was so fresh and we'd buy up the hedgehog bread, a real trailblazer in those days. Fast forward post WalMart takeover and perhaps the resonance on fresh has been lost a bit with the EDLP low price proposition.
Especially (as they've found out!) if you continually push the low price, people do translate that as 'not as good quality' which saw Asda stall and prompted 'chosen by you' which hasn't really seen the recovery in market share we all expected. It's somewhat unfortunate for Andy Clarke who has done what many of us would have done in improving the own label offer significantly but is their wider strategy correct?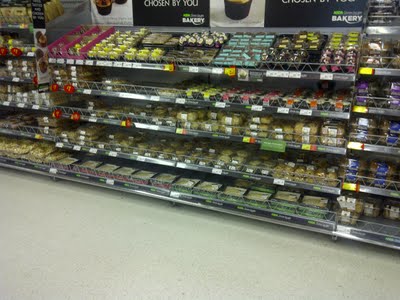 Chosen by You features heavily in the Bakery within Asda.
Stories of folk in Asda House being stubborn to the point of no return regarding their strategy being right make it difficult to see when it will change, something clearly isn't right if the lowest priced operator of the big four can't gain market share as consumers spending power continues to diminish.
Despite that, the Bakery offer is constantly strong and despite poor availability on packaged grocery (usually the easiest to keep in stock) Bakery in the local stores to me seems to perform really well on availability and quality.
Unsurprisingly deals feature strongly with x for y on bread and rolls across Bakery, whilst this is good for the customers, it must make production planning difficult as spikes in demand are expected on rolls when the weather is good so having to factor in a multi buy as well can add to the complicated process of production planning leading to wastage or indeed poor availability. There again, the offer has been embedded for some time so accurate sales figures will aid the planning process.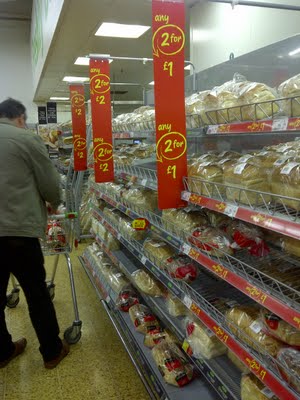 As you'd perhaps expect at Asda – strong focus on deal – x for y.
Asda stores are relatively large superstores so each store will have a roll plant to manufacture large amount of soft rolls to drive availability and with the rolls on a 3 for £1.50, it's vital to do so as potentially each customer will pick up 3 packs instead of 1. These multibuys are tweaked at different times of the year, the rolls offer is focused around 6 packs but there are freezer packs of 24 on offer along with finger rolls and large rolls, sesame, cheese topped and tiger rolls to offer a good variation in the offer.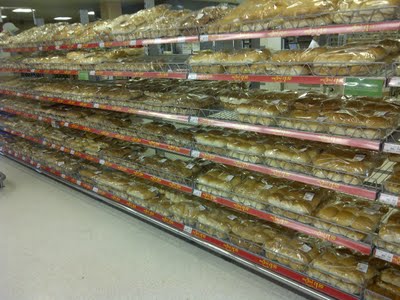 Wide range of rolls available within Asda on deal.
Asda also have their artisan from frozen bread merchandised in the wicker baskets that are seen in most of the other retailers. These are sold at a standard price of £1.47 but some were rolled back when I visited, it's curious that Asda use standard sparkle wrap to wrap their Bakery goods. This is the clear 'shiny' smooth packaging you get your rolls in, Sainsbury's, Morrisons and Tesco package their bread in packaging that has tiny holes in to allow air to pass through which gives the bread a crusty feel. Asda don't so their bread feels very soft, almost like a sponge without particularly having that 'crusty' feel that their rivals do.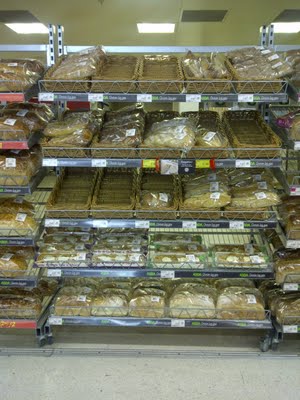 Artisan bread in wicker baskets along with tear n share garlic bread.
Asda do sell other goods via the Bakery, garlic tear n share bread were popular at Sainsbury's until they were discontinued but Asda and Morrisons still sell them, a thaw and serve product and it's fresher than the garlic bread you can get on the Fresh Foods aisle for example as it's only actually on sale for a day and will be noticeably fresher as its been previously frozen.
Despite a low price point, Asda do have some good quality bread, rolls and cakes and they should push this quality agenda a little more, in my opinion on Bakery where everything needs to look traditional and natural (look at the popularity of wicker baskets across the different bakeries with wood being used at Waitrose) the garish red and yellow POS doesn't really fit in with the Bakery offer, if anything it detracts from the quality.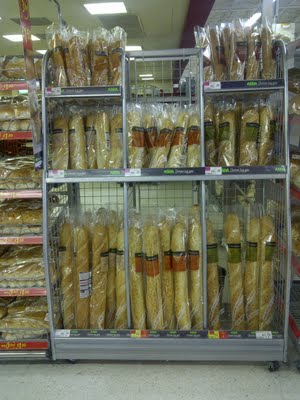 An excellent range of fresh sticks in Asda – different varieties such as tiger, seeded, wholemeal.
Asda did once have a machine that was loaded with rolls and it randomly baked some off so the customer could bag up loose warmed rolls when they visited. It didn't last too long but Lidl seem to have embraced a similar idea with their new in store bakeries that are as lean as you would expect. It's a shame that innovation like this doesn't last but evidently it didn't work out.
Last but not least, its Morrisons. I've left them to the last as obviously spending a fair bit(!) of time in stores can hone your senses as to what isn't quite right against the competition as laid out above. You may have noted I've gone on a bit about scratch sticks and scratch products, with Morrisons having more qualified bakers than any other supermarket it's perhaps a surprise that all the stores I've been into sell nothing other than bake from frozen sticks.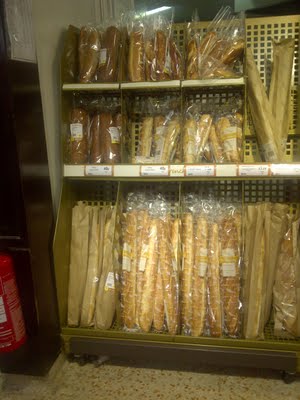 Despite the appearance, only standard frozen sticks at Morrisons.
They do bake other ones from scratch though, the wholemeal ones at the top are from scratch but the smaller white sticks are also from frozen which is a little disappointing considering there is a far supreme quality with a scratch stick. Whilst customers may not be aware they will know the difference in quality. Even Kirkstall with their revised offer only seem to sell frozen french sticks, they give a consistent quality but lack the wow factor.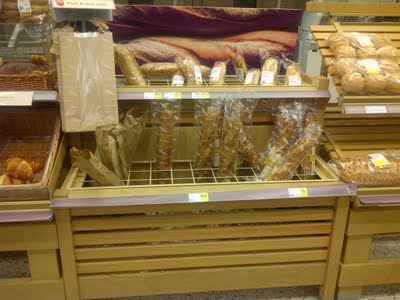 Sticks newly merchandised in Kirkstall but previously frozen.
Morrisons bakery offer is vast and they differ from the other major retailers by having their Bakery teams focus solely on producing bread and associated products, the cake shop exist as a separate entity producing cream cakes. With the bread from Warburtons, Kingsmill et al plus the morning goods such as pre packed croissants and rolls are handled by the Fresh Food replenishment team.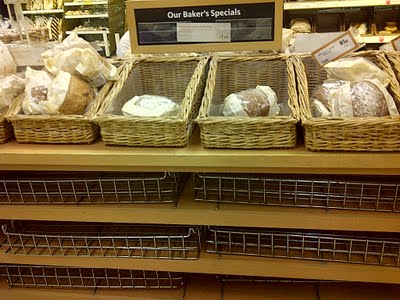 From frozen artisan baker's specials sold from a table in Morrisons.
Morrisons Bakery also produce some items that are 'sweet' such as iced fingers, swiss crown buns, fruit loaves and scones that are produced from scratch, these are merchandised on the Bakery. Morrisons also produce other products that are individual to them such as cheese and onion rolls (with pieces of onion) and speciality bread such as Yorkshire checkerboard and a range of specialty handcrafted breads that change every so often. These are sold from a separate display, using the market street focus with the 'bakers specials' table.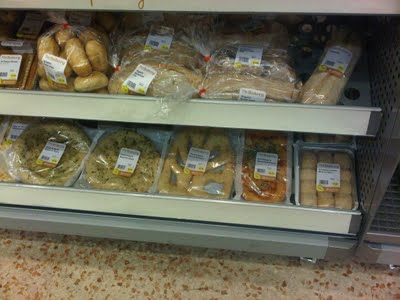 'extra' lines in Morrisons such as garlic breads and dough balls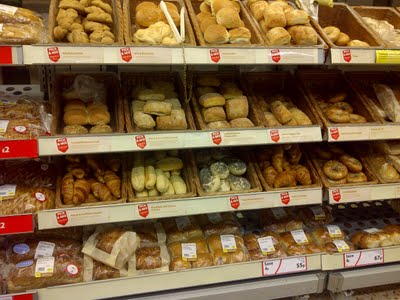 Loose rolls in wicker baskets – 5 for £1.25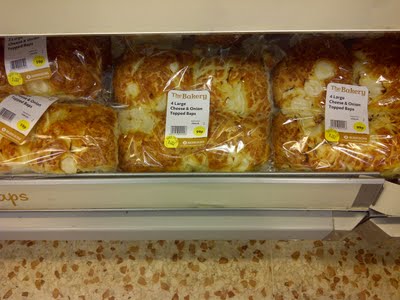 with Cheese & Onion topped baps freshly made in store.
Morrisons do such a variety of rolls and product that its difficult to see how things fit into the plans, certainly in the picture above the fixture is somewhat cluttered. Loose rolls and croissants fit in nicely with the 4 pack on the bottom shelf but then the addition of crusty rolls and tiger rolls confuse the picture somewhat.
Another difficulty can be promotions, especially those in the picture above, whilst saving '4p' and '8p' is a nice price cut, I can't help but think that to simplify the bakers life and also help with production planning – a standard price drop on pack would be beneficial rather than an advertised offer. Especially since there are usually deeper offers that require extra work, half price loaves for example.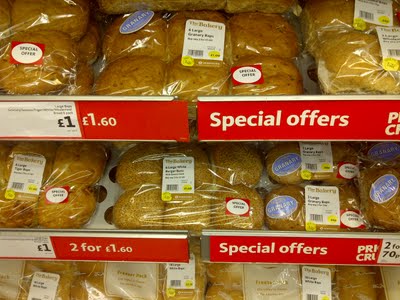 Soft rolls are on x for y – POS does detract a bit from the quality offer.
That's not to say that the products aren't good, because they are, they're fresh and made from scratch but from an operations viewpoint, it must be a difficult task to produce so many different products and then have to package and label them up, whilst maintaining availability of standard sellers and the promotional package.
The bread offer is certainly comparable with the competition, there are some different lines as mentioned with Yorkshire Checkerboard, Polish breads and some regional lines depending on the area that the store is in. There are also the usual 'runners' such as tiger bread, sandwich loaf, farmhouse bread and a wide range of bloomers.
I do think a cross Bakery rolls promotion of 2 for £1.20 for example would be beneficial rather than individual offers of saving 5p which are notoriously difficult to forecast, especially with it being not a massive reduction in price, the range is so wide that an x for y deal would make sense.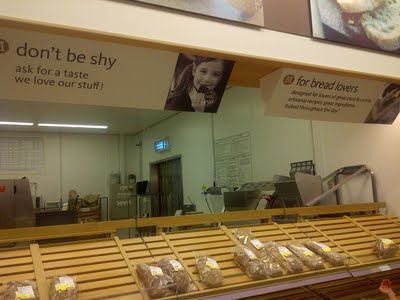 Kirkstall have new lowered displays and new POS advertising the 'M' brand.
As you may expect, any signs of innovation are on display at Kirkstall. I get the feeling that there is more to come from the Bakery category as a whole within Morrisons, especially since it's not been changed that much at Kirkstall compared to other areas.
There is a real focus on freshness as these pictures were taken later on in the trading day and each bread had a reduction label applied to it, it seems that they are  producing enough for the trading day, selling out each day and then producing a full range for the next day and eliminating any carryover.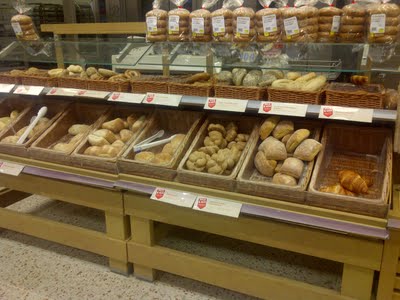 Loose rolls in a new unit with packed bagels above.
Happily the wicker baskets remain in place with loose rolls on a separate unit in Kirkstall, with a glass topped counter that have packed bagels merchandised on top. The rolls all remain on the pick 'n' mix offer of 5 for £1.25. Despite the bakery being sparse as it being late in the day, the rolls seemed plentiful in supply.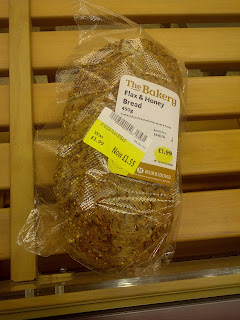 Reduced as late in the day but Flax & Honey bread on sale in Kirkstall.
Kirkstall also are trialling a number of new breads, albeit at a higher price point but nevertheless it's interesting to see such bold NPD within Bakery. Sourdough bread is as close to 'natural' bread as you can get and Kirkstall are selling that along with Oktoberfest boules and 'not so ordinary' breads – weighing in at 600g for example to take advantage of the fact you don't have to sell bread as 400g or 800g loaves anymore.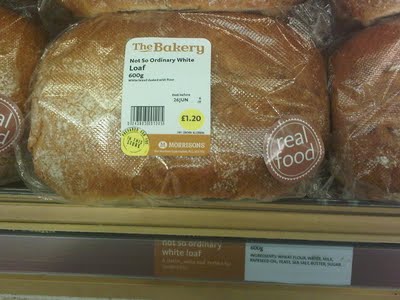 Not so ordinary loaf – 600g – monickered with 'real food'.
Sainsbury's used to sell their handcrafted breads 'naked' with no packaging, indeed the M Local trials at Wilmslow and Ilkley sell naked bread, packaging is available if the customer requires. It does look better without packaging and perhaps this is a way that stores could go down to enhance the credentials of Morrisons being a quality baker. More innovation to come?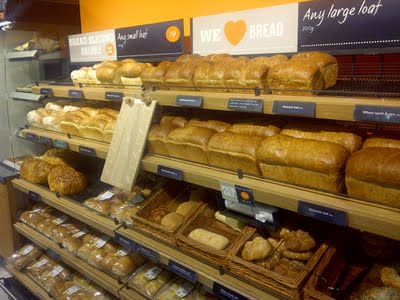 Bakery at Ilkley – naked bread with bags optional!
I hope you've enjoyed a bit of a look at Bakery, next up its celebration cakes and a look at what can be done to drive sales further in that category. Especially since it's a category relatively steady in terms of NPD (latest Disney movie etc) but could more be done?