According to several sources, Morrisons half year results are expected to be well on target with another good financial performance indicating the core business is in good health. Its almost harking back to the days pre Safeway where Sir Ken and the smaller group continued to delight the City with their predictable stellar sales growth, margins and excellent profitability.
That's not to say that anyone at Morrisons will take their eye off the ball, naturally to generate record half year profits takes a significant amount of effort in the stores up and down the country, whilst the press and analysts will be interested in online, convenience, Kirkstall and Swinton, the main estate have clearly continued to perform well with service and availability.
Dalton was particularly adept announcing 6 months ago in March that a stake had been acquired in New York based online grocer Fresh Direct to enable Morrisons to go over to the US and learn from the business, he then set dates of 2013/2014 for the online launch, with a view to it being in London initially which will help overcome a lack of space for supermarkets in the capital.
To satisfy the analysts (probably meaning some had to do an element of research rather than trot out the usual lack of convenience / online means Morrisons are behind the pack) Dalton also announced the convenience trial would commence with stores branded as 'M Local' with locations identified – we later discovered Ilkley, Wilmslow and Widnes (due to open October 2011.)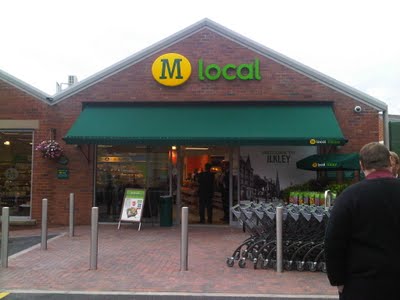 M Local trial kicked off at Ilkley and the city will be keen to hear about progress.
Online is what the market will be most interested in, despite there being a lack of substantial evidence for online profitability – Tesco, Asda and Sainsbury's refusing to split out profits for online shopping and Ocado only just turning a half year profit recently. That is after millions of pounds worth of investment in the infrastructure.
Morrisons are right to take their time with online and with the freshdirect stake giving them some insight into the market and how best to drive profitability, it will be a similar cautious story with convenience; neither aspect will add £200m to the bottom line, if it did then Morrisons would do it tomorrow.
The other three chains have very similar business models in terms of their flow of goods – with Morrisons having vertical integration and a number of craft products in store its difficult to find comparatives with existing business models. The same ideals with convenience as it's clear that Morrisons are attacking that particular model very differently from Tesco Express and Sainsbury's Local.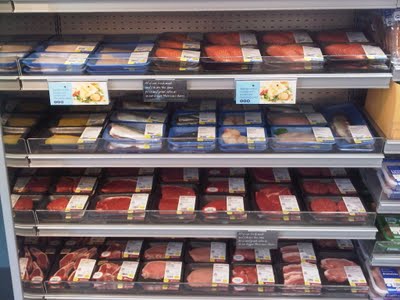 Freshly cut meat and fish sent into convenience stores via a larger hub store.
Other points of interest for the city will be whether Dalton has any further news on the 'fresh lab' concept that has been trialled in Kirkstall and recently rolled out to Swinton on a smaller scale. There are further stores in the pipeline with Woking and St. Albans both getting the lab treatment and new builds Wrexham and Glasgow being opened with the lab store layout.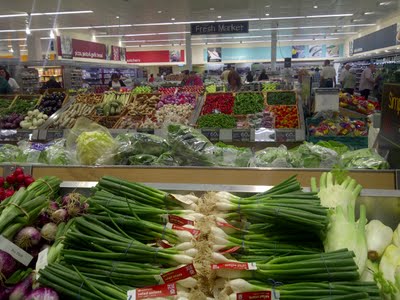 Will the fresh produce department be rolled out further than stores already announced?
Whether a further roll out will be announced remains to be seen but rumours of 20 stores in high demographic areas getting the new Produce layout by Christmas with all stores to get the treatment by 2014 may well have some foundation. It would be a real game changer considering the lack of innovation around the competition regarding Produce and indeed the wider store environment with drives for efficiency over presentation.
Whether Morrisons will break with tradition and not announce an acquisition on Thursday will remain to be seen, there were rumours of a possible acquisition in dairy when M Local was opened at Ilkley. That would make sense with Morrisons not having any coverage in dairy manufacturing. Previous Morrisons 'gatherings' have seen announcements of Kiddicare, Simply Fresh and Flower World acquisitions along with the already mentioned 10% stake in Fresh Direct being taken.
Another element of interest will be the progression of Kiddicare and Flower World and how that investment is  working, obviously the Flower World acquisition was designed to guarantee supply the premium flowers that Kirkstall and now Swinton are offering but it's interesting that further scale is already being explored with both Kiddicare (ahead of the non food online launch) and Flower World.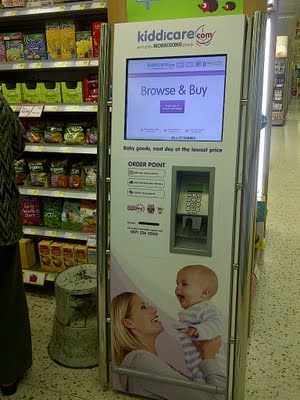 Selected stores (8) have a trial concept kiosk for Kiddicare offering next day delivery.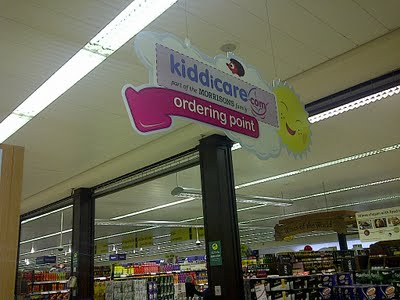 POS directing customers to the order point in store.
Kiddicare is clearly an interesting business that performed well independently of Morrison, it clearly has a lot to offer the Morrisons business and whilst the technology and online aspect is of interest to Morrisons. The in store advantage of stocking Kiddicare lines is without doubt going to drive sales of baby related non food, especially with Kiddicare's excellent value for money and brand name – trust is everything in the baby sector.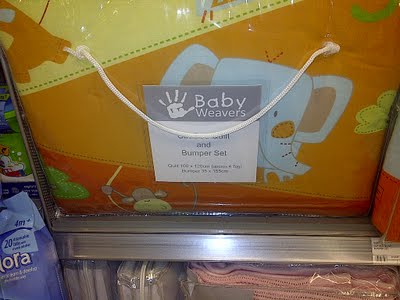 Baby Weavers – Kiddicare private label bedding sets in store.
Flower World was an unexpected purchase when announced at the AGM but another buy that made sense in terms of fitting into the wider family. It's clear that the flower shop within Kirkstall will form part of many stores in the future considering the success of the Kirkstall trial (sales up 43%). Guaranteeing that supply was important and with the new ordering service for special events its clear that Morrisons are keen to use the scale of Flower World quickly in stores to fulfil a need and put them into competition with independent florists.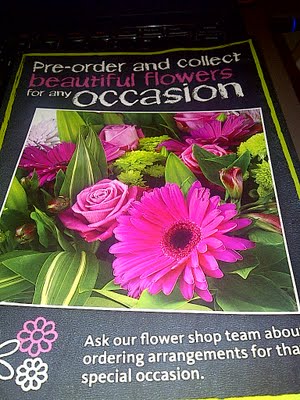 Kirkstall offering new baby / wedding / funeral flowers via Flower World – 4 day lead time.
It will be interesting to see if Liberate will be rolled out further after the success at Swinton
It's true that some categories within Morrisons are too vast so clearing these up makes sense, especially if it creates space for more relevant product and can save on Capex as extensions don't necessarily need to be built, certainly Swinton has planning permission for an extension but they got a refit and the result was good.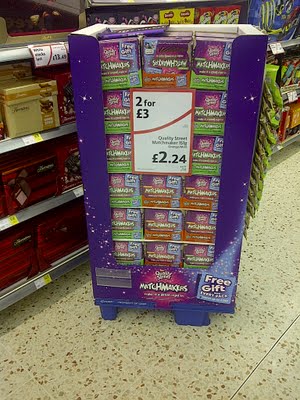 Early for Christmas? Morrisons are using pre filled chep pallets like Asda to drive efficiency.
Further initiatives such as extending stores into the vast foyers or indeed looking at moving into store warehouses look some way off, the flow of goods targeted to be improved within Morrisons is still in a trial mode and although convenience deliveries are 'on wheels' this is more due to necessity of the small store network rather than a steadfast move in this direction.
Dalton did target efficiency savings of £100m by 2013/14 and my feeling is there more to come with a lot of scope regarding in store operations, certainly replenishment is one along with a wider roll out of shelf ready packaging across all categories.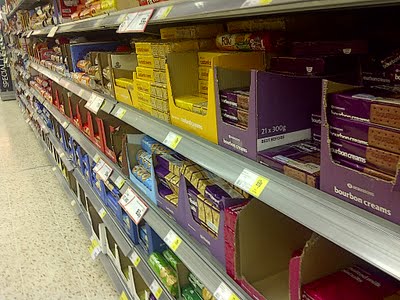 Shelf ready packaging is on the increase across the store.
There are other things that could be looked at such as pre filled 'wheels' with 2l pop on for example. Advertising in store remains an issue with staff telling me this week if they printed one piece of advertising, then the remaining paper would be unused as it can't be put into the printer unless its a full A4 sheet.
Not just that but advertising can be an issue across the store estate with some stores operating a standard advertising principle of two pieces per shelf, but there are stores who put one piece in front of every single product, unnecessary and costs the business in both materials and labour.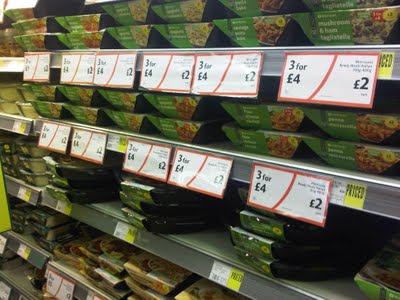 Excessive advertising is one area where cost savings can be made.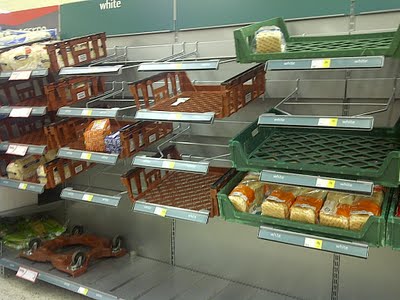 Kirkstall are using also now using the leaner bread display as seen in Tesco, will this be rolled out?
Progress has been made with abandoning gap filling and facing across with stores now able to investigate off sales far more efficiently. The adherence to planograms in store is much better and stores have had merchandising principles re-iterated to ensure products are displayed correctly. Larger stores still have some work to do on stock reduction levels and it will be interesting to see what movement there will be in this area going forward.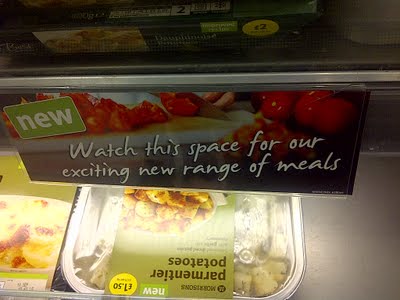 In store POS advertising the new range of meals.
Another interesting development is the own label to own brand project that's being driven by Richard Hodgson and Belinda Youngs, the first major stop for the project is a huge overhaul of the ready meal category and it's very much top secret with stores getting the range next week (12th September) I believe.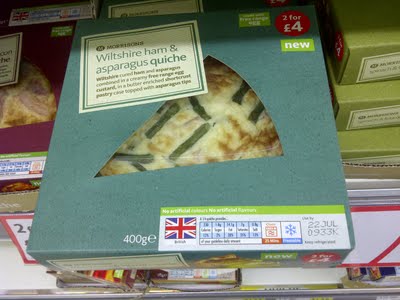 A sign of things to come ahead of the ready meal and further Morrison own label relaunch?
There have been some indications that it will be split by regionality but also by meal type, meals for one, meals for us, meals for two etc. Another moot point is whether 'the best' will disappear as it was rumoured to be the case – replaced by a stable of brands rather than a good, better, best hierarchy.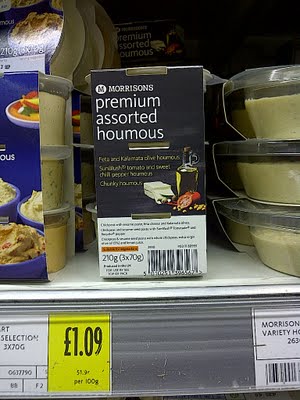 New products appear with 'premium' label rather than 'The Best'.
Perhaps another indication of the potential look is the new salad bowls that have appeared on Fresh Produce, the ready made stir fry packs for evening meals. These are newly launched products and would certainly fit in with the new style of packaging on products that have been spotted around the store.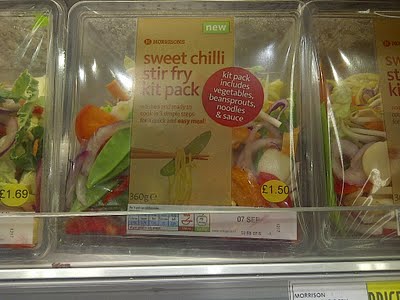 New ready made stir fry packs on Produce
With ready meals being the first large area to see a revamp as Dalton and the team chase the target of developing the own label into own brand but also to adjust the split so 55% of sales are own label rather than the previous 50.1% that was quoted in March 2011. One of the next sections to be revamped is pet food and it will be interesting to see what Morrisons are planning for that category along with the others.
As mooted on this very blog, Kirkstall will house a 'fresh' ready meal counter where fresh pieces of meat or meat dishes (such as beef pinwheel and chicken stuffed with bacon and cheese) are assembled with a choice of vegetables and sauce as the customer waits.
This adds to the retail theatre of course and importantly drives excellent margin via the in house sourcing of vegetables and meat whilst continuing to really push home the advantage on fresh food. Dalton was quoted as wanting to 'thrash the opposition' in fresh food, few could have believed he would follow his plan with such vigour.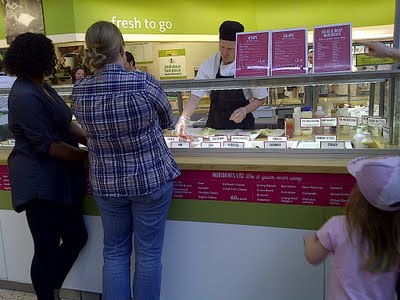 Hand made sandwiches in Kirkstall. How scalable is it?
There is a question over scale, there are a number of new initiatives in Kirkstall and the ready meal counter is the latest one, there will be a question over how many stores will see the full developments? The Swinton lab has proved it can be rolled out in a smaller store and presumably other stores will also follow but will all stores get all the initiatives?
A quick note on space extensions, Dalton targeted then re assessed the target upwards to 1.5m sq ft, I think that will be hit with planning news being very strong. there are many site acquisitions and plans being developed for Morrisons supermarkets, some with extra pieces like hotels and DIY stores and others being part of a wider development. Even one store on stilts in Cardiff! The property warrants a piece of it's own in the future but the race for space continues and is as important as ever with the hub superstore needed to service any new convenience store.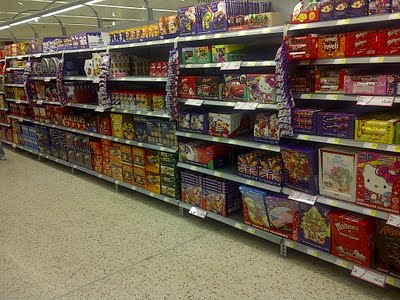 Christmas confectionery on sale – the earliest ever for Morrisons.
In terms of Christmas which is coming up on the rails, Morrisons have been the first to market with their Christmas confectionery offer, a record for them having it all available in store for the first week in September. A real sign that Morrisons are taking it seriously with regard to customers wanting to spread out the cost of Christmas by spending their money early on confectionery and biscuits.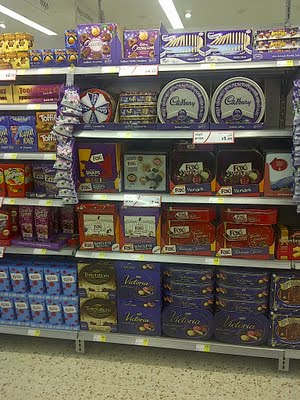 Christmas biscuits already on sale – designed to capture the early shopper.
A very interesting day ahead with the results and subsequent presentations, whether we will hear of another acquisition or rather any news on a potential bid for Iceland? I can't see Morrisons going for the full estate but there will likely be a package of stores that are of interest to them. Forsaking the presentation, if the rumours are to be believed, an increase in profits and like for likes represents an excellent performance in what some are calling 'the toughest market for decades'.