One of Daltons major planks in his strategy that he revealed in 2010 was to close the gap on own label vs. branded sales by turning own label into an own brand. Subsequent press leaks and comment revealed that Morrisons were looking at abandoning the good,better,best hierarchy as used by many retailers in the UK and focus on sub brands within the category.
Certainly with the starting point being ready meals, it's relatively easy to set up sub brands. The category is traditionally merchandised by regionality anyway so it's simple to set up sub brands so as not to confuse the customer, Waitrose (Richard Hodgson former home) have 'menu' as their sub brand for the premium end of things along with a variety of other sub brands relating to the cuisine origin 'chinese' for example.
Whether the sub brands are rolled out elsewhere will be interesting, it will be difficult to see a bistro range of Jam for example but it would make sense to have a tiering based around the category to give more flexibility. There will be limitations naturally but on the whole it looks a sustainable decision to introduce sub brands especially with Morrisons ability to bring new launches to market quickly via vertical integration.
Speaking of vertical integration, its clear that the new range will perform particularly well for the group on profitability, with the margin particularly strong on own label fresh as its prepared in their own factories which guarantees supply and means faster selling lines can be kept in supply, nothing more annoying than marketing a new launch only for the best selling products (the ones the customers all tell each other about) to suffer availability problems.
So, what is in store today?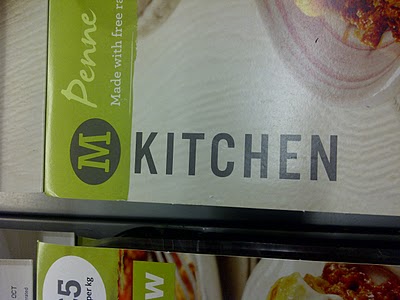 Real focus on 'M Kitchen' with the ready meals formulated at Head Office.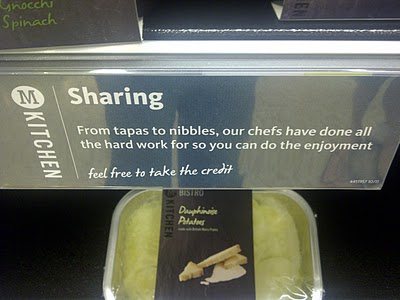 Focus on 'chefs' and where the food comes from – sharing range revamped.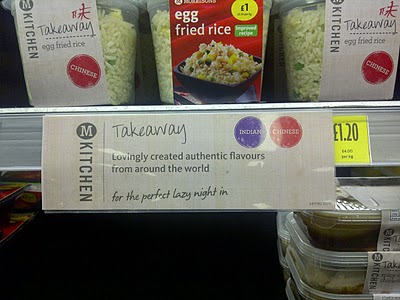 Takeaway encompasses 'indian' and 'Chinese' with revamped packaging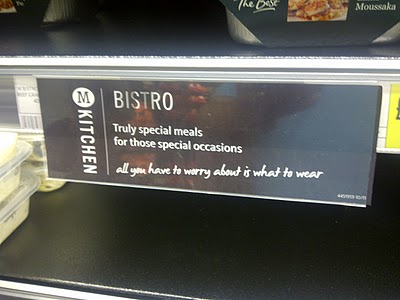 Bistro is the top range replacing 'the best'.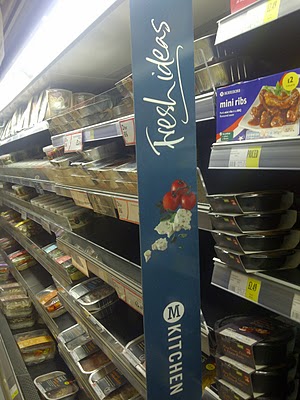 'fresh ideas' remains with the meal ideas and dinner kits.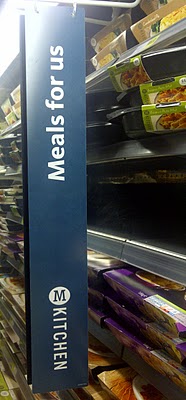 A focus on who you eat with – meals for us, meals for me etc.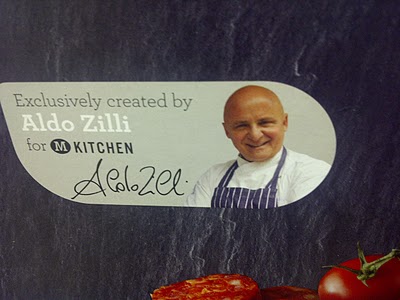 Celebrity chef tie ups!
Whilst the new range is impressive, there have been developments around the existing ranges, for example the sharing category has been revamped with a new tapas style range launched on a 3 for £6 offer. This is plugging a vital gap for Morrisons who never really had much of a tapas range before this relaunch.
You can see the clear influences from Richard Hodgson and Waitrose with the relaunch with the packaging difference and physical product looking far superior than previous guises.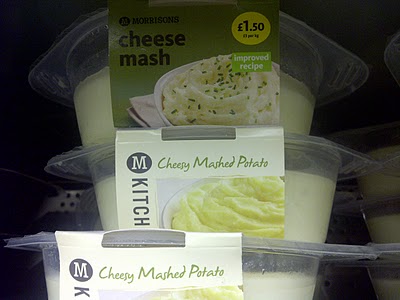 Old vs new on packaging – carrying M Kitchen moniker.
The Indian ready meal bags have also been relaunched with a 'takeaway' style brown paper bag rather than the previous plastic carrier bag at the same price point.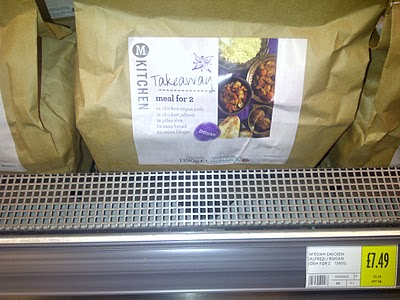 New paper bags for the takeaway category.
Sharing has also been relaunched, previously linked with the relatively garish USA bright boxes, it's been rebranded in pink for sharing.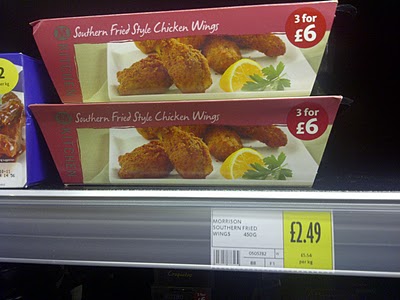 New sharing range – in pink.

Another interesting move is the revamp of the takeaway meals, the box can be kept afterwards as it's like a small plastic lunchbox that the curry comes in. Again it's all been developed via M Kitchen but there didn't seem to be much POS indicating that this is the case.
Asda sell their curries in the plastic boxes too but they place a film lid over the top of the box rather than a lid like Morrisons do here. Decent price point at 2 for £6 and there are the usual accompaniments such as rice, naan etc that are available to go with the meal.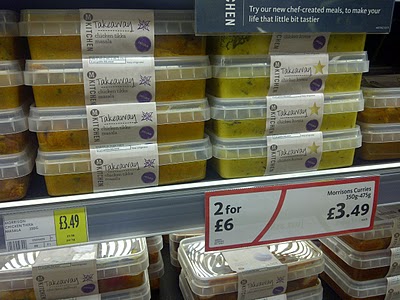 Curry in plastic box a la the takeaway meals.
Fresh Ideas remains in place but with some new varieties on the dinner kits, with it being a relatively new brand it makes sense to retain it. Especially since it's a bit different to the usual ready meals as you do a lot of cooking yourself rather than just putting a ready made Lasagne in the oven / microwave.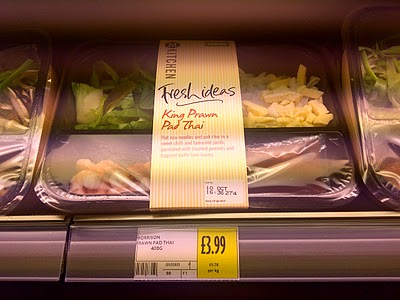 Existing range but new lines within 'fresh ideas'
The traditional meals have also been relaunched with new style packaging, there are rounded price points (£3 / £4) rather than the usual myriad of x for y deals and saves confusing the customer.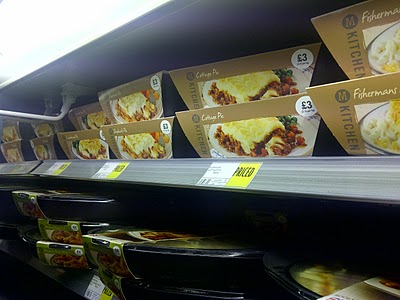 Traditional meals also relaunched with new packaging.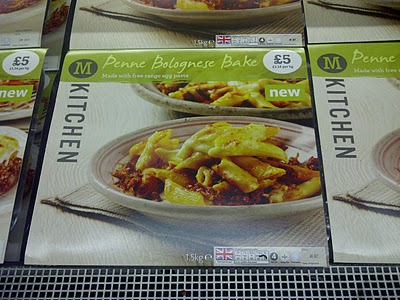 Family sized ready meals represent strong value – 4 servings – £5.
It's important that the value message isn't lost within the new ranges, a lot of the new products are aimed at a higher end of customer, certainly we don't know a great deal about tapas in Bradford! M Savers will be an interesting relaunch of the Value range when that comes along. The value range does perform quite well with customers I speak to talking about the great quality of the product.
The price points are not ridiculous by any stretch and certainly comparable with their rivals, it's interesting that Morrisons are alleged to be ranging stores based on demographic now rather than just purely where the competition are within the store catchment area.
There are full ranges of tapas, sharing and the new pizza range (see below) in one of the more affluent stores I visited but a larger store in a different demographic appeared not to have the full range of pizzas stocked and a different range. Naturally it's important from a wastage point of view that the balance remains.
It's important that Morrisons get the balance right both from a value and a quality perspective and continue to give universal appeal, whilst the Bistro Pizza at £4.40 (full price) is a good price compared to Waitrose, you've got shoppers in Bradford for example who want to know what it's compared with Tesco and Asda both in quality but more importantly, price.
Especially as there are slight price rises with the new range, amplified by the existing products remaining with the lower price, it's not on all products but some were visible today. The quality, look and feel of the product is better but every penny counts in the current economy. People will pay for good fresh food though, that much is clear.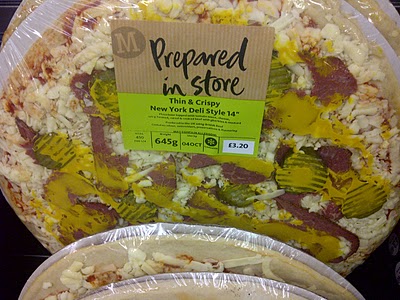 In store produced pizza – new flavours like New York Deli
Certainly Sainsbury's are still trying to shake off the image that they are more expensive on product than Asda, Tesco and Morrisons with various studies and price perception data, yes it's important that the higher end shopper who may go to Marks's or Waitrose is catered for. They've never really done anything haven't Morrisons. But the typical traditional shopper will notice (and feel) price hikes so it's important the balance is struck. An enviable task!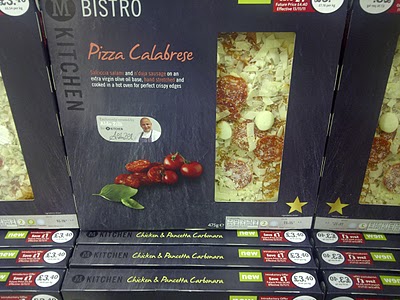 M Bistro Pizza – as created by Aldo Zilli!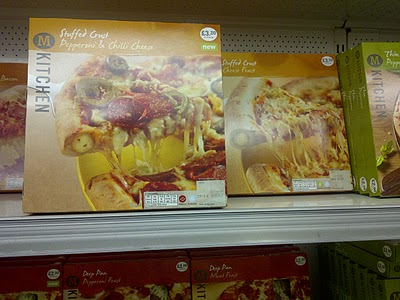 The standard range has also been relaunched with the M Kitchen moniker.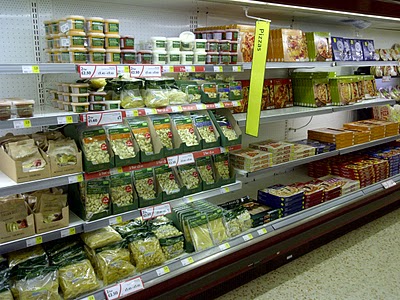 Stores flow much better – pasta into pizza in many stores for example
A great start to the o2o and I'm encouraged by the revamp, the Morrisons own label has been somewhat ridiculed down the years for it's perceived poor quality despite there not being a great deal wrong with the quality, more the perception driven by the packaging.
Another key point and one I expect the marketing to be centred around is the 'M Kitchen' and the fact it's all controlled by Morrisons, their own factories, chefs, kitchens, stores etc. A real point of difference for Morrisons.
The new range looks far smarter and premium than 'the best' ever did and a lot of the products are standard tier anyway. All eyes on the future roll outs with garlic bread and bread to follow, again packaged bread to shout about the fact it's baked by Morrisons own bakeries, again using the vertical integration for marketing purposes as well as profitability and supply purposes.