This blog post was planned in before the Tesco announcement of £500m worth of price cuts and it's interesting that Tesco are going down the EDLP route, cheaper prices rather than complex promotions, you can read more on my thoughts on the Tesco shift here.
In terms of Asda, their struggles continue with the Kantar market share reflecting as much with a relatively meagre 2.2% overall rise for 'total Asda' including Netto, the core stores did perform better with a rise of 4.4%, it will be a concern that the enlarged Asda estate only showed a growth of 2.2%.
A concern as especially since previous blog posts asking questions about Asda and their market share were dismissed as Kantar takes into account new space and Asda were opening less stores and extensions than their rivals, not so now surely with the Netto conversions continuing apace?
Looking at the figures you can perhaps see why Tesco have been moved to launch a price offensive as their total growth was 3.0% which isn't particularly impressive when you consider they continue to open new stores and extend existing ones. The concern for Asda is that Morrisons continue to out perform the market and in particular Sainsbury's continue to build market share and momentum with their sales growth. Today's figures (5th October) indicating Tesco slid -0.5% on the lfl and indeed Q2 saw a slide of -0.7% will alarm investors and the wider Tesco group.
It's not all about figures of course but they are a useful yardstick to gauge how the market is moving, naturally you'd be disputing the figures and their calculations if they weren't showing the picture you believed. However, as longer term readers will appreciate, I like to go into stores and see what is going on for myself.
With Asda pursuing a 3 tiered branch network revolving around 'super' – Supercentres, Superstores and Supermarkets, what about the operational gears that drive sales in these stores? Another consideration is profitability which was damaged with the Netto acquisition and subsequent conversion cost. How efficient can Asda be going forward? Any price hikes to recover margin are out of the question with APG and the 10% to protect but Tesco and their £500m price cuts will also see the battleground become ever more fierce.
Regular readers to the blog will know I believe a sales growth slowdown is usually down to availability, that is, you can't sell products when they are not available on the shelf. This is the case with Asda who seem to struggle massively with availability, the problems appear to lie within the wider supply chain rather than purely in store warehousing. Not only that but promotional availability seems poor which indicates there are problems within the forecasting and ordering system itself, with nothing more frustrating than promotions being unavailable in store.
Availability in Asda continues to be a huge Achilles heel, interestingly from my perception Grocery fares worse than Fresh. It's not just a case of it being traded hard through the day and shelf space not being enough for the sales, often you can walk in post night shift fill at 8am and see yawning gaps across product groups, in particular categories that don't suffer from much trade variability, UHT Fruit juice for example.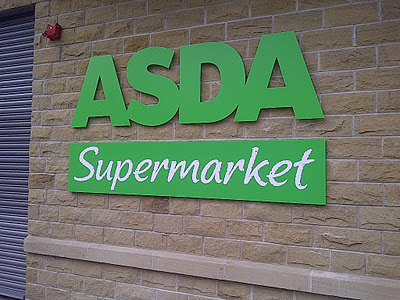 High hopes for the 'supermarket' chain.
Nothing has changed massively from the last blog post which asked a few questions in June of Asda and their relatively poor performance within the UK. A subsequent blog in July by the unknown and anonymous HatmanPro was then derided by Asda PR on twitter…… for being written anonymously rather than any of the salient points it raised regarding the stalling performance of the chain.
Taking larger stores first, I'm quite fortunate that local to me is the vast Pudsey supercentre, trading over two huge floors it stocks an amazing amount of non food with the food side being relatively difficult to navigate. It's not the easiest shopping experience but the store can be busy at peak trading times.
Admittedly, with the larger stores it's harder to maintain standards due to the store size but Asda is notoriously poor at maintaining standards. Cleanliness on shelves and indeed on the shop floor isn't a massive issue due to the small army of Asda 'aces' who patrol the store keeping on top of cleaning but in terms of shelf fill, availability and presentation, it's often not good enough.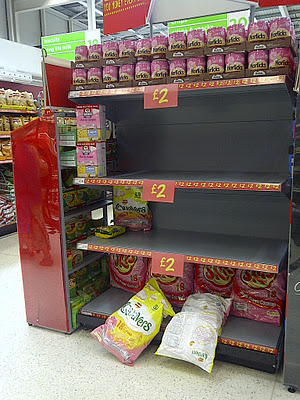 Gondola End – 12:30pm
We know stores trade through the day and it's not practical from a retail point of view to have people tidying the shelves as it adds no value. The apparent lack of store standards is almost insulting to a customer who dares to shop after 5pm. Lest we forget that the supercentre (and many of the 'superstores') are 24 hour trading stores.
With rising fuel costs, the last thing a retailer needs is poor availability but Asda seems to really suffer, the confused process in store seems to hamper availability with gap scans, lengthy hunts for overstock then amending the bookstocks. Their staff are often seen with unwieldy paper prints as they manually count stock and try to fill gaps, with their rivals using exclusively instant PDA based solutions, it cannot be efficient.
Nor can the antiquated IBM till systems that even the archaic Morrisons have overtaken with their solution (in place for a good two years now), being a standalone solution so when the mainframe goes down (which it can do) the tills work on their own until the mainframe comes back up. When it does, the system takes some time to reconcile everything but it works independently and doesn't impact the customer.
If you've ever been into an Asda when the system has gone down, it's chaos. Store staff are powerless as queues build, the tills don't work and management are on the phone to HQ as the system reboots, when it happened to me, it took 15 minutes for the tills to start working again.
When you consider the progress Sainsbury's have made with their system since 2005, it seems somewhat bizarre that Asda continue to operate a system that is well behind the times. I hear rumours that much is hoped from their new warehouse systems that are due to be launched in 2013 but can the business continue to deliver a poorer store from an availability point of view for another 18 months or so?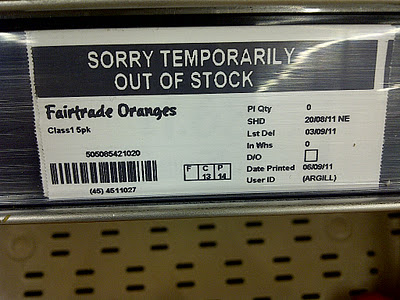 Inventory (PI Qty) at '0' but nothing in stock.
It's not just efficiency, I've heard before that there seems to be an anomaly within the WalMart systems where  an item will go out of stock and the inventory be at '0' however instead of re-ordering (like it should do with the majority – auto-replenishment) the system doesn't do anything. Once a colleague resolves the problem, it can take 3 days (72 hours) for the out of stock to arrive in store, compare that to Morrisons who have some stores on a 12 hour lead time from order to delivery and even Sainsbury's can get some out of stock lines to stores within 12-18 hours via 'gapbusters'.
This process requiring a colleague to scan the item and manually intervene to drive the order through the system isa real flaw in the mechanics and not conducive to the system driven availability. Admittedly the example above on Oranges could be a mispick at the depot but this situation can be replicated across the store, it's not just Produce.
The OOS tags (above) have replaced the former green paper tags that were ticked by the colleague when checking the reason for the out of stock. I'm unsure whether anyone particularly tracks the reasons for out of stocks, certainly the popular promotions generally have a 'x' where the D/O box is, indicating that the depot has run out of product. Asda pursue a 'stockless depot' ideology within logistics according to one supplier who indicates that is a reason why stores struggle to fill the shelves.
Other reasons are a lack of discipline with the process, admittedly the Asda 'strong' culture of everyone having a good time sometimes doesn't help. As much as that lends itself to great service (and it does) the wider process picture means the message is lost a bit. The stores I visit aren't stringent on POS, leaving old POS up and replacing it with a product at the same price.
It's a similar situation with the parameters that drive the system orders, all too often the shelf capacity on out of stock items is set incorrectly, so the system thinks you can fit 1 case onto the shelf when in reality, you can get 3 on. This will lead to lost sales as the system should be driving in stock to fill the shelf, especially when planograms are set up to meet a days worth of sales from that location.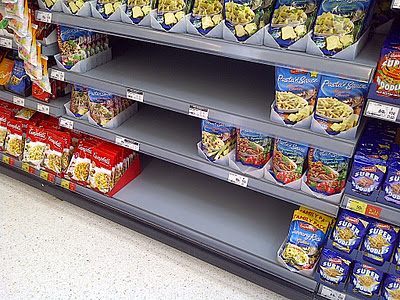 Good fill at the top, then gaps and an example of poor space management at the bottom – what goes there?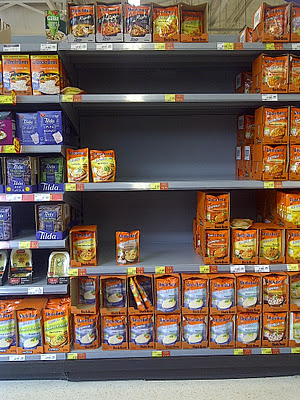 Here too, great levels of fill on some with others totally empty.
Driving EDLP requires everyday low cost (EDLC) and it's somewhat difficult to drive the 'operate for less' function with an ordering system that is behind the competition (Morrisons excluded due to their manual solution) in terms of time taken to count stock, gap walk and replenish. It's also wide open to errors with paper based counting and pick lists for the warehouse, certainly the availability process detailed to me sounded ripe for pitfalls.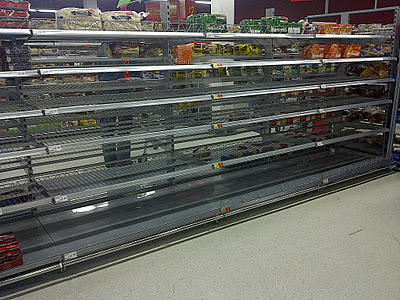 Sunday 2pm Bread availability.
The main concern from my point of view was when the colleague detailed the amount of stock they were finding in the warehouse, not only that but a lot of these cases were out of stock on the shop floor. Whilst this may be a store specific problem, they said their warehouse was filling up again (after reducing backstocks massively in recent years) and a gap on shelf didn't necessarily mean there was no stock in the store, a real concern if this is repeated in more stores.
Another part of EDLC is to grow sales, difficult when customers are finding things out of stock. With rising fuel costs, they won't go to a close Asda to complete their shop, they will go to the nearest competitor and Asda run the risk of losing that customer.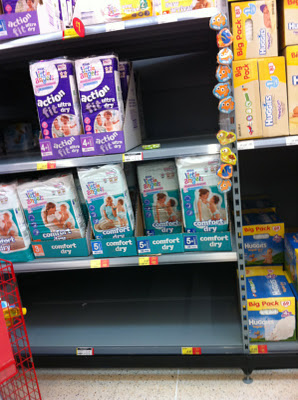 Key lines like Nappies – too many out of stock here.
There are high hopes for the supermarket estate which consists of former Netto stores and the standalone test bed small store in Pontefract with another bold claim for more stores set out by Andy Clarke recently, the supermarket model is more sensitive to availability problems than their larger store cousins due to the location of the stores and smaller warehouses. A lot of former Netto stores are smaller outlets and may appeal to the top up shopper rather than someone opting for a full shopping experience.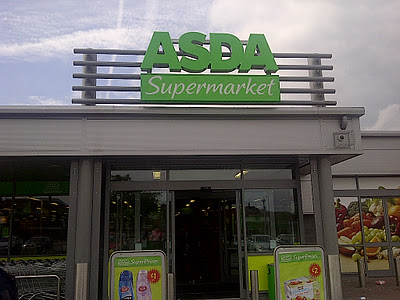 Asda Supermarket in Little Horton, Bradford
Out of stocks at the converted stores will hurt the model more due to a lack of alternatives, certainly the conversions possess a good range compared to their previous owner but there isn't much movement for out of stocks and subsequent alternatives.  Another complication is the smaller warehouses that stores contend with in the converted stores, there simply isn't the room for vast overstocks, shelf space has to be given up for fast selling lines (quality vs quantity) and ordering has to be absolutely bang on. Not something Asda are particularly renowned for in their larger stores, certainly not like Sainsbury's for example who's stellar ordering systems have helped them turn Sainsbury's Local into such a success story.
I've visited a few of the conversions, the first one in Bradford (Little Horton) has been open for a while now having being rebuilt by Netto in 2008. The poor standards in here left me feeling rather concerned, certainly the store managed to fit more in it than others – mainly due to the size of the building. But a peek at the warehouse through the doors indicated that overstock was an issue, it was rammed full.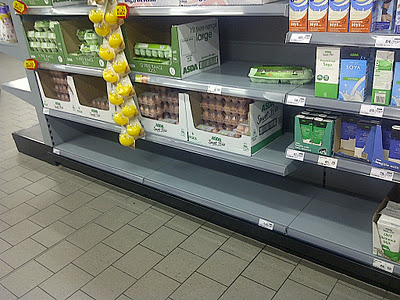 Huge gaps on eggs with no OOS label visible.
What was concerning was the amount of gaps on the shelf that weren't displaying an OOS label, I visited around 2pm so whilst I appreciate that items do sell out but there were simply too many to indicate it was purely sales, if it was a process issue then that will hamper availability even more.
With the former Netto managers that Asda have taken on, they will not be used to having to scan gaps and operate within an EPOS system. Netto was manually ordering in the main but very little in the way of stringent process, poles apart from what Asda are trying to do with the supermarkets.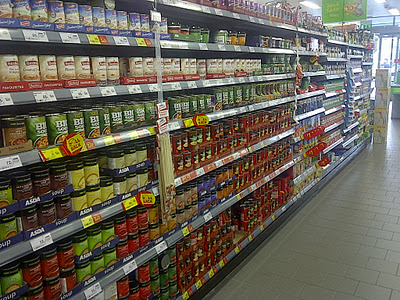 Strong range – and availability on soup here – it was a relatively warm summer day though.
Despite that, the store ranged a lot of items and the larger ex Netto stores certainly possess enough of a range to do a full shop, as long as the availability holds up. With the supermarkets being smaller than a superstore, it's vital that the basics such as bread, milk and eggs are always in stock as some people will use them primarily for a top up / one off visit to see what is available.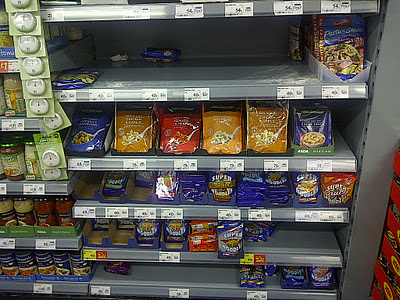 More gaps on grocery and dirty shelves too.
Despite the new feel of the store with the fresh look and new (ish) revamp, the nuts and bolts in terms of standards of the store were poor. The turning over of SEL's reminded me of Netto, they used to do that when an item was out of stock and they'd gap fill with something else.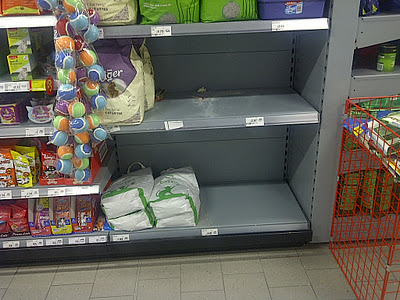 Turned over SEL and poor availability on cat litter.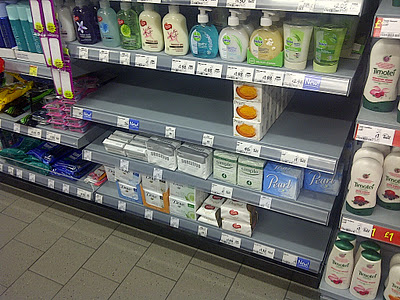 Not much sales variation on soap but too many gaps here.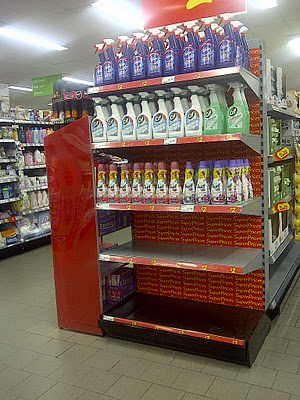 Promotional ends empty – featured space can shift real volume.
This is a concern and even though it's relatively early days for the chain, especially with management changing over. Karen Hubbard blazed a trail with the supermarket function and it was very much her arena but she's recently been put in charge of store proposition for the group.
It's somewhat unclear who is responsible for steering the new supermarket format. It will take time to bed things down but you do expect certain standards on opening day of a store for example.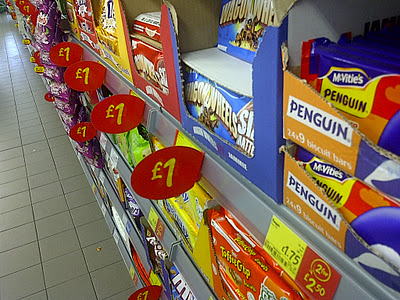 As expected – price is the recurring theme throughout.
So I popped along to Kirkstall Asda to see what the store looked like on opening day, arriving an hour after the official opening time to have a look. It was very very busy but unnervingly, there were out of stocks! On opening day, fully labelled up as well. Presumably it was a supply chain failure but on opening day, it's unacceptable.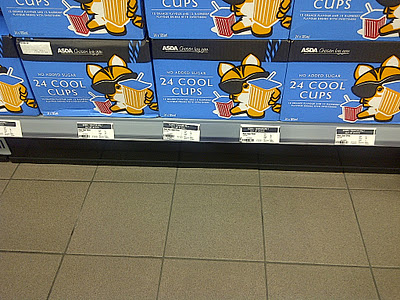 Kids juices off sale on opening day at Kirkstall – gap filled with 'cool cups'
Sainsbury's have a team who manually each line order to fill the shelves when a store opens, I was told Asda run some sort of script on the system which generates orders for the store. With Sainsbury's having a human doing the initial order it allows the store to get off to a good start with low overstocks and full shelves, this helps generate accurate forecasts as the store trades and the system starts to pick up trading patterns.
To have gaps on opening day isn't a great start but subsequent store performance has been excellent by all accounts with customers I spoke to impressed with the Kirkstall store. Good news for the model especially with Kirkstall and Thornbury both being adjacent to an Iceland so competition is rife.
With a new opening and an existing store trading visited, it was time to see how a store fared that has been open a day or two, Thornbury re-opened this week so I went in to have a look and see how the store was faring in the early days.
Asda supermarket – Thornbury
Due to the layout employed, the store in Thornbury looks slightly smaller than its previous guise, I don't think the shop floor has been reduced so it's remarkable what they've managed to do with the store considering it was one of the worst Netto stores I think I've ever visited in terms of look and feel.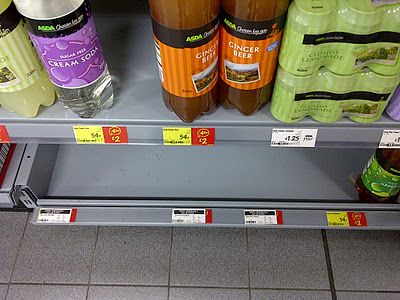 Chosen by you pop out of stock.
The same issues remained regarding availability, whilst we aren't talking across the store it seems to be a common theme that 'groups' of products suffer. Instead of it being 1 line of Chosen by You fizzy pop for example, it's the majority that are out of stock.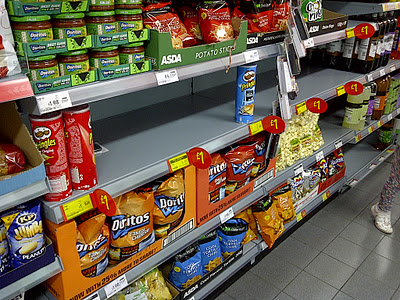 Whilst difficult to forecast demand in the early days – promotional lines should be plentiful.
It's the same with multi pack crisps that were barren and with Pringles on £1 rollback, they were completely blitzed too. It's understandable that certain offers will be popular but is anyone concentrating on replenishing fast moving lines like Crisps throughout the day to maintain sales and reduce inventory?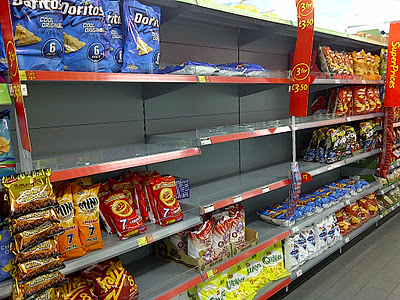 Poor availability on crisps – only 2pm on Wednesday here. Just at the top you can see no overstock.
Thornbury was different from the other two stores I visited as it had overhead shelves for overstock, always a good idea in smaller stores. Tesco Extra stores also adopt this method and it certainly makes replenishment easier as the store miles from the warehouse are eliminated. The capping shelves to hold overstocked Crisps in the picture above are empty of stock so it's not an in store issue for availability, more a wider supply chain problem leading to the gaps.
Admittedly it's always difficult in new stores to forecast demand but items that are on promotion like the ones above should be relatively plentiful in supply considering the demand will be higher given the lower promotional price.
Speaking of price, there is a continual argument regarding EDLP and what it actually means for the UK market. There is clearly a different between how the US customers perceive quality and how the UK customers perceive quality, mainly centering around price. If you look at the financial woes we've all struggled with, you'd expect Asda (14 years low prices according to the Grocer and APG pledges to be 10% cheaper) to be romping away with leading market share and growth but it's simply not happened for them.
Almost perversely, Waitrose – well known as not being price competitive bar a few Tesco price matches have posted record sales figures along with the discounters, Aldi and Lidl. The discounters it seems have managed to find an equilibrium between price and quality as a lot of their low prices come from low cost store operations and scale, only one variety of Apple Pie x 500 stores = a far better buying price for Aldi.
The discounters are low priced, make no mistake but they aren't the cheapest on absolutely everything, it's more fair prices with Aldi pushing some relatively premium lines these days like Truffle Ham and some of their own label lines perform well at the food industry awards too. On a price comparative basis, Asda are cheaper on own label and branded lines but is that what customers want, exclusively low prices?
There are other retailers that are squeezing Asda, that is the single price discounters of Poundworld and Poundland and the variety stores such as 99p stores, B&M Bargains and Home Bargains. Whilst some of our Southern readers won't have heard of some of these businesses, they are low cost, low priced operators buying items up from various outlets and selling them at a low price. A strong battleground for Asda was their excellent offers on Health & Beauty lines such as Shampoo, these stores undercut them daily, not relying on promotions and instead offering everyday low prices!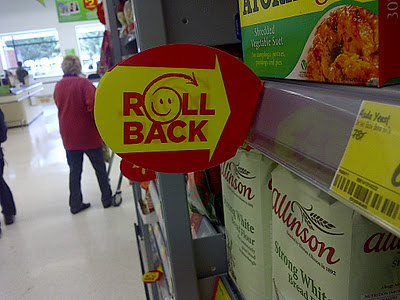 Rollback – but for how long? Permanent? 12 weeks?
Despite it being (seemingly) a tailor made economic situation for Asda to exploit, it's just not happened. Indeed their economist issues a report for the press every so often indicating the family spending power is down again by £x and things are getting even harder.. surely its 'their time'?
Why is Asda unable to capitalise? I feel there's a definite confusion over what EDLP means, what rollbacks mean and what the promotions mean. Certainly I was of the opinion until recently that a rollback was a permanent price cut given to us by the great guys at Walmart as they strengthened their low price position, it would appear not. Its more of a promotional 12 week reduction and once that's up, the prices can be increased beyond what was charged pre rollback. Not that they are, but the opportunity arises.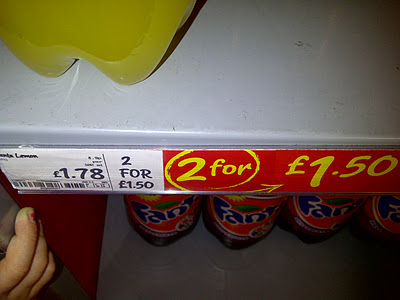 We don't do BOGOF but we'll do an offer where it's better value to buy 2?
The EDLP logic doesn't seem to lend itself to the UK culture, especially if the majority of these low prices are only promotions in reality, if the model is so believable then we'd see a lot less promotions in store and see much lower single prices across the board. After all EDLP is supposed to deliver the lowest price, why do we see so many promotions?
It's clearly to compete with the opposition as the pure EDLP proposition isn't a total winner in the UK, it's taken Aldi and Lidl long enough to get going! People like to hunt for a bargain and switch their shopping around, but Asda need to decide what their flavour of EDLP is, a pure EDLP proposition (where instead of running x for y on Coca Cola, it's priced at £1.49 rather than £1.78 everywhere else) would be particularly interesting but would they get the scale and volume to support it?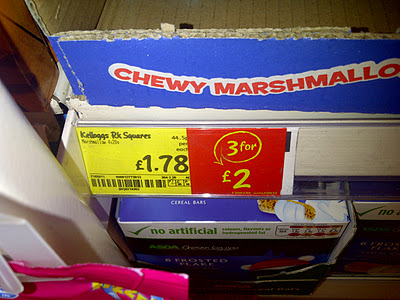 Rice Krispie squares – very strong promotion but is it EDLP?
Not only do we see a lot of promotions in store but we hear of Asda 'abandoning' bogofs and retaining the focus on 'save' promotion but then 'x for y's' come to the fore and then there are promotions run that work out even better value than bogof. The question has to be, why make the claim in the first place of being different regarding BOGOF's when you're not really that different at all.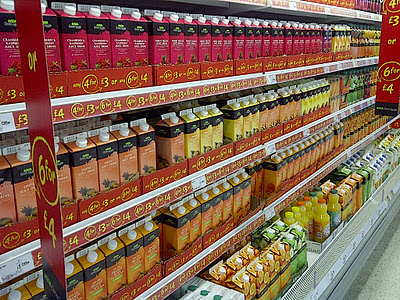 Yellow/Red POS everywhere – shelf ready packaging, shelf edge, fins.
Back to the standards issue, the POS is relatively poor for the promotions it advertises. The red/yellow is on display all over the store and it becomes too much, with every rollback, round pound and special offer carrying the red/yellow moniker it's overload. Not only that but isn't particularly aspirational colouring, Morrisons used to use it on their advertising but changed to a red/white proposition in 2008 with the newer stores carrying black/white POS.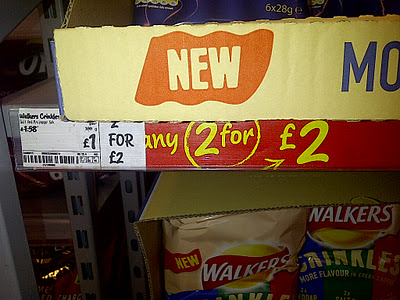 Good saving of 58p – but why not take the POS off? £1 – 2 for £2 looks ridiculous.
Due to EDLP meeting the APG and throwing promotions into the mix, Asda can't afford to be charging a higher price for individual items. Even if the item is on a promotion, Tesco may have Pepsi on a promotion so reduce it to £1, Asda may do 2 for £2 (£1.79) each but for APG and 'low price' purposes, Asda will then reduce their price to £1 to match Tesco and reduce their liability to being hit on Asda Price Guarantee.
However when these changes occur store staff don't change the advertising POS nor do Head office issue new POS highlighting the (as good) promotion. So you get scenes like the one above – taking confidence away from the promotional package and leaving the customer questioning what else may not be quite what it seems.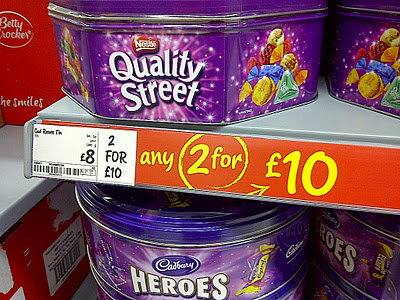 Display was 16ft long – replenished incorrectly but Roses – £8 / 2 for £10 – this was first bay.
Recently there was a mini early Christmas price war on tins of chocolates, Morrisons reducing theirs to £4.49 and falling well short of sales targets due to the unexpected hot weather, Tesco had theirs at £4.50 and Asda responded – taking theirs off £8 – 2 for £10 and going for a reduction to £5. However there were two different prices on the two ends of the same display and a separate gondola end that displayed incorrect pricing.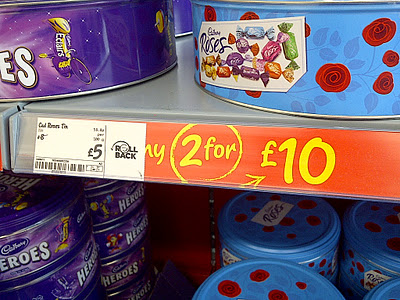 Further down the bay, the correct price is display but the 2 for £10 POS remains!
Some of the promotions that Asda run are good with them tending to focus on a round £1 / £2 offer on a group of complimentary products as seen below,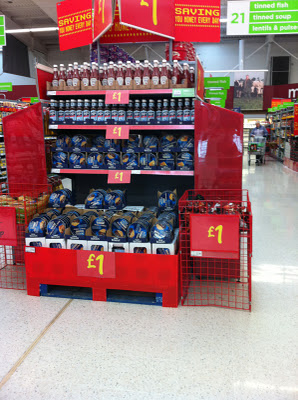 Strong round price point on the gondola end.
However whilst the POS isn't particularly aspirational, it doesn't exactly do a job of promoting the offer either. The cash conscious shopper watching the pennies may well not have an appreciation of how much the sauce or Fray Bentos pies are reduced by, the POS tells you it's £1. Unless you look at the SEL to get the saving there's nothing eye catching on the POS to give you the gravitas of the offer. Asda did start updating the POS with the previous price crossed out or a star in the bottom right corner of the advertising indicating the saving, however with generic POS like this it indicates the price and nothing more.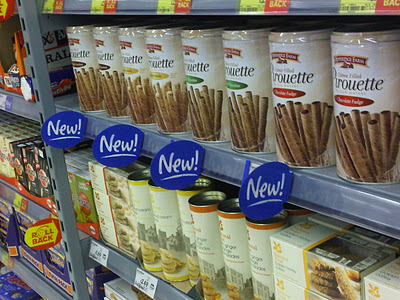 A continual stream of new lines coming into store – adding to the churn.
Another bone of contention within stores is ranging, certainly the supermarket division were charging their suppliers listing fees for their products to go into the Netto conversions. Within the main stores, there's been a lot of range churn as Asda try desperately to boost their sales and give a wider assortment for the customer.
This of course after the 'less is more' policy that Darren Blackhurst pursued (along with the wider WalMart chain) which was abandoned as customers weren't keen on being directed to buy Utterly Butterly rather than 'I can't believe it's not butter' for example. They like to make their own choices.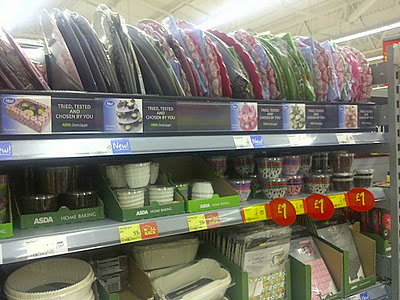 'New Lines' – perhaps a bit late to the Cupcake party but a new range of cake decorating items.
Chosen by You has seen a vast introduction of new lines since its inception last year, certainly the chilled lines have seen countless revamps, chilled desserts after being revamped earlier this year as has had another relaunch with yet more new lines introduced. Whilst innovation is appreciated by customers, it can become too much, especially if customers become used to a product which is subsequently discontinued.
Merchandising has been tightened up in Asda stores though, the advance of shelf ready packaging has been notable with the majority of own label lines now being merchandised in a shelf ready solution, the new planograms all incorporate a SRP solution which is likely to improve replenishment efficiency no end.
There remains curious layout plans in store though, with Chosen by you becoming notably popular, the neglected 'extra special' doesn't seem to fit in as an aspirational label for customers. Layouts on biscuits don't drive impulse sales for the customer in what is an impulse category.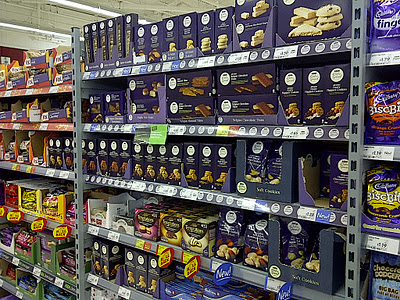 Putting premium in one bay doesn't drive impulse purchases in a category.
Looking at the Cookies bay, it's all merchandised with the usual branded and own label, but the Extra Special Cookies are merchandised within the extra special 'bay' separately. That doesn't drive impulse purchases in the individual categories, certainly if a customer was looking for Cookies they'd make their selection and move on from the Cookies bay thus not seeing the premium bay or the specialty bay opposite with various biscuits from foreign climes.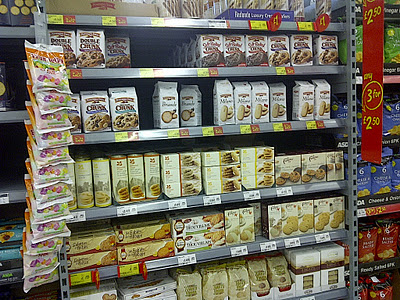 Driving impulse purchases for these lines is difficult as they are purchased on their own.
With Charles Redfield joining the Asda team from Bentonville, it was rumoured that he would taking a much wider role within the group for Merchandising and we'd see a real step change in how stores are ranged. Well, not really, nothing groundbreaking has happened other than customers complaining they can't get their full shop within an Asda store. I wonder if this is more to do with poor availability and a lack of real alternatives when lines are unavailable than a genuine lack of a range? It's difficult to say without specific examples or indeed an analysis of ranges vs their rivals.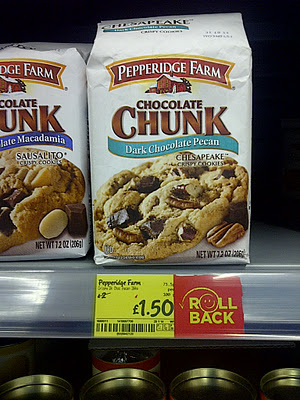 Pepperidge Farm Cookies available on the biscuit aisle.
The major changes within the range since Redfield arrived has been to bring a swathe of products from the US into Asda stores. RC cola has been a relative winner since it arrived earlier this year, challenging Pepsi and Coca Cola in stores. Has it been the same for the other brands that have arrived in store?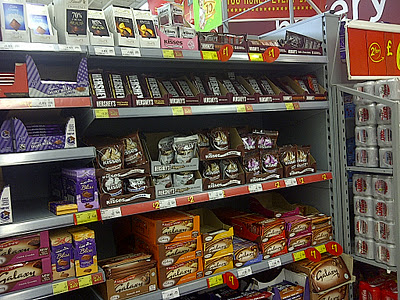 Hershey's chocolate arrived earlier this year to much fanfare.
The major import was of course Hershey's chocolate which arrived to much fanfare earlier this year. You can appreciate that it's a bit of a ground breaker considering it's not available elsewhere in the UK in great numbers. It's a bit of a novelty purchase for people who may have been to the US and then returned with a bit of a hankering for Hershey's but as part of the weekly shop? Generally speaking the feedback is that it's nowhere near as nice as Cadbury's chocolate.
With the introduction of lines like Pepperidge Farms cookies and Hershey's, where is the space coming from for these extra ranges?  Hershey's alone takes up 3 shelves in a bay so existing brands must have had to suffer with reduced facings or even delists from certain stores to make space.
The issue with reducing space on better selling existing lines is that you can fit less stock onto the shelf, if it's a quick selling line then its likely it will go out of stock more frequently, if the product had more space then there would be more stock available.
Another issue with Hershey's is that it comes across the water from the US, so the price point isn't as sharp as Cadbury's Dairy Milk for example. That creates another issue as the shopper (remember, the Asda economic report tells us things are getting worse for them) can't afford to spend cash on luxury items such as Hershey's chocolate when the lower priced home grown alternatives are available.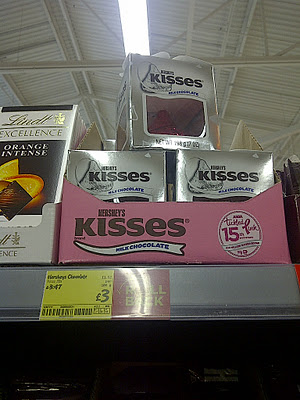 £3.47 is a high price point for a price conscious operator.
It's the same with the American biscuits and other imports, they are a nice complimentary purchase but do customers shift their eating habits and add them to their basket on a weekly basis when Maryland cookies (an item we are far more accustomed to) are available lest on promotion? Consider too that the merchandising of premium and imported products is in separate bays, not conducive to driving sales of these items.
Lines like Marshmallow fluff have been added in recent weeks, these are lines that makes sense, we don't have an alternative over here and it fills a gap in the market. Other lines such as candy melts (melting chocolate for 'cake pops' and cupcakes) would improve the 'home baking' range. They are only sold by Hobbycraft at the minute for around £2.50 a bag, you can't get them elsewhere bar the internet. It's items like this that should be looked into, American lines that would make a difference rather than yet more chocolate!
Rather than a permanent increased ranging of the US sourced products, perhaps a better strategy would be to add a USA 'taste of America' event to the seasonal calendar. Rather than having a cleaning, baby, cleaning then baby event before the Christmas stock is rolled out, a USA themed event would be a real footfall driver to stores and would allow Asda a great flex on the ranging for the seasonal aisle.
Current popular items such as Lucky Charms cereal (retailing at £8 per box in Selfridges) could be stocked along with other popular but rare items that English people enjoy but are unable to get without paying through the nose.
Whether permanent ranging of lines such as Hershey's and Pepperidge Farms cookies is the right move in unclear, we're not going to see any sales figures and I can't see a man like Redfield, sent in from the US admitting that the products he has ranged aren't working.
We'll have to see what the future holds for Asda, the pressure is likely to be off them somewhat given the poor results Tesco delivered this week. However the WalMart top brass will want to see credible gains by their number 2 placed subsidiary.
They've got to improve the offer for the customer, their service in stores near me is great, the staff are always talkative at the checkout and they deliver great service, but the availability is time and again a major problem for them. It's a must fix.