After the initial 'soft' launch of some ready meals into stores last Monday (4th Oct), it was somewhat disappointing that there wasn't an absolute abundance of things to look at. Given the lack of rumours even from good sources, it was clear that the launch would be a closely guarded secret.
The news was revealed in September that the branding was to be 'M Kitchen' with the focus around 'the Kitchen' and in particular Neil Nugent who was busy re formulating own label ready meals after his switch from Waitrose.
Before that via Retail Week and the myself revealed that 'the best' was to disappear from our shelves, whilst it was never confirmed and remains unconfirmed, the absence of 'the best' range from the ready meals relaunch means that the brand name will no doubt be consigned to the waste bin of history.
With the new launch of Bistro and associated lines arriving into stores, it was interesting to see what would be done with the existing core ranges of Italian, Indian and Chinese for example. Despite them being re-packaged under Marc Bolland, they quickly looked dated and didn't reflect well on the new direction in which the business is trying to go. Look at Kirkstall for example, the fresh side of the store is modern and a sign of the future but the Grocery side of the store looks like a shop from a different era.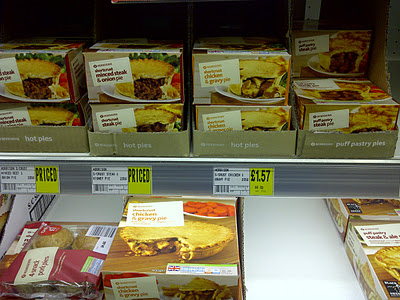 Old range of pies – redesigned recently.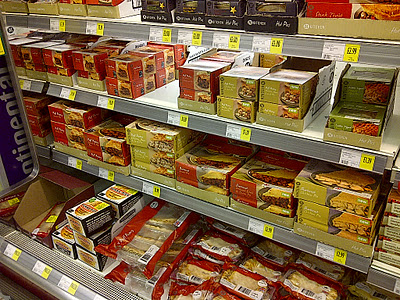 New range of pies – M Kitchen branded.
Considering the size of the launch, it was as interesting to judge the wider PR effort to make people aware of the launch, Morrisons historically have not shouted about anything, indeed it took Marc Bolland to arrive and shift the advertising focus towards the difference in their in store preparation with the butchers, fishmongers and bakers producing fresh product on a daily basis.
Not just that but the simple adverts using celebrities worked well and the model was retained with Freddie Flintoff becoming the face of Morrisons, despite the simplicity of the adverts, they do work and when you consider Asda did a similar thing with Peter Kay and Victoria Wood making bread before abandoning it, 'Morrisons' are perhaps right to continue with Flintoff and 'Shine' by Take That.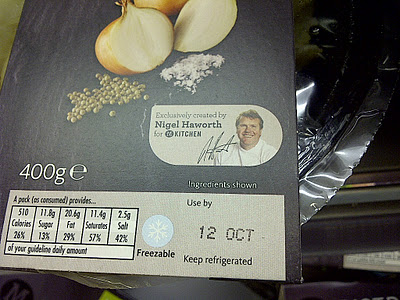 Nigel Haworths Lancashire Hot Pot creation.
The M Kitchen launch wasn't very 'Morrisons' though with a pop up restaurant appearing in central London as part of London Restaurant week. The ruse was relatively simple, the restaurant was branded as 'the kitchen' with no mention of Morrisons until the guests had eaten their food, where the reveal is made after guests have indicated the amount they'd be happy to pay.
A risky strategy? Definitely, but it perhaps underlines the quality that Morrisons feel they've got with the Bistro range, marketing it as 'eat out at home' with restaurant quality at supermarket prices.
Part of the launch was the revelation that whilst Waitrose have two chefs, Morrisons have enlisted five chefs to each create a signature dish as part of the range, perhaps highlighting their push to take their offer to a premium level rather than totally ignoring that demographic. Pierre Koffman, Nigel Haworth, Aldo Zilli, Atul Kochhar and Bryn Williams each put their name to a dish as part of the wider Bistro range.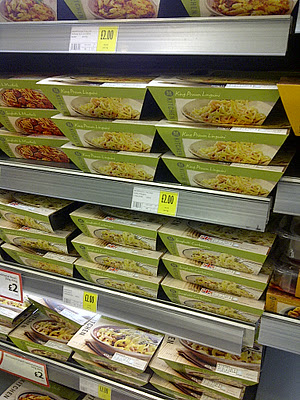 Existing ranges such as Italian are re-packaged.
I do appreciate the push to appeal to the premium customer but Morrisons have found themselves a great niche in the market, avoiding the current price battles. They are totally uninterested in any of it and are continuing to offer strong promotions, good standards and fresh food. They've always had universal appeal but admittedly not really offering customers much of an opportunity to trade up or indeed entice those customers from Waitrose or M&S.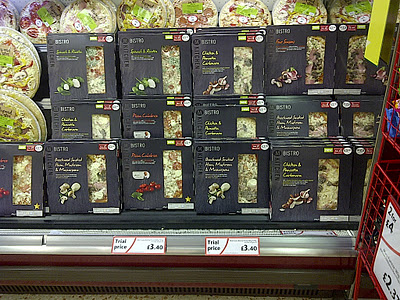 Opportunity to trade up with a much sharper range of pizza.
There is ample opportunity to trade up with the new range, the Bistro range is expanded from it's previous identity as 'the best' with a new tapas range available along with revamped ready meal and pizza offering. The existing core meals have been rebranded under the M Kitchen logo and packaging too which gives it a feeling of quality rather than the previous functional regional packaging.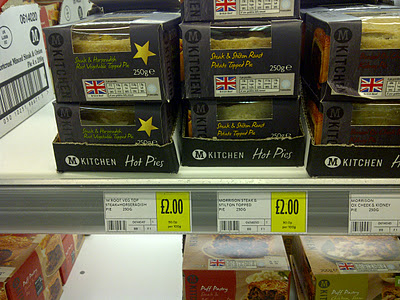 New range of 'bistro' Hot Pies from M Kitchen
The only potential issue is (as ever) price, feedback has been that the new range whilst impressive has seen slight price increases on some of the existing reformulated lines. It's true that customers who eat in don't baulk at spending money on M&S meals for example in front of the X Factor, they may baulk at paying Morrisons though! There has to be a concerted effort both externally with advertising and in store with sampling and promotional packages to ensure that customers who switch are suitably impressed with the range can be 'hooked in' and become converts to Morrisons.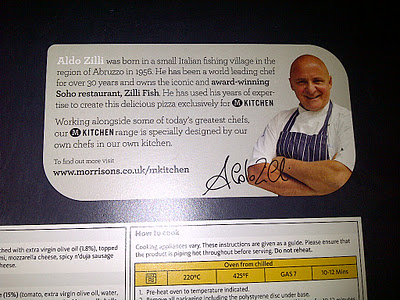 Aldo Zilli pizza – can Morrisons become a place for the 'foodie'?
When you weigh it up, the £4.40 (full price) Aldo Zilli pizza is great value when you peg it against a Pizza Express pizza which is £9 in a restaurant. The theme of M Kitchen is restaurant quality meals and the presentation is vastly superior to that of the previous guises, but the proof of the pudding has to be in the eating, sampling would be a big winner, the marketing push kicks off on the X Factor on Saturday.
Another gripe with customers is that 'the best' pizzas were £3.99 before the relaunch and now they are set to rise to £4.40, you can see their point, especially with families ever harder pressed and noticing every penny on price rises. However you can look at it on the flip side and certainly these are the same families who would think nothing of spending £20+ on a Dominos Pizza meal deal of a Saturday night. Why is £4.40 on a supermarket pizza excessive? It's all about perception, the issue is that some customers don't always look at higher priced brands (M&S, Dominos etc) they look at lower priced ones too, Asda and Tesco for example.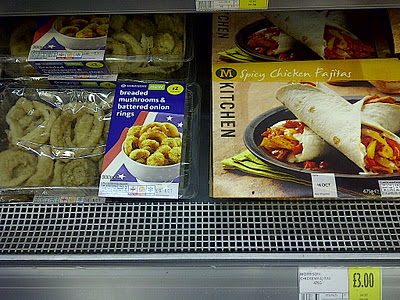 Taking existing ranges upmarket by changing packaging – garish blue USA livery disappears.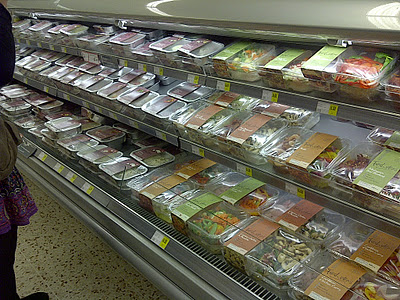 Existing ranges like 'fresh ideas' on the left are repackaged with some new lines.
The food has to back up both the claims and the price increases that have happened on some lines, the Bistro range is the new premium tier so naturally that attracts a price premium too. Dalton appreciated the risk they were taking with the pop up restaurant when talking to the Marketing magazine.
"It is high risk, but we want to give it a go. We're confident in the products and so we're confident in what we willl see out there in social media. We'll let the opinion formers write about it as it's part of London Restaurant Week. It's incredibly risky, yes, but actually those are the people who consumers trust." – Dalton Philips speaking to Marketing Magazine – Oct 12th 2011
An interesting aside is that Morrisons are switching on to the importance of social media, their facebook site appears to be a trading post for customers to congregate and one comment is from a lady today (13th Oct) who was so impressed with 'the kitchen' in London that she is going to Morrisons for her party food. Gamble paid off perhaps? All eyes are on the pending reviews no doubt but the efforts of the Morrisons team in London deserve some recognition, you wouldn't know that it was Morrisons occupying the pop up.
It's all about raising the profile of the brand of course, however a comment further down the Facebook page criticises the Pierre Koffman inspired Beef Bourguignon as 'horrible'. Going on to state that the Pork fillet in Pancetta is great but never feeds 2 people! With any new range, there will be people pleased, displeased and indifferent but hopefully the sales line will compute a good return for the business come year end.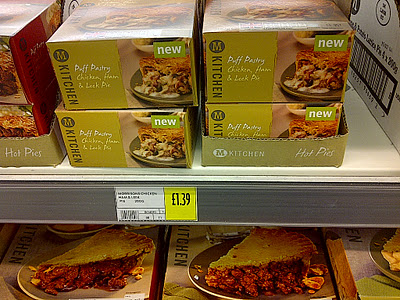 Whilst some existing products are reformulated, there are a number of new lines.
Initial figures are positive with a 23% sales rise reported over the week, however there has been space added to the layouts as a mini liberate has gone on with stores freeing up space for ready meals to be merchandised all together rather than in between pizzas for example.
The challenge is to entice new shoppers to try Morrisons with these new ranges whilst continuing to cater for the core shopper, one who isn't just obsessed with price and wants a good range of shopping coupled with strong promotions. Stores of the future will help entice the new customers and St Albans are benefiting from it at the minute, but there are several stores across the estate that would really benefit from it, particularly the ex Safeway ones, the transformation of Swinton was notable.
As well as ready meals and pizza, the soups and pies are now fully attired in their new M Kitchen livery, with garlic bread to switch over shortly. It appears that the range is well timed in readiness for Christmas, as with any launch there will be things that work and don't work on a store by store basis. Morrisons model of sales managers manually allocating means that ranges can be reviewed and reduced quickly if wastage is an issue.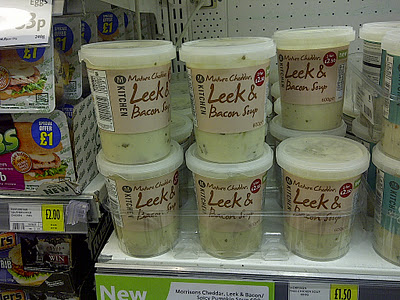 Soup has been relaunched with the new design and 'M Kitchen'
It's good to see each store getting a strong range, and it's vital that the range is given time to settle in and provide a reasonable sales forecast for the future, previously Morrisons being sensitive to waste would remove poor selling lines straight away without necessarily giving them a chance to settle in.
The launch has been very well executed in store with all the stores I've visited displaying the full POS and range where available, good to see that on pies, shelf ready packaging has been retained and has the M Kitchen logo incorporated into it. Soup retains plastic trays so efficiency is an ever important aspect of the rollout of the new brands.
All eyes being on the future and whilst it won't be as big as ready meals, it's fascinating to see what is done with lines like Bread for example. Especially with the vertically integrated benefit of owning Rathbones bakery. There are other areas of interest such as Christmas party food which will be another key battleground for the M Kitchen. Especially with the increasing competition from the Asda 'chosen by you' label and the relaunched Sainsbury's own label plus Tesco and the price drop.
One thing is for sure, Morrisons have come so far in such a short space of time, it was only 1997 when 'Morrinov' – Morrisons own label Russian vodka was registered as a trademark…..
A weekly email covering the latest events in the industry; such as store operations, store visits or new promotional packages are all covered. Please visit our emailed retail insight page for further information.
Grocery Insight provide market insight on the UK sector with a focus on individual retailers such as Tesco. This insight is useful to various stakeholders and due to my store based focus. Insight can be delivered to suppliers to focus on growth opportunities, analysts and investors to assess the business performance and long term outlook and retailers themselves to assess best practice.