We've never been particularly well served in Bradford by Tesco which is surprising considering they are the number 1 retailer in the UK. Tesco didn't reach us in Bradford until the late 90's with their Peel centre store (a former Food Giant) and it shows with that section of the enlarged store resembling 1993. The store was then extended into the former tile unit adjacent to the food arena and the store gained a vast non food space which is some of the most impressive I've seen.
The Peel store in the centre of Bradford has a full seasonal arena along with a full homeware, H&B, entertainment and clothing offer giving customers a real strong choice of non food. Recently the store had concessions like the phone shop, pharmacy and a Direct desk added to it's offer. Despite this, they still don't class as an Extra, presumably the sparse food offer holds the store back.
Further up the city, Tesco have their Extra store on Great Horton Road, again this wasn't a classic 'extra' as even though it had the relevant counters and departments, the food offer was quite poor compared to the larger extra stores such as Seacroft. The store seemed to lack space for the food offer despite its size and it looked dated especially across chilled and Bakery.
Tesco seemingly felt the same and after only building the store in 2006, put a planning application in 2009 for an extension to the store, a mezzanine floor for the cafe and a remodelled car park and entrance. Councillors refused the application due to concerns over the store size and Tesco then won the subsequent appeal.
The halt on building extensions and mezzanines for Tesco then kicked in and it hasn't been until recently that the store started having work undertaken on it, the extension has popped up in no time and the remodelled entrance was opened to customers in early October. It has to be said that the new store is far better aesthetically, it's clad in brick rather than a strange beige coloured prefab style wall which looked like something from the Soviet Union in 1970.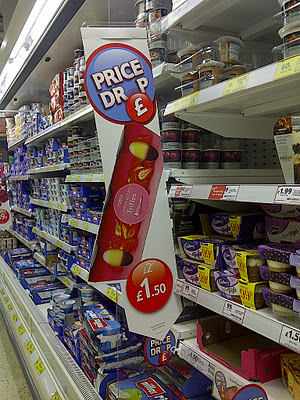 Tesco price drop – has it made a difference to trading? Tesco claim so.
The store closed for a week (w/c 10th October) as the real work of removing and replacing fixtures, remodelling the store and moving huge amounts of stock around the branch had to be done behind closed doors. With the store being closed, the short dated fresh food had to be sent to nearby stores for them to sell.
The extension sees the store increased in size to accommodate more non food, a cafe on the mezzanine floor and a wider food offering. Naturally there are additions such as a a halal counter and a wider world foods range than previously.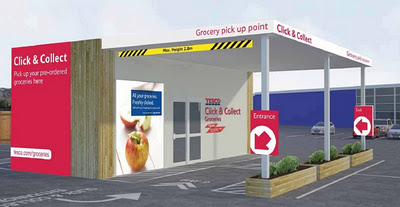 Click & Collect for groceries at Bradford extra (c) Tesco
Perhaps the most interesting aspect was the late planning application for a click&collect area for food deliveries, the ruse is pretty simple. You order your shopping online in the same way but rather than have a van turn up with your shopping, you go to the store and pick it up. The profitability aspect of this is an issue, no delivery charge means no return on staff costs. Without that charge, the retailer is picking up the tab for the extra labour to pick the shopping and then move it around the store before it's picked up. Admittedly no one knows the true profitability (if there is one) from the .com model but the absence of any charge and having someone do the shopping for you must erode margin (though being Tesco, it's strong anyway).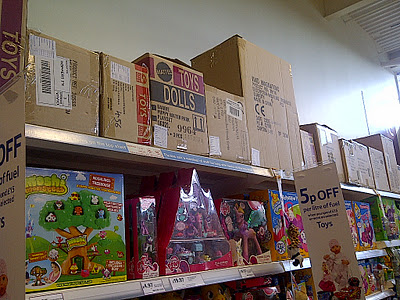 Overhead shelving for non food.
As I mentioned, the extension has seen non food expand into the enlarged area with more of a focus on technology with the phone shop gaining floorspace, along with an expansion in the offer of laptops and cameras. Despite the refit, good use was made of the overhead capping shelves to hold overstock. There was some talk a year back that the 'dead' warehouse space would be used for the much vaunted launch of Tesco Bank in store branches. No sign of that here though it looks like the store has expanded at the north side where the warehouse is, perhaps there has been a little movement there.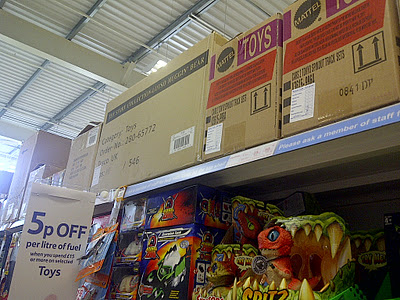 Overhead shelving in use for the overstock on toys (+ 5p off fuel!).
Retail is still too variable to abandon warehousing though to focus on an overhead shelving only solution. Late deliveries, night shift sick calls or overtime bans mean the warehouse can rapidly fill up, not just that but the seasonal events also see extra stock driven into stores so the space is always required.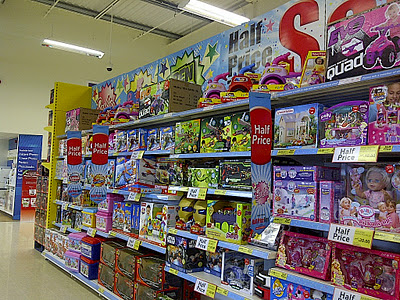 Strong seasonal space with the 'half price toy sale' heavily promoted.
Speaking of seasonal events, some stores have a seasonal area where two aisles face each other with space in the middle for branded pallets, shippers and other displays related to the seasonal event. The Bradford Extra store has two aisles that border non food near the store entrance for seasonal product.
The half price toy event was on when I visited so it makes sense to place impulse purchases near the entrance as customers will see them and certainly have a look at them considering the bright POS and excitement of a bargain.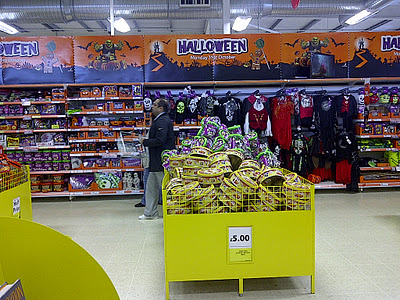 The other half of the seasonal space given up for Halloween.
There is a non food revamp too with an extended entertainment section along with a nice 'faux' kitchen background for the kettles on sale. There is also a wider choice of laptops and phones via the 'phone shop' too with the Tesco direct desk forming part of the 'electricals' area. Naturally there are the 'tech team' also on hand to demonstrate products and sell their extra service with any purchase.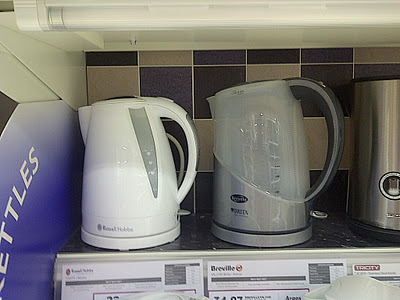 Kettles with a 'faux' kitchen background.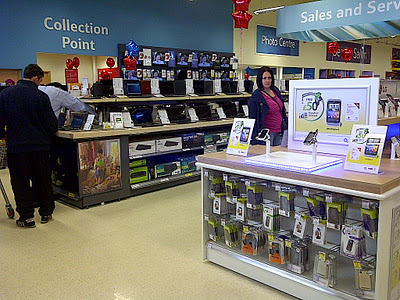 A wider selection of electricals, tv, laptops, phones and cameras.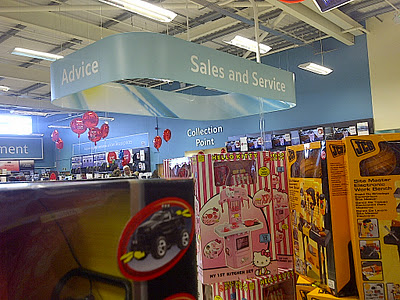 The overhead signage preferred by Tesco for certain departments.
The back wall in Tesco stores features the counters, an extended Produce department and other concessions and an interesting aside in this store is that they've added in a Photo centre and a beauty salon!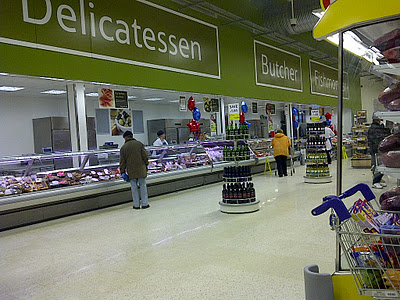 A wider range of counters in the revamped store – new signage and a fresher look.
The Beauty salon was a test in a few stores but it seems to have been a success considering the roll out has reached Bradford. It was doing a good trade when I visited the store with people both waiting to be seen and having treatments. The photo centre is another area that offers huge margins and is perhaps an area where online hasn't yet totally taken over, especially with the advent of 1 hour processing.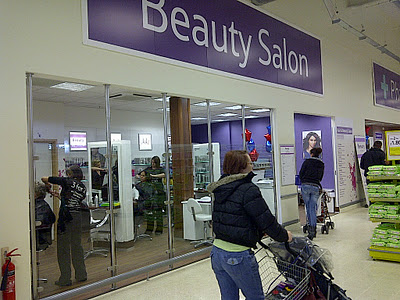 Salon trial successful considering we've seen it as far north as Bradford!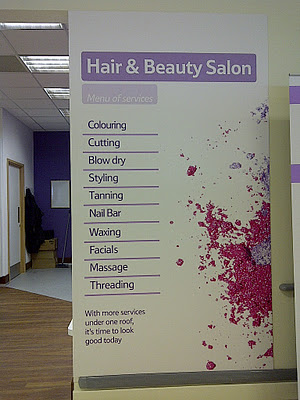 A good range of services available at the salon – 'menu of services' however doesn't seem to fit?
Naturally the store looked remarkably polished but after being closed for a week and no doubt having a good level of labour thrown into the mix, I'd expect nothing less. The big weakness is ongoing trading in other stores, and no doubt Bradford Extra once the hours return to normal levels.
With the extension and revamp, there is a lot more seasonal space in this store than previously, the Christmas selection is vast with a strong range of varying biscuits and chocolate, compared to Asda who have rolled out 'phase 1' which is poor in comparison.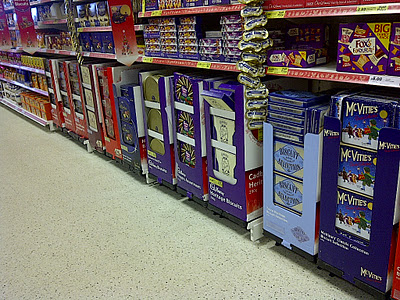 Strong range of Christmas lines – a focus on efficiency with pre filled units to be dropped in.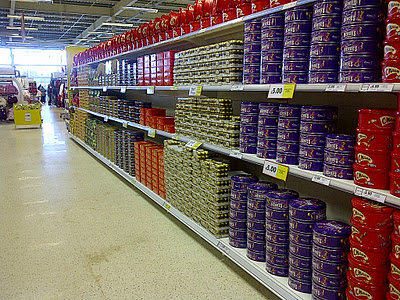 Strong Christmas confectionary offer
Another area of improvement with this refit is the new signage that Tesco employ, gone is the dark blue and it seems to be more of a purple colour these days, whether this is to calm customers as they approach queues at checkouts or visit shelves bereft of stock I don't know. It's much more pleasing on the eye if a little uninspiring compared to some of the newer guises seen in Morrisons for example.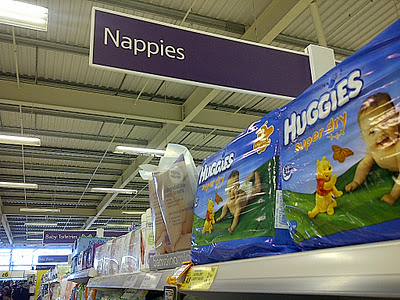 New signage in dark purple.
Tesco have to be admired for their stellar growth, certainly in the UK and they've never been far from the pulse of the customer, recognising customers would shift to Finest rather than Value at the start of the downturn for example was an inspired move. Another plank in their growth strategy has been their relentless focus on local communities, as the EU has been widened to include countries such as Poland, we've seen a lot of migration to the UK and as such real communities have built up like the asian community who began settling in Bradford in the 1960's.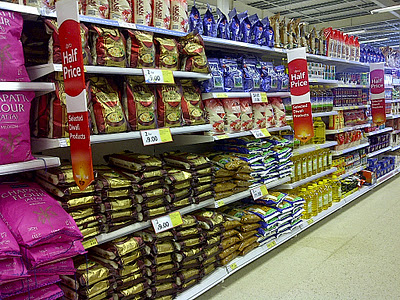 Very strong world foods range in Tesco, this is a bulk aisle for promotional lines.
Tesco have reacted to this by ranging a great number of world food lines to encourage the communities to shop with Tesco, meaning these customers can get their core shop plus the more specialised lines for curries for example. Tesco tend to range these stores on an individual basis rather than a 'one size fits all' range for small, medium and larger stores.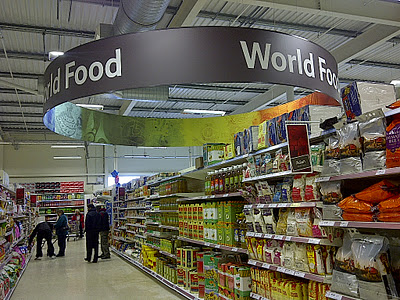 Wider world food aisle is sited near checkouts and features the 'ring' signage.
Another department that has been expanded post refit is fresh Produce, Tesco generally doesn't perform too badly on Produce but with Morrisons blazing a trail with their new stores of the future, it will be interesting to see if anyone can respond. Produce generally is relatively utilitarian with green crates, wheel in shippers and other initiatives designed to strip as much cost as possible out of replenishing.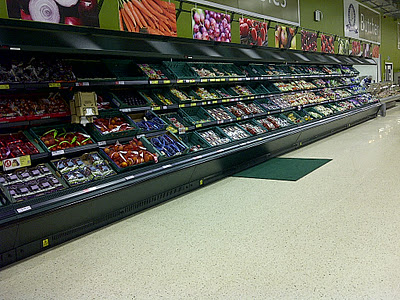 Strong back wall with signage for expanded Produce department.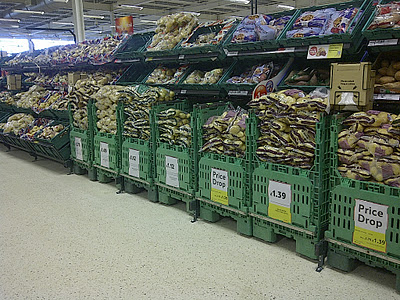 Efficiency initiatives are never far away.
On the back of Tesco exploring further avenues for growth, much has been made of their venture brands, with the latest one being New York Soup co, whether the idea is to mask the fact it's actually owned by Tesco is unclear, certainly the SEL gave it away in this respect, highlighting the Tesco Jamabalya soup rather than New York Soup Co.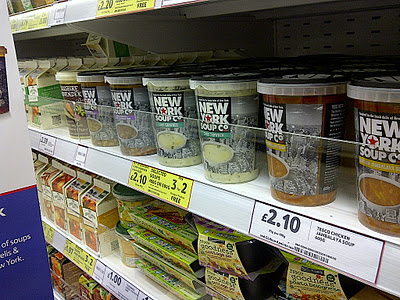 SEL errors 2 days after opening – one without an SEL, one showing 3 for 2, other not.
It's interesting to see how Tesco are pushing the venture brands across the rest of the store, certainly the pet food 'nutricat' and dog food 'Lathams' are key venture brands marketed as a healthier option for pet owners. The branding and advertising push when they were launched certainly didn't indicate that Tesco were the owners of the brand, rather indicating that it was only available in their stores.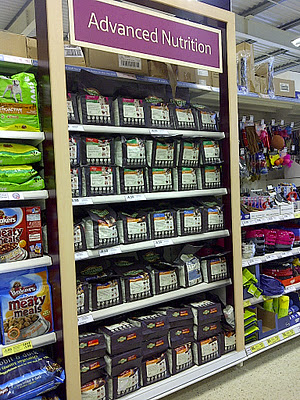 Lathams dog food – venture brand with a 'frame' to drive sales to the brand.
Tesco have attempted to ensure that these brands won't be lost in a busy category by building a frame around them highlighting 'nutrition' with another bay given up for IAMS and Purina 'one' which will bring some return from the supplier. The 'frame' is vital for the new brands especially when there is a strong element of loyalty by pets and their owners towards food. The benefit of placing next to established brands is obvious, especially with the higher promotional and lower price points delivered by Nutricat.
It's worth pointing out – for clarity, that Lathams is a true 'venture brand' whereas lines like New York Soup co are made and the trademark is retained by a supplier – albeit they are exclusive to Tesco.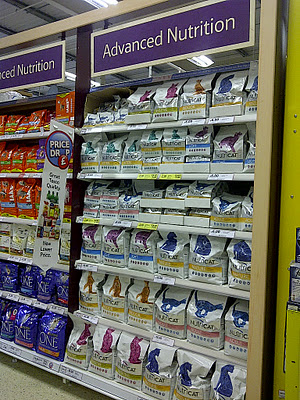 Nutri-cat 'frame' alongside established brands such as Iams and Purina to highlight comparable product.
The Bakery features a new design on the display equipment with a wooden trim, presumably to give more of an artisan feeling, there is the usual strong range of bread and rolls along with a wider range of cakes and the celebration cake machine returns with the option to print photographs onto cakes.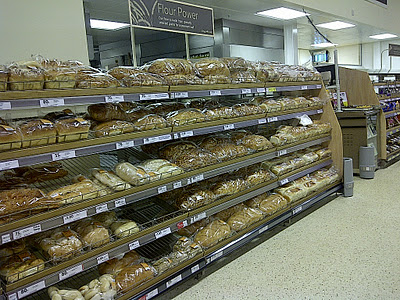 Wooden trim on feature but note the 'flour power' sign – Kirkstall inspired?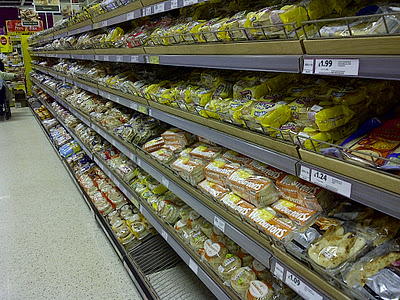 Morning goods also feature the wooden trim on fixture.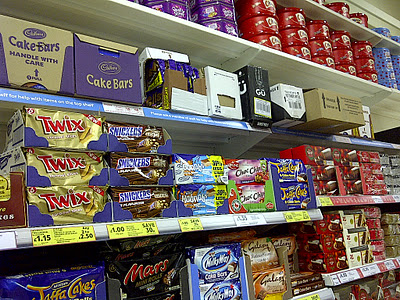 The Stock reduction process extends to cakes.
Wine also has had a new layout with new wood panelled fixtures and a clearer merchandising plan, by country but it's much better with clearer signage and space for feature wine in the middle of the fixture. The fixture features purple signage once again and has a much more premium feel than previous versions of the aisle.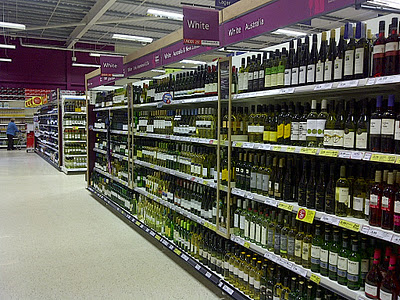 A revamped wider selection of wine is also available with stronger merchandising.
Another notable change was the amount of stacks that were dotted around the store, a move to improve the sales per sq foot metric perhaps? Certainly the quest for sales continues across the retail landscape and Tesco are under as much pressure as the rest. It was interesting to note the implementation of numerous stacks in this revamped store, clearly a corporate decision considering it's a refitted store likely to attract high profile visits.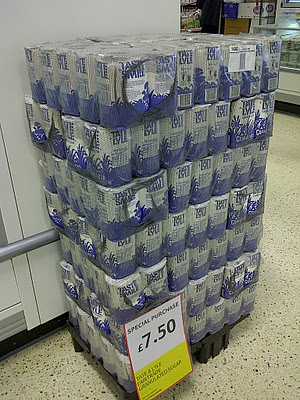 Bulk stacks were noticeable across the store.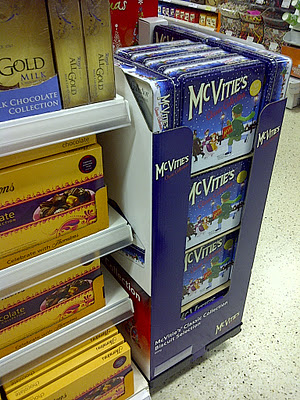 Extending to seasonal lines in the main areas of store.
Non food is the slowdown story and where growth and subsequent profit were relatively simple by just extending your store for non food and away it went. However the reality for the hard pressed consumer is that their discretionary spend is diminishing with rising inflation, fuel and everything else. With that spend goes the opportunity to drive non food sales as hard (and put to the bottom line as easily) as was previously the case.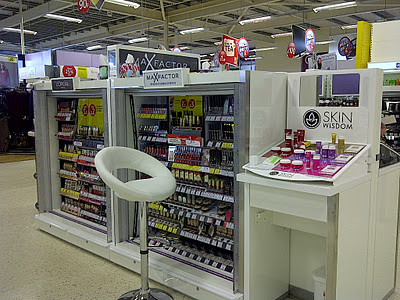 Health & Beauty has seen a sales slowdown, Tesco Extra does have more of a department store feel.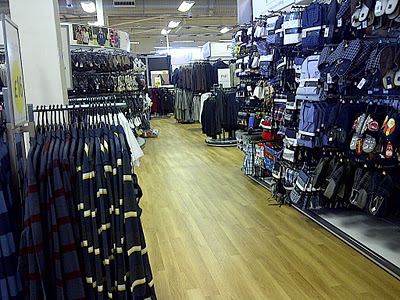 A far better flow to the Clothing department at Tesco
Tesco have recognised the slowdown on non food and are working on modifying their offer which has become cluttered, one aspect of success has been the 'F&F' Tesco clothing range which goes from strength to strength, certainly in Eastern Europe the standalone stores are performing well and the UK stores are now seeing new thinking from a merchandising angle.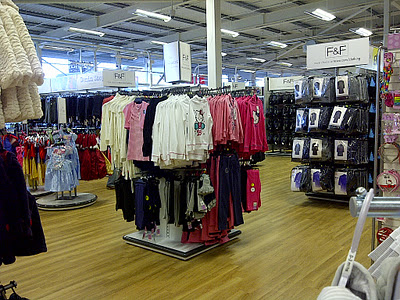 Sharper merchandising and an easier customer flow.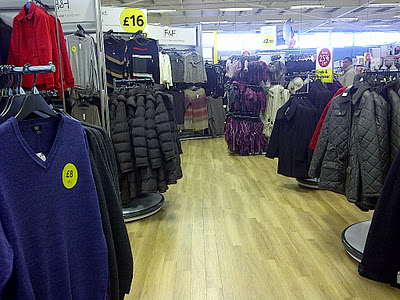 More Free standing units rather than long aisles.
Whereas many stores have utilitarian aisles like the rest of the store, uninspiring and leaving customers to walk down a large aisle to find their area of interest, Bradford Extra seems to feature more dynamic displays that make it easier to shop and leave the customer feeling they are shopping a department store, rather than for clothes in a supermarket.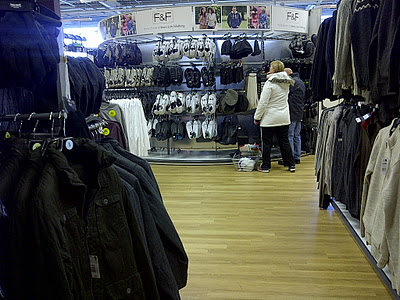 Shoes on a curved display unit to further enhance the flow of the department.
As I've mentioned, we know that Tesco have been steadily reducing labour costs in stores to retain the profitability of the wider business, especially with sales falling and market share under increasing pressure from the discounters, Waitrose, Morrisons and Sainsbury's. Stores have seen hours budgets eroded and it's now coming to a breaking point, system problems during the end of day updates means tasks are slowing down which means time sensitive tasks such as label changes are not able to be completed in time.
It's a problem that CEO Phil Clarke admitted when he announced a budget to be set aside for IT updates which presumably will improve the performance and stability of the wider system. The problem (one assumes) is that the original system when it was built was never envisaged to look after as many stores as it currently does with express, metro, superstores, extra and the growing international side of the operation.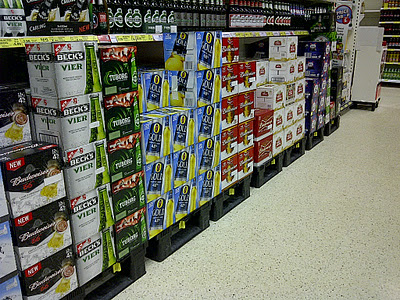 Bulk stacked beer on wheel in stacks. – Efficiency drivers across the store.
Also a system when built is fine for 'as is' with certain expansions planned but as things need to be quicker, faster, cheaper just to keep up with the competition. It's inevitable that bolt ons and new pieces of software are needed to programmed and added. However these can make the wider mainframe unstable over time, you only have to look at the availability issues that Asda face which are largely system related to see how quickly things can get out of control.
Sainsbury's have to be admired for their investment in IT, the abandonment of the woeful Accenture contract early in Justin King's reign set them up for their recovery and since then they've quietly being investing in the technology with the availability systems massively improved from previous guises. The advancement of the FOA (focus on availability in store ordering system) and gapbusters enabling stores to request out of stock items within 12-24 hours have helped massively. You only have to look at their recent brand match push and the technology which delivers instant price comparisons against Asda and Tesco on branded items rather than a 24 hour wait before logging onto a website for the APG.
Admittedly Morrisons are miles away with their systems, despite having industry leading availability their back office systems were outdated and inefficient. They are now updating to an Oracle platform which means they'll have the solid platform going forward. They'll be confident about the future with the latest technology on board and the opportunity to ramp up expansion knowing that the systems will back it all up. Efficiencies yet to be driven from the switch will see Daltons £100m savings target become all the more achievable.
The Bradford Extra visit was great, it was nice to be in a Tesco store that wasn't tired or shabby. The store had been closed for a week before my visit which was on the second day post re opening so it's to be expected that things are nigh on perfect. The issue for Tesco is that stores continue to struggle along running under hours targets if stories are to be believed, certainly my local superstore is calling for red card holders to checkouts (shop floor staff) at non peak times of the trading day, so what do hope they have on a Friday / Saturday when it's busy?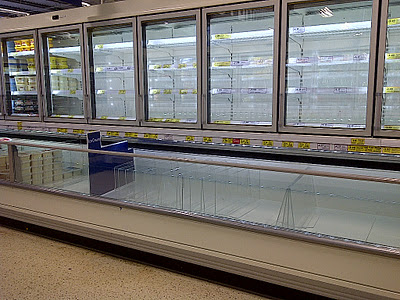 Broken freezer two days post refit isn't a good sign.
Despite this store being fresh from a refit, there were still minor issues. Having the freezer with ice cream totally empty after a breakdown is certainly not you want to see, or indeed expect after a refit. Not only are there lost sales but potential corruption for sales forecasts as the system struggles to understand a day with no sales when it plots the expected sales.
Whilst the refit is undoubtedly a positive move for the store, with a sales floor increase of 21000 sq ft (going from 60,000 to 81,000) there is ample opportunity to drive more sales to the store if the standards are maintained, queues and availability remain a huge issue across the wider store estate.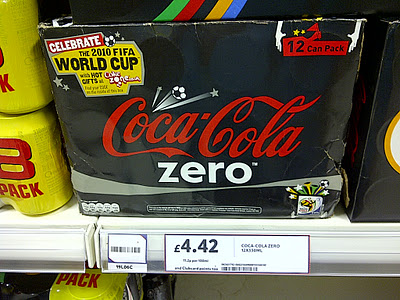 On sale in October 2011.
Taking another store in Bradford as an example, it was only last week that I found this in store, BBE Dec '10 and monikered with the World Cup 'celebrate' 2010 logo. Unacceptable and behind it was an 11 day old copy of 'the Sun'! These are the sort of issues and do indicate a wider problem within stores.
The store network will benefit from the investment in CAPEX which sees stores refreshed and updated. With the increasingly strong competition it's vital that Tesco do provide a compelling offer as having more shops than anyone else isn't always enough. The big price drop will go a way towards enticing customers with the next batch of products due later this month for version 2.
Overall, a great store and great refit for Bradford Extra, I'll be interested to note how things are progressing as the store beds in. With Phil Clarke announcing an investment in front line staff recently, this will help massively and it's vital that they're used correctly by stores to provide a better shopping experience to their customers.
Price drop can't do that on its own.