Based not too far from the fledgling M Local store in Ilkley is a Booths store, many of our southern readers may ask 'who are Booths?' In fairness, they asked 'who are Morrisons?' in the early noughties when Sir Ken refused to entertain the city with non execs or press days and even refused to travel down to London for city announcements insisting analysts et al should come see him in Bradford!
Booths aren't listed on the stock market but they too remain a relatively well kept secret outside of the North West. Their head office is based in Preston and they've a myriad of stores in Cumbria and Lancashire with recent expansions seeing them enter Greater Manchester and Cheshire for the first time.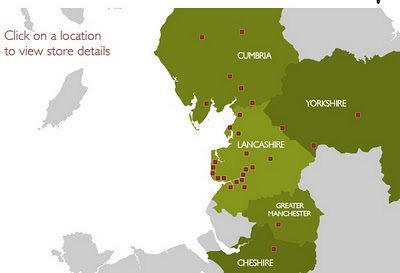 Map showing Booths stores (c) Booths.com
The stores based in Yorkshire are in relatively rural 'spa town' locations, Settle is relatively 'out in the sticks' and affluent Ripon isn't far from York. Ilkley as we know is another affluent area and Booths were concerned about the M Local arrival, concerned enough to send a van around on opening day letting customers know that Booths were competitive on prices too.
It's a similar story in Cumbria with the stores in locations that favour local produce but are affluent too, stores like Windermere and Kendal must take good money but crucially perform well on margin as customers flock to buy fresh and local produce. There is little non food space to prop up food margins here!
The latest store to open is the much awaited MediaCity branch in the new area of Manchester set aside for the new BBC building amongst other developments. The fact that Booths are here is testament to their financial muscle as it was presumably a fiercely contested bidding war, it will fit in well here, especially since it's the only Booths store within the Greater Manchester area.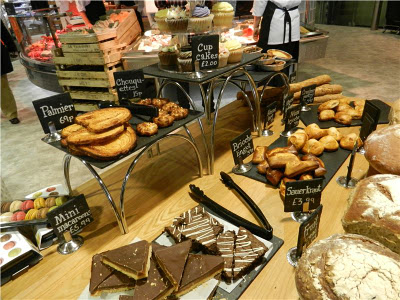 Booths Mediacity, Manchester (c) Manchester Confidential
To further extend their reach, Booths have their Booths outside concept which is selling sandwich platters, salads and desserts to the masses in and around Manchester. A particularly clever way to advertise their brand too considering the produce included in the sandwiches and salads is local. Whilst the concept is neat, the website needs to be tightened up as it looks a little like a potentially fraudulent site for my money and doesn't lend itself to the wider Booths branding.
Booths do have a mere 27 (including Mediacity, their twitter site indicates 28 as Penrith opens mid Nov) stores so it could be argued that they themselves may become a takeover target as an increasingly fragmented food retail market becomes tighter and tighter. With larger chains such as Somerfield and Safeway being eaten up in recent years and considering Booths size, is it likely they'll be too become a takeover target?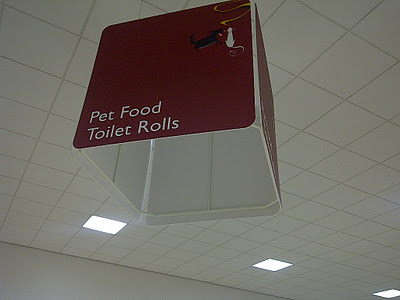 'cube' signage for pet food
Not particularly, chairman Edwin Booth is the 5th generation in the family line to have taken the reigns of the retailer, with 230 members of the family having 96%  of the company's shares, it would take a lot of agreement to sell off shares for a takeover to happen.
What on wider expansion though? Edwin Booth himself says they'll never build more than one store every 18 months in this interview in 2006 with the guardian. In the face of people stating Booths are the Waitrose of the north, he says that 'we're a bit more of a human face'. Brilliantly adding that 'Waitrose is how a supermarket would be if the civil service ran it'.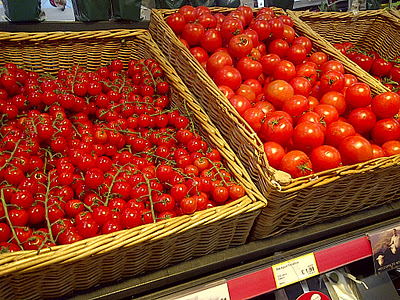 Market 'feel' to the Booths Produce department
Admittedly a lot has happened in five years over at Waitrose with their continual growth surprising many industry observers, not because their products or stores are poor rather they weren't supposed to be a winner out of this downturn. They have continued to grow market share and sales as customers have traded down from a 'meal out' each Saturday to going to Waitrose for their food and drink, still enjoying the treat but saving money in the process.
Whether they would go to Booths if they had national coverage remains to be seen, the ethos of Booths is around local produce and 26% of their stock comes from its local trading area (for each store). There is a focus on local foods along with a quality own label range, the stores lend themselves to affluent areas which generally don't have vast amounts of land available. When there is a site available there will invariably
be opposition from local residents who are concerned about the impact of a store on the local trading environment.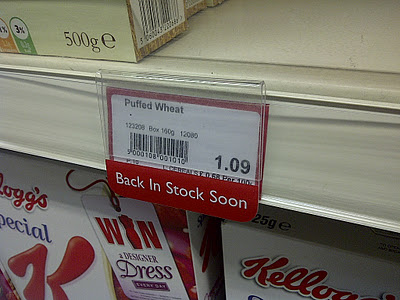 OOS tags fit in well with the branding.
There won't just be residents disapproval but it's rare to find an untapped source of wealth these days, certainly some areas are almost overrun with supermarkets and their respective convenience arms opening up. The challenge is to continue to find new sites that will complement the existing store network, but are right in terms of demographic as well as geography and as Booths venture into Manchester and Cheshire for the first time, there has to be a consideration around logistics and locations of depots too in an effort to supply the stores for the right cost in the right time.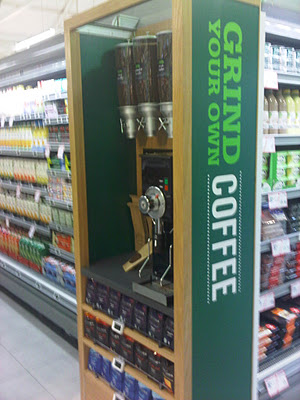 Coffee grinder at M Local Ilkley
I visited the Ilkley store a few weeks back and I was keen to see how it was shaping up since M Local opened not too far away from them. Naturally the major challenge will come when Tesco open their larger store that they (eventually) got permission for by the railway station.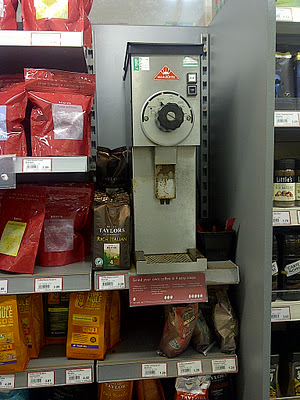 Coffee grinder at Booths
It's clear that there were a number of things that potentially inspired Morrisons for M Local when they waked around Booths, the presence of a coffee grinder in both stores for example indicates they did their homework but also that there is demand for good coffee. Certainly the people of Ilkley like a certain level of food and drink considering the continued presence of Booths and independent retailers such as Lishmans butchers.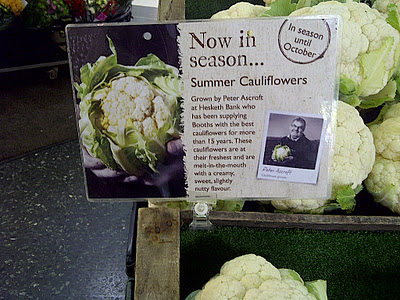 POS advertising the farmers name and picture – where food comes from.
The focus on locally produced food is clear when you enter the store, the feature product at the front of Produce was Cauliflowers that were grown in Hesketh Bank in Lancashire. The advertising features the farmers name and his picture to enhance the relationship between farmer and customer and to let customers know where their food has come from.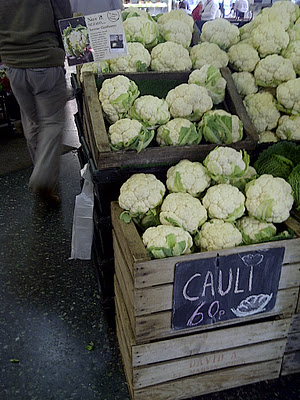 Rustic wooden fixtures and handwritten POS add to the 'feel'
There is a real rustic feel to the Produce department, throughout the store are wooden units to display product on along with handwritten chalked signs indicating prices of products. It feels very much like a market stall or farm shop rather than a supermarket.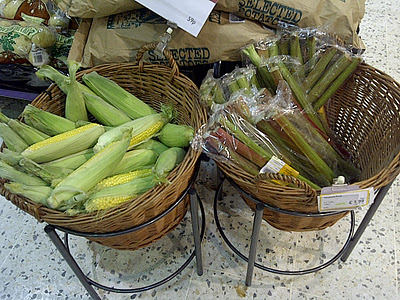 Wooden baskets featuring Rhubarb and Sweetcorn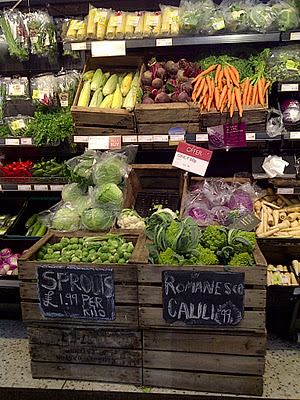 More rustic wooden units and handwritten signs.
Further back in the store is the bakery which features 'naked' artisan bread, these are not wrapped and are merchandised just as they are baked. There appeared to be a vast range of breads available with bloomers, small and large loaves along with other 'french' based lines such as baguettes and batons. I am not sure if these lines are scratch or bake off but I'd be disappointed if Booths were using bake off bread considering their commitment to quality there again M&S / Waitrose both use bake off bread rather than scratch baking.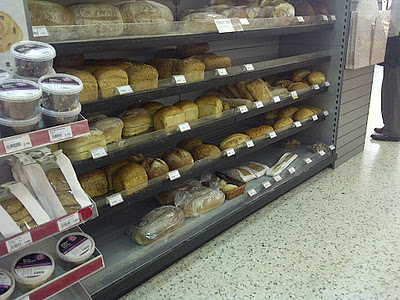 Naked bread on display at Booths – a strong range of artisan breads.
The store is laid out in a similar fashion to Morrisons, whilst there isn't a 'street' as such for counters, the back of the store flows around making the counters the focal point of the store. As you'd expect, the counters are filled with local fresh produce which naturally attracts a price premium but are clearly popular with the shoppers.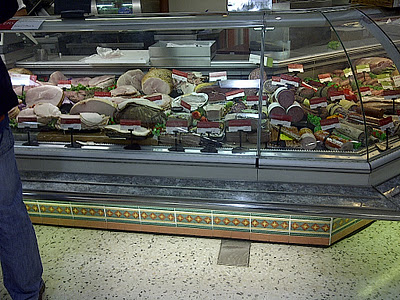 Delicatessen counter with a vast range of hams.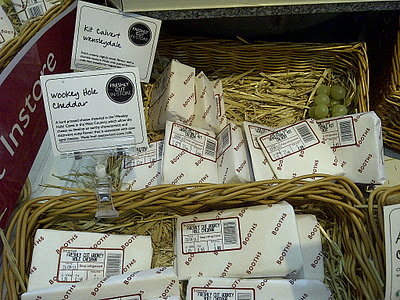 Pre cut cheese on a table also drives sales.
The counter service is a big part of the Booths experience with each member of staff having good levels of product knowledge, I observed a couple of staff members conversing with customers about the suitability of certain meats and cheese, so it's a good example that staff are taught elements of product knowledge which is no doubt down to a good training package.
Whether this is a new partnership or something that has been going on for a longer spell but there was some frozen foods space given up for Cook! which is essentially Iceland for posh people. I jest but the theory is they are frozen ready meals that taste like freshly homemade dishes. They even come in portion sizes that fit traditional cookware which can give the impression that someone has cooked the meal from scratch, when in reality it was bought from Cook! and then heated in the oven.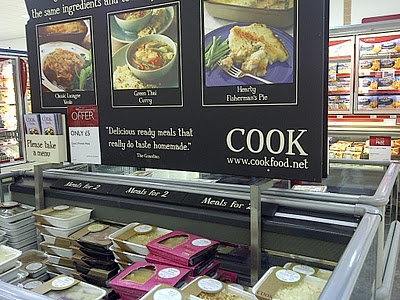 Cook! Freezer space in Booths
Cook's furthest store north is Harrogate and with stores being expensive to operate, especially when they're competing with the supermarkets. It makes sense for them to have a tie up with stores like Booths, it's very much a complimentary partnership.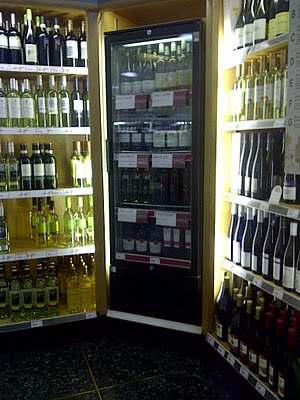 Wine chillers with feature wines on offer.
Naturally with the affluent area and clientele, the store has a strong wine selection with trained advisers around to help the customer out. The wine department features mainly ambient space but each corner of the department has a chiller for featured wines. Another key sales driver as many customers to express a preference for chilled wine.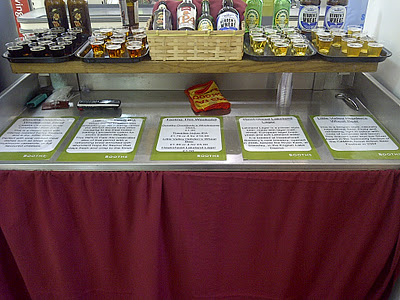 Beer sampling at Booths with information on each beer.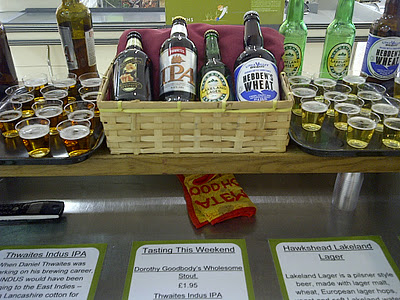 A lot of information around the sampling.
The staff members told me the sampling was relatively popular and was proven to drive sales, they'd generally have free reign over the beers to select but occasionally advice was given by head office to select certain beers.
Overall, a remarkably impressive store, both in layout, experience and product. I've heard a lot about Booths in terms of their locally sourced produce and quality product and was pleased to note it translated really well to the offer, there was a clear focus on local produce and the POS reflected that along with a clean and clear shop floor which helped customer flow.
I'm intrigued to see how Booths continue to expand, their arrival at MediaCity in Manchester shows that the firm are clearly ambitious about the sites that they open and I'll be hoping to visit this and other Booths stores as they continue their steady expansion across the north west.