As the Q3 results reveal yet another good performance from Morrisons, the share price had climbed above the £3 mark and was peaking at £3.12 until the Italy debt bond crisis pushed most of the shares back south with many listed companies affected. Currently at close of trade (Weds 16/11) they were at £3.19.
Nevertheless, the share price heading over £3 is reason enough to celebrate and underlines what a strong performance Morrisons have delivered in Q3 of this financial year, certainly Kantar till roll data backed up their growth with a 5% increase reported last week, beating Asda (with Netto) growing at just 1.1% Tesco (2.2%) and Sainsbury's (4.5%) as the fastest growing of the 'big four'.
With previous Kantar months showing similar growth of c. 5% it's positive stuff, it's worth noting that for their stock market obligations, Morrisons use a pure method of lfl which excludes fuel and VAT as opposed to Sainsbury's who include VAT in their lfl figure, so their rises are 'pure sales' if you will.
Dalton spoke on the Q3 call and promised updates in March at the interims, I'm led to believe we'll see 40 stores get some aspect of Kirkstall / 'labs' by Easter 2012. There is a cost to this but Morrisons are cash rich at the minute, with a strong balance sheet and a £3bn bond to exercise too however there is the aspect of a potential bid for Iceland.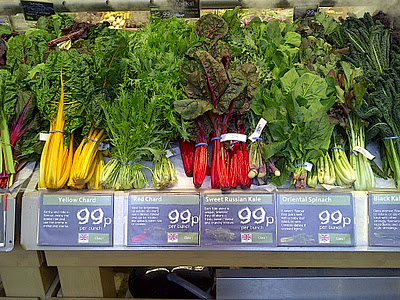 Loose produce on ice at Kirkstall – striking appearance and a point of difference.
Looking at the lab stores, Kirkstall is a core store so its building fabric is good and the store was of a good size and condition. However ex Safeway stores within the estate are looking tired and will benefit from the lab treatment, certainly Swinton was looking notably tired around 6 years on from the conversion from Safeway.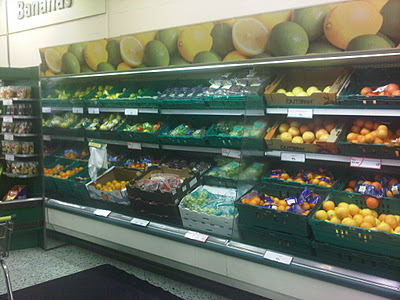 Swinton pre conversion, a relatively tired store with old refrigeration units.
The Safeway stores inherited were found to be in a poorer condition than was expected, they not only cost more to refit but inevitably required larger remedial work at some stage to bring them up to standard. Stories of Bakery equipment circa 1971 were well founded and you've got a key reason as to why profit warnings were issued, simply the acquired stores were in a far worse than expected.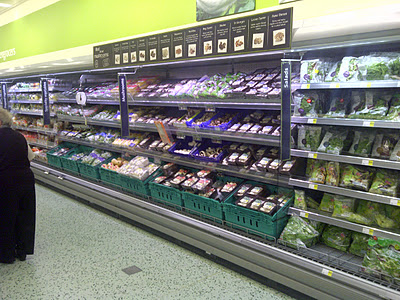 Swinton with new refrigeration units post refit.
With 40 stores to potentially get elements of the labs by Easter 2012, it's expected that there will be a good spread of carefully selected stores. Some core, some ex Safeway and they'll become lab stores too with things working in one store that then won't work in another, it's a evolving process of change.
The former Safeway stores in the estate will be hoping that they'll be selected as their stores continue to trade well, some over trade in many respects despite tired environments and 'not the best' experience that Morrisons has to offer.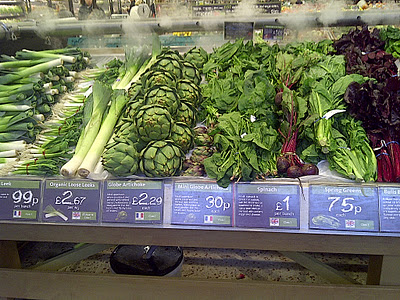 Hydro pipes add theatre and an element of interest as well as freshness.
The sales increases are there to be shot at, especially with Kirkstall recording a 9% rise despite being close to existing Morrisons stores, what about stores further south? St Albans and Woking are not going to be cannibalising sales, the nearest store to St Albans is 10 miles away in Borehamwood that despite being new, doesn't have a compelling offer like St Albans.
In my opinion, they can look to target more than 10% as a like for like sales increase based on what I've seen done in Kirkstall. Especially since the concept will lend itself well to the south with a better range of fresh goods and an expansive premium range likely to appeal to shoppers.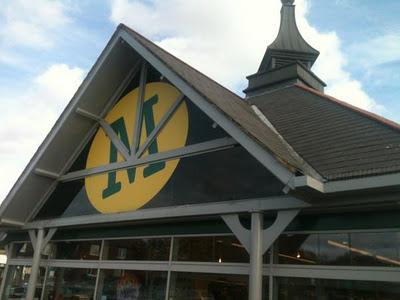 The St Albans lab seems to trial more innovative ways of marketing the store.
The same is true of Woking, their nearest Morrisons store is some 12 miles away in Bracknell, again both stores represent opportunities beyond Morrisons wildest hopes. Stores don't necessarily have to be expanded, rather flipped and adjusted internally to make space for the expanded offer.
St Albans has had an extension but most of the stores in the south will be landlocked thus unable to extend their square footage. With Morrisons relying on liberate in particular along with fresh lab work to revitalize the store environment along with an improving the customer offer.
Further store features are 'fresh market' which appears to be the name for the Produce department and wider features of an enhanced street and revamped fresh 2 go offer. You would never have expected to see Morrisons featuring any elements of clothing, but they keep the pace with a Peacocks kids clothing concession which is a feature of all the stores of the future, bar Swinton as space didn't allow.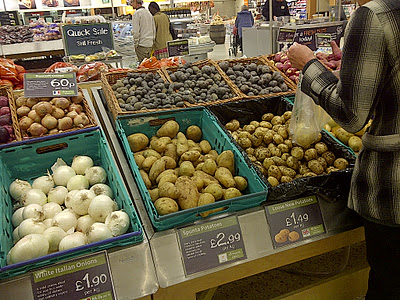 'fresh market' features far more loose items and a raft of new lines.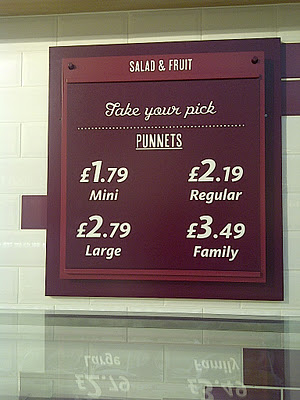 As was pointed out – a very 'pret' style colour scheme
White and dark red faux tile effect.
The key addition to the fresh to go department has been the manned wrap counter, bespoke wraps made freshly in front of you and it does a booming trade. It's not uncommon to be waiting 10 minutes before being served due to the nominated office worker being sent out on a 'run'. Another angle that Morrisons could investigate could be telephone orders for the wraps and salads, they are really that popular and it's a competitive advantage. The freshest sandwiches in the industry?
Colleagues tell me that they get customers who come in just for their lunch and it's getting busier and busier with a lunchtime trade, it's a really compelling offer and will attract customers into the store. The hope is that as more stores get the lab treatment, customers will give the lunch offer a try and then have a walk around the attractive produce department and before you know it, they've got their evening meal and dessert. Both offering attractive margin and with them being suitably impressed, they return to do a full shop.
Naturally this is in an ideal world but no doubt the excellent fresh to go offer will serve as a footfall driver into stores and with the rest of store looking attractive enough for a walk around at least…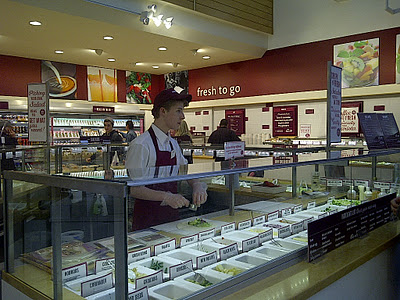 Handmade freshly made bespoke wraps – a competitive advantage.
In terms of the increased and better offer in Kirkstall, craft departments such as the Cake Shop and Bakery are vastly improved both in terms of offer and the production aspect. The Cake shop features a number of new products that are driven by the chocolate fondue. Existing lines such as cookies dipped in fresh chocolate both add variety to the product range and stronger margin and profitability to the bottom line.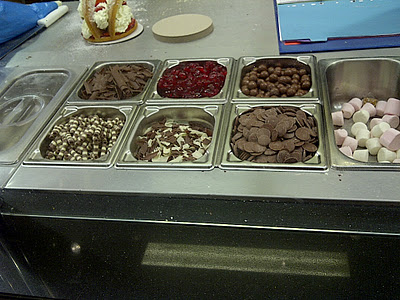 Prep area for the Cake Shop – literally just behind a clear screen, close to the action!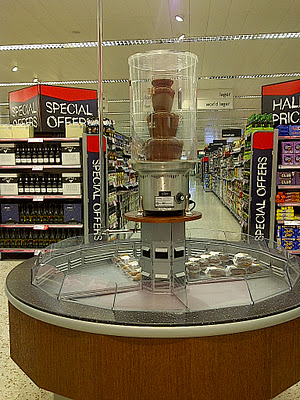 The fondue has been moved to the shop floor – note clear aisles behind!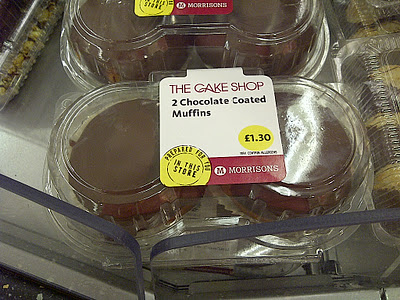 Extra SKU's driven by the chocolate fondue – core lines with a fresh chocolate coating
The improved open food prep areas add to the work done by Marc Bolland where he reduced the restrictive counter and shelving to increase visibility into the back of the food prep areas. Kirkstall takes this one step further with bespoke prep tables that are notably closer to the shop floor than before.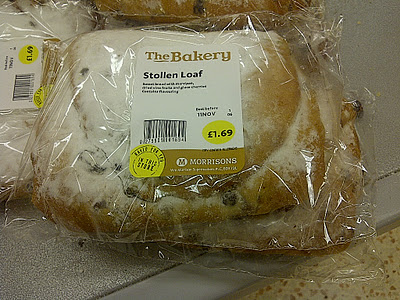 Stollen makes a re-appearance – a popular in store line.
There is the re-appearance of freshly baked Stollen and a new addition that is the festive wreath, a Christmas wreath shaped fruited bread with candied orange slices atop. Freshly baked in store and attracting a strong margin no doubt, despite the addition of a small cake board to stabilise the wreath.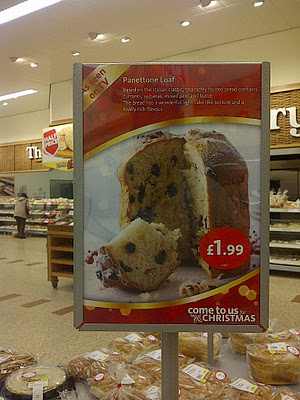 Panettone advertising in store – 'as seen on tv" and increasing perception
In store bakery products are advertised far more effectively than in previous years. Using the red background, 'come to us for christmas' and a picture of the product, it stands out far more than the use of standard POS. Marking a shift upwards in Morrisons customer perception perhaps? People know it's good value, it's fresh, but the argument has often been is the quality there?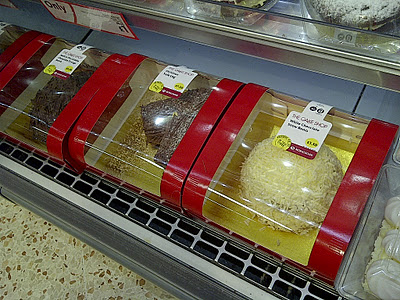 Cake Shop features new chilled Christmas lines – Snow bomb, gateau and Yule log.
Sometimes a shift in advertising and in store 'feel' is all you need, very much like the initial advertising introduced by Marc Bolland indicating the availability of freshly cut meat and fish along with freshly baked bread and fresh cream cakes. It'd always been done by Morrisons, they'd always had their own abattoirs and pack-houses they just never told anyone about it via the medium of TV.
Suddenly after the campaign, Morrisons go from being known as a northern retailer with poor quality product to having the freshest food available and leading all research when customers are asked about which stores are fresh.
It's a similar story for ready meals, the recent relaunch got off to a slow start as customers grew accustomed to the wider range and slightly higher price points. However since the advertising campaign started with Freddie and the chefs, it's been notable how many customers are looking at the products, asking for specific lines and then purchasing with a 60% sales rise noted at the Q3 call.
It's interesting to track the ready meal progress considering the scale of the launch, wastage seems to have come under control after the early days with sales growing nicely – there was talk of 3m ready meals being sold on week 4 of the relaunch, a record for Morrisons.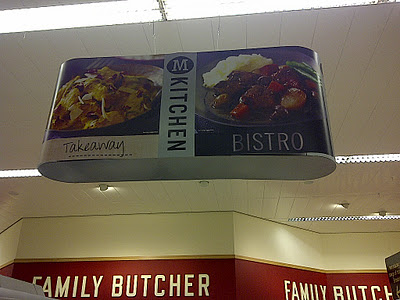 Overhead M Kitchen signage
It's important that availability remains the top priority and sales management seem to have been coping well with the new ranges, however a store on Saturday didn't have one Bistro pizza available, nor did it any of the other varieties of M Kitchen pizza apart from BBQ Chicken. A poor selection and with Saturday night being X Factor night – I fear it's an opportunity missed.
Stores do scan gaps now as well as stock counting so the flow of information is never better between store and head office, I'm not sure how gaps are scanned on pizza, in this instance for example there are no SEL's for Bistro Pizza so how they can be scanned isn't clear.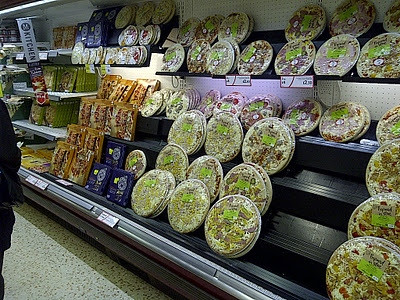 Good range of in store pizza but not many M Kitchen and no Bistro?
The store did have some Stateside foods pizza available, this is a generic brand and they are only stocked by stores when they are either on BOGOF or half price and it's relatively depressing in appearance. With Morrisons trying to take the brand to new areas and people, do they give a good impression to the customer? Not really, there is always a need for niche one off products that offer a real alternative but in this instance, it's a strong promotion but I'm not convinced on the quality.
Back to Kirkstall, the wine department continues to be a real success and bar a complaint or two from those more educated in the wine area, it's proving to be popular with general customers who will stick with their chosen wine choice and be happy with that. Changing the merchandising means customers will hopefully opt for different brands of Wine that echo the taste of their usual tipple.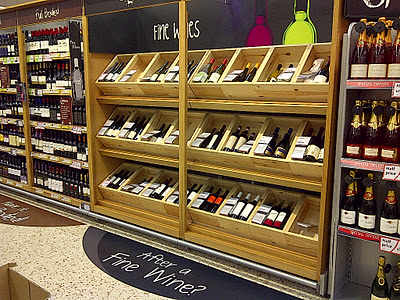 Fine wine section at Kirkstall, again pushing the perception that Morrisons don't do high end product.
Naturally, the hope is that they'll convert to an own label variety rather than a branded equivalent and it ties in well with the plan to grow own label sales, after all Morrisons have always won awards for their strong wine cellar and whilst not marketed well in the past, it's clearly well thought of by the industry.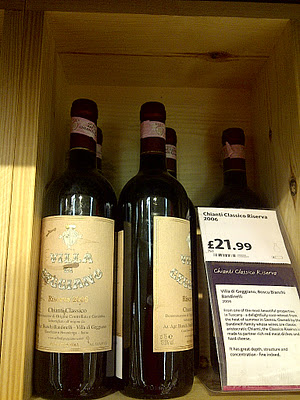 Fine wines, a strong price point but it marks the expanding offer from Morrisons
On the topic of growing own label sales, last week (w/c 7th Nov) saw the arrival of 'baked by us' which is the new sub brand for Bread. The own label bread now carries this moniker as (amazingly!) it's baked by Morrisons within the former Rathbone's bakery that was purchased by Morrisons in 2005.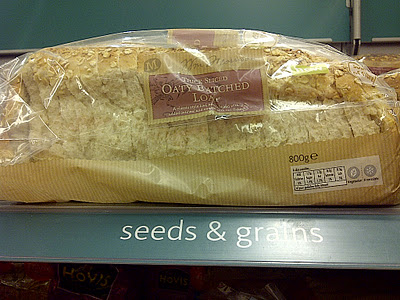 Not 'baked by us' but a clear opportunity to range more specialist breads.
There is a definite rise(!) in quality with existing lines re-packaged and the introduction of new lines like Oaty Batched loaf and Tiger batched loaf which take them into direct competition with the existing suppliers such as Warburtons. Whilst these two lines aren't baked by Morrisons, they do fill the range nicely as they were somewhat lacking in specialist bread lines previously.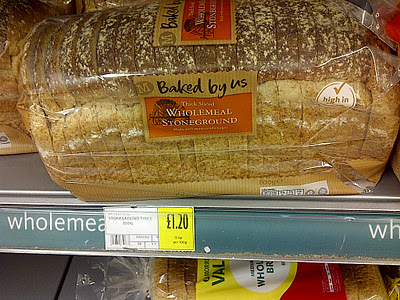 Bread 'baked by us' which indicates it's from the Rathbone's facility owned by Morrisons
Also noteworthy is the introduction of the new 'Wm Morrison' logo which will adorn most of the products that are not part of a sub brand such as M Kitchen or Bistro. It's been used for a number of years on produce from the Deli and Oven Fresh, it's a nice nod to the history of the chain which isn't forgotten despite the ongoing changes within the business.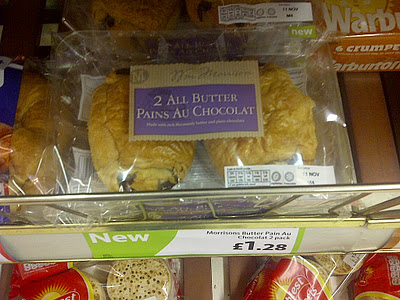 New own label lines feature the 'wm morrison' logo.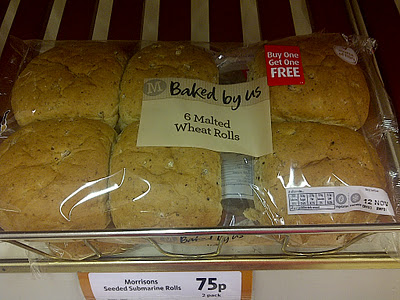 Some rolls are 'baked by us' – the promo stickers could do with updating?
Another key point of owning the bakery and the supply chain means that there is total control over the ingredients, 100% British flour is a good selling point especially with a lot of customers choosing to buy British where they can.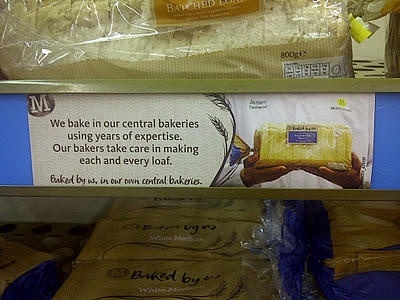 Vertical integration isn't just a positive from margin / supply viewpoint, it's for quality too.
Further range development has taken place with someone within bread buying clearly taking a look at what Waitrose and M&S offer, the mini batch rolls that sell so well are now available from Morrisons too. It's nothing revolutionary but it's good to see that from a category point of view, the gaps are being filled to offer a stronger range and more universal appeal.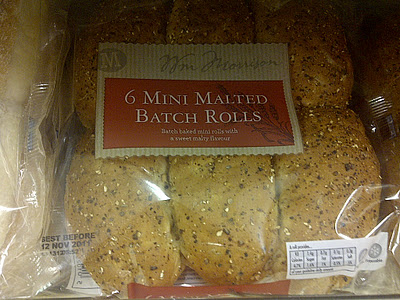 Mini malted batch rolls are a good addition to the range.
The extended range is a marked step up in both quality and assortment, the packaging is improved but as with anything else the proof of the pudding is in the sales. There should be an increase now the range has been expanded and encompasses both vertically integrated lines along with more specialised breads like the Oaty batched loaf and a sliced tiger loaf.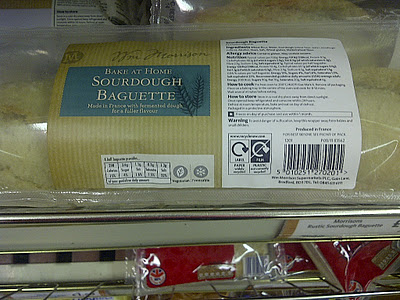 Sourdough part bake roll is part of an expanded bakery range.
In store at Kirkstall again, regular readers of the blog will know that I had a good long look at the various supermarket bakeries a while ago, I was relatively critical of the Morrisons range. Despite it being vast it's somewhat cluttered with a lot of duplication on rolls for example. Kirkstall has had a few signage changes and layout changes as they try find something that works and provides a point of difference.
With areas like the butchery and Cake Shop, those areas give Morrisons differentiation as other retailers either don't have meat counters in store or if they do, they don't cut up any carcasses in store, rather opening pre cut packets or doing simple cuts for customers.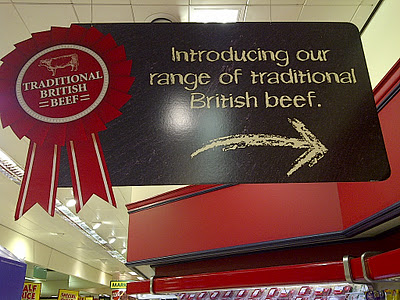 Range of traditional beef in stores now.
Sainsbury's have bucked the trend and are now putting their staff through butchery college and going down the route of cutting up larger joints into smaller cuts and wrapping them on site, like Morrisons have always done.Asda and Tesco don't retain butchers in their stores and some stores don't have served counters due to efficiency or space constraints. Despite the fact Asda don't retain butchers in their stores, they are actively selling their 'butchers choice' range of pre packed meat which seems rather idiosyncratic.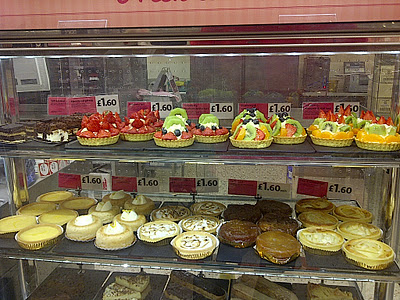 Cake Shop offers a point of difference for customers.
The major point of difference for Morrisons is the Cake Shop, with both Asda and Tesco not preparing any cream cakes in store. There is only Sainsbury who prepare cream lines but their range isn't as vast as Morrisons who feature monthly seasonal lines with recent additions such as Toffee Apple tarts along with a number of new lines in the stores of the future too.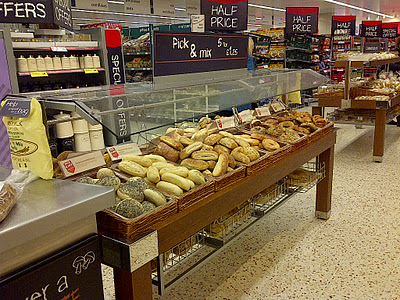 Pick & mix rolls are moved from the main fixture into a self serve table
Whilst these features of Market Street are points of difference in their own right, one area that is relatively saturated is the in store bakery, the vast majority of stores across all 4 major retailers have in-store bakeries and those that don't have scratch facilities, are able to bake part baked bread in ovens, thus ensuring they have fresh bread and pastries each day.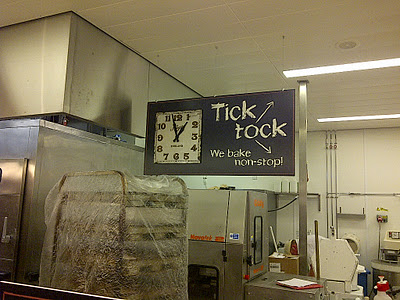 The clock indicating bread is baked all day.
Kirkstall have changed the Bakery around a number of times and seem to have settled on the latest guise featuring the preparation table which is seen in this blog. There's more new signage and a clock which shows that the store bakes bread all day rather than in huge batches in the morning. Admittedly not all stores batch bake with some preferring to do it all early in the day.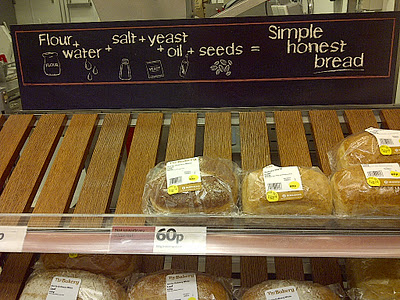 Relatively simple isn't it?
With both elements of the Bakery getting a revamp in Kirkstall, hopefully this will drive more sales through the category, certainly an in store bakery overhaul is overdue across the company. Especially with the cluttered range which could be streamlined to allow for more craft lines or real points of difference.
It'll be interesting to see what more is done with Bakery, Richard Hodgson has driven a lot of the revamps seen so far clearly building on his learnings at Waitrose, however Waitrose didn't retain scratch bakeries so they were restricted in ranging there. With Morrisons having a wealth of craft skills, I'd expect to see a lot more movement in this area going forward.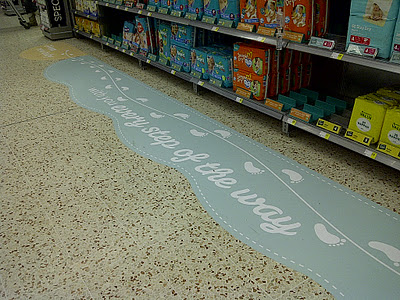 The new remodelled H&B department has a stronger focus on baby.
In wider category news, I heard on the jungle drums that there was some new thinking on the Health and Beauty department, Kirkstall debuted a new method of merchandising with a renewed H&B focus on families and baby, nicely tying in with the Peacocks kids concession and of course Kiddicare.

Morrisons.co.uk – Note the Kiddicare direct link at the top right of the site.
I'm led to believe that this is being driven by some new recruits to the Morrisons family who've arrived from Boots (along with some from Asda no doubt). The H&B category has been difficult for Morrisons to tackle for a number of years, they've never really found a model that works for them. Some stores have parallel aisles with Enterprise 5 in particular having angled bays for make up which doesn't really utilise the space particularly well. I'm told there are 4 different merchandising styles for H&B across the estate as Morrisons still have to find the winning formula to take the category onwards.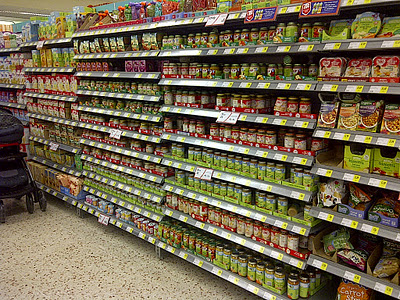 Before the revamp – baby food and finger foods all together, difficult to shop?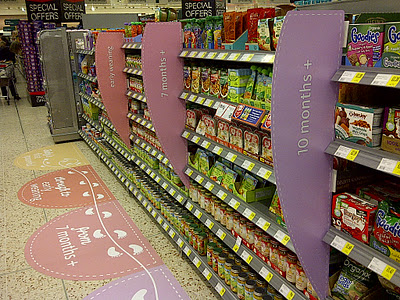 After: Baby Food now merchandised by age bracket with finger foods just in shot.
The new layout introduces new thinking around families and is designed to drive more complimentary sales, parents amongst us will fondly recall their children going wild as you spend too much time on the baby aisle trying to find bottles, formula and Milton steriliser liquid.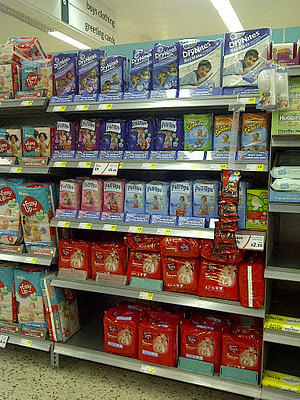 Before – swimmers / pull ups in one bay.
A similar story with the myriad of nappies on sale, the interesting thing is like Wine, the principles of merchandising have been flipped. The bays have been merchandised to include cross category complimentary items, usually nappies would be merchandised together with wipes within their own bay for example. Including the potties also drives extra sales and ensures the customer can shop the category easily.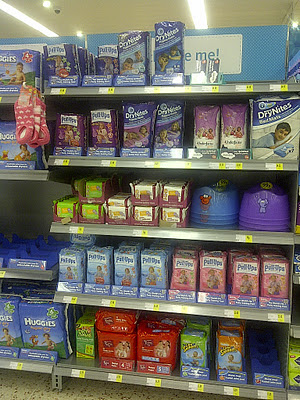 After – Potty training bay – pull ups, wipes, little swimmers, potties – a one stop shop!
Shopping with children can be an absolute joy or indeed, an absolute nightmare if they decide to play up. Whilst older children (certainly mine) can be placated with a trip to Morrisons and a magazine, babies and infants may well get upset so part of the merchandising for 'new arrivals' looks to make it a one stop shop for parents so they can get in and out as quickly as possible.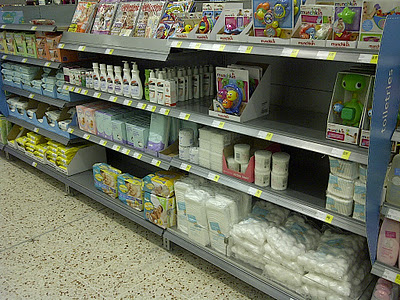 'new baby' bay – toys, magazines and bits for mum and dad.
There are the usual bits and bobs in the bay above like cotton buds, cotton wool balls and the like but other clever touches like bio oil, new parent / parenting magazines and Munchkin 'first' baby toys. A neat way to merchandise rather than having an almost straight laced approach of each bay must be the same product group. It'll drive extra sales and make the experience of shopping more pleasant plus reducing the risk of someone forgetting something!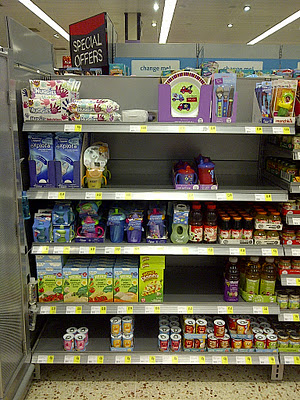 Cups, plates, spoons and food – all you need to wean your baby.
The wider department flows a lot better with the focus on baby and a wider assortment of Health and Beauty goods, the range hasn't been expanded or shrunk, the only exceptions have been where store size dictated that categories had too much or too little space so they were adjusted.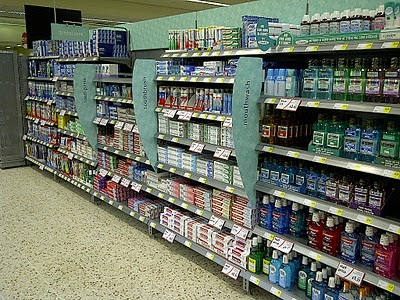 A wider oral-care department with revamped signage and clear divisions between sub categories
With any new department or trial within Morrisons, the signage gets an overhaul and as such the departments become much more homely in feel rather than the former utilitarian clinical business like signage employed in other stores. Things will no doubt change and change again but it's a step in the right direction.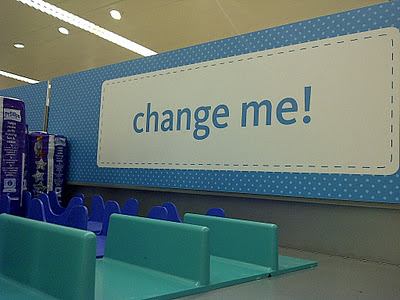 Signage on display behind nappies.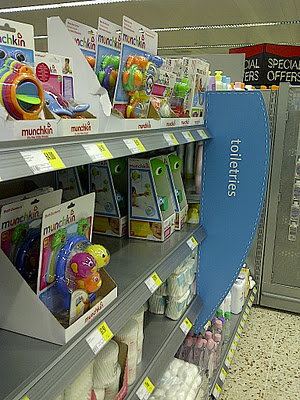 Signage for toiletries near baby toys.
'first spoonful' along with milk for babies.
The new layout feeds well into the o2o plan as well, growing own label sales is important and the baby category tends to be dominated by brands, trust is everything in the baby sector and the presence of long standing brands such as Hipp and SMA means the barriers to entry are high. The acquisition of Kiddicare ties into this and makes a lot of sense considering the trust Kiddicare customers retain in the brand.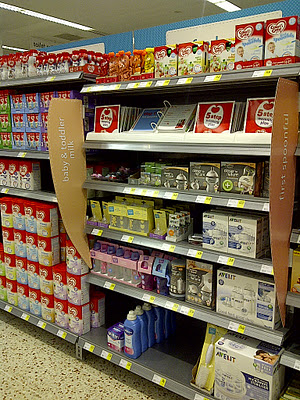 More complimentary products, bottles, dummies, sterilisers next to Milk and in one bay.
Own label can be driven on the non food side too with complimentary lines such as plates, spoons, bowls and cups available. In turn this drives margin and it's an easy way to do it, with the merchandising set up to include items such as bowls within the weaning bay there's a strong likelihood that customers will buy everything in one go which will drive sales and profitability and prevent customers going to competitors.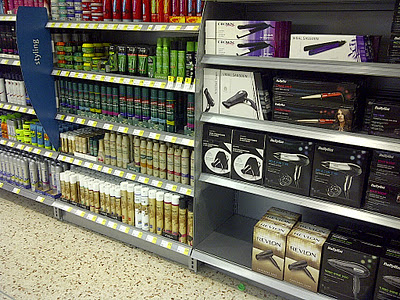 More complementary non food alongside Haircare.
Naturally with the focus on baby, you'd expect elements on Kiddicare to be coming into stores and departments like the one at Kirkstall, it's only a matter of time before this becomes the case. At the minute it appears that bar a few seasonal lines for the baby event, it's not going into stores on a wider scale.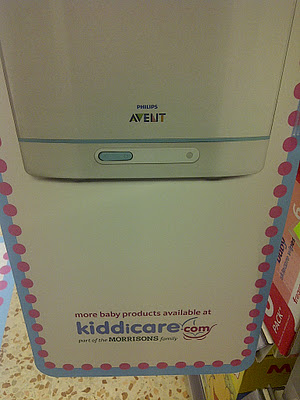 Are we likely to see more Kiddicare mentions in stores?
It's a strong brand and retains a lot of trust which is absolutely vital for parents and parents to be, whether when Liberate is rolled out, we see elements of Kiddicare arrive in stores remains to be seen.
I mentioned own label development and keeping an eye on the trademark registration site reveals that Morrisons have registered trademarks for Dynamic, Magnetism, Clear Protect and Energy under the Health & Beauty categories. The Northampton correspondent believes these are to be the new range of deodorants and I think that will certainly expand their own label offering within H&B.
It's good to see that new layouts and merchandising methods are feeding into the wider corporate plans, a much bigger focus on own label as we know with o2o and it's interesting to see how it's coming to life in the concept store.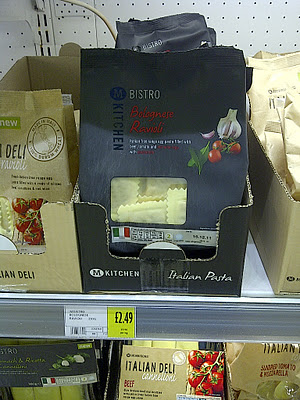 The rollout continues with Pasta changing over to Bistro from Italian Deli
In the wider estate of course, things are markedly different and some stores are starting to creak a bit ahead of Christmas, wage budgets are tight across retail with a rumour on twitter earlier that Tesco had banned overtime for Christmas again which will put considerable pressure on their store teams. Morrisons traditionally have kept strong availability and standards which is a key reason their manual order controls work so well with availability topped up throughout the day.
However the hours have been tightened recently and although my local stores generally perform well, gaps are starting to appear, especially as stores become busier with some stores comfortably beating sales forecasts which shows the wider appeal of the group is working.
Dalton spoke to gathered press in London on Tuesday (15/11) stating they'd be investing £100m in Christmas price cuts, with £35m invested via the Christmas Voucher scheme with the rest coming via promotions and price cuts with 'efficiency savings' mooted as funding the cost saving. Whether there are wider efficiency savings available within the network isn't clear but some stores I've visited have showed signs of needing an hours investment with a few gaps on the shelves and lower standards than usual.
Dalton did concede facing up and gap filling was a waste of resource so packet perfect shelves aren't to be expected, however there seems to elements of a disconnect between what is / isn't acceptable.
A concern in the run up to Christmas but hopefully stores are able to recover and trade well in the run up to Christmas, especially with competition fierce and the consumer likely to be very selective in terms of what they buy and where they buy it.
In other news, M Local have their 3rd store opening up on Grafton St in Manchester, near a sizeable student population in a former 'Valu' convenience store, the staff will transfer to Morrisons so it's purchased as a going concern. It will be served out of Cheadle store like Wilmslow and it's a test for the hub and spoke model, how many stores can a main store supply?
Further stores were planned as the initial trial looks to be a success, a city centre store is on the cards with applications lodged for New St in Birmingham. The 3rd store was supposed to be Widnes but the developer hasn't yet handed the store over (it's part of a wider development) so that's delayed for the time being.
Ahead of Christmas trading,  the Christmas voucher scheme will be popular once again and all eyes will be on January where Dalton promised a 'fresh initiative' of promotions rather than a £5 voucher as part of the Christmas scheme. With the changes that have gone on so far, there will be a lot of people hoping for something really innovative.