In recent years, the Morrisons results announcement had evoked a bit of anticipation as the markets wondered how much the like for like sales would be up and what the next initiatives would bring.
Recently though the market has slowed and with that so has the Morrisons performance. Christmas 2011 Q4 was up 0.7% but that wasn't particularly well received by the city as it showed the first signs that the stellar business was slowing down from a sales viewpoint.
Q1 saw the first negative figures since 2005, with a flagging economy and increased competition from their rivals, it marked a turning point for the entire market. Flat figures and negative like for likes have to become more 'acceptable' considering the space race and continued growth appears to be over.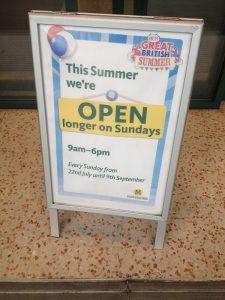 Have the extended hours made a difference?
Even more so with the Tesco profits warning and subsequent £1bn recovery package.
The main points of interest tomorrow are likely to feature around profits going forward, profitability is the main aim of any business and after a £30m rise (7.3%) in half year profits in 2011, can Morrisons sustain their profit line and the overall guidance despite falling sales?
Kantar hasn't been kind to Morrisons but the store opening programme isn't once what it was (like everyone else) and the majority of stores opening come on stream in Q3 / Q4 rather than earlier in the year.
Morrisons have been busy though, their store of the future / fresh format model now is in 48 stores and their new website charts both the stores that have opened with the new thinking and the ones that are imminent. Future locations of Camden, Wimbledon and Reading look to be well selected and the model will lend itself well in the southern areas of the country.
Vertical integration continues – Grimsby fish plant has opened for business this week and Morrisons continue to pursue a long term plan with capacity available to convert more own label offerings in house thus driving the margins upwards.
We await news on a dairy purchase, this seems the next logical step considering the amount of cream and Milk that is used within the Morrisons supply chain.
As is customary for these reviews – I'll take a look at the present trading picture along with the presentation from 6 month ago (March 2012) – this will allow us to look at what was pledged and what's been delivered.

Current Trading –

It's not been great, the barometer used is Kantar which allows some monthly light in the foggy sales estiamtes, predictions and general hearsay of how a company is performing.
Kantar shows Morrisons lagging behind the market and in some cases struggling despite big events like the Olympics and the Jubilee. There is no clear winner in the industry bar Aldi really who are motoring along, they offer a pure EDLP experience and great quality products for a low price, they aren't comparable to any major supermarket within the UK.
Tesco have showed some good figures in recent months but the general feeling is that these sales are being 'bought'. 50p off a litre of petrol, heavy couponing and promotions.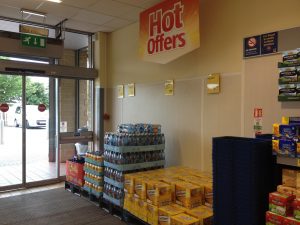 Aldi are progressing well within the UK – special deals and hand baskets now offered.
Promotions have been an ongoing battle for all retailers this year, fuel remains ever popular as a promotional metric with coupons also becoming very popular – money off, spend x save y and extra loyalty points are all available.
There are the promotional packages that are offered by the stores anyway, the UK customer is spoilt for choice, however they appear to be shunning this choice to go to retailers offering a simple pricing model Aldi, Poundland/World and Home Bargains.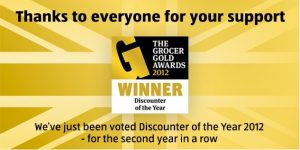 Aldi are gaining popularity and picking up awards too.
Morrisons have continued apace with their business objectives, fresh formats have been covered time and again on this very blog, 48 stores now active and the expectation is that more will be announced tomorrow given the 'Fresh Format' website is live showing future openings.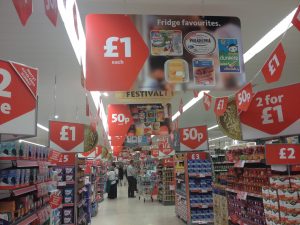 Impact from the new PoS package.
Trading wise – stores now have a brand new POS advertising package live in store, new header boards, PoS, stationery and hanging banners. I did think the stores lacked a bit of 'in your face' advertising like Asda do so well.
o2o continues apace and there have been a few aspects that perhaps haven't worked 'as' well as intended but whilst the manual systems prevent effective ranging by affluence or demographic, they are good for removing poor selling lines.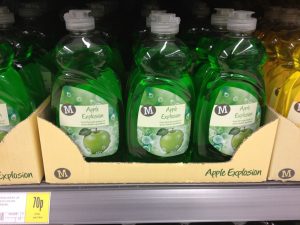 o2o has reached household with new washing up liquids.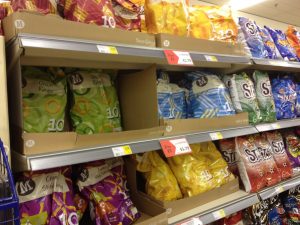 Crisps have also received the o2o treatment.
With the o2o rollout come new plans for the shelving layouts which mean Morrisons can relaunch and charge suppliers for extra selling space. Its common practice within retail as long as it makes sense for the customer, no one wants unshoppable fixtures or too much space given up to poor selling products.
A heartening aspect from all the o2o launches so far is the prevalence of shelf ready packaging, a concept sorely missing from Morrisons stores in recent years, the relaunched categories appear to be utilizing shelf ready packaging well which is a key efficiency driver in stores.
Another promotional launch has been Fuel Saver, launching Monday (4/9) linking together gift card purchases (for other retailers, 34 in total) and money off fuel for each £10 spent.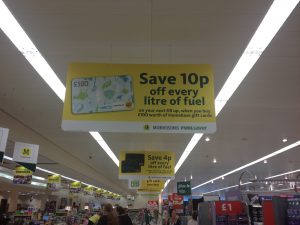 The fuel launch was supported heavily by POS in store.
It's going to drive some savvy shoppers to Morrisons to buy gift cards so for seasonal events, its a definite winner. The key point of course is hoping that customers who go in for their gift cards will start to use them for monthly purchases at Boots for example.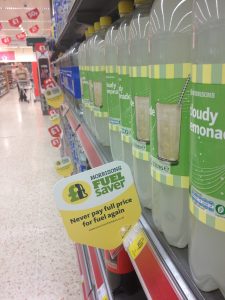 Fuel Saver backed heavily in stores.
Once the customers come into stores, then they're there to be captivated and it's down to the stores to ensure that things are in place to make these customers want to take a look and pick up some shopping. Its not going to solve the shorter term problem of falling sales but it's a useful mechanic to have active.
Efficiency drives aside, the reduction in store hours has been felt in some stores with longer queues reported and social media sites filling up with complaints, many of them appeared to be staff related.
 News reaches us that hours have been flexed again and each store is getting a budget to be invested into service departments, filling the checkout bank with operators frees up the shop floor staff to keep the shelves full and the store standards in line. Retail isn't rocket science!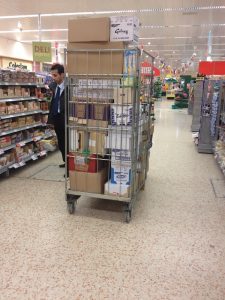 Efficiencies can be driven by more deliveries arriving on wheels.
The fact remains that until tangible system developments come on stream to save stores time be it with ordering or back office processing, then staff reductions cannot be a permanent saving due to the tasks and system work that M legacy systems require.
The system upgrades with Evolve progress well with manufacturing now using the new platform along with the supply chain. Stores have the upgraded checkout platform that utilises the new technology from Catalina which has seen voucher printers installed at the checkout offering instant money off vouchers.
What's been done vs the plan?
Dalton sets out an update every half year with pledges on what to do, what's been done and the results of such activity. We'll take a look at what's likely to be discussed tomorrow –
Fresh Formats are a key part of the plan and the conversion of more stores to the new format indicates plans are being made for a wider national roll out. Disruption and CAPEX considerations means it's unlikely to be done within one year and it's likely to be a phased roll out, each store conversion is a big job.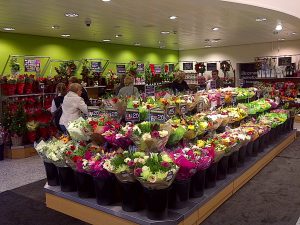 Fresh Format stores continue to be popular
36 additional stores have been opened added to the 12 already open in March (Kirkstall, St Albans etc) equalling the 48 targeted. It's not 36 stores thus 12 short of the target as was reported this week.
Liberate continues to be a popular programme and stores having gone through the process report significant overstock reductions as the slow moving stock is de-ranged from store. The customer feedback is minimal and the bigger picture is that stores are free to trade their space with lines that do sell.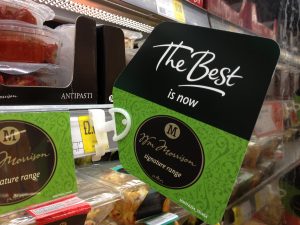 M signature range – replacing the best. Took a while to release PoS to customers though.
As discussed, own label continues to be looked at and tweaked. Not everything has worked first time but the increase in depth of range, quality of product and sharpness of product branding has been noted by customers, more needs to be done in store to communicate changes and perhaps offer more sampling opportunities to customers.
Efficiency news has been thin on the ground though several are now embedded, there are a number of trials ongoing across the estate and a recent trial around reducing overstock has been rolled out nationally, it had some remarkable results in the trial stage and should save significant time and working capital within the business.
There are always aspects to further drive efficiency and many are merely industry standards these days, particularly around checkout scanning times and replenishment time / case rates. It's interesting to see what else is planned in the coming months to further drive efficiency.
Buildings remain a point of interest as the lean store in Newport wasn't particularly well received with the warehouse style roof, Wrexham is the same but it works better there due to the natural light that comes through. Nevertheless the faux ceiling is preferred within the stores but is costly.
Expansion? 'Trading for today, building for tomorrow'

The rumours persist around Costcutter regarding the Convenience but it would be an interesting move given some of the poor locations of some stores. The 'big bang' to purchase an operator would unlock a number of sites but chains like Bells, Jacksons and T&S have already been eaten up by other operators.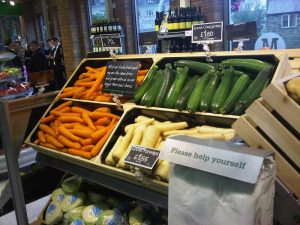 M Local Produce department
That's perhaps the one negative about Morrisons being so late to the convenience market, their operation is different which is great from a selling point of view to customers but locations are restricted by the need for a larger store to act as the hub.
Developing an 'infrastructure' is what's set out in the presentation from 6 months ago and whether that will be a separate depot network, a dark 'centre' offering cuts of meat or whether an alliance with Bibby is preferred remains to be seen.
Its likely that some sort of convenience expansion will be announced given the stores are performing quite well by all accounts. Locations are secured in Bristol, Manchester and Windermere already along with other locations as they aim to move towards the 20 trial stores.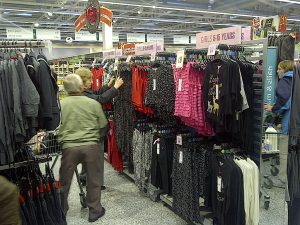 Peacocks clothing has been popular
Clothing is another point of interest and the hiring of Tim Bettley from Peacocks indicates there is likely to be some movement on clothing, Peacocks space has traded well in the store of the future and customers want more of a kids clothing range from Morrisons.
The issue is space, Liberate removes non food space from stores but stores do gain clothing space via Peacocks so how any potential clothing move fits together remains to be seen.
There are obvious benefits to offering clothing especially as Morrisons continue to try attract families into stores, especially with the Kiddicare purchase.
Online is the big consideration from the city, it's the 'flavour of the month' once again, despite no tangible profitable business model bar FreshDirect, despite high startup costs, the city are keen for Morrisons to get moving on a online food offer.
There's two sides to the argument of course, shareholders won't want their money invested in what is likely to be negligible profit (if any) into online shopping plus the startup costs involved. However the other side indicates that sales are going to rivals if Morrisons don't offer some online offering.
My feeling is that an offering within London and the M25 would be ideal, considering the lack of land for stores and the lack of coverage for Morrisons stores within that area. It's been indicated that the preference is for a 'dark' store fulfilment centre model rather than any store based picking model.
There is no guarantee that food will be done of course, the New York work has been carried out and the project teams have been back within Bradford looking things over for some time, the offer is intended to push fresh – customised steak cuts and more fresh food available than anyone else.
However, Morrisons is a complex business, legacy store systems alongside manufacturing facilities that require managing to ensure supply of products. An interesting one to watch tomorrow.
More guaranteed is online non food, there should be a more definite date for a go live for non food, Wine and any integration with the Kiddicare platform.
A big day, long term plans are good but the short term slowing sales growth does raise some issues, hours returning to stores will help massively, it's clear some stores have struggled but the business has reacted.
Expect a day of hysteria and panic over the figures but I'm more interested in the longer term plans for the stores and the business. It's great that the low hanging fruit remains ripe for picking if not already harvested but looking back, should more have been done post Safeway?
There's a lot of work still to do and it's doubly difficult when accusations come about doing too much, can the business cope with the change? Is there more focus needed on day to day trading?
I'll review what's said later on tomorrow and pull together what it means for stores.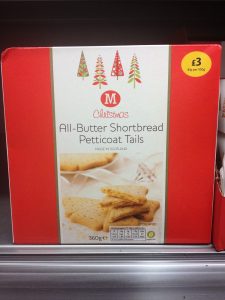 Christmas products look really sharp – very M&S inspired.
In the meantime – Christmas is coming……..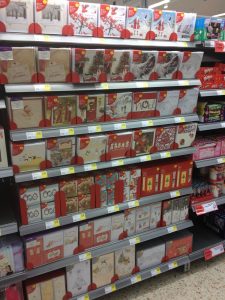 Christmas Cards – 3rd September!
Are you a retailer? Perhaps an international retailer wanting insight on the UK? Or even a Supplier?  Grocery Insight offer bespoke insight on store concepts, store operational routines, ranging and the wider UK market to help with your business.  For more information on what we can deliver, please email – steven.dresser@groceryinsight.com