Looking back throughout the history of food retail and certainly in more recent times there has always been a laggard of the industry. Sainsbury's had their woes in the late 90's and early noughties before Justin King's arrival in 2004.
Safeway appeared to be performing well but then the roof came in and Morrisons swooped to buy them in 2003, uncovering a lot of problems that were partly due to Safeway introducing a new accounting system, partly Morrisons not taking into account regional variances and more due to mistakes made from both sides.
After years of continued profit growth, it became a tough time for Morrisons, their shareholders and Sir Ken himself who finally had to give in and introduce corporate governance and a non executive board, market share slid as did profits as Morrisons wrestled with the enlarged chain.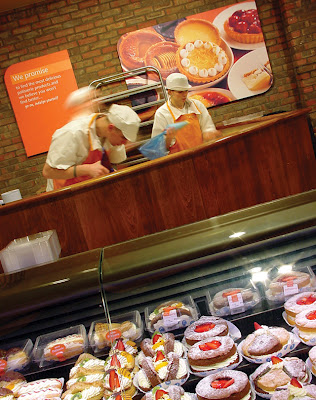 Aspects like this were removed from Safeway stores when Morrisons took over.
Once the integration was complete in 200/ 2006 Morrisons began to grow again and plugged gaps in their expanded store chain. Asda then started to stutter despite booming after taking the no.2 food slot from Sainsbury's in '03 they seemed to slow down alarmingly.
Andy Bond had put a focus on non food without ever really addressing the quality aspect which was always an achilles heel, along with Darren Blackhurst quietly annoying customers by removing duplicate lines like Utterly Butterly (keeping I can't believe its not butter) with his 'less is more' strategy.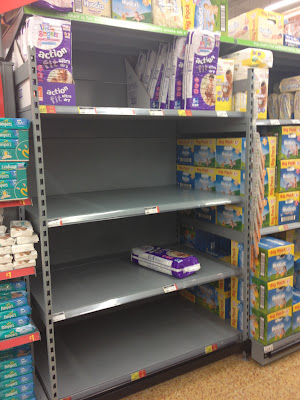 Availability remains a real challenge for Asda.
Whilst making sense on paper, it served little purpose other than to annoy customers who departed in their droves to get their butter / tuna / yoghurt of choice elsewhere. He missed out on the top job as COO Andy Clarke was promoted to CEO.
Andy Bond moved upstairs in a 'chairman' role that was created for him, only for him to leave 10 months later. It was the Asda turn for the slowdown as they grappled with a poor quality perception, poorer availability (ironically still an achilles heel now) and a lack of interest for EDLP.
When the economic downturn struck in 2008, there was a lot of discussion within Asda that this was 'their time' and the EDLP model would romp to success. Except it wasn't that simple, customers didn't want price with no quality angle and they didn't want to be reminded that they had no cash whilst food shopping, that didn't strike a chord.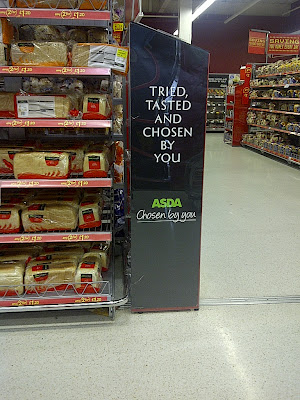 Chosen by you has been a huge success.
It's very different when customers trip along to Asda for a period of time, hoping to save a bit of cash for their holiday fund. They don't always want to trade off all their meals out for Asda food whilst saving enough for the gas bill.
People are resilient though and customers found other ways to save money, trading a couple of meals out for their shopping for example meaning they could start to shop at Sainsbury's or Waitrose – hence their success in the downturn. Two retailers you really wouldn't expect to succeed considering their proposition and especially with Sainsbury's hammered for years for being stuck between quality and price.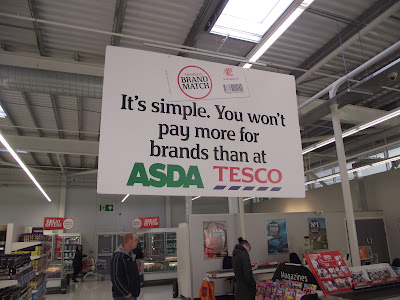 Brand Match is a key plank in the JS growth tale in the last couple of years.
Asda went with Chosen by You, the Asda price guarantee and it appears that they've turned the corner especially with the Netto acquisition paying some dividends in terms of more suburban locations rather than vast sprawling hypermarkets.
With the Asda renaissance (despite debates over Kantar figures and Netto), it's coincided with a decline in Tesco and their performance, as Sir Terry left – Phil Clarke has overseen 3 consecutive negative like for like quarters and had to issue a profits warning after the Christmas results.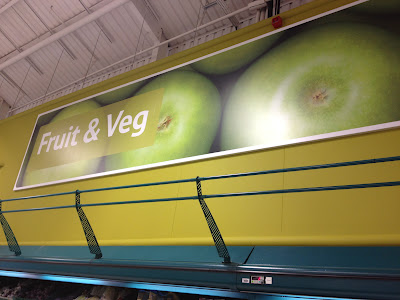 Freshly refitted stores are starting to appear in the Tesco estate.
There have been fingers pointed at the situation Sir Terry left the business and it's definitely true that they were slowly reducing the hours used in stores. Clarke is trying to remedy this.
Sir Terry's final masterstroke was knowing the downturn in the market wouldn't necessarily lead people to save money by downtrading and Tesco instead pushed the Finest offering and had great success in doing so.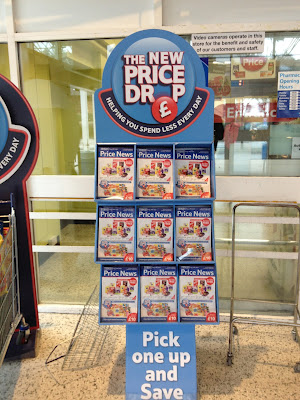 Price Drop didn't really move sales.
Since Phil Clarke took over in 2011, they had a number of different initiatives going on whilst they try to get to grips with whats going on in the business, the 'Price Drop' under the eye of Richard Brasher was a damp squib and failed to ignite any sales increase – indeed it's been quietly dropped as a standalone promotional package.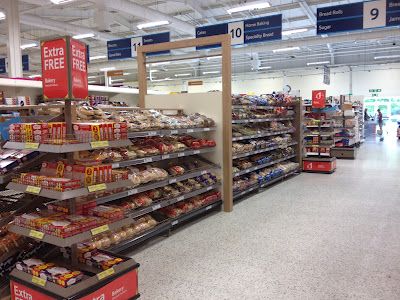 Re-modelled morning goods area plus new signage in Tesco Bradford.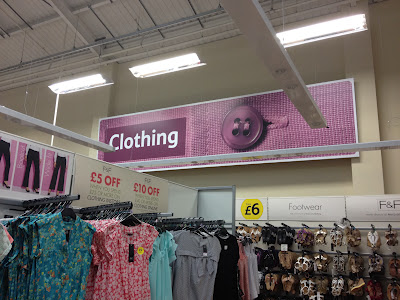 New signage in a refitted Tesco store.
Christmas 2011 was a disaster for Tesco, poor sales, out maneuvered on the coupon front and a lack of clarity over the offer for Christmas meant that disaffected shoppers were welcomed through the doors by Morrison, Asda, Sainsbury's and the rest.
Phil Clarke has set out his grand plan to recover and it's likely that Tesco won't be the laggard for long…
Morrisons have had a good run of it too but with Kantar sales showing 0% growth in the past 3 months (including the Jubilee), analysts have been clamouring to devour the business plan that they backed so heavily  in the previous years of growth.
The own label revamp hasn't been hugely successful, the problem with shifting perceptions is that it takes time and the o2o revamp is taking time with fears that a premium push has been overblown.
Ready meals are a huge improvement but the range was relatively under developed anyway so customers get used to buying the standard range. That's what they want, enticing new customers is always good but always look after your existing ones.
It wasn't always the most joined up range, certainly Ken said at the AGM he still felt a move to organic and Fairtrade products was too much 'me too'.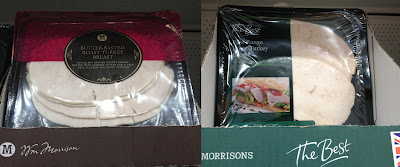 Own label revamp continues – new on the left – old on the right. Does the new range stand out enough?
Vertical integration was wrong and there was a danger of excess capacity I read from two analysts, of course that's nonsense but nevertheless; it can't be escaped that sales are slowing down. Perhaps it's Morrisons' time to spend some time in the slow lane of growth?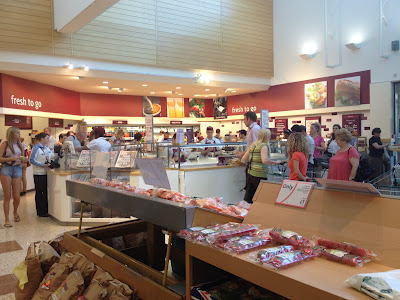 Fresh format stores do prove popular – however not all stores get all aspects.
One retailer that seems to be forever in the slow lane is the Co-Operative; both before, during and after the Somerfield acquisition they've struggled along. It seems that the retailer who push the 'good food within easy reach' strapline has become a byline for poor service, poor standards and high prices.
There are several aspects that mean the chain under performs, I'll try look at each aspect but it's worth recalling that day to day trading is how the chain can turn the sales performance around.
We can't sit around discussing the merits and mistakes of acquiring Somerfield, that won't do. The deal is done and despite the sales being atrocious in converted and core stores alike, the technology aspects of the deal (SMART ordering system to name one) mean the long term prospects are good.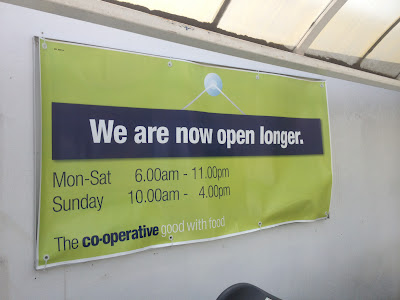 Co-Operative – longer opening hours.
However the short term trading has been dire for months, the Co-Operative have struggled to get to grips with their core offering, customers have deserted the chain in their droves. Several exclusives from James Thompson at the Independent pointed to huge problems integrating Somerfield amid falling sales at converted sites.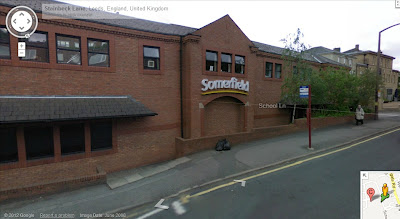 Somerfield as was. (c) Google
The nearest Somerfield > Co-Operative store to me is in Chapel Allerton, Leeds. It was a ramshackle outfit, previously a Safeway store, sold to Morrisons (not divested) but these were the stores Ken decided he had no call for and sold to Somerfield amongst others.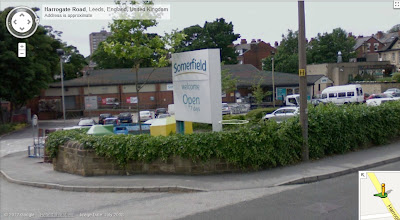 Somerfield (2) – around 0.5 miles away – later sold to Lidl.
This store was interesting as there was a larger store down the road which was also a Somerfield, the company decided to sell this store to Lidl whilst retaining the town centre store.
Ironically Morrisons have put planning permission in to build a 10,000 sq ft store over the road from the former Safeway on a disused piece of land, the plans have recently been rejected. Interesting how retail always turns the full circle!! 
The Somerfield store itself was a real ramshackle outfit in relatively poor condition. The Paul Mason Somerfield brief to ready it for a sale well entwined in this store, staff coverage was minimal but the store was a slick machine. The range was relatively small and there were no service counters bar a small bake off Bakery.
Nevertheless it was popular with customers despite the limited range (the store was 8 aisles wide) and dreary store atmosphere – when it was converted to the Co-Operative with the new Bakery, remodelled store layout and a central aisle to showcase promotions – sales slumped.
It's not just converted stores that are struggling, the sales woes within Kantar continue as stores are converted over to the fascia with 'core' stores behind, generally stores with good sales figures are converted first as they represent the greatest chance of generating profit first.
The sales slide has continued apace and spreads to core stores, not just those converted from the Somerfield fascia. What does the Co-Operative stand for anymore? What do they offer that other chains can't? They are an ethical Fairtrade business but that doesn't wash when customers within the UK are finding things tough.
They too want value and don't want to be penalised with higher prices because the Co-Op is their local store. Customers liked the appeal of Somerfield and its general appeal, the Co-Operative has a reputation for high prices with availability being a challenge in the early days which was a far cry from the slick Somerfield operation.
Availability is markedly improved now since SMART has commenced the roll out, it still requires tweaking in stores to ensure that things are 100% but it's brought a common platform for stores to work within.
Why are shoppers being turned off the Co-Operative?
(It's worth pointing out – these pictures are from my local store(s) – one is a larger store (10-4 Sunday) whereas another is a high street store – more of a convenience offering.)
Range / Pricing:
These two go in hand in hand, I'm a great believer in rationalising the product range every year or so to keep things fresh, introducing new lines and ensure that customers aren't paying more to keep poor selling lines on the shelf.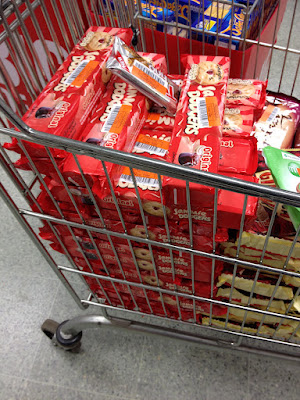 Slow selling lines / poor warehouse controls means a lot of Grocery reductions.
There is the secondary evil of Grocery reductions too, we all know that generally speaking there are few lines that fall victim to their best before dates on packaged Grocery. Crisps can be one as their best before dates are relatively short (4-6 months) for Grocery but to see this level of reductions on Jammie Dodgers is a real concern.
If you can't sell biscuits to the masses then you're in trouble, especially in the Co-Op where you're more likely to get your top up shopper popping in for tea / biscuits et al. This isn't an isolated case either, there are more reductions on core Grocery which points to poor warehouse controls, over ordering or indeed price. It's to be expected that Jammie Dodgers were on a promotion at some stage so it's even more alarming that so many have had to be reduced manually.
From a man hours (labour) perspective, this is another cause for concern as any profitability has been stripped out of the biscuits by them being taken from the shelf, each having a reduction label applied to them and then placed in a shopping trolley at the front of the store. That's before you account for the reduction in the selling price.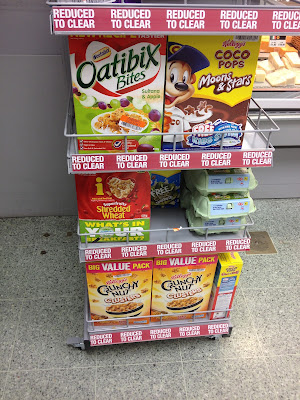 Cereal here – note 'big value' packs at the bottom of the unit.
Every customer wants good value and it's a difficult balance for the Co-Op to strike as they're trying to be everything to all people, often in a store that's less than 3k sq ft. Even the larger superstore near me is probably around 10k sq ft so not a huge store like the various supermarket.
Breakfast cereal in the picture above – more reductions but take the line at the bottom – 'big value' pack of Clusters – original price £4.79. Who is going to pay nearly £5 for a box of cereal? It's simply not going to happen and hence it nears the BBE date and then has to be manually reduced.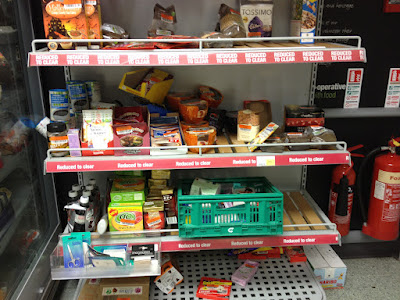 Main reductions – note Hallo'ween cupcake mixes still on sale at the top.
Someone needs to take a look at the reduced to clear strategy for the business and make some tough calls around selling discontinued products at the shelf edge, with reductions applied automatically at the checkout. It would reduce labour in terms of no more manual reduction stickers whilst giving HQ the flex to apply a greater discount if certain stores are overburdened with stock.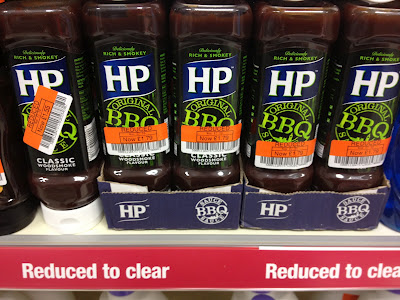 Discontinued but each individual product manually reduced?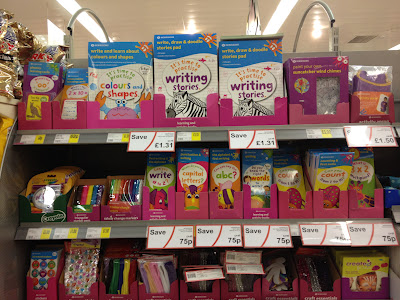 Even Morrisons utilise the EPOS system when reducing to clear with Liberate.
Having backrooms and stores full of slow moving stock at full price is helping no one, it's tying up working capital and tying up space on shelves. Then as it reaches the end of its shelf life, it is costing money to move it to another location and manually reduce the items.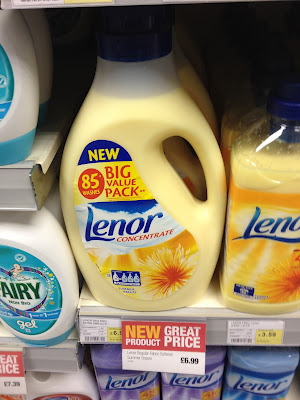 Industrial sized bottle of Lenor – why?
Range rationalisation is ongoing within the Co-Operative and it's understandable that different areas have different requirements, store sizes and affluence. However the recent addition to the laundry range of a gigantic industrial sized bottle leaves me wondering what is going on with this project.
The Co-Operative doesn't particularly attract floating shoppers in the way that Tesco or Asda may do. It (generally speaking) has a loyal customer base and the majority of shoppers will be local to the store, the elderly in particular make up a good proportion of my local stores customer base as do young parents with the school next door.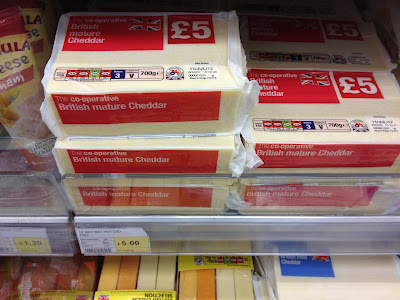 £5 blocks of Cheese – again is this too high a price point?
I can't see either customer wanting to / being able to spend £6.99 on a 85 wash pack of Lenor or £5 on a block of Cheddar. A needless addition to the range, it's the same philosophy as the 750g box of Crunchy Nut Clusters, not a leading product by any stretch.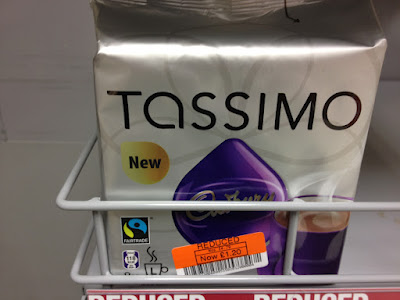 These can be slow moving – The Co-Op range these, Senseo and Dolce Gusto capsules.
There's got to be some tighter logic with ranging – it's not working if you're trying to be everything to everyone. The focus is lost and customers lose resonance with the brand, it just appears too bloated within the Co Operative.
Sainsbury's Local recently took the decision to stock Hovis for the first time and delist Warburtons in a number of its convenience stores, Tesco do take care to maximise profitability by ranging more Finest products in areas that support it too. Focusing on ranging maximises the opportunity locally.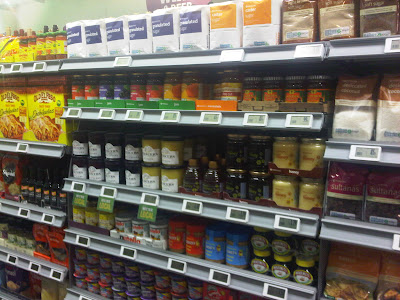 M Local – own label stocked where there is no clear branded leader.
The clearest ranging hierarchy comes from Morrisons with the M Local concept, admittedly it's very much a fledgling operation but the rule of only putting the 'leading' brand in alongside own label does help reduce the range / inventory levels whilst ensuring sales are maintained.
Where there is no clear leading brand (Pasta / Jam) then the own label is stocked exclusively, it also opens up opportunities for locally produced lines too.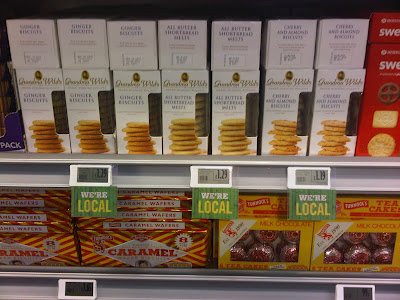 Wider assortment on Biscuits and room is made for local lines too.
Admittedly, that's not quite workable for the Co-Op, they have far more than 5 stores dotted around the north of England. Nevertheless a similar logic could be followed of ranging the top 2/3 lines alongside an own label where choice is required.
There are some categories that don't necessarily need to represent choice, Sugar for example should be adequate with just the own label offering of Caster / Granulated.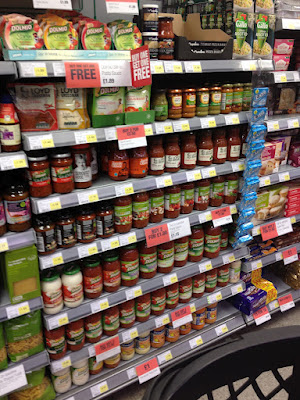 '8' (count them) different brands of Italian cooking sauce available.
How much choice is required with cooking sauces? Clearly the Co-Op (convenience) store think they need to range everything – so they did. This is a convenience store and opens 6-11 every day – so is limited for space. The stores also benefits from the wonderful bay adjacency of Bakery cakes leading directly onto Italian cooking sauces.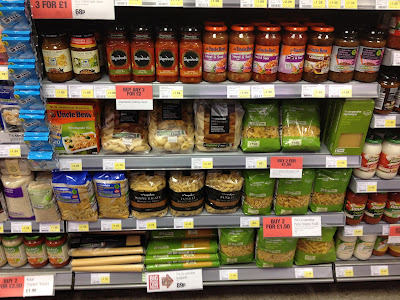 Dried pasta range is much tighter – one brand alongside own label equivalents.
The range on dried pasta works better, it's clearer for the customer and it being a tighter range means less complexity within the store supply chain. One key point here is the strange appearance of Uncle Bens rice within the pasta bay – that must be incorrectly placed.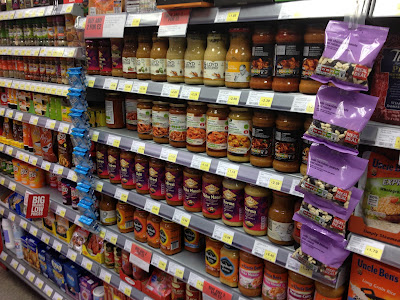 Indian sauces are a similar story – 7 brands & sub brands ranged here.
Cooking sauces are ripe for rationalisation, especially with the various promotions that are active at any one time. It's Sharwoods that are on offer here but Loyd Grossman / Uncle Bens will then run a promotion and sales will just cannibalise across the brands dependent on the offer.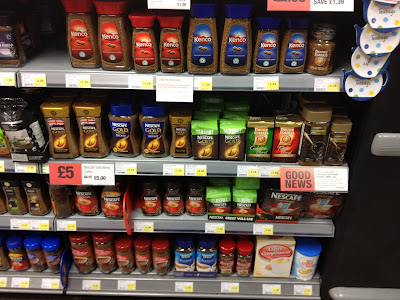 Huge range of Coffee in the Co-Operative Convenience store.
Not to preach to the converted (after reading the above!) but the majority of the core Grocery assortment is over ranged, I appreciate customers have different tastes but there just appears to be too much choice. Add in promotions on areas like Coffee and this adds to overstock and replenishment pressure as the space given up for lines isn't always matched to sales.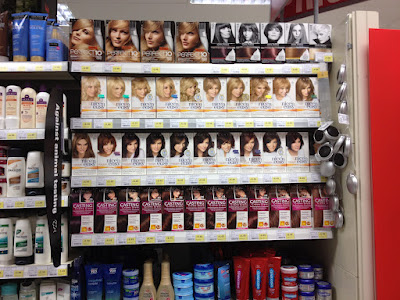 Why not just go with 'nice 'n' easy' – is there a call for Casting Creme Gloss too?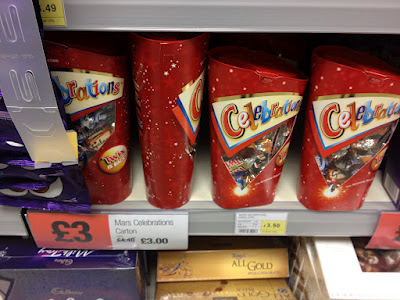 Is there any logic to ranging marginally differing sized boxes of Celebrations?
The problems with pricing are well known, there have been some efforts at reversing the trend with 'big brands at low prices' regarding a poor value proposition but underlying prices remain higher than the rivals. Customers won't stand for it and they aren't willing to pay through the nose for convenience.
'Focus on Fresh' / 'Passion for Produce'
The two statements above are internal Co-Operative programmes at the minute, a key winning aspect for the Co-Operative would be a sharper fresh offering. Sadly, every other retailer thinks the same and the current Co-Op offering is all too bland with not enough space dedicated to fresh produce in the smaller stores.
The bakery is another key area that represents a real opportunity but it's all part baked (understandable given the size) but availability can be diabolical in some stores, especially at key times of the day.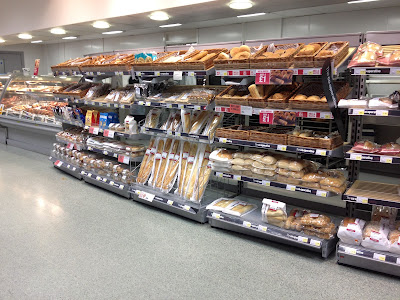 A bakery in a larger Co-Operative store.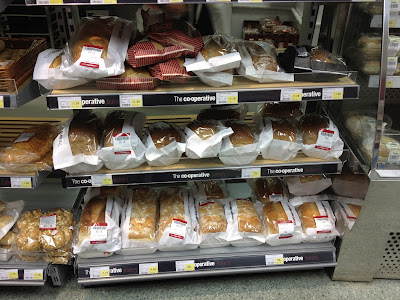 An effort could have been made here – not even presented well.
The bread should be absolutely fresh within 1-2 hours if at all possible, the levels of trade are generally easy to predict, morning rush, dinnertime and then teatime rush. Core availability is vital but 'runs' of baking could be done at these key times to further drive sales.
In the picture above, I can't grasp why the store has thrown the bread onto the display. At the least they could have held some in the backup areas until such a time that it could be replenished onto the shelf. Of course the argument comes then if it's not needed on the shelf, then why bake it off?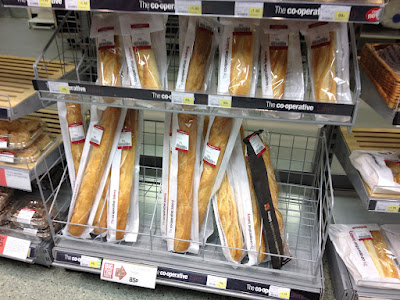 Baguettes are always popular.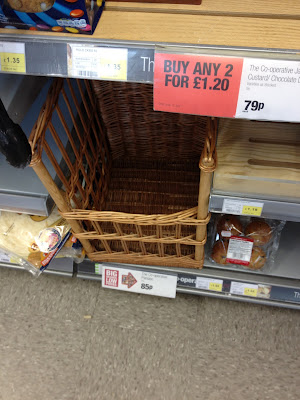 17:40 – This is where availability needs to be better. No baguettes in the Convenience store.
A focus on fresh should begin with Bakery and also Produce, it often does with Produce (talk of a 5% sales uplift target) but Bakery is all too often neglected. Realistically – the Co-Op cannot offer scratch bakeries due to limited backup space but it should further refine the part baked offering that they do have.
Tesco have had great success doing just that, they retain the scratch bakeries in many of their stores anyway but have widened their bake off lines – now ranging pretzels and a wider choice of artisan bread.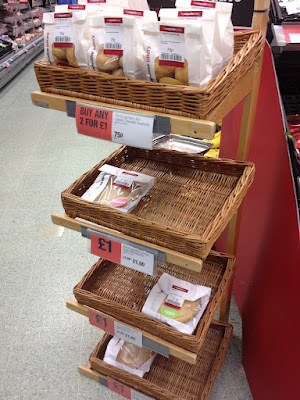 Near the front of the store and inspiring no one.
With the convenience angle and the sheer amount of stores dotted around the UK, there is a real opportunity to 'romance the customer' (Thanks Dalton!) with some great ideas for the evening meal, or for that shopper who doesn't quite know what else they want.
My local convenience Co-Op packs a poor Produce assortment and an even poorer fresh food assortment, everything is packed tightly into the store and there is no real discernible focus on where customers should look to spend their money. It's all functional and not clear to the customer, there's no inspiration.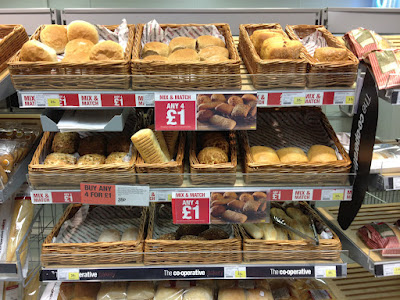 Wicker baskets are good but little information around the product itself.
The fresh offering is a smaller 'L' shape around the perimeter starting halfway down the first aisle before ending the opposite side (incorporating frozen). As such it's very difficult to market any fresh food because it relies on the customer walking around the shop to find it.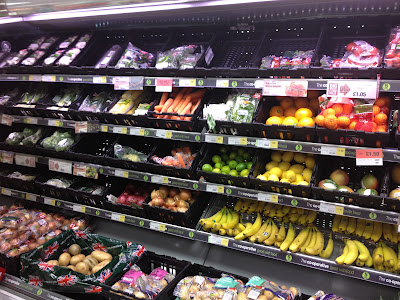 Decent enough range but it's not the focal point of the store.
The central aspect to the shop is the aisles of grocery that you see when you enter the store, it's hard to push a fresh angle when it's tucked away at the back of the shop. That's a key challenge to the convenience arm.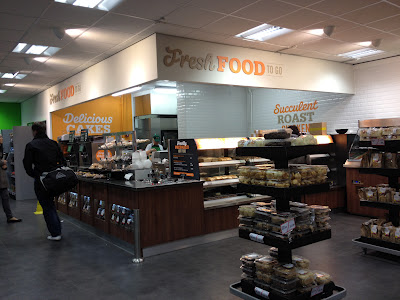 M Local put fresh food at the forefront of their offer.
The superstore seems to put more focus upon Produce with it being the first department that you reach as you enter the store. It's largely uninspiring though it does carry a decent range, recently reduced too due to wastage problems.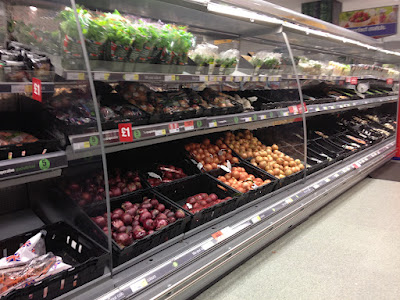 Superstore carries a decent range – though price / quality are problems.
Not to overly compare to M Local but they're widely acknowledged as really pushing the fresh angle, the Co-Operative don't really do it any justice. There are some good initiatives with the meal deals (could be improved) but combinations of availability, issues around product quality and pricing certainly on Produce can let them down.
There needs to be a sharpening of the offering, there's a lot of promotions which is no bad thing but customers tend to recognise the price is inflated anyway so that BOGOF / x for y isn't such good value.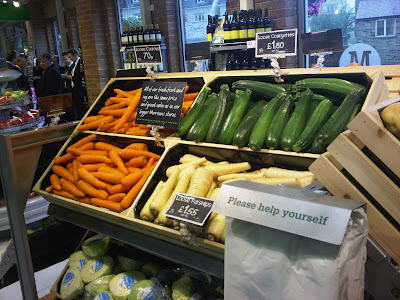 M Local make their produce look very appealing with wooden units.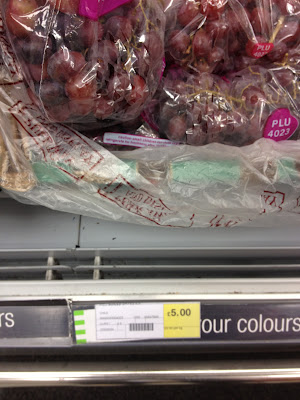 Pricey grapes – higher in price than anywhere else – even Waitrose.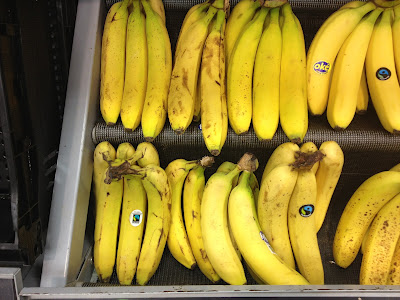 Poor quality produce damages the brand perception.
The issues around availability and quality aren't unique to the Co-Operative, there are poorly run competitor stores to but the issues with price remain. There needs to be a real 'fair pricing' strategy where everything (including own label products) are looked at in terms of their benchmark against competition.
It will cost in terms of margin but value perception is a key aspect to any customer, and crucially, the most difficult perception to shift.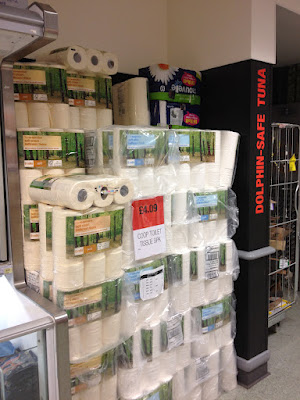 A crude stack of toilet rolls – note the 'dolphin safe tuna' message on the wall pillar.
I know the Co-Operative are passionately ethical business but fairtrade products aren't washing with customers who themselves find things difficult in the UK. Perhaps that whole 'ethics' message needs to be re-communicated in store to work out how the story is told.
Promotions:
The Co-Operative (like everyone else) are heavily promotional in order to remain competitive however one of their most common complaints is the poor availability of promotional stock. It's likely to get much better as SMART continues to roll out and bed in with better forecasting data.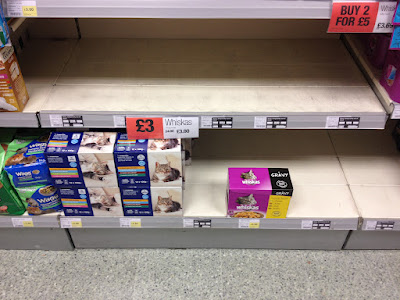 Enticing customers in to store with good promotions – however 7 / 8  of these are out of stock.
Promotions like the ones on Whiskas are great at attracting customers into store, people may get a leaflet or see an advert and decide to pop into the store. Enticing customers in is half the battle but for them to be confronted with this would mean the customer would leave disappointed.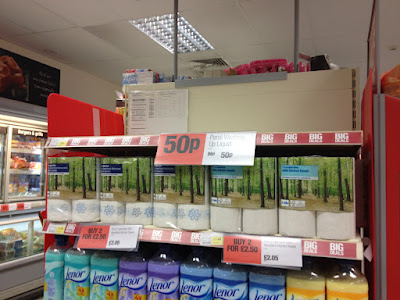 Another item off sale – on gondola end too.
Any opportunity to capture extra spend needs to be taken, offering a full basket is important to the customer and entices additional spend to drive profitability and return visits.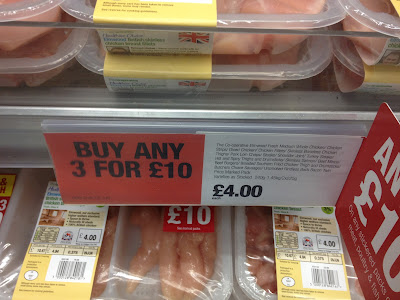 3 for £10 remains on meat / fish.
Another huge problem when speaking to both customers and indeed leading suppliers is the continuing use of the 3 for £10 metric on Meat / Fish. Why is it still used exhaustively?
If we take the general makeup of the Co Operative stores and the marketing strapline – it's all about stocking local food and 'good food in easy reach'. Convenience stores are what the Co-Op is widely known for.
Customers who may not 'want' to do their shopping at the Co-Op but have little choice, elderly shoppers for example who will never eat 3 packs of meat in a week. Not only that but how do they get 3 x 1.5kg chickens home?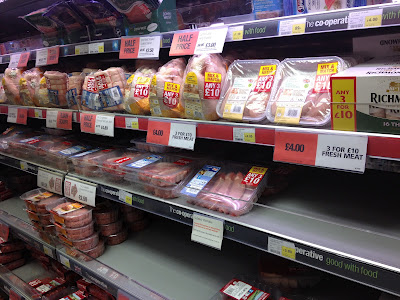 Smaller Convenience outlets also range the 3 for £10 promotion.
It's a promotion that seriously needs looking at, investment in price cuts would be beneficial rather than setting a price point of £10 which is far too high. It's not just elderly shoppers either, it's likely that customers on a budget or even those with less of a budget restriction would find 3 for £10 too much.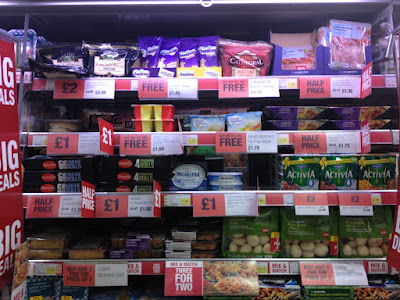 Convenience stores push promotions heavily.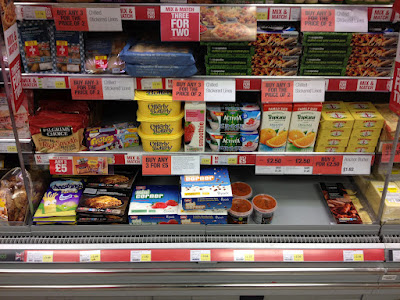 Lot of promotions here, x for y, save – what's on the bottom shelf?
The promotional hot spot above has a lot of offers but none of it is overly thought out, Ginsters in with Philadephia and Activia? I appreciate shelf space constraints but the fixture looks very busy and in some respects – there's too much POS, too many offers and no cohesion between them.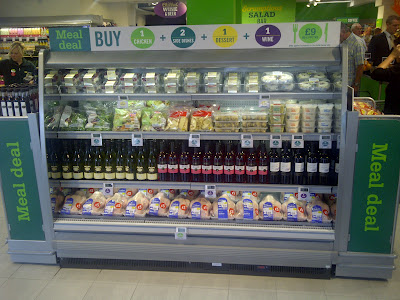 M Local put the meal deal at the front of the store as you enter in Wilmslow.
I also feel meal deals being really adapted and promoted would be beneficial, we've all seen how successful M&S have been with their £10 'dine in'. Their competitors are also pushing their own meal deal offering. The Co-Operative could really blaze a trail with a sharper meal deal promotion, perhaps with a theme each week including a wider choice and even special products to accompany.
All the talk of ranges, demographics and affluence in this blog doesn't mean that customers don't want to treat themselves. An attractively priced, good value meal deal would be widely accepted by customers.
Standards
This is another key complaint that is often mentioned whenever you speak with people who shop at the Co-Operative, we've all seen dirty shelves and tatty stores. It's a real challenge in Convenience in particular considering the footfall can be huge, especially for those high street stores.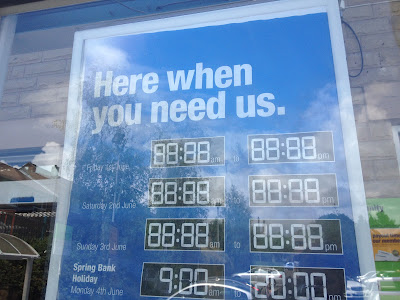 Sorry, what time on Friday / Saturday / Sunday?
Nevertheless, customers don't expect a sparkling palace with packet perfect shelves, but what they do expect is a base standard. I do walk into stores at varying times of the day and indeed I do bear in mind adverse trading conditions – it being boiling hot may well lead to shortage of water / fizzy drinks…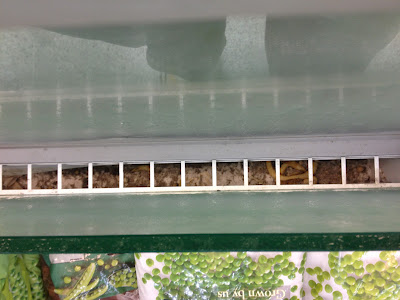 When was this last cleaned?
However, there is often no excuse for poor standards and sadly I see what a customer sees. There are no official visits, notice given or permission sought. I simply turn up for the pure insight that's generated for these pictures.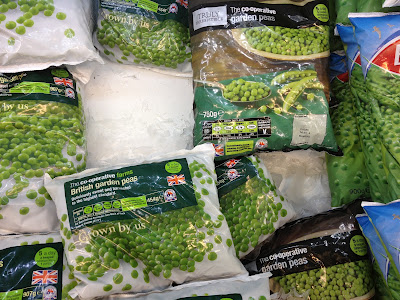 Big ice build up in the freezer here too.
Everything that's within a store affects the image of the brand, I'm not sure what customers think when they arrive at 10 am on promotional changeover day and there's no advertising on the secondary space.
It's frustrating for customers who will assume there's no offer active and also for the business who will see promotional sales not come through due to the lack of advertising on the first morning, often the first 3 days trade is what drives the subsequent ordering pattern.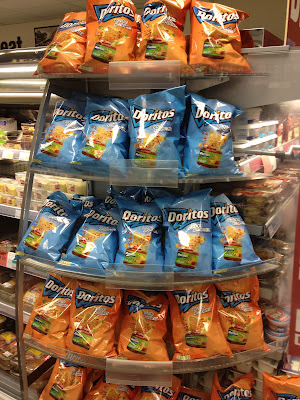 No advertising here – what's the offer?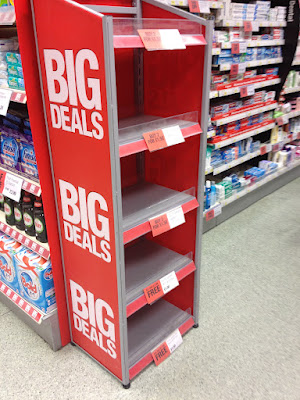 Advertising here but there's no stock.
However, I have no idea how many checkpoints / sanity checks this piece of POS has got past, presumably whoever drew it up at HQ, it's then delivered to store / printed in store then placed on the shelf. Each person not realising that this is totally wrong.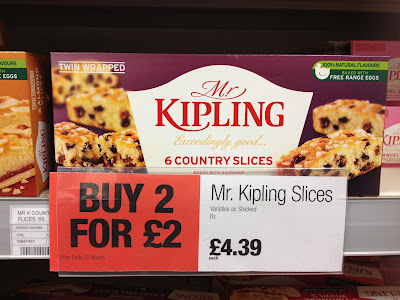 Mr Kipling's at £4.39 – I ask you….
This lack of 'discipline' can extend to further areas within the store such as replenishment, SMART stock control work and date code checking and reductions. All of this means that the store ends up doing a bad job for the customer, who then may take their spend elsewhere.
The tales of stores having to work around SMART are understandable, one store having to use the customer order facility to get Truly Irresistible products in for the 25% off promotion for example. Admirable trading from the store manager but working 'outside' the system shouldn't be encouraged, for every manager who gets it right and drives sales, there'll be 5 who get it wrong and just build overstock.
There should be someone at HQ looking ahead at stores and be taking care of this for the management team.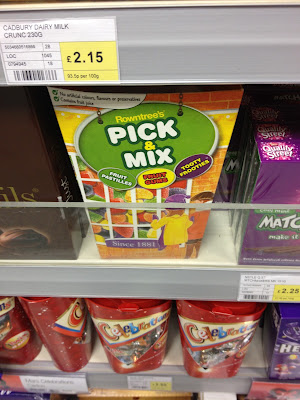 Missing SEL.
The key component is customer service and generally speaking, it's another cause for complaint when people speak about the Co-Operative, along with queues of course. It's difficult in the smaller stores to manage queues as by definition there are only 3/4 tills available anyway.
The lack of service and interaction is a perennial issue and that extends across retail, it's not unique to the Co-Operative but perhaps there needs to be a little more done to ensure customers receive great service. One of the members of staff in one of my local stores consistently delivers great service, asking questions about bags  and generally being polite.
It can be hard to build up a good impression to customers when they're in a queue in a small store and only buy a bottle of Milk, but as long as the overall experience is positive, they should return. No interaction, a poor dirty store and other factors along with a long queuing time add to a negative experience.
Efficiency
I'll conclude this review by looking at efficiency in stores. I know the Somerfield 'labour matcher' system is coming into stores which moves people around the stores hourly sometimes, meaning the chap baking the bread at 7am may then be on checkouts before going back to Bakery.
A nice system that works well on paper, I've worked under this ideal labour planning system (Temposoft) at Sainsbury's and it never worked. In fact we'd massage the schedules to get to the target then ignore it anyway.
It just didn't work, it doesn't take into account late deliveries, over deliveries, peak trading periods (warm weather) and a sick call throws the system into chaos.
The Co-Operative are going live with this system and I hope it works out for them, but in my experience it just led to people doing half a job and nothing getting done properly which then leads to further issues down the line.
In terms of further efficiency, this is the only way that the Somerfield acquisition will work. It's impressive that the technology from the acquired company is being used – it needed to be as there was no rhyme or reason with the Co-Operative ordering before SMART.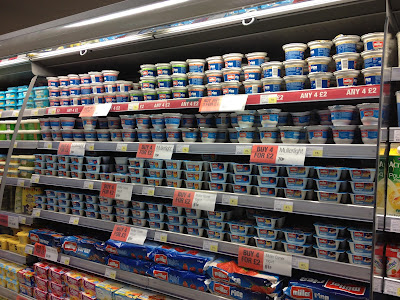 Great range of Muller yoghurts – where are the shelf ready trays?
One element I've picked up on store visits is the complete absence of shelf ready packaging, even on lines like Muller yoghurts. The plans look set up for it on the picture above with the trays housing yoghurts '3 wide' but the stores don't seem to use them.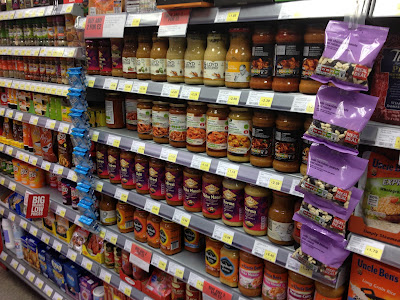 No shelf ready trays used on cooking sauces either.
Another issue could be the plans being set up wrong centrally which can happen, especially with differing equipment and store space pressure. In order for Shelf ready packaging to be properly rolled out across the estate, then briefs and plans have to be 'right first time' from HQ.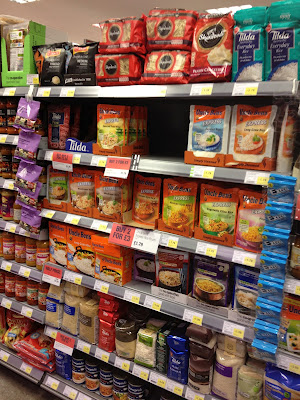 Some SRP is used on Rice and Noodles.
I'd like to see some wiser methods to replenish too, the majority of local stores seem to use shopping trolleys  full of randomly assorted goods for replenishment, there is no logic to the replenishment operation. There are always ways to improve working and rolling out a standardised way of working would benefit everyone and drive sustainable efficiency in stores.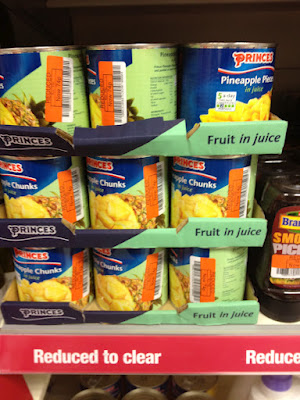 HQ support with EPOS based price reductions would help store staff.
As SMART beds in, highlighting short coded product SEL's with green tags seems primitive when scanning short coded products into a handset could be beneficial.
It would not only mean that a report was generated to indicate to staff what should be reduced and how much by, but it could also tap into the ordering system indicating which lines are incurring high waste and also to maintain availability when there's a lot of reductions.
To conclude – the business isn't broken beyond repair – far from it. Nevertheless it needs to be repositioned significantly to improve its perception and appeal to customers.
That's not just about price, that's an important factor – but it's more around the entire shopping experience – product range, quality, availability and store standards. Variability across the UK is to be expected but at the minute there's too much variability.
Steve Murrells is a positive appointment as Food CEO and he brings with him a wealth of experience and will be sure to improve things for the better. All eyes on the changes to take place when he takes the reigns this month.
A weekly email covering the latest events in the industry; such as store operations, store visits or new promotional packages are all covered. Please visit our emailed retail insight page for further information.
Grocery Insight provide market insight on the UK sector with a focus on individual retailers such as Tesco. This insight is useful to various stakeholders and due to my store based focus. Insight can be delivered to suppliers to focus on growth opportunities, analysts and investors to assess the business performance and long term outlook and retailers themselves to assess best practice.