After a negative Morrisons Q1 performance saw the first decline since 2005 and the tough comparatives such as the lack of a royal wedding and the colder weather meant that this year's cold damp April a saw sales unsurprisingly down by 0.7%.
All things considered, it could have been worse, Tesco have reported consecutive negative like for like quarters now which underlines the need for the Phil Clarke masterplan of less new builds, more refits and more importantly better products.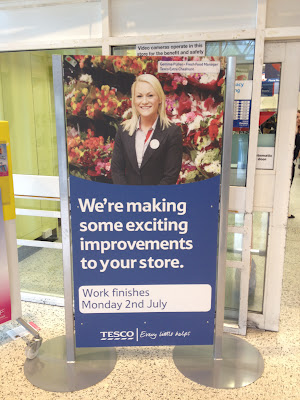 Tesco Superstore in Bradford is seeing some of the refit budget.
Asda seem to be having a better time of it and their trading improvement appears to be related to a sharpening of their promotional package rather than any major about turn in strategy. Indeed their vastly improved availability plays a huge part as customers being able to buy what they want, when they want it is the end game. Speaking to sources within Asda, they confirm that they're being hit with huge volumes via the ordering system, it doesn't appear to be a particular strategy, rather an increasing in perpetual space on the computer system.
This means that if a shelf can physically hold 12 bottles of water, someone at HQ may decide to apply a factor to double this space. In reality, the physical shelf will still hold 12 bottles but the system will work to fill a shelf holding 24 bottles. It's a useful tactic to hold more buffer stock when the system is slow to react(which it is) but it has drawbacks.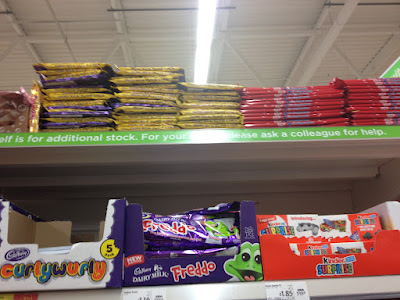 Asda are making much of their top stocking ambitions to save labour.
The main one is that this isn't a sustainable strategy, there has to be a longer term plan to improve availability,  driving more stock through the business means there is an obvious issue with stock flow. The current process is somewhat of a scattergun approach, some extra stock will stick and fill the shelves whereas other lines will just contribute to back stock in the warehouse.
That's an issue both from a working capital viewpoint as well as a replenishment viewpoint, there is no desire to increase stock holding per se as the days of stores having massive warehouses full of stock are long gone. Just in time 'lean' philosophies are the order of the day as it reduces the waste and cost from replenishment and any associated overstocks.
19:55 on a Friday evening – huge improvement with top stocking / volume drivers.
The new supermarkets don't have large warehouses so that becomes another issue, as does the increase of deliveries onto fresh food. Higher wastage bills also have to be absorbed as this strategy is pursued.
There is definitely traction within Asda though, the availability picture is definitely improving but I fear that putting vast volumes through stores isn't drilling down to areas that are clearly an issue. The warm weather this week (w/c 20th) has seen retailers struggle to get the availability in the short term, a difficult ask as you never know how customers will react. Some go mad and buy BBQ's and the meat whereas others will go for salad and Pimm's but the sales uplifts were huge for every retailer.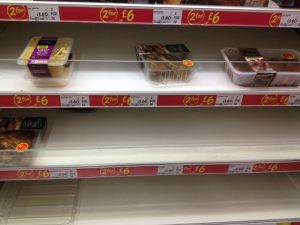 Not much evidence of BBQ lines here.
Asda didn't forsee the demand and were out of BBQ food when I visited on Tuesday night, it was the same on Saturday afternoon too. They may well have restocked but pictures circulating on Twitter showed they were slow to react to the spikes in demand on the hot weather lines like Ice Cream as well. That's not to say they didn't recover, but with competition fierce, customers will just leave the store and go elsewhere for these impulse lines.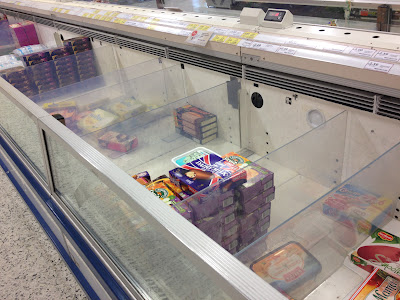 Low levels on Ice Cream and Frozen Desserts on Wednesday in Tesco
Tesco were also battling with the same issues on Ice Cream on Wednesday 23rd but performance later in the week has been much improved with the Tesco juggernaut turning with much aplomb. Much more like Tesco of old!
Morrisons have reacted to the warm weather with their 'mega deal' or the '12,24'36' deal. 12 burgers, 24 sausages and 36 rolls along with a bottle of sauce costing £10. Individual packs of rolls and sausages are available for £1 and 6 burgers work out at £2.50 per pack.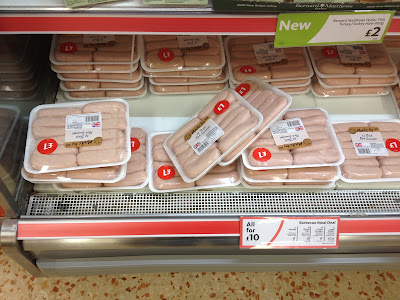 12 Sausages for £1!
Even Morrisons struggled to cope with Sausages a particular availability problem over Saturday with two stores sold out by lunchtime, double deliveries helped with stores receiving another delivery of Fresh Food at 5pm which helped the late night shoppers.
So BBQ 'season' over and done with – what about the 'fresh format' stores? They account for 6% of the store estate now and anecdotally the sales uplifts are remarkable with essentially the same space albeit with a move around. There are trials within trials at the moment and it's interesting to see the different levels of refit, Dalton was on record as saying each store would cost around £1.7m but it doesn't look like each store is getting a £1.7m refit.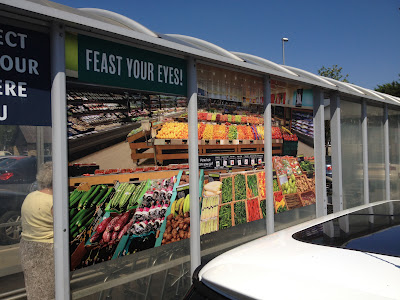 'feast your eyes' trolley bay art is in refitted store car park.
It's clear that trials are occurring now with stores after refit, Thornbury has recently been converted over to the fresh format but doesn't have the market street changes like the new Patisserie although intriguingly it retains the older Bolland era signage. It does have the new Produce, Wine department and Flower shop.
There are successful elements that will be rolled out and into to each store, Liberate is hugely successful and not only does it remove poor selling lines from each range thus freeing up space for kids clothing; but it also means that overstocks are hugely reduced as the vast majority of slow moving stock is eliminated from refreshed stores. It's been portrayed by many analysts as a space creation exercise but the elimination of slow moving lines has a superb effect on the warehouse stock holding.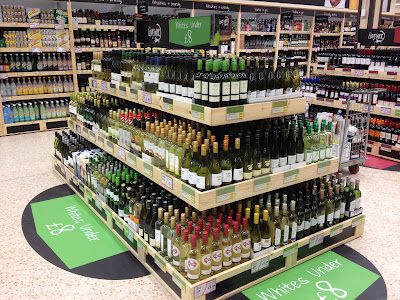 New wine department is dropped in to fresh format stores.
The shudder is another aspect of the refit, Grocery aisles are moved around to accommodate the new Wines section which moves nearer the market street offering rather than being nearer checkouts; presumably this was a security measure in the past?
The work within the original lab stores is now around reducing hours within the counter offering and trialing new products and ways of working. It may be that Morrisons come back to stores like Thornbury with the wider offer as / when the roll out into each store nears completion.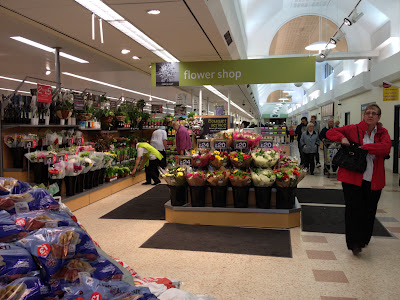 Each store of the future gains the successful flower shop.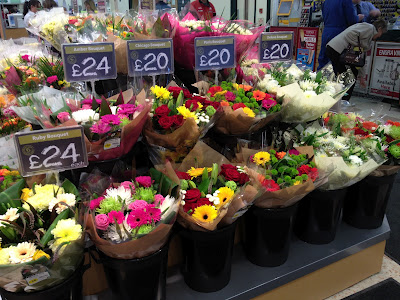 Featuring flowers with a stronger price point than a usual assortment.
That's what they've done with Swinton store which had the fresh format treatment last year but didn't get Fresh 2 go but that's being added once their extension (planning permission is applied for) is built. Certain stores may well get the Produce / Wine / Flower shop initial refit and once the store puts on the like for like sales increase, they can then add further elements to the store.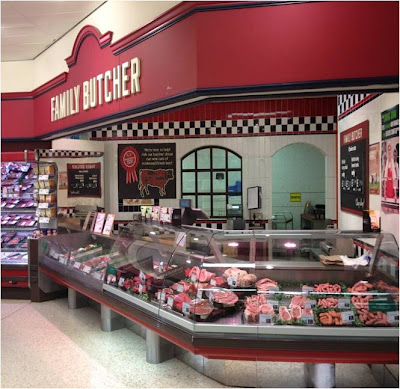 Guiseley butchery before the store of the future.
Guiseley is one of the more impressive refits considering the amount of change that has gone on in the store. They've had Produce, new signage and the Wine department along with the entire market street revamp. Their Butchery counter was extended with walls removed to ensure that customers can see the preparation going on.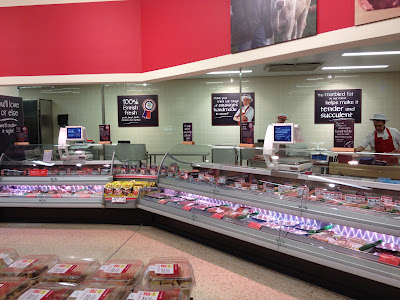 Guiseley butchery after the refit.
The store benefits from an affluent customer base and there's not a huge amount of competition in the local area barring an M&S Simply Food over the road from the store, so it's an obvious choice (as is Harrogate) for the first phase of the fresh format roll out as Morrisons continue to shift the perception that they're not just known for value.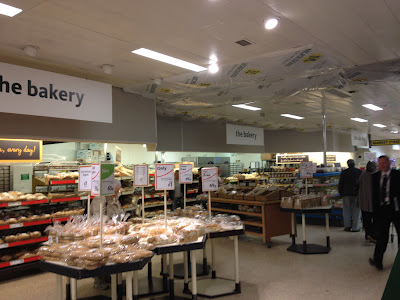 'before' with cluttered aisle and awaiting new signage.
The addition of the new market street departments frees up a lot of space in front of the counters themselves, the new units hold more stock which means the aisle isn't as cluttered as before. I think there's some really positive changes within the new batch of stores, it's easy to be 'wowed' by Produce but there's a lot that's gone on with regard the other departments too.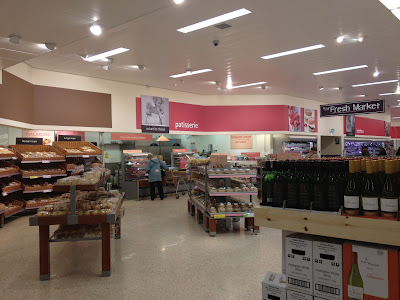 Brighter signage and clearer aisle flow.
There are lean developments too, obviously some areas of fresh formats require manpower increases, produce in particular requires staff to get overstock from the warehouse rather than use overstock stacked underneath the Produce display.
Lean changes like the Cheesemonger now featuring pre-cut cheese from a serve over area which eliminates the need for a colleague to cut cheese on demand are likely to save significant labour cost as the counter doesn't need permanently manning.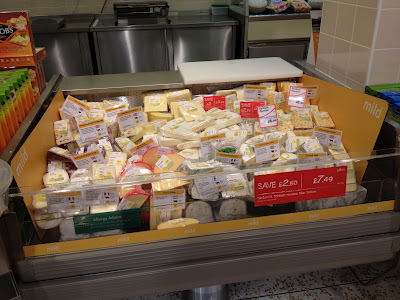 Pre cut cheese divided by taste – here's the mild cheese area.
The roll out is about getting the store feedback on what they feel will work / won't work especially as Morrisons are the home to many an excellent trader in stores. These guys know how to sell but looking at local demographics and sales performance will guide what sort of refit the store gets.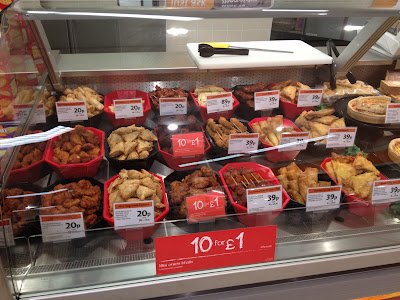 A strong range of oriental / Asian snacks in Guiseley.
A store like Victoria in Bradford that has a strong Asian customer base doesn't need the expanded delicatessen with Indian snacks, especially when the majority of their customers will make this food at home. However the cake shop is particularly popular so the new Patisserie would be beneficial in this store.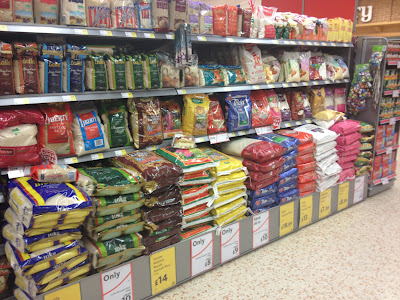 Thornbury range a greater world foods section since their refit.
There will be variations across each store but it's nice to see that Grocery is now getting some attention too, the focus is understandably on fresh as it's Morrisons strongest area but Grocery shouldn't be forgotten.
Thornbury now range a wider choice of rice and flour than prior to their refit, the ranging strategy of looking to tap into local demographics rather than just the local competition is now starting to bear fruit and is all part of liberating space and the subsequent range changes.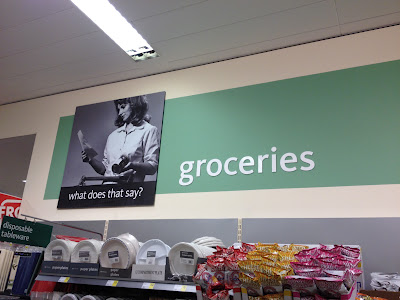 Grocery now appears to have some focus within fresh formats.
Grocery is still a huge part of how we shop in the UK so trying to lose that effect of 'two stores under one roof' is a continual challenge within fresh format stores, especially with such an impressive Produce department. The POS is a huge part of this so it's encouraging to see work being done within this area too.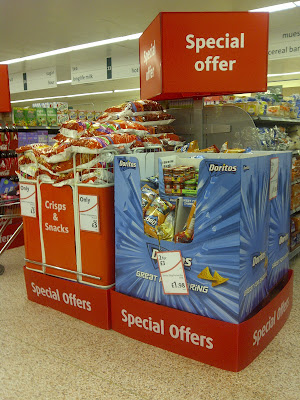 POS version 1 – July 2011.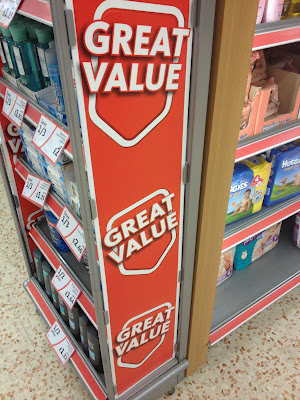 Great Value then appeared on Grocery and Fresh.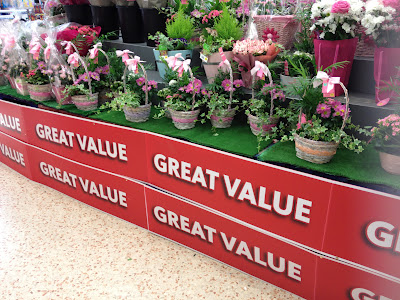 Clear and concise – if a little too functional.
The look and feel of stores has been the subject of much investment and work at Kirkstall between both design agencies and Morrisons themselves. The black / white chalkboard signage on the flower shop, Produce and Market Street were never complemented by similar signage across the rest of the store.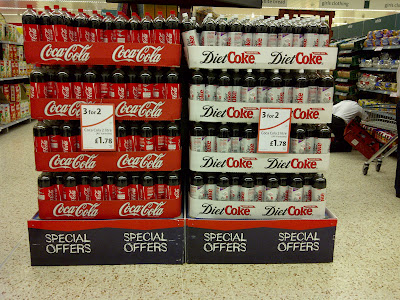 Kirkstall also featured this black / red POS with a chalkboard effect font for a short period.
The great value POS was a step backwards for me, value is personal to each and every shopper so stating something is 'great value' is risky as a 'one size fits all' policy. The design wasn't particularly inspiring either, it looks very 90's and within stores of the future was a real step backwards.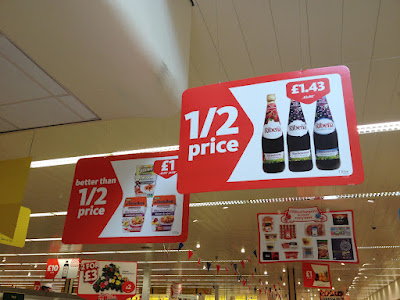 New POS featuring strong red / white colour scheme and bold font.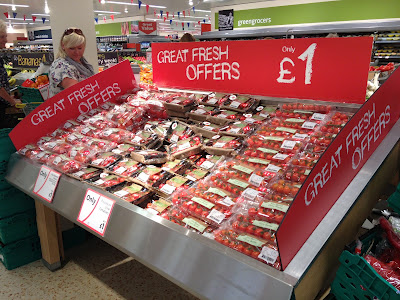 The chalkboard effect signage remains on produce.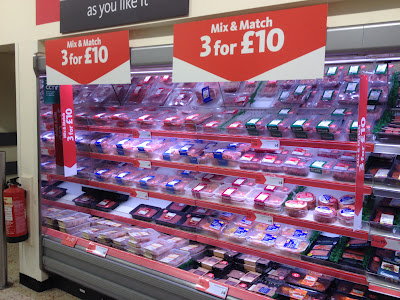 New POS does a great job of advertising the 3 for £10 Meat promotion.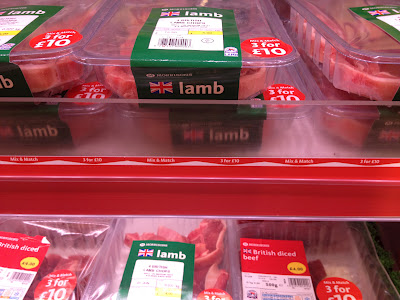 But the shelf edge stripping is ridiculous – far too small – How can this have any impact?
The new POS family came into Guiseley around 3 weeks ago, not too long after the store had its fresh format refit. It's clear that there's a huge Sainsbury's influence with the new POS, the font is virtually identical but the fact that former Sainsbury's marketing chief Rebecca Singleton is now in place as marketing director also says a lot…..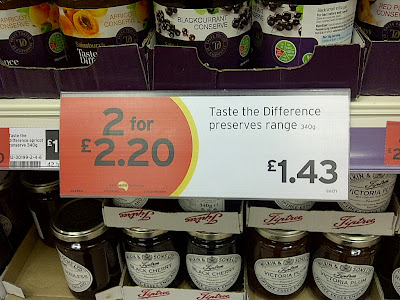 Sainsbury's shelf edge advertising.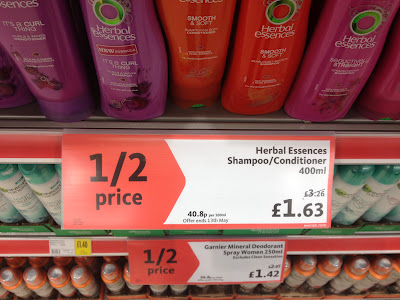 Morrisons new larger POS – bit Booths inspired perhaps as well as JS?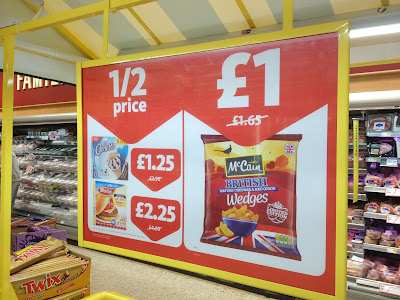 Bolder, sharper POS that catches the eye without being garish.
The new look is far sharper and gives the entire store a more rounded feeling, there isn't that 'two stores' feeling quite as much. The central aisle 'talks more' to the customers in terms of the promotions available but you could have the best POS in the world but if the promotions aren't effective then it's pointless.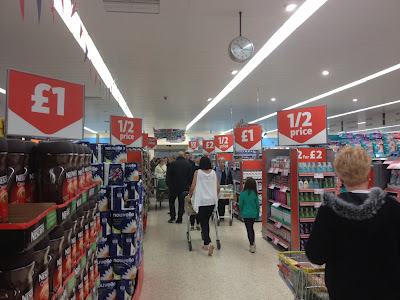 There is still work to do on the central 'action' alley to get the same levels…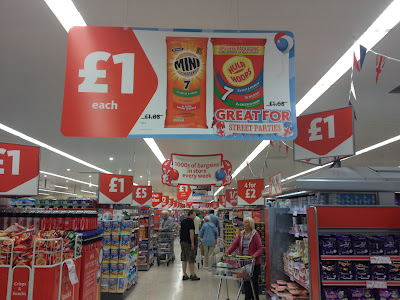 This latest effort is nearer to the action alley….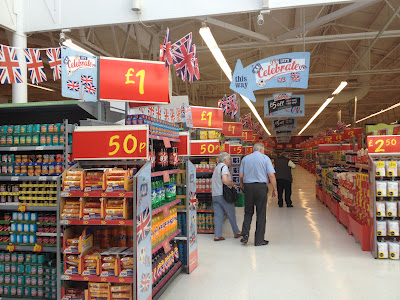 Action alley by Asda – it's a fine balance – the red/yellow POS doesn't work for everyone.
There has to be a balance between effective promotions of course, Morrisons have already stated their intention to hold off on coupons and vouchers but they've reacted to slowing sales by using the fuel Britannia 12p off promotion last week along with some sharper promotions this time in time for the Jubilee.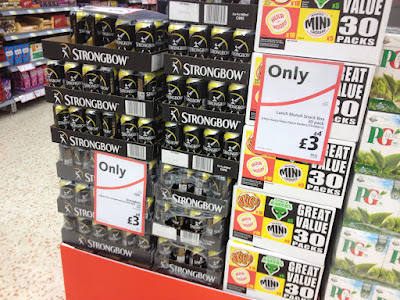 The terrible '3 for £10' deal was replaced by a 'save £1' promotion.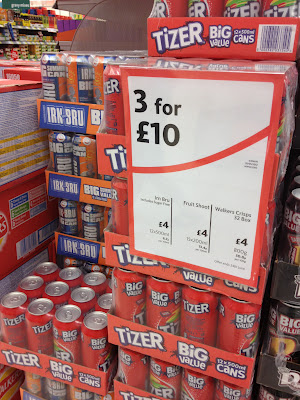 It's replaced by a much stronger deal this time.
The new 3 for £10 deal is interesting as it's clearly a much stronger package, the 'big value' cans of Tizer and Irn Bru are the ones that are regularly available in B&M / Home Bargains so I wonder if Dalton sending the buyers out to those stores has helped secure a deal like this.
It's not all good news, perhaps a sign of the incoming Asda buyers with their rollback availability woes is that this promotion is now 'unavailable' from depot. The offer runs until 24th June so it could be exceptional demand in the early days but it's not good and certainly not typical of Morrisons who generally perform ever so well with the promotional availability thanks to the manual controls.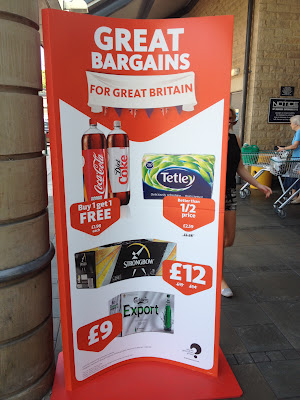 BOGOF on Coke and better than half price on Tetley are deals to get people in store.
The jubilee is big street party time and analysts and shareholders alike (including this dear blogger) believe that it's very much the Morrisons cup final. The market street and fresh arena lends itself well to impulse purchases like the Jubilee cupcakes or the Jubilee Trifle (with Earl Grey tea!) that are usually sited on promotional tables near the Bakery. The Market Street offer with special deli lines should also perform well, as should the sandwich platters.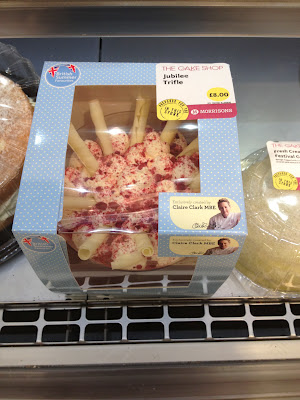 Claire Clark – the latest chef to add her name to a bespoke Morrisons line.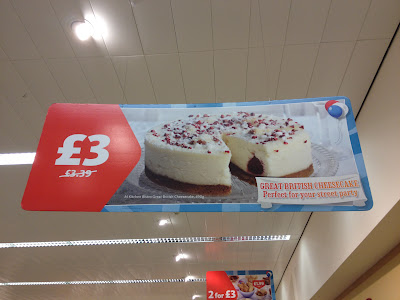 'perfect for your street party'
As o2o rolls on with the majority of the fresh food categories now refreshed and revamped, initial sales seem to be notably strong on some categories. Some of the new yoghurt's are very good and they plug the own label gap nicely, there was virtually no own label yoghurt's before o2o so the addition of these was well received by customers. Not all changes were appreciated though, two customers told me that the Custard style yoghurt's were not as nice the previous ones.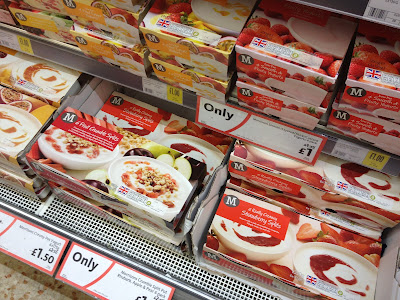 Strong 'M' branding on the new Yogurt range.
Chilled desserts were also revamped and the range was expanded too with the Bistro range already performing well on ready meals expanding into chilled desserts. After visiting a number of stores with the new range, I'm concerned the layout doesn't particularly work for customers.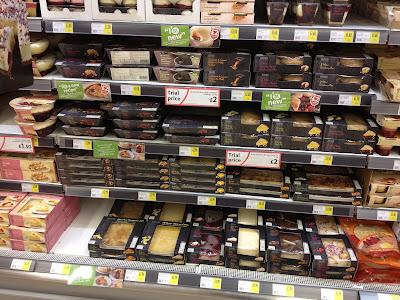 Middle bay in Guiseley – dark coloured premium products.
Guiseley was the first store visited, this has 3 bays of desserts with Bistro sat in the middle bay, the customer is drawn to the dark coloured premium product ahead of anything else. The expanded range is a huge improvement but is the layout making it easy for customers to select their products?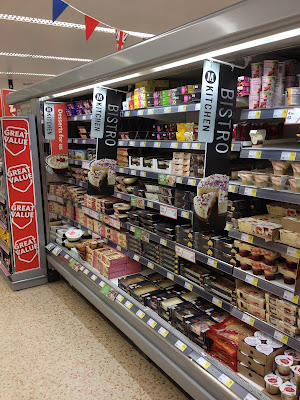 Flags indicate the Bistro range in store.
I've often stated that Sainsbury's are the industry leaders when it comes to layout and standards, their merchandising plans make sense with premium products on the top shelf / at the customers eye level and clear differentiation between the tiers. With Morrisons seemingly abandoning the 'good, better, best' tiering for a collection of sub brands doing broadly the same job, then merchandising becomes absolutely vital.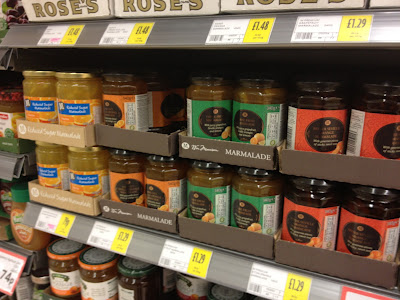 'Premium' Wm Morrison (signature) Marmalade lines.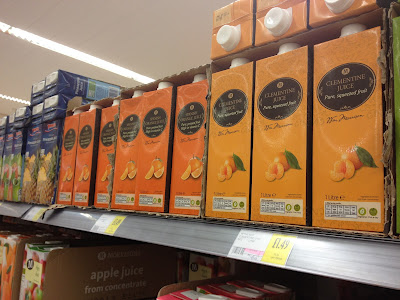 Premium extends to Juice but is there a need for Savers, 'M' and Premium?
The sub brands still cover the standard tiering – Savers is the 'good' tier with M Kitchen (on fresh foods) and 'M' (on Grocery) being the better tier. It seems that Bistro is the 'best' tier on chilled convenience foods with 'M Premium' used for the other product areas.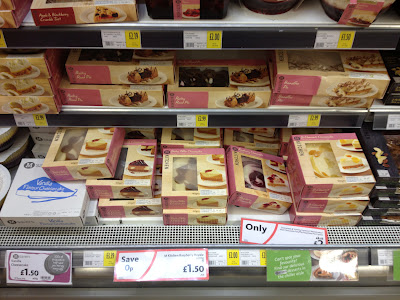 The M Kitchen range looks good – but does it look too good for a standard range?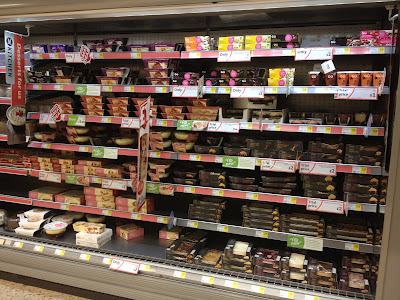 Enterprise 5 – only 2 bays but customer flow hits Bistro first.
Enterprise 5 only have two bays of desserts but the first thing customers see as they make their way towards the Bakery and around Market Street is Bistro. The packaging is dark which screams premium and the higher price points (despite trial prices) will put off price conscious customers.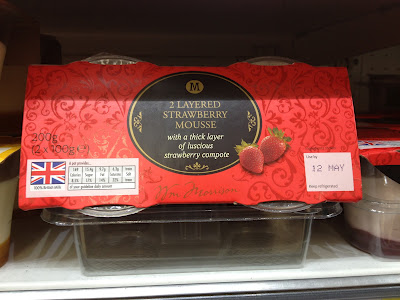 M 'Premium' yogurt / dessert range.
Even if customers are unsure about Bistro, the GU desserts merchandised within the same bay are generally acknowledged as being a premium product attracting a premium price. I have to question the wisdom of merchandising all the premium products within one bay as it's likely to not make the customer look beyond this, especially with some of the keener priced M Kitchen dessert range.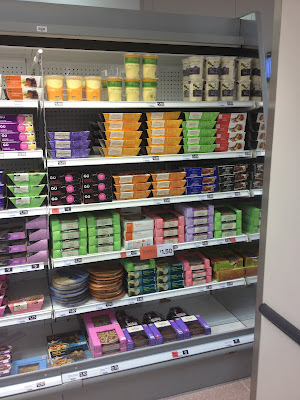 Broadly the same price point as Morrisons but packaging looks brighter.
As ever, looking around the retail scape gives a good indication of how it could be done better, Sainsbury's have recently relaunched their dessert range but both old and new versions give a good example of how quality doesn't have to translate into expense.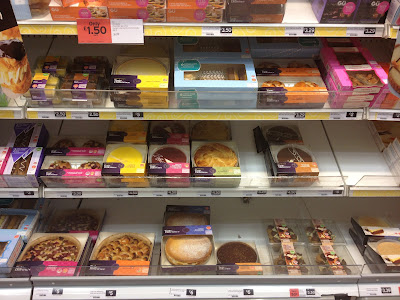 Sainsbury's only range cheesecakes / Tartes as Taste the Difference.
For example, the absence of a Savers Apple pie (just the Bistro £2.50 after trial price ends) within the Morrisons range shows that there needs to be more thought of how the new ranges translate to all the customers, to have only one Apple pie and it be Bistro doesn't give the customer much choice. Sainsbury's range both their Basics (£1.50) and standard tier (£2.50) apple pie.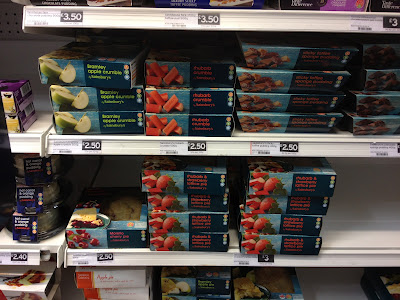 The relaunched Sainsbury's desserts feature clear packaging indicating the flavour of the product.
Interestingly Sainsbury's only seem to range Taste the Difference (best tier) on Cheesecakes and Tartes alongside their standard and Basics tiers, no Pies or sponge puddings carry the Taste the Difference label.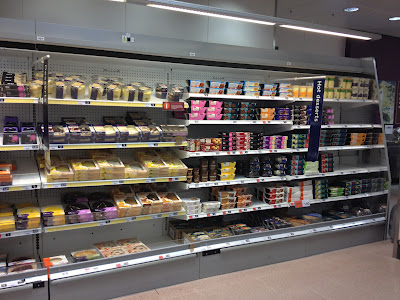 3 similar bays in Sainsbury's – brighter coloured packaging.
The new range from Sainsbury's is brighter and immediately tells the customer what flavour the product is, I feel looking at the Morrisons range, the Bistro range is perhaps too vast but the merchandising could do with looking at. The wisdom of having a 'premium' bay in itself is questionable and could end up turning customers away from the range before they investigate what is actually available.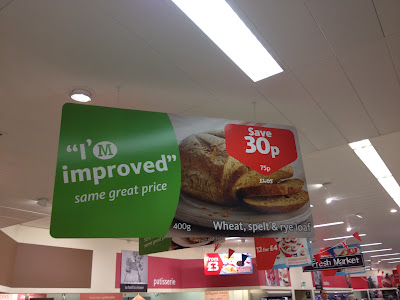 'I'm Improved' highlights the improved products.
More of the o2o roll out now and with in store Bakery was revamped and relaunched this week, I felt underwhelmed with the delivery within store. There seems to be a lot going on with relaunches that isn't always done 'right first time'. For my money, I couldn't overly see what had changed as the POS package (bar a few hanging banners) didn't tell me a great deal about the new bread.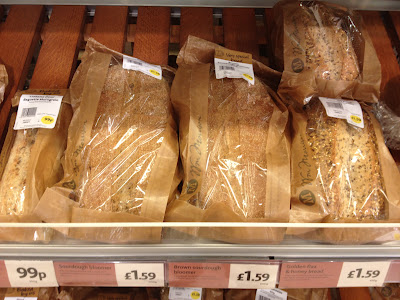 New range – Standard POS with little information.
I was disappointed to see relatively standard POS labels on the new lines too, there wasn't a great deal of information on the new product shelf edge labels, no real information on the bread itself and crucially, not a single tasting sample available anywhere in any store I visited this week.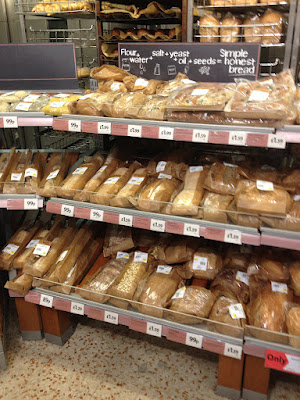 The new range – Decent enough products but where is the POS?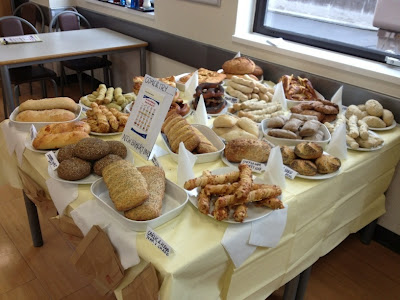 Tesco sampled their new range both on the shop floor and in the canteen (Thanks to Tom Howard for the pic)
The Tesco bakery launch occurred in early May and they've (unsurprisingly) added a load of wood to the proceedings, however there is an attempt at including some chalkboard signage so there is some distinction. For their first big launch since Phil Clarke's master plan, it was a stark improvement from previous versions.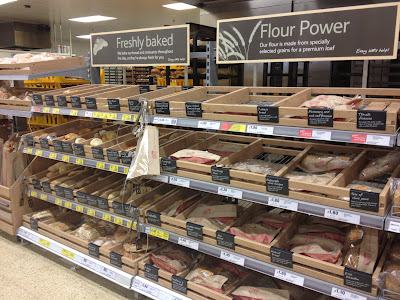 The Tesco range does have distinction due to the wooden clad fixtures and chalkboard signage.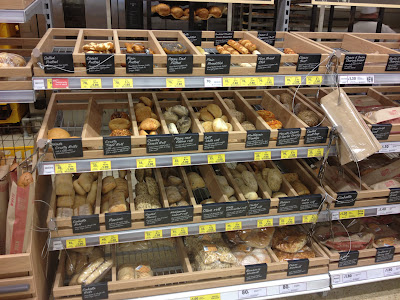 Loose lines also stand out – the SEL's need some work though.
I can't tell that the Morrisons range has been relaunched apart from the odd piece of POS, there are some subtle changes to the packaging and labels which look good however.
There is also some better ranges available, particularly on the pastries side with the new Chocolate Twists and Creme Pastries being rolled out after being ranged in Kirkstall since they started their trial.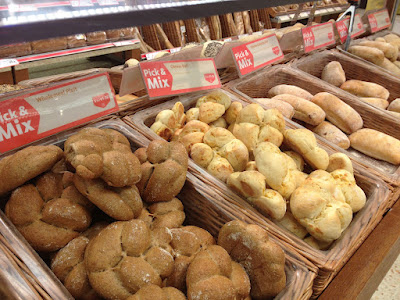 Loose lines within fresh format stores are housed on a separate table.
The new range is expanded and also features better quality lines but the shelf edge delivery doesn't show the differentiation. Even in fresh format stores it's not easy to gauge the new lines & improved lines, so within the older core stores with old fixtures it must be doubly difficult.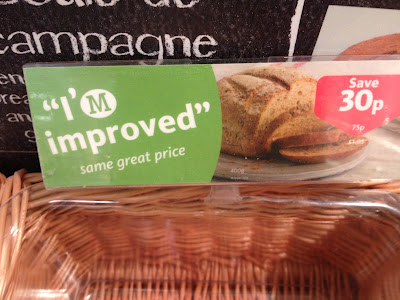 Some products are improved with more rye / wheat / olives etc.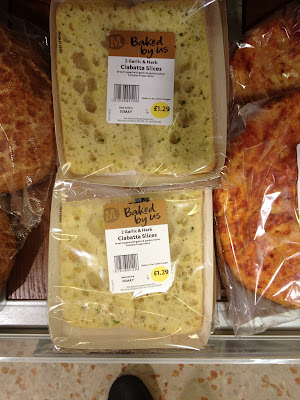 Products also carry 'baked by us' on the label.
The chalkboard signs introduced into Tesco is sharp and does attract the customers attention. The proof of any pudding is in the eating and Bakery samples are always a winner, I've been surprised by the absence of any sampling activity within stores.
Since o2o has launched, it's been notably clear that the own label to own 'brand' is the 'M' brand and I do wonder if the development of the brand could open up a new store concept idea to Morrisons.
The distinctive'M' Brand is developing well in store.
Leader price (part of the French retailer Casino group) are stores that range broadly own label products with a smattering (5%) of branded products as they try to mimic Aldi / Lidl in terms of their range mix. Leader price only introduced branded products in 2010 as customers indicated they wanted to see the leading brands in store.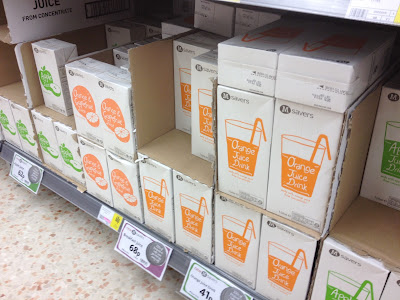 Savers has also been a success and forms part of the stronger brand hierarchy.
Asda had a similar trial under the 'Essentials' banner and the press at the time was full of Asda talking up their expansion opportunities with talk of opening Essentials stores at the 'entrance to a Tesco car park.'
One store in Northampton was taking only £8,000 per week according to one source so the trial was ended prematurely, the other trial store in Pontefract was quietly changed to a fledgling supermarket model.
The issue is that the operating model wasn't necessarily flawed, Asda are still struggling to work the availability out in their smaller supermarkets now so had little hope in 2006. Plus the Asda own label was very poorly thought of in 2006 too – the Chosen by You branding has done a great job in changing perception of the own label but back then it the own label had a poor resonance with customers.
The idea of Morrisons moving into this 'discount' sector isn't totally flawed, the own label package will be stronger once o2o is completed. There are a lot of empty units that would support stores of this size, the Leader price stores are larger than a convenience store with the average size of a Leader price store being around 9,500 sq ft.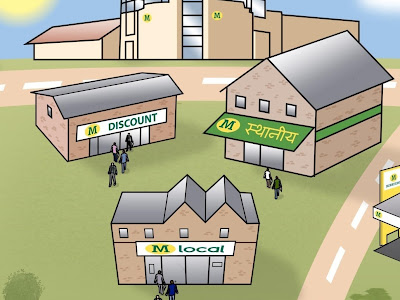 Does the analyst day presentation give an indication of future expansion plans?
The 'M' with Arabic lettering in the picture above may give an indication that foreign expansion is a consideration but I'd say that is well down the line if it is even on the agenda. The M Discount angle is one that could be worth real consideration once o2o rolls out.
The new branding is strong and as customers try the new ranges, it's likely to gain their loyalty and the idea of a Morrisons store with 95% own label store isn't beyond the realms of possibility. Especially if these stores (should they ever exist) are tilted like the M Locals are with more fresh than ambient space.
As the M brand grows with o2o expanding across the categories, it will be interesting to see if a new arena opens up for the 'M' brand and Morrisons themselves.
A weekly email covering the latest events in the industry; such as Tesco store operations, store visits or new promotional packages are all covered. Please visit our emailed retail insight page for further information.
Grocery Insight provide market insight on the UK sector with a focus on individual retailers such as Tesco. This insight is useful to various stakeholders and due to my store based focus. Insight can be delivered to suppliers to focus on growth opportunities, analysts and investors to assess the business performance and long term outlook and retailers themselves to assess best practice.