The year end results were announced on the 8th March and we now know M reported record profits and sales figures. With a feel good atmosphere for the business with the city, the share price reached a decent level and all seemed well with the business. The high price for this year being £3.20, it closed tonight (Wednesday 2nd May – £2.80).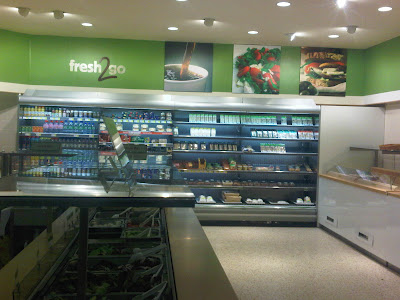 The first inception of Fresh 2 go – October 2010.

This included a more 'official' announcement about the fresh lab rollout which had seen Kirkstall, York and Shrewsbury already modified in the previous October, indeed Kirkstall was notably different back then but has evolved massively (and continues to do so). Other stores such as St Albans, Woking and Wrexham had been modified, extended and indeed built with the lab learnings inside.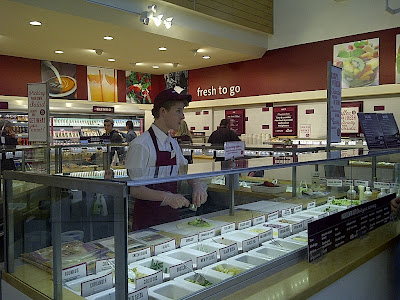 Fresh to go has evolved with a serviced wrap counter and a stronger theme.
Christmas saw a +0.7% sales growth and as discussed here it was a very solid results against tough comparatives especially with the tough market conditions experienced by everyone. Even Tesco recorded consecutive quarterly negative like for like sales.
The presentation from Dalton gave some indication of where the focus would lie, a continuing focus on fresh food with a more definite rollout plan for fresh format stores. Whilst these stores are great arenas, there were and are questions over the profitability of such a concept.
It's a huge departure for Morrisons as their tight cost controls are folklore across retail, we at Sainsbury's used to look up in admiration at them achieving their 0.6% waste target for the week.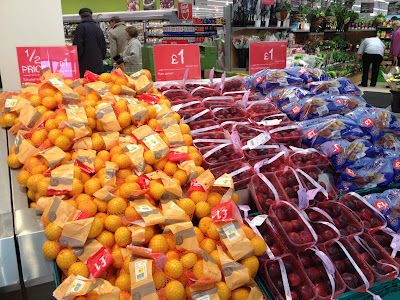 Strong price points at Guiseley – the latest fresh format store.
Fresh format stores stock more loose produce along for a start, the Patisserie (Cake Shop in Yorkshire terms) ranges far more fresh cakes and incorporates a counter offering and there is an expanded product range across market street too so by definition there is a susceptibility to increased waste and markdowns however that can't be a barrier to increasing sales.
Shareholder sites have picked up again on Morrisons with one poster asking whether there is a need for 40 different types of Tomato in a store, understandably concerned about the potential for waste / markdown pressures impacting the margin. There is always a concern with such a project but Morrisons are benefiting from the strongest margin within retail after the restating of Tesco with their reset programme.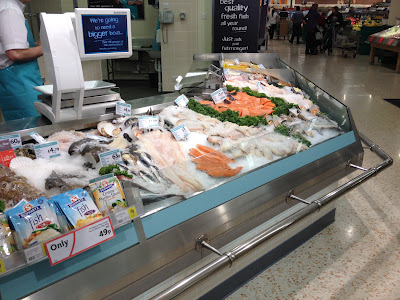 Fresh format stores accentuate the counter offering within Morrisons.
The uplifts seen in fresh formats after extensive trials mean the concept is now well honed and ready for a wider roll out. 13 weeks to Jan '12 saw the 12 Fresh format stores (on average) deliver 13% sales increase on Meat/Fish with Produce (focal point of the any fresh format store) being 14% up against the group. Impressive sales gains with many stores not gaining any physical store space by the way of extensions other than the Liberation of Grocery ranges to free up space for fresh and clothing.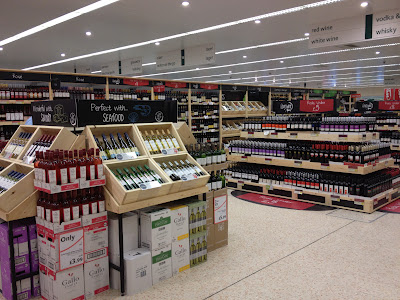 Every store may get elements like the phenomenally popular revamped Wine offer.
The ranges continue to be tailored, what works in St Albans (Sushi) wasn't even trialled in Kirkstall despite it being the original concept store. There are refinements planned throughout the country, some stores will get the Produce arena but not the expanded counter offering, other stores may get a limited Produce assortment and the new signage, others may not get the new signage…
There are still the standard core stores to look at and the refit plan will surely take into consideration stores that are in desperate need of a refit, there will be ex Safeway stores within the estate that were in a bad state when Morrisons inherited them and now desperately need investment.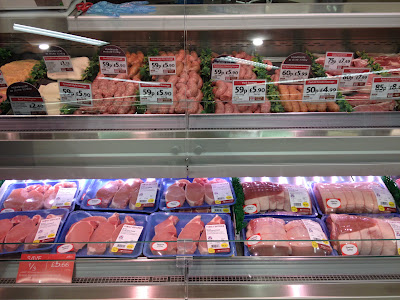 Expanded offering performs well and existing core stores will be hoping they're next.
Fresh formats will be welcomed there as much as anywhere else, initial sales growth from the newly converted stores has been very good, albeit backed up by local couponing but there is a real point of difference within the offer but the trick is to be consistent to ensure repeat business.
It's also to get the right offer in the right area, a resident of  Tunbridge Wells will have a different expectation and taste to that of a resident within Bradford. It's about striking a balance with ranging and offer to appeal to everyone, whilst not alienating anyone.
Dalton has targeted 48 stores to be operational by half year (September) with the fresh format model, the scale allows tweaks to impact more of the business as more stores cut over to the new format. It's clear that rolling this concept out could really see existing stores capture spend from competitors within their catchment area.
Of course, the expected drop in like for like sales tomorrow (Thursday 3rd May) for Q1 will be disappointing, it's coming against very tough comparatives with the royal wedding, unseasonably warm April weather and a late Easter in 2011 but nevertheless, slowing sales growth is never good but indicative of the market that we are now in.
There is health within the business though, a real game changer in fresh formats should allow the business to be on the front foot when consumer confidence returns. Waitrose outperforming the 'big 4' shows that people don't necessarily cut back on their food spending when faced with reduced spending power.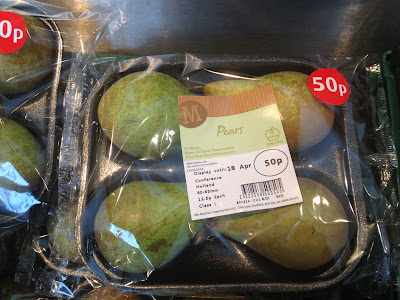 Produce has 'M' branding on the packaging.
Another key point of the strategy is the development of 'o2o' – Own label to own brand. It's clear that the development of the 'brand' is the introduction of 'M' rather than the previous inclusion of Morrisons on each product.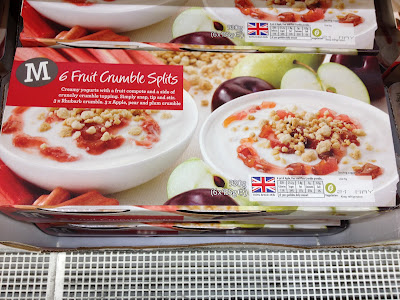 New 'split' yoghurts featuring the swirly font and distinctive 'M' brand.
We first saw the introduction of 'M' with the 'M kitchen' sub brand on ready meals which has since been rolled out to areas like Pasta and Chilled Desserts. Then there is the revamp of bread, dips / antipasti, Cakes and celebration cakes and Produce which has been repackaged and more recently, Yoghurts and Preserves have also had the o2o treatment.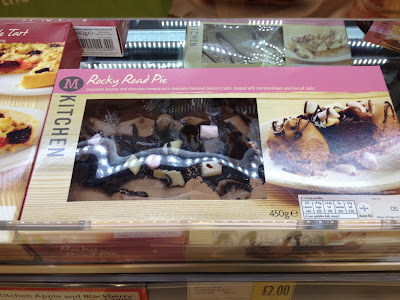 M Kitchen has been expanded to the newly relaunched chilled dessert range.
Despite criticisms over the 'pace' of change and it being too slow. It's worth remembering that the full launches across yoghurts and indeed ready meals are massive challenges in terms of the logistics (the smaller revamps are hard enough!). Liberate was used to free up space across each store in the estate for a wider ready meal offering so stock had to be re-located and then bays re-arranged to accommodate the new range.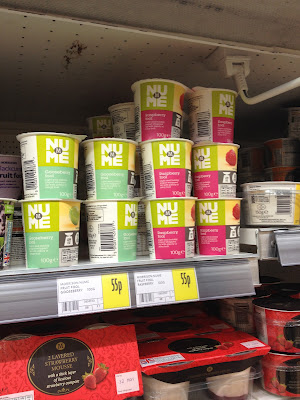 It's not just individual categories – wider tiers like healthy eating – NuMe  have also launched.
That's not to mention the challenges that go into managing the range after the launch. This is arguably the harder aspect as availability has to be maintained with zero sales history to gauge demand.Another conundrum is balancing demand vs supply for all the stores so as not to leave stores short, or indeed overstocked which leads to wastage. Projects like this can be a real nightmare so you can forgive them for a measured approach.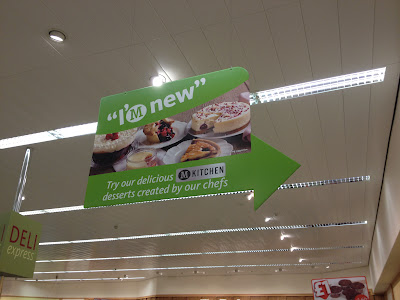 There are a good number of products that have changed to the 'brand'.
60 new lines were introduced on Yoghurts this week and then there's the launch of 'NuMe' which is the healthy eating tier. These launches require a lot of work in stores to manage product in old packaging to allow for a 'clean' break. Head Office also have to be involved to manage the existing stocks to retain a margin but also clear space for the new range to be merchandised right first time.It's a massive exercise with stakeholders from all over the business involved, merchandisers, allocators, buyers, marketing teams and then the in store teams who have to execute plans right first time to minimise disruption to customers.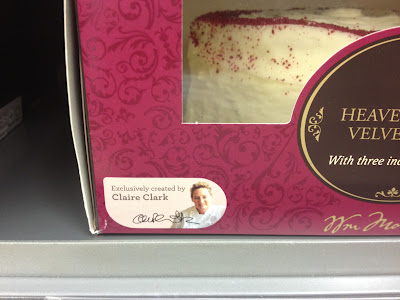 Claire Clark is the latest chef to put her name to a product within M Kitchen.
Add to the backdrop that there are 2 stores per week converting across to the fresh format look with the additional pressure that comes with allocating and accurately ordering stock for these stores too. Consider the click / collect potential roll out, online non food continues apace behind the scenes, as does online food with the teams in New York learning from FreshDirect.
Morrisons are absolutely right to take a measured 'right first time' approach rather than rush, get it wrong for the customer and alienate the customer. There is a lot going on!
However the pressure on stores is telling, hours reductions have been relatively well publicised and there is no doubt that efficiency drivers are there to support reductions and drive profits. I don't feel that many have been utilised though to support such a reduction in store hours.
Efficiency drivers for profit don't help the stores though when the same workloads are expected with some stores seen at breaking point. Others carry on without much difference but I've never been a fan of wholesale hours cuts, look what it did to Tesco over a longer period admittedly.
The competition is fierce, Tesco are spending their money on staff but are being very aggressive on the promotional front, true they've not entered a price war but they're being very aggressive in other ways. The big plan was launched by Phil Clarke and they look to have started implementing straight away.
Tesco using £5 off £40 virtually consistently since January has now flipped to £10 off an £80 shop (week after) and they're also running a raft of half price promotions on branded goods. Cadbury's, Walkers are discounted with the 25% Wine promotion on to entice customers in.
Asda have also stepped up their rollback campaign with several effectively better than half price deals, however there's little point when your local store fails to stock any after 5pm. Availability remains improved in stores, but they're a fair way off the consistency to allow them to shout about it.
Promotions used to be the Morrisons cup final, the days of 100 'BOGOF's' in every store. I've not seen much evidence of strong promotions in recent weeks, even the deals at the entrance which are typically very strong have been relatively average, certainly not enough to get customers beating a path to the nearest store.
The recent Disney promotion was uncharacteristic for Morrisons in that it was confusing due to the changing nature of eligibility for vouchers. There was no minimum spend when the promotion first went live, it was just on eligible products such as 4 pack Coca Cola (£5.49) and Nesquik amongst others.
I think the £30 spend was then reintroduced meaning you were given a pack of cards for that as well as any eligible products, then the promotion was finished a week early due to demand and the cards 'doubled up' on the last weekend.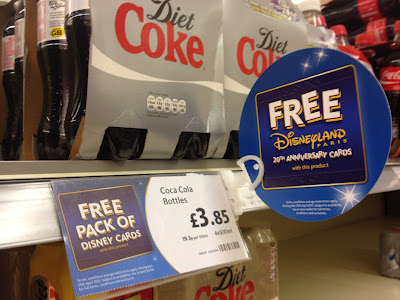 Free Disney cards with products, then with £30 spend too.
I'm not sure that I got that pattern right! Nevertheless the Disney promotion was successful with parents and children alike with the collector books and cards, I just felt the promotion should have been clear from the outset to drive further spend.
There are some promotions that are more attractive this week such as 20 Youngs Fish Fingers for 99p and the better than half price Coke, more of these are needed to continue to remain competitive.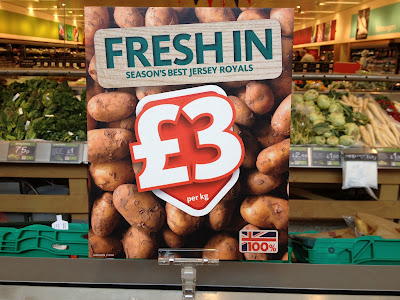 Morrisons remain ahead of the pack on Fresh promotions.
Examples of 4 gondola ends being dedicated to chocolate promotions a week after Easter are baffling though. Where's the planning team going with that one? However the most bizarre promotions was in evidence in stores this week, a 3 for £10 deal on 4 pack lager / 250ml multipack of Pepsi and the giant boxes of Space Raider style crisps.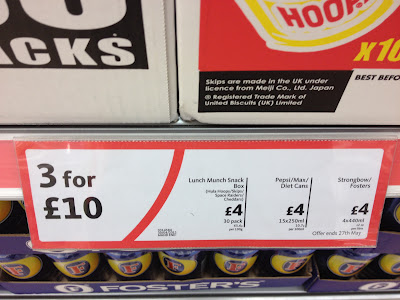 High price point – a poor multibuy saving and not particularly complimentary products.
Some stores were deciding not to give premium space to this promotion were told to do so and as a result, prime space is taken up on a poor promotion that isn't going to drive any trade to the store. It just doesn't make any sense.
Standards are starting to slide a little too, the huge workload over the last weekend with relaunches on yoghurts, chilled desserts, Preserves and promotional changeovers meant that some stores opened with missing tickets and missing POS.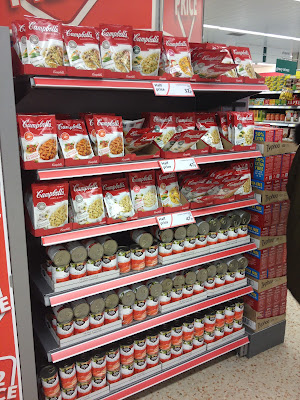 Gondola end with no POS.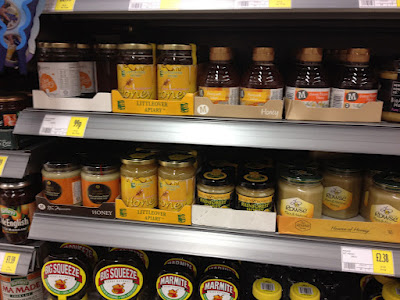 New Honey and spreads range without SEL's.
It's not something I've seen particularly often and these are strong stores too, I can only assume it's workload pressure meaning things aren't getting done on time. They could be isolated incidents, certainly not in character but with the reduction in store hours you have to wonder.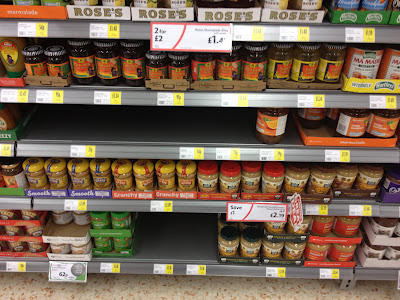 It's a fine balance between selling old stock before new stock arrives.
I've been a noted critic of the POS package in stores of the future, the wonderful work on the fresh arena is difficult to replicate on tins of soup but the 'great value' POS doesn't do the offer justice.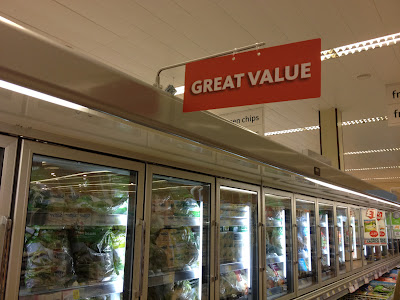 'Great Value' – Uninspiring and not in keeping with a fresh format store.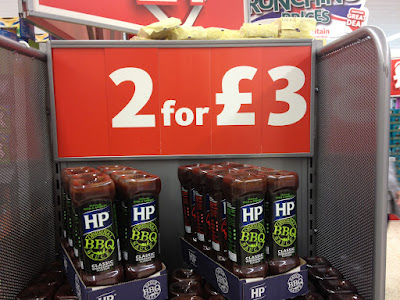 New POS – Not Sainsbury's – it's Morrisons! Using individual POS pieces like Asda.
Guiseley is now trialling a 'new look' for POS which appears to have influences from Sainsbury's, two pieces were noted today and there is more to come with a full refresh due across the store. Pictures will be on Twitter tomorrow.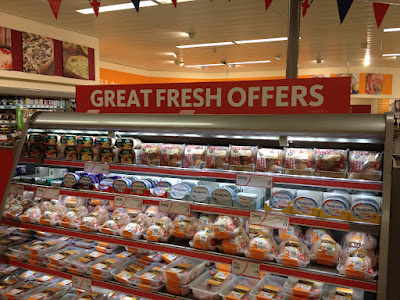 'Great Fresh offers' is far better than 'great value'.
Despite the expected sales slowdown, the business continues to make strong progress against the plan, initial o2o feedback has been good. Customers seem really pleased with the new ranges and they look far slicker than their previous guises.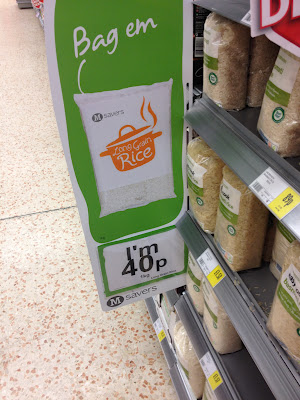 M Savers was a success at driving home the value message.
The major success of course was 'Savers' which saw the full relaunch of the Value tier, this has been successful and seen growth with shoppers trying the products. It's not a bad thing, but you don't want customers switching to a cheaper low margin product for too long.
As o2o catches up around the store then customers will switch to the new products. I don't think customers en masse are now buying exclusively Savers but there will be some who have changed some products for the bottom tier product.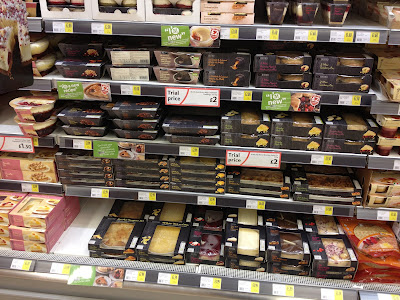 A much wider Bistro range on the new dessert range – likely to drive better margins.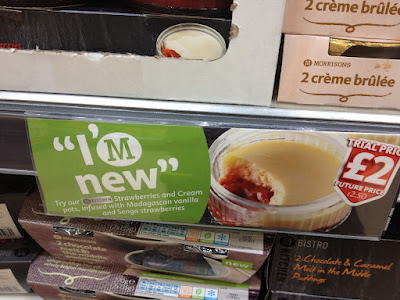 More use of the 'M' on shelf edge POS.
It's a conundrum that Tesco may face as their 'everyday value' relaunch went live officially on Monday, their own label is seen as tired and is needing a revamp. You don't want to give your customers a ready made excuse to trade down and Tesco will attack their own label at pace, there is little doubt of that.So, what for the future and the other opportunities within M?M Local continues apace with the 4th store opened in Doncaster on a former BP garage, it's smaller at 2,500 sq ft but is reportedly trading well. There are plans for up to 70 stores this year with the vast majority being acquisitions like Grafton St, not a tranche from an operator but individual sites in key areas where the fresh offer can be developed with a target market in mind.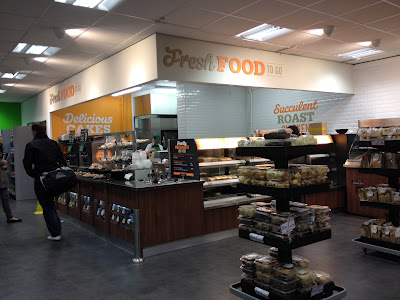 Grafton St has an excellent fresh food prep area – underlining focus on fresh.
The focus on fresh is consistent across the business and it will serve it well for profitability purposes, that is the end game after all. It's nice to have growth in Kantar but with Morrisons outperforming the market for an age and only opening 600k sq.ft of new space compared to Sainsbury's 1.5m sq.ft last year, it won't last forever.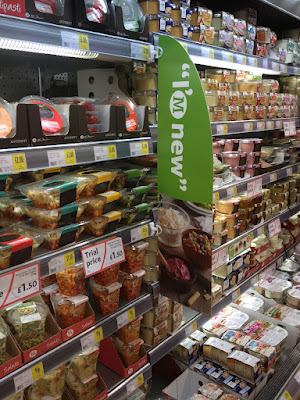 New dips / antipasti range is fantastic.
Whilst there is a lot to shoot for in efficiency, both in store and beyond. Stores have to remain supported with the right amount of hours, no one wants to queue at checkouts and find empty shelves at Morrisons, they'll go elsewhere for that. With the others sharpening up their act, stores need to continue to deliver the standards that shopper expect and have come to expect from Morrisons stores.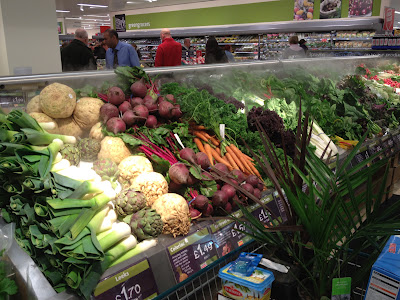 Maintaining standards requires people.
It's perhaps more crucial in fresh format stores, a lot goes into these stores with the increased loose ranges, the increase in craft lines and fresh focus. A standard store can look poor easily but a fresh format store would look terrible if the Produce wasn't maintained correctly for example.
The long term business plan is solid and they're developing a real niche with the fresh format stores and a relentless focus at being unbeaten on fresh. It can't be replicated within competitors, I'm convinced that there is a lot more behind the scenes than people appreciate.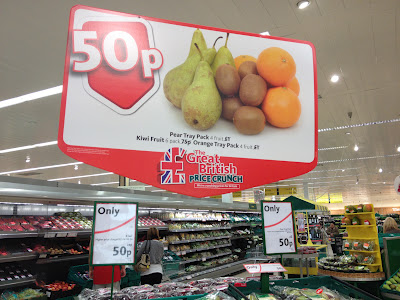 Vertical integration drives excellent value on Produce whilst guaranteeing supply.
Vertically integrated sites like Flower World and indeed Morrisons produce at Cutler Heights and beyond can source and supply the product but crucially, they are proven to be able to cope with volumes.
There may be some short term pain with sales growth, certainly in Q1 but as we've seen from Tesco, you're never too big to experience some of that, Tesco have proved to be a little bit of a directionless business hence the 'reset' grand plan from Phil Clarke.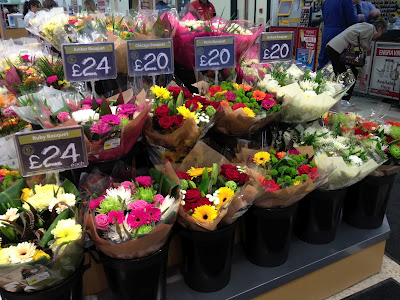 Anyone for flowers? Acquisitions like Flower World have been fantastic for the business.
If negative like for likes extend to Q2 when there are ample opportunities for Morrisons to trade very well with Jubilee celebrations then there will be a few worried people. I feel this is unlikely given the opportunities and changes. The long term plan looks solid and anyone who has experienced elements of the 'new' Morrisons will enjoy the change.
The main point remains that there are still so many people to experience Morrisons in southern areas, let alone the 'new' Morrisons with fresh format stores. The more category revamps mean they can drive sales in all stores, meaning there are so many opportunities for expansion.
The long term plan is well on course and initial results have been more than impressive, it will take time to further develop things and roll out however, I expect time to be granted.
A weekly email covering the latest events in the industry; such as Tesco store operations, store visits or new promotional packages are all covered. Please visit our emailed retail insight page for further information.
Grocery Insight provide market insight on the UK sector with a focus on individual retailers such as Tesco. This insight is useful to various stakeholders and due to my store based focus. Insight can be delivered to suppliers to focus on growth opportunities, analysts and investors to assess the business performance and long term outlook and retailers themselves to assess best practice.