Since the profit warning and subsequent stock market clamour for news and thoughts on what Tesco would do to sort things out. I decided to take write up the Tooley St Metro concept as the master plan was released to the city on Wednesday (17/4). The first half of the blog will look at Tooley St as it's roughly the concept to be rolled out across the estate, the second half picking apart what was discussed at the Analysts meeting and Phil Clarke's presentation.
The media coverage on Sunday (15th April) was pretty slavish with several journalists doing strong pieces on the plans from Phil Clarke. A few had gone to Hertford concept store near the head office where everything is panelled in wood. The limited pictures made it look better but a million miles from what's achieved by Morrisons and Sainsbury's in recent times.
The cheerleading continued apace and the Sunday Times wrote that Phil Clarke himself was in Hertford a day and a half per week overseeing the changes. Astonishing that a CEO of a business raking in £3.8bn profit dedicates that much time to the concept store. Does this indicate how high the stakes are or how much the allegations of micro management need shaking off?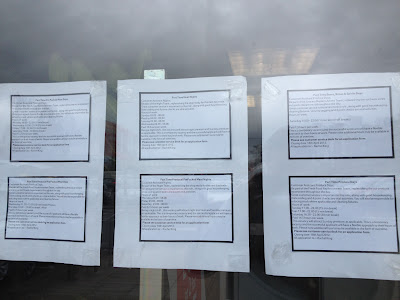 New roles – Fresh / Meat based – all part time & all temporary?
There's so much talk in the article about 'humanising' the store concept and putting the 'love' back in. Have stores even had the extra staff recruited? Speaking to staff locally, they report that many hours are going to checkouts with the majority of the roles being part time. Another reports his local superstore is to get 200 extra hours, that will help but it's not a massive investment.
A few wood panelled fixtures within a store are a step forward but the lack of staff is a huge concern but is it being addressed? A warmer store will be appreciated by customers but that alone won't make them return.
The 'grand' plan wasn't hugely revolutionary but looked to cover the relevant bases, Phil Clarke revealed they were on with the work. The warning signal for me is that it's clear the key is in the execution, which makes it crucial that stores get the investment but standards then rise. We'll take a look at what's promised, what to expect and of course I'll be keeping a very close eye on the execution in stores via Twitter.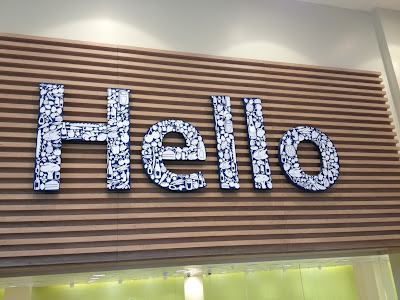 Is it me you're looking for?
The two part blog that looked at the woes of Tesco was very popular and it seems that resolving the problems I noted were already in motion , the announcement that Value was to be replaced with 'everyday value' along with a mini revamp for the range. True cutting edge insight from the blog!
Store environment has been a huge point of contention with Dalton Philips quoted as saying he doesn't see a future for 'soulless sheds' indicating that the future is within experiential stores like Kirkstall. Do Tesco feel the same?
The Tooley St store is a Metro modelling a revamped look, the blog is heading south to the Dudley store at some stage to take a look at what the bigger Tesco stores are doing to entice customers back through their doors.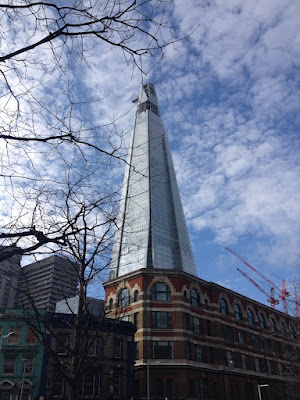 The 'shard' is just a stones throw from Tooley St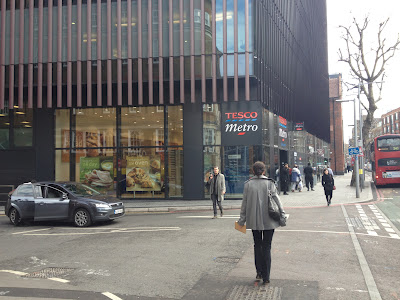 Tesco Tooley St.
The store appears on the left near the huge Shard that has popped up in London, Tooley St is a new build store around 2 minutes from London Bridge tube station and is sited near a number of office blocks and food outlets.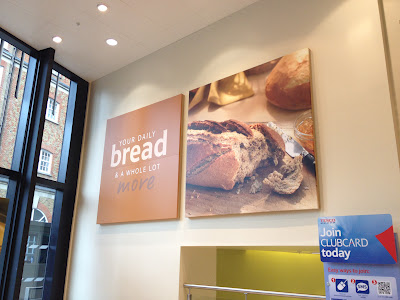 'your daily bread' – Fresh signage.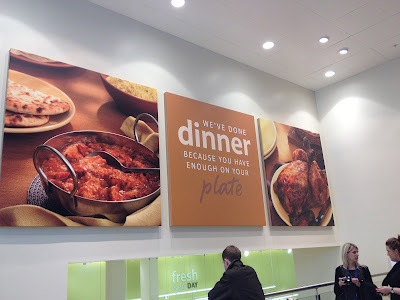 They've done Dinner too..
There's some great signage in the windows at Tesco Metro, pointing towards freshness of 'your daily bread' and 'straight from the oven' with pictures of lovely looking pastry based treats. The store certainly looks fresher with brighter colours and stronger signage but as ever – the proof of the pudding is in the eating.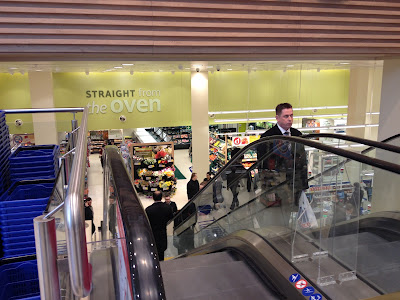 Down the escalators into the store.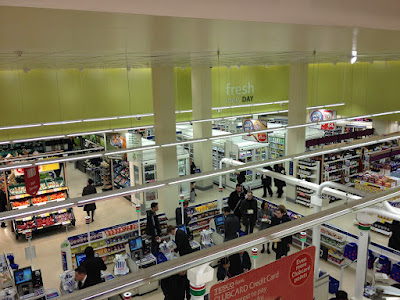 The other half of the store contains the chilled range and then Grocery.
Customers enter the store at the street level before descending down escalators into the store itself, the most striking element of the store is how much it looks like Fresh & Easy. Lots of green, lots of freshness with signage on the wall indicating 'straight from the oven' directly above the Bakery.
The customer service desk is neatly tucked away on the left with a mini market street / half of the store dedicated to Food to go, fresh food and Produce with an aisle of ambient on the go snacking too. The wider grocery offer is within the second half of the store.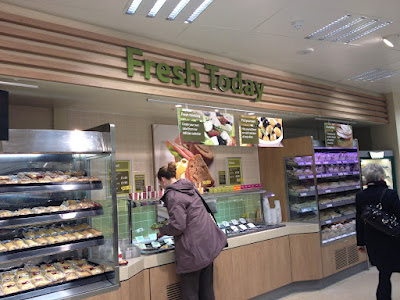 'Fresh Today' Salad Bar / Sandwiches.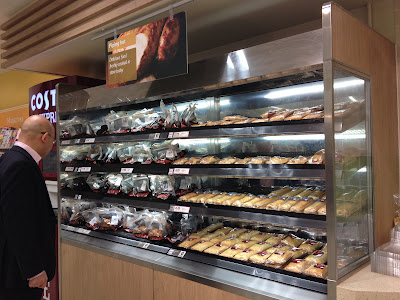 With a strong range of Pasties and Chicken to go.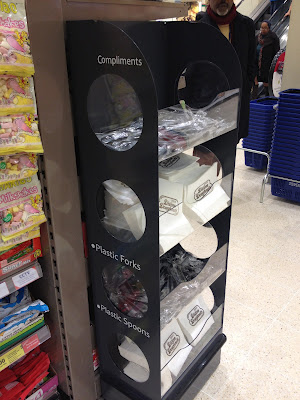 Food to go focus is clear with complimentary napkins and plastic cutlery.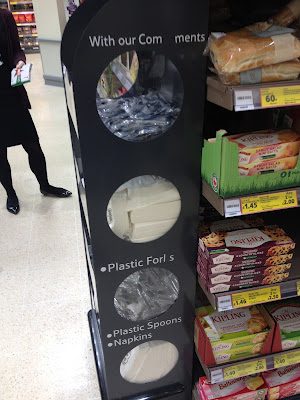 Despite the new store – standards already sliding.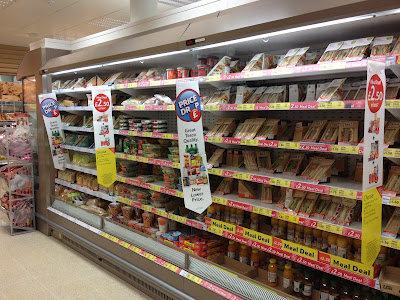 A great range of standard sandwiches on the meal deal.
It's interesting to note what is different to standard Metro stores, many of which are old and due to their trade level desperately needing a refit, let alone the new concept stuff that's in Tooley Street.
There's a greater focus on fresh food within this store, there is no doubt about that. With a 'fresh today' counter featuring fresh pasties, a salad and olive bar along with 'freshly filled' handmade sandwiches. It's not clear whether these are made in store but the indications are they aren't, however the range is far more rustic than equivalent ranges in main stores.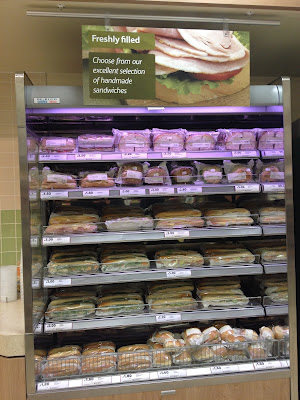 Freshly filled sandwiches.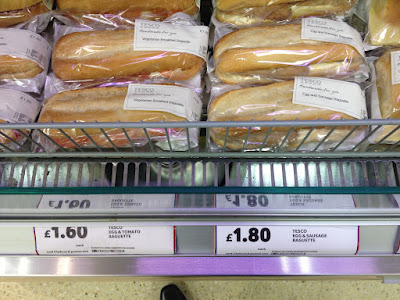 Packaging and labelling is far more rustic.
The signage is fresher too, there is no functional bland signage, there's attempts at a warmer font along with graphical representation of the produce involved along with a stronger pos theme for the pricing information.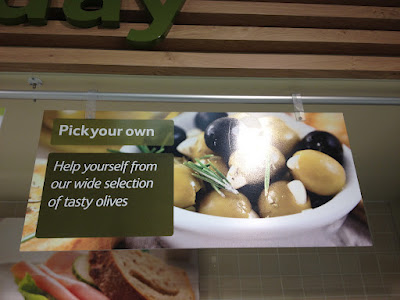 Stronger POS – far more of a 'fresh' feeling.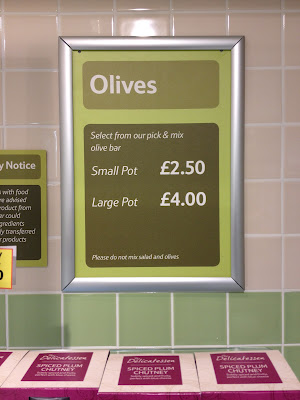 Extending to the price and informative POS.
For all the positives on the food to go offering, for me it's a missed opportunity to take it further. Tesco have visited St Albans, they've visited Kirkstall and presumably they've visited other lab stores and the M Local trial too. The Ilkley Local has a similar sized food to go offering as Tooley St despite being significantly smaller in size and not boasting such a strong location, Ilkley is a great location but it's not central London near a collection of offices and passing pedestrian traffic.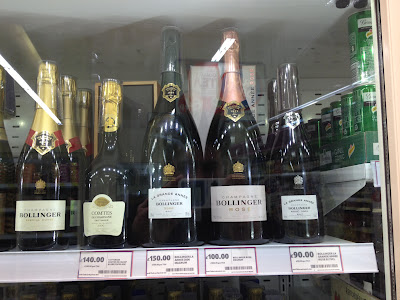 There's clearly affluence around the catchment area.
There was a real opportunity to trial a new expanded fresh food offering, why isn't there fresh handmade sushi here? The store ranges £150 bottles of Bollinger and boasts a strong finest ready meal offering so where is the Sushi, where are other fresh elements? There are some things within the lab stores that haven't worked and were removed but there are elements that have worked despite there being misgivings around the idea. Tesco could have used some of these ideas within Tooley Street.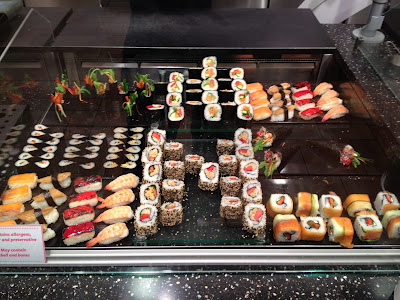 Handmade Sushi in St Albans
The salad bar is good but it's relatively small, there is no open food prep on show, why not have sandwiches / salads being produced within the store? I feel Tesco could have done so much more with the open food angle and really pushed it, even putting elements like a trial noodle bar in?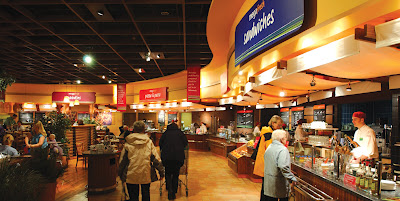 Mega Fresh Safeway concept – could elements have been used in Tooley St? (c) Campbell Rigg.
Safeway did it in their mega-store concept and yes, it was 'out there' but there was a noodle bar around the corner from the store doing a remarkable trade with the financial hot shots from Ernst & Young. Tesco could have been brave and tried something a bit different, it's still Tesco but with fresher signage.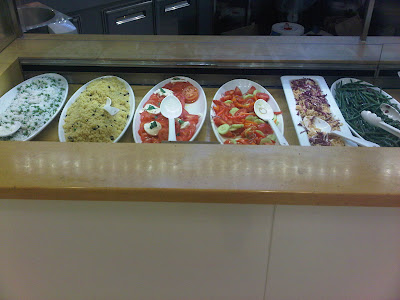 Better salad assortments like Kirkstall could have been incorporated into Tesco Tooley .
Within the 'Fresh 1/3' of the store, the Bakery is situated at the back of the store before Produce. It features the wooden clad signage that the new Tesco is so fond of, the displays are slightly lower but not significantly enough to see into the Bakery itself.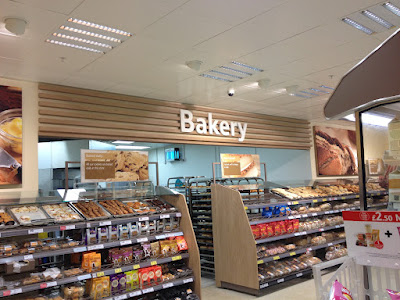 The Bakery – fresh signage and more imagery.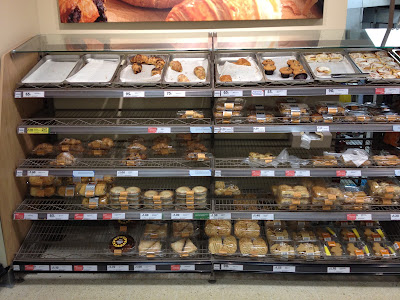 A few gaps in evidence when I visited – around lunchtime.
The range within Bakery needs a refresh, not only was the quality not quite 'right' but the range is now bland, there's little excitement within the range. Again I'd have liked to see elements of a trial on the Bakery range as opposed to the standard core range that we see in so many stores.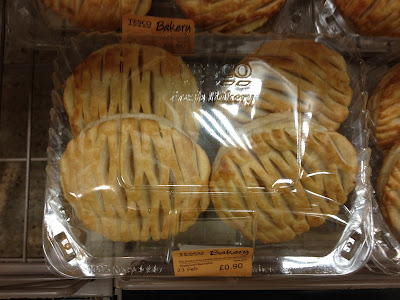 These look dried out – there is no 'fresh' look about them.
Talking of quality, if you are to push the fresh angle, then your quality has to be spot on, Asda have turned their mother ship around and are now benefiting from a renewed focus on quality with Chosen by You, Tesco are going to do the same with their 2 year revamping of own label.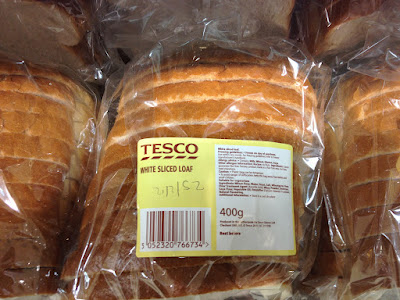 Hand written dates on in-store baked bread don't inspire confidence.
The Bakery lines such as pastries can look dried out due to the baking process from Frozen, other retailers apply a heated glaze to the pastries which gives it a 'sheen' and makes it look notably fresh. Tesco don't seem to do this on these sort of lines, it could be a process that was removed as part of the 'step changes' but it needs to be re introduced. A focus on fresh has to start with areas like Bakery, you can't get much more of a staple item than Bread.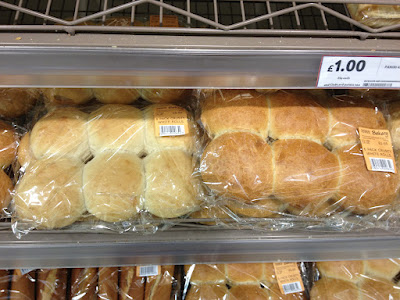 These are the same product but looked markedly different.
Within a Metro store, it's more difficult as the Bread is 'part baked' and merely baked within a store not made from scratch (flour, water and yeast) like in the larger stores. Still, confectionery items could be finished with some icing or a glaze to maintain the image of 'freshness'.
It's all to do with quality and a relentless focus, Tesco have let things slide and customers remember this, they've got to regain the trust on fresh, the only way to do that is with a consistent delivery of excellent product quality and excellent standards. These instances could be isolated within this store but my fellow customers would have seen the same quality.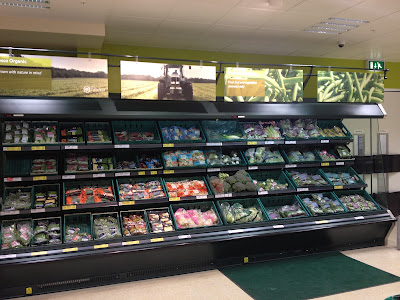 The store features the new overhead signage for Produce.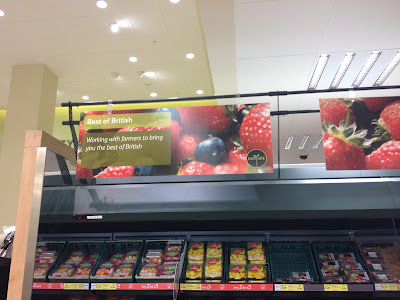 New 'best of British' signage too.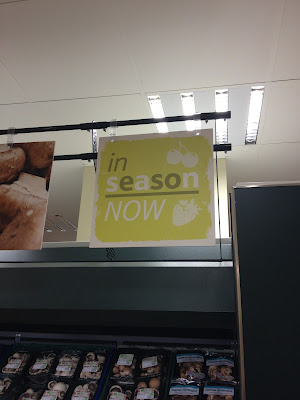 POS indicating new season produce.
Produce is featured adjacent to the Bakery as well as incorporating an island in the middle of the main shop floor. There is the wood trim added to the Produce units which doesn't do a great deal when contrasted against the same green crates, the angled units which show less of the crates will help.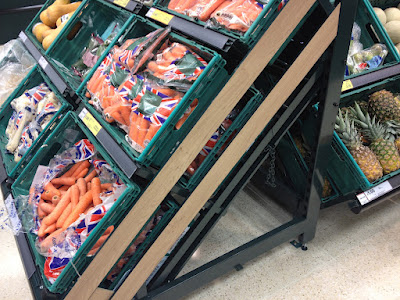 Ends and top shelves feature a wood trim.
There is still work to be done on the finer points on produce, within the larger wood trim shelf edge there is a tiny SEL when there is clearly space for a larger, more prominent SEL.
This could contain further information about the supplier or variety of Fruit / Vegetable. Every opportunity to purvey themselves as experts on fresh food should be taken as they've a lot of customers to persuade – every little helps after all!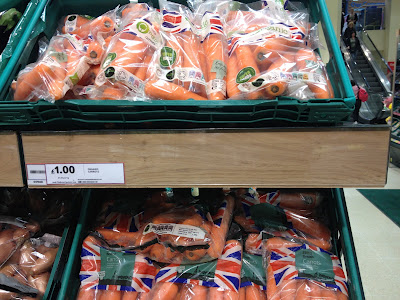 Large shelf edge with a small SEL looks like an opportunity missed.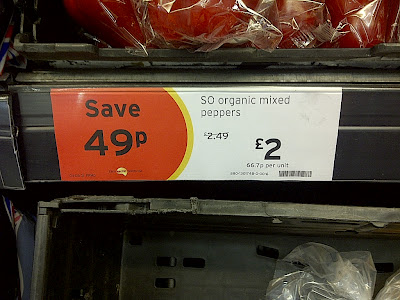 Sainsbury's utilise larger 'advertising' sized pieces of POS within Produce.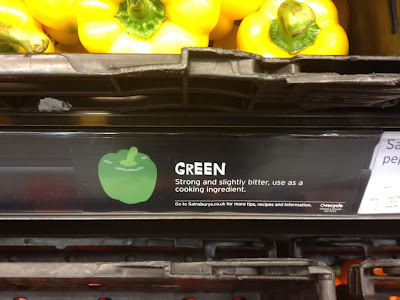 Sainsbury's also utilise the larger shelf edge to inform customers about the products.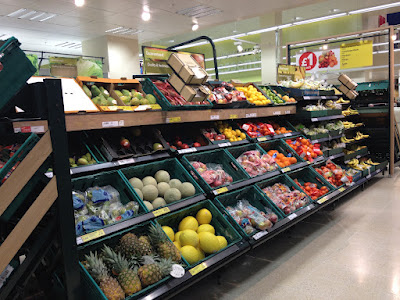 The larger unit has a wooden trim at the top but SEL's are small.
Moving into the rest of the store, it could be argued that to count Fresh food such as Dairy and Ready meals means Tooley St has more of a 50/50 split between fresh and grocery. It's certainly a massive range in comparison to a standard Metro store that seems to fit as much as possible in without a great focus on fresh.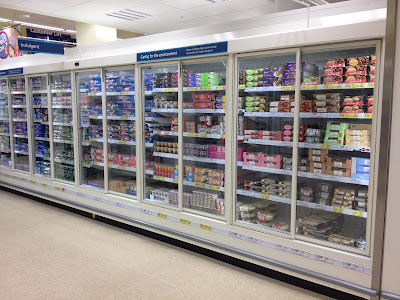 Siding refrigerated doors on Fresh food.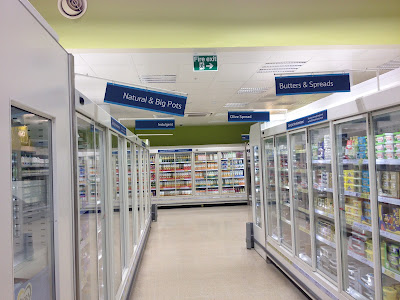 Refrigerated doors throughout chilled foods.
The Fresh food area features chilled units with sliding refrigerated doors which are similar to what we see on the continent, benefits are two fold – the first is that the aisle doesn't resemble outer Siberia in December as the chillers work away, and secondly less energy is used is as no chill is lost with the doors retaining the low temperature and energy.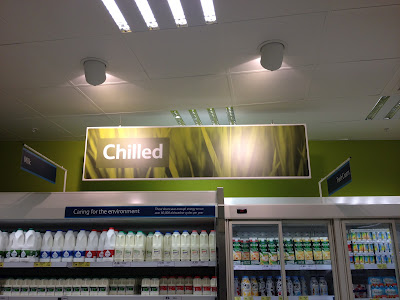 New signage features imagery and a new font and sharper lighting.
There is also different signage on Fresh, the main signage features imagery but the clinical bus stop signs do remain, a play on fonts or style would be welcome here. It's an improvement on the traditional signage but still features clinical blue colouring.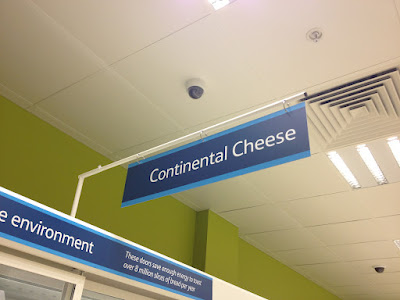 However some further innovation on bus stop signage would be welcomed.
This store features some of the 'smarter ranging' that Phil Clarke talks about, looking at the Clubcard data set and seeing what customers buy, is it Finest? Is there a notable demand for Organic produce? Once the data crunchers have done their bit then the range can be set up to capture even more of the spend.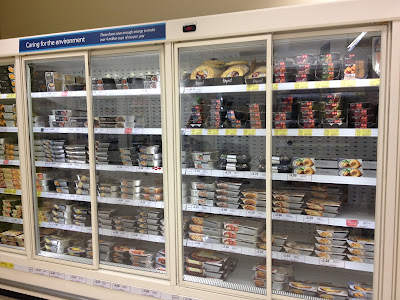 Vast range of Finest Ready meals.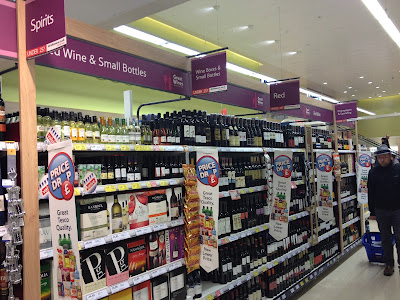 A wide wine range with brighter signage and wood trim fixtures.
Tesco know that there is affluence around the store itself so range more Finest ready meals, indeed they range more ready meals than a standard Metro due to the extra fresh offering anyway.
They also range £100-£150 bottles of Champagne along with a large chilled Wines offering, tapping into the local demographic who are affluent workers likely to be time poor and will be interested in chilled wine / beer with a good quality ready meal.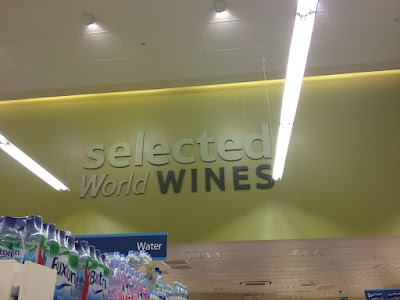 The store makes good use of the wall signage with this different font on a green background.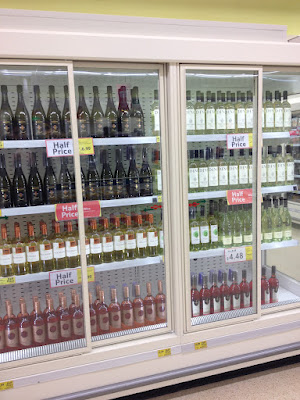 Both champagne and special offer Wines are chilled.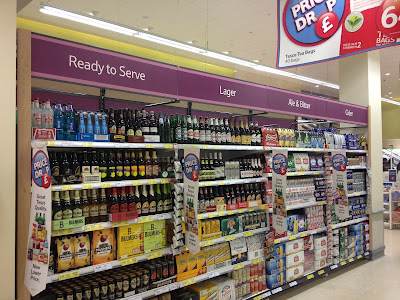 The store has a strong range of Beer and Cider.
The Grocery area is as you would expect from a Tesco store, there is little in the way of differentiation. Its very much yellow promotional SEL's, shelf ready packaging and standard layouts. Health and Beauty does benefit from some nice purple signage and wall paint which helps differentiate the sub departments within Grocery.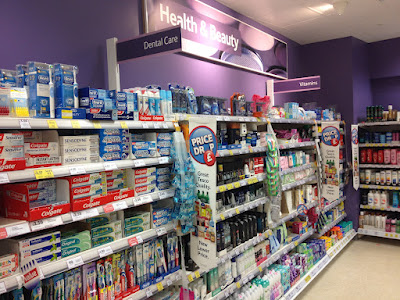 Purple themed colour to differentiate the department.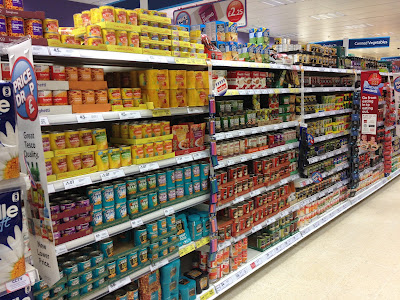 The Grocery offering remains relatively standard.
The POS offering in this trial concept store isn't totally refined either, where Morrisons and Sainsbury's have launched a totally new look for their business, it appears that Tesco have used existing dated POS as it's still part of the store package.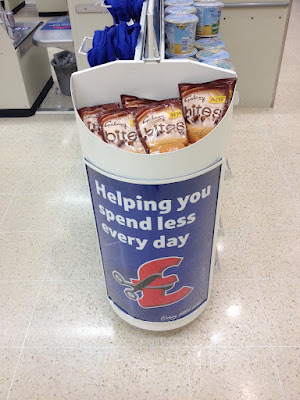 Old POS displays remain with a lack of SEL or price point information.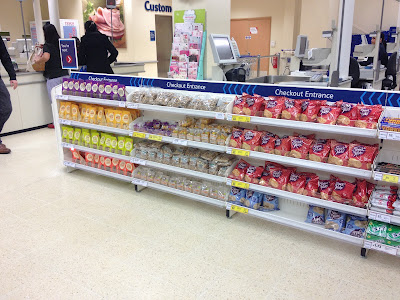 Complimentary purchase drivers near the checkout area.
There are elements of the new 'look and feel' around the new checkout queuing area, personalised POS such as 'you're next' in the softer font were seen. There is also a better queue system that allows customers to 'snake' around without obstructing any shoppers. Within the queue system is plenty of complimentary purchase drivers such as confectionery and bags for life to capture more spending.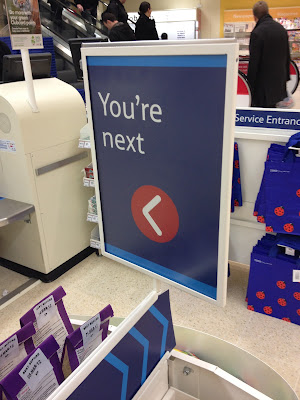 Checkout POS is personalised and softer.
So, the store isn't as revolutionary as it could be – a greater push on Fresh would be well received by many and would show that Tesco are serious about resolving their competitive issues within the UK. As Tesco have slumped, Morrisons have pushed their fresh angle, as have Sainsbury's and even Asda who have really stepped on the gas under Andy Clarke so there is more for Tesco to shoot for.
It is a good 'starter for 10' though.
This store would have been perfect model for a real fresh concept store, it would be low risk considering the location, demographic and level of trade. I can only think that increased staff coverage is a reason that they've not done anything further. More may be to come though.
Sure, Tooley Street is a great improvement on typical Metro / Express stores which when refitted / opened look pleasant enough but lack any 'wow'. This store with a greater range of fresh food, stronger ranging and fresher signage is an improvement but I feel it's an opportunity missed to push the envelope on Fresh.
So with a concept store looked at (I visited in February) we look back at the grand plan that Phil Clarke delivered to the markets on Wednesday. He's made some bold statements – 3 years work and investment in 1 year which may lead the market to expect the same level of progress….
He'll want to improve the quarter like for like sales performance, since 'the big price drop' was introduced spending £600m (in real terms, it's nearer £150m) there has been successive negative quarters of like for like performance (-2.4% and -1.6%). Not a great return on the price drop and they've tweaked it to be fair but poor quarterly performance is a worry and needs to be addressed.
A large part of the 'reset' as Phil Clarke called it is a re-focus on fresh food and despite the promise, it's not a massive focus in comparison to rivals. Yes, there are moves to dress meat / fish replenishment colleagues in white uniforms and the Produce staff in Green shirts and other departments like Wine have more staff coverage but there isn't much revolution in the plan. Compared to the competition, is it going far enough?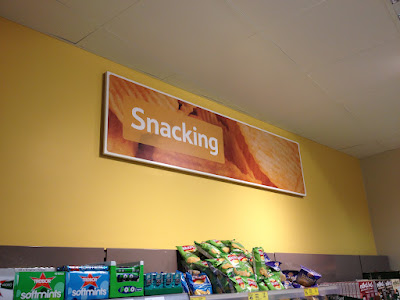 Fresher signage featuring imagery is part of the grand plan.
Shelf lowering has gone on in the concept stores such as Hertford, with Tony Hoggett (stores director) noting that it's 'not rocket science'. Well, it isn't. Morrisons first did this under Marc Bolland who authorised a signage refresh and a lowering of craft counter displays in his plan. The plan from Phil Clarke is more Bolland than Dalton Philips. Can you argue that Tesco are at least 5 years behind Morrisons and Sainsbury's on fresh counters?
Nothing within any store is rocket science but the refreshes really aren't, they are at least resolving issues around signage. The feel of the stores has been an issue for some time but Tesco seem to have a plan to resolve issues. It would have been easy to deny stores more staff and say everything was fine it was the 'market conditions'.
The execution is the key component and a bit of a row erupted on Twitter this weekend over some comments I made regarding in store standards, some factions of staff were upset at the 'one way' critique.
It's easy to point to a great display and there are no doubt good store managers and good stores within the business, there are also poor stores but the bigger picture for me is why?
Why has the business reported two successive quarters of negative like for like growth? Then I've got to conjure up reasons from in store visits like the above and via Twitter to explain why and look at what can be done to resolve the problems.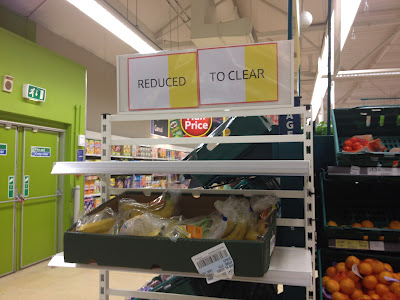 Where is the corporate POS for reduction areas?
Standards have slid and I have sympathy with stores, as does Phil as he acknowledged PI had gone up as hours were reduced with staff working too hard. As a result they can't provide the excellent service that customers get elsewhere, with reduced hours, corners are cut and the job just 'gets done' so stores are able to trade the day. It's a perfect storm scenario but there needs to be a real re-focus on what's acceptable in stores.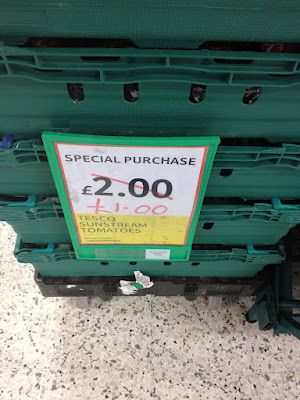 Admittedly reduced Tomatoes but handwritten signage?
Home made / hand made POS isn't acceptable, nor should it be. I see why it's been used as stores have no time to search for the appropriate POS on the system, or may be it isn't there? How can instances like this be acceptable? The store managers have to be walking the floor and looking from the customers viewpoint, challenging as they go. It's the only way a plan like this can work.
It's been a real slog for Tesco stores, losing hours has been a key problem within stores and the acceptance of this (and a full slide from Phil Clarke in the presentation) shows that the business knows it too. With some hours returning to stores and this £1bn plan relying on execution – the stakes have never been higher.
The presentation from Phil Clarke is an 81 page Powerpoint epic with financial bits from Laurie McIlwee, Phil is at pains to point out how decisive he has been in his first year, it's always a tough ask when you take over a company like Tesco which made breaking records easy under Sir Terry.
He has been decisive, he's closed the operation in Japan, Fresh and Easy is moving in the right direction and the Bank looks like it may be ready to take on some current accounts in the near future.
There were two other aspects that Phil Clarke spoke about 'significant step in the UK on price position' and 'addressing under-performance in the UK'. I'm not sure that the Price Drop has really made a step change on price perception, it could be argued if effectively worsened the market performance and didn't really make too much of a difference. The new year tactic of better promotions along with price cuts on branded products appear to resonate more with customers.
Looking at it now, Clarke hardly inherited a basket case but the market has slowed, the competition are all strong in varying ways and its Tesco's time to be the laggard of the industry. As I said on a Twitter post Christmas, Tesco focused on saving rather than serving for too long.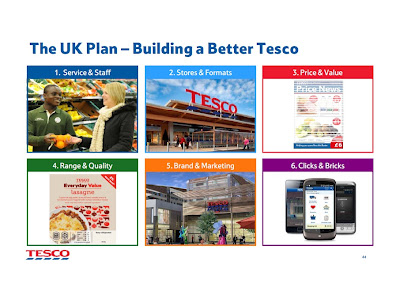 'Building a better Tesco' – 6 point plan (c) Tesco.
There was a great volume of information discussed by the team in a near 2 hour long presentation and Q&A so I'll try summarise the highlights and key insight from Phil Clarke and the team.
The main highlight is that the business isn't broken, nor was it ever in reality. Profits were up to £3.8bn and sales were up to £72bn, what worries the investors and analysts going forward is the revised forecasts and investment along with slowing profit forecasts.
The foreign side of the business performed well, however China is slowing down a little now and Poland was responsible for the slowdown in Europe where a depot failed leading to supply problems. The crisis tax in Hungary accounted for an amount of profit there too.
It was the first year where Tesco had reduced the losses since Fresh & Easy was started, indeed half of the stores currently losing money are now only $5k per week away from being profitable.There was a lot of talk about Fresh & Easy before the announcement, how long do Tesco allow it to lose money? The news was positive with a 2 year like for like sales increase of over 20% and a focus on resolving the existing store issues before pressing ahead opening more.
Phil Clarke presided over the foreign side of the business for a time and can look across the world with some pride at some impressive results. The Fresh & Easy progress is encouraging and I think we can look forward to Tesco consolidating their existing businesses, especially in the UK and the US.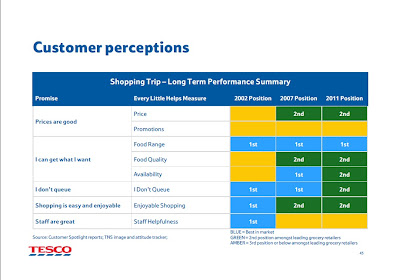 Customer perceptions worsening especially on areas like availability and queuing (c) Tesco
The UK is the concern with this interesting slide brought up after the PI (productivity index) slide was shown to be too high. This showed varying research sources looking at Tesco promises like 'I don't queue' and 'I can get what I want' – availability, range and quality. It shows a business that in 2011 was only ranked 1st on 1out of 8 KPI's whereas in 2002 it was ranked 1st on 4 from 8 KPI's.
There was a lot of talk about the increased hours trial stores performing well, they showed a 1% lfl increase and higher mystery shopper results. Whilst not world beating it's a start and a return from the initial investment.
Part of this Tesco 'reset' is the new signage and a refreshed look for stores, similar to what has been seen at Tooley St with wooden signage and better ranging. Phil Clarke said they'd use Clubcard in a way that has never been used before, tailoring store ranges to Clubcard data by looking at what customers want from their stores.
Clarke also noted that store standards are not consistent, there are no small improvements in the shopping trip anymore.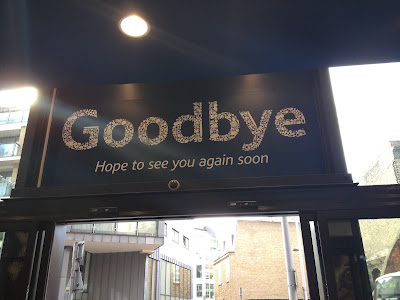 'fresher' signage is part of a refreshed store.
The hours investment is on fresh foods and Wines with no mention of other areas like checkouts, it could be that stores are given additional hours to flex within checkouts, certainly the key area of frustration from customers is length of time taken to queue, then impacting the store as relief staff are called.
All Extra and Superstores are to gain extra hours and be refitted with no mention about Express stores which must suffer with the hours situation like the other formats have done.
Timescales? The city will expect news within the next quarter and will want positive news after two quarters, all stores will be renovated by 2013 with the Capex not being massive. The main cost to stores is the signage changeover with the bulk of the cost coming within the wider addition of staff.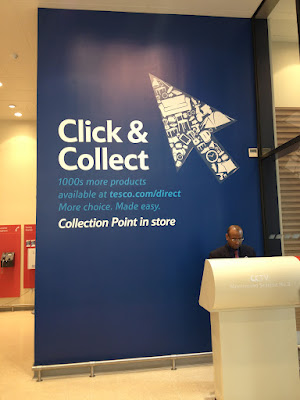 Click & Collect available in Tooley Street.
Express stores are likely to be the largest growing format within the Tesco new plan, with that comes the addition of click & collect which is responsible for 70% of Tesco Direct sales. Click & Collect isn't an easy option for Tesco or an other retailer. Customers who use this service expect rapid service and their goods to be there with minimal waiting and a smooth transaction out.
At the minute on click and collect there's a surprising lag from Tesco – they don't have a huge coverage of stores offering click & collect. Extending that to the raft of Express stores is a clear opportunity, especially as Sainsbury's are now at around 90% coverage with their click / collect offer with Asda offering it at their supermarket stores too.
Own label was much discussed and the blog was ahead of the game by indicating the Value label was tired, cue a relaunch a week later! Of course it was a long time in the development but that signalled a start of own label overhaul. 8,000 products will be reformulated and repackaged in 2 years.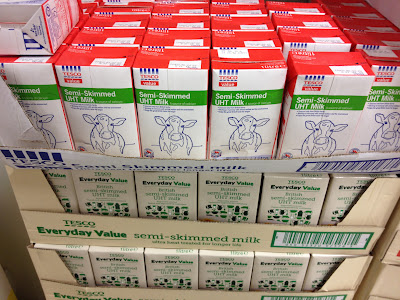 Value selling through as 'everyday value' appears across all products.
Other interesting revelations was that Tesco Direct was still loss making and the market had changed massively, there is less reliance on couriers with the emergence of click and collect. Phil also indicated that (no numbers!!) click and collect grocery was really popular, allowing mums to pick up the shopping at their convenience. It's clearly more profitable than delivery for 'obvious reasons' such as the lack of an extra van and driver, this is being rolled out to more stores over the coming year.
.com is an area of huge potential and I hope that stores are supported with the appropriate labour to make it work, it's a snowball situation of nightmare proportions if it goes wrong. Panic ensues as the store chases to catch up with the orders to minimise the impact on customers.
The future is .com dark store 'sheds' that can serve a greater area and are more efficient from a picking point of view, it also improves the shopping experience for those stores that previously ran the .com operation.
Moving those .com departments into a dark store reduces the pressure on the trading store from a replenishment and stock control viewpoint whilst improving the customer experience in store as they don't have to dodge a plethora of Internet shopping trolleys.
If .com is to grow then support is required, ideally with relief shoppers being used only in exceptional circumstances and not part of the normal daily operation. It's the same with the wider stores, Phil Clarke's cautious tone should help alleviate concerns over protecting profitability which means the business can operate more normally and return to quarterly growth sooner rather than later.
A grand plan, £1 billion pledged and all eyes on the stores for the improvements. As Tesco announce £10 off the next £80 shop this week – the fightback is on.
A weekly email covering the latest events in the industry; such as Tesco store operations, store visits or new promotional packages are all covered. Please visit our emailed retail insight page for further information.
Grocery Insight provide market insight on the UK sector with a focus on individual retailers such as Tesco. This insight is useful to various stakeholders and due to my store based focus. Insight can be delivered to suppliers to focus on growth opportunities, analysts and investors to assess the business performance and long term outlook and retailers themselves to assess best practice.