When I first decided to start writing the blog in 2009, it was with an idea to redress the balance around the media and their short termism around retail and in particular Morrisons with the Safeway takeover and indeed the years following that.
When Safeway were taken over, a business with some bright points but ultimately with failing business model. Morrisons were tasked with revamping a business 4 times larger, using their tried and tested IT systems rather than more advanced Safeway ones, similarly the product range was assorted to Morrisons specifications which meant some ranges were carried over – 'The Best' for example became the premium tier in the new hierarchy. Morrisons had never had a premium tier before Safeway.
Safeway stores were under invested in and required a lot of investment to bring them up to scratch, many were 'rebadge' jobs as the majority of CAPEX had to go into expanded counters, increased staff coverage and updated equipment. There was the assimilation of Safeway staff into Bradford as Hayes was closed down and far more than the required 52 stores were closed and sold off.
The amount of similarities between the  integration of Safeway and the current trading of the business with own label revamps, extensive refits in store are notable given the level and pace of chance currently ongoing.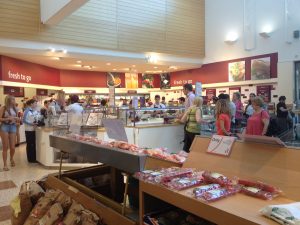 Knowing what we know now, Dalton would have given his right hand for some of the sites that were sold off due to not being suitable for the business, the Chapel Allerton, Leeds store plans being resubmitted say it all. The proposed store is literally a stones throw from the current Co-Operative, was Somerfield and before that was Safeway. Sold by Morrisons as it was too small to trade from…
The hard work paid off for Morrisons but there was turmoil along the way. The business made its first ever loss, the accounting system (a concurrent system of spreadsheets) fell over and Morrisons lost control, there were profit warnings and a real lack of guidance for the City.
The City were their usual supportive self, quickly forgetting the unbroken years of profit and growth. Deciding overnight that Ken didn't have a clue, get a non exec board in! Where's the non food? Get that in! Why have a Pie counter? Who wants Market Street? That's too northern…
Looking ahead (and over recent years), Ken was right all along. Tesco are grappling with their big sheds of non food and noting the continued drag from non food on the UK store performance. Fresh food is now the renewed focus from Tesco  but even their improved counter efforts don't come remotely close the level of craft skill available within a Morrisons store.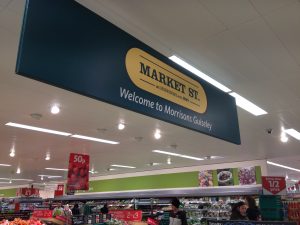 Knowing what we know now, Morrisons came out of it all ok. Sure there'd be some changes to the plan, maybe some stores retained; particularly smaller stores given the way the market has moved in the years since but despite all the bad press, Pie Shops in the south and dated store environments… Morrisons got through those tough times and became a stronger retailer for it.
I understand that the media can't visit the number of stores that I do and spend countless paragraphs analysing the chilled desserts cabinet for any sign of new lines and looking at o2o as it pops up around the store. However some of the 'journalism' written post the Christmas results was extremely frustrating, a real short term focus and little context to the longer term work going on.
The analysts who continued to say that us Northerners were alienated by a bit more fresh food, some of which displayed in a more attractive manner in store is so wrong, I don't know where to start.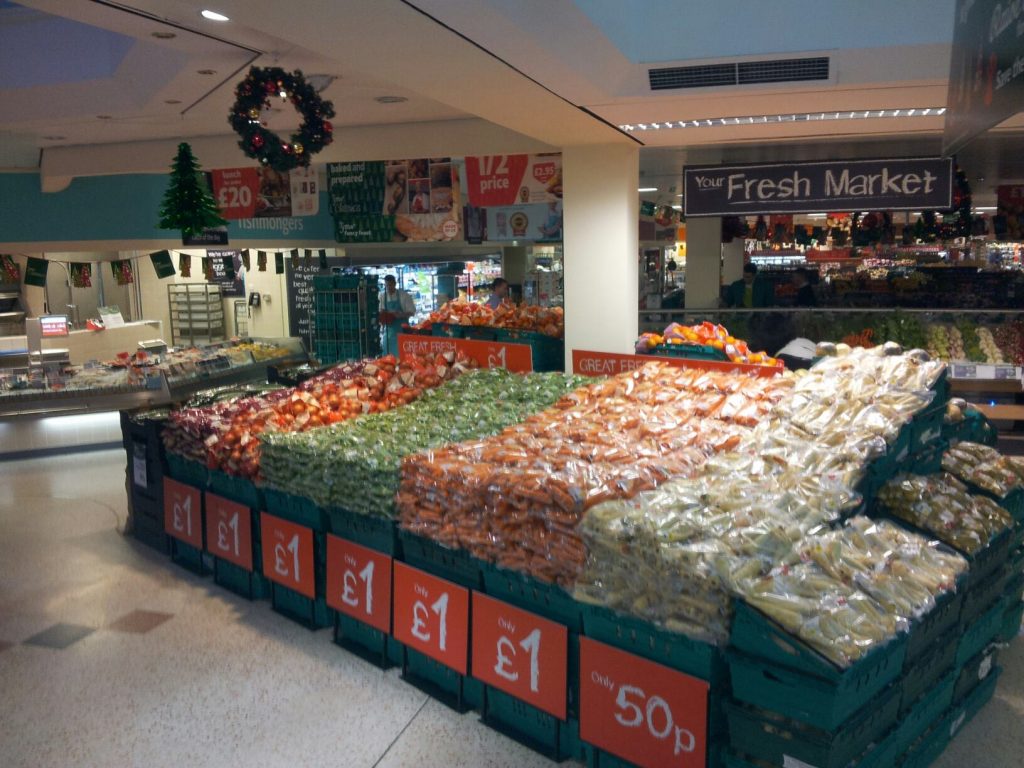 Journalists asking Dalton Philips whether he felt he'd still be in a job in March (this in January '13) is ridiculous, proof positive that factions within the media are now getting as bad as the football press with their 'hire, fire, hero, zero' mentality.
The biggest contrast of course was the full circle in which Philip Clarke's career had turned in 6 months, after the disappointing Quarter 3 where sales fell (0.6%) he became the answer to the Government's economic woes after a strong Christmas performance. He was labelled a 'turkey' the year before! There is more to come on Tesco in a forthcoming blog.
However, in terms of the short term picture; the sales line isn't good and nor has it been for the majority of 2012 with like for likes steadily declining since the Christmas update at the start of 2012.
The Christmas update at the start of 2012 saw sales rise 0.7% on the previous year, this was largely met with disappointment by the city who felt that sales should have been much higher. Fast forward to the Christmas update earlier this month and it looks a very good result against the -2.6% drop reported this time out.
Sales have been on a steady decline for the entirety of 2012 which is frustrating, the important headline news is that Morrisons will still make the profit targets set out last March (albeit with a drop of £60m) and remain more profitable than Sainsbury's who retain 5.0% more of the market according to Kantar (Jan 2013) at 16.9% versus Morrisons 11.9%.
It'll be a real 'warts an' all' blog as I've not covered Morrisons for an age now. I'll look at the wider strategical picture versus the interims / prelims along with the long term plan and indeed the short term trading picture. I'll be back with a further update post 14th March to rake over the interim presentation.
Competitive Environment –
Aldi are the main winners in every single Kantar or Neilsen update, they are putting on 25-35% LFL increases every month. Whilst the discounters in general have performed well, their close rival Lidl are nowhere near at the level of Aldi; recording only(!) 10% growth compared to the 28% for Aldi in January 2013. Unprecedented growth in the UK.
Aldi have the marketing package, the 'cheeky' adverts highlighting branded v own label comparisons, store locations are generally of better quality with retail parks preferred near transport links. Their product range is strong and they're slowly entering new areas of the market, ready meals for example have just arrived in store.
However they need to be careful to remain committed to their roots, low price EDLP retailing works if the costs are tightly kept under control. Aldi are masters at it as they remove duplication and drive the best return on bulk buying one Apple Pie or one variant of Multipack Crisps.
They have also started to develop their premium tier 'Specially Selected' across Meat in particular, appealing to a broad customer base is essential for them to keep pace with their rivals. Providing Aldi are able to remain true to their ethos, and not start trying to be all things to all people, they remain a very credible threat to the mainstream retailers.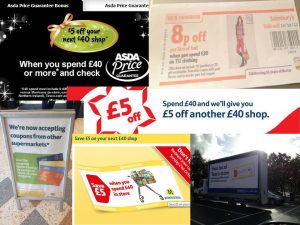 The next blog is to be written on Tesco and their recovery  but their +1.8% result was great progress for their business transformation, they were aggressive on price, promotion and vouchers but their continuing progress will impact upon the competitors.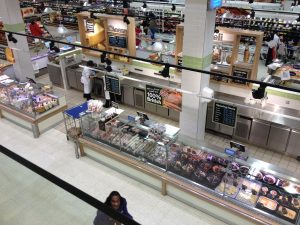 Of particular interest are the new concepts being unveiled in stores, Kensington features a real focus on fresh food and Regent Street Metro features an excellent food to go offering.
This is only their first phase too, spending a lot of money on being competitive before putting into their longer term plans around warmer stores and using a different 'voice' to speak to  the customers. This is allied with enhancing their own label range and continuing to push online and multi channel too.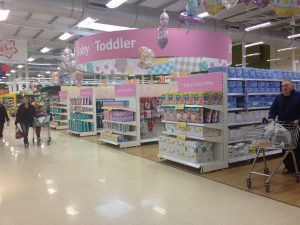 Asda continue to perform, some may feel under perform given their low price, value driven offer but the Asda Supermarkets appear to have performed well. The challenge comes with trying to increase like for likes once the sales annualise (growth on growth) but they are more of a competitor to Morrisons as Asda Supermarkets, than they ever were as Netto.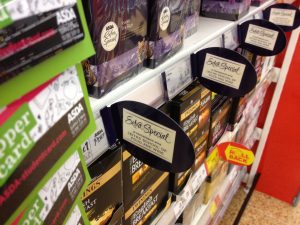 Aldi look to be the ones benefitting the most from Asda with both retailers battling over price, Asda are the cheapest of the big four over the Grocer 33 year(s) but Aldi operate on pure EDLP. The comparative products are significantly cheaper in Aldi than they are in Asda.
The conundrum for Asda is do they continue their fight on price when it's clearly not the be all and end all? With the Horse Meat debacle claiming several own label products and indeed raising the topic of cheap food again, how do they respond to it within their pricing framework. Focus is on WalMart too as internal emails revealed a large drop in sales in the US.
Sainsbury's also continue to bowl along nicely, continuing to increase market share and reporting quarterly growth. The concerns longer term do remain about what else they can do other than continue apace. They're not going to expand abroad (as Tesco have found it, the foreign paths are not lined with gold), they've capitalised on a number of savings in store.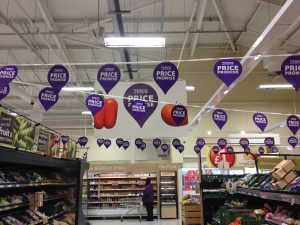 They continue to sell stores once developed and use that cash to finance new store builds, a good plan but owning the estate on a freehold basis (Morrisons 87%,) is preferable due to the strength it adds to the balance sheet and of course the absence of rental payments too.
Sainsbury's own 304 of their stores on a freehold basis with their estate containing 1,063 stores as of 29th September 2012. There are some JV (joint venture) partnerships too but for these 'fag packet' calculations – Sainsbury's only roughly own 28.5% of their stores on a freehold basis.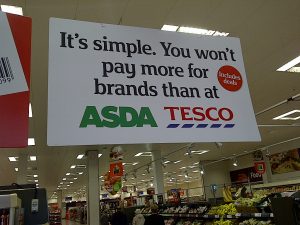 But nevertheless, they continue to trade very well indeed and as ever performed well at Christmas. Despite the previous perception that they were more expensive than rivals, the brand match scheme has worked very well for them. Of course the biggest question of all is who takes the reigns after Justin King decides to up sticks? He nears 10 years in charge and has worked miracles given the dire state of affairs when he took charge in 2004.
Trading – 
In the short term, trading simply hasn't been good enough, the competitors have strengthened their offer with a resurgent Tesco in particular promoting to the hilt and being notably aggressive on vouchers. Phil Clarke has a solid plan and they've executed it very very well so far, with sharper promotions, more staff coverage and refitted stores notably brighter than before.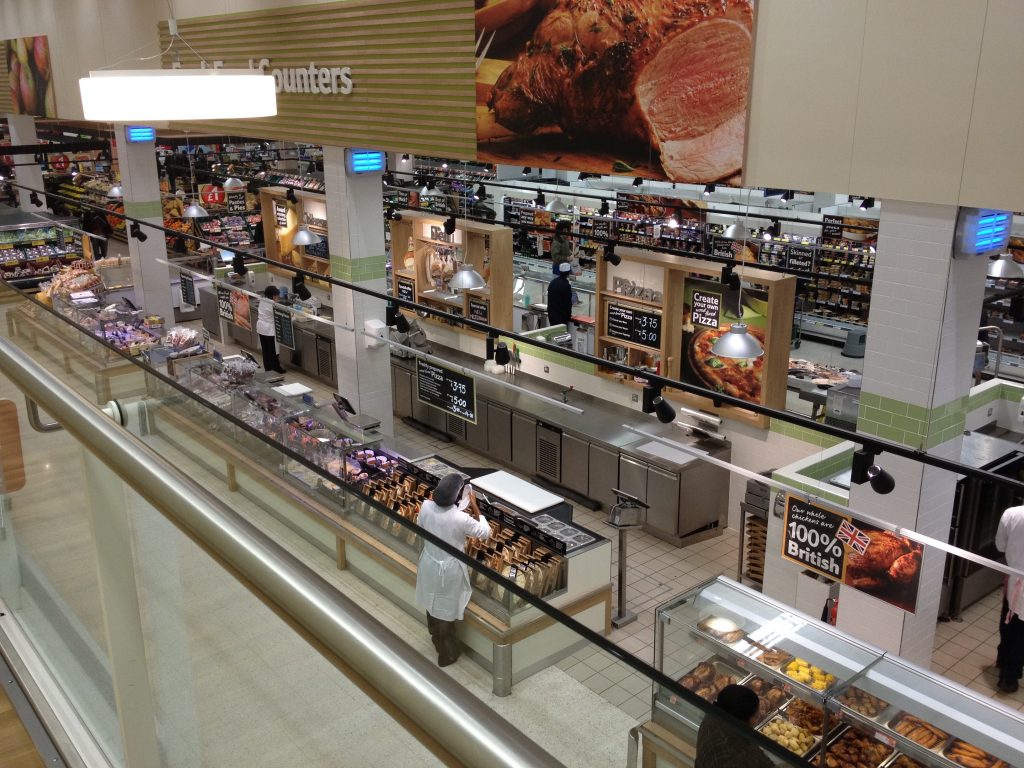 Unprecedented share has gone to Aldi, they're clearly the cheapest and their own label is equivalent quality to the standard tier in supermarkets and not comparable with the Savers / Everyday value tier.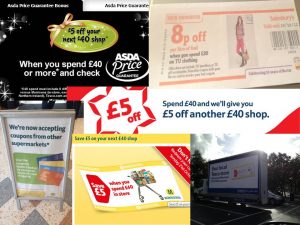 The Christmas range was directly comparative to the previous years range with very little differentiation, this was the same for Sainsbury's and Asda who also took very little risk with 'new' products, presumably to reduce wastage and markdown exposure. Tesco were the big winners over Christmas looking at their figures (+1.8%) but their range, advertising package and coupons were vastly improved to the non existent offer the previous year.
This is to their detriment with Kantar for February slipping slightly, due to their tough comparative results where they handed coupons out for once shopping in Tesco 7 years ago. They have to find compelling reasons for customers to return.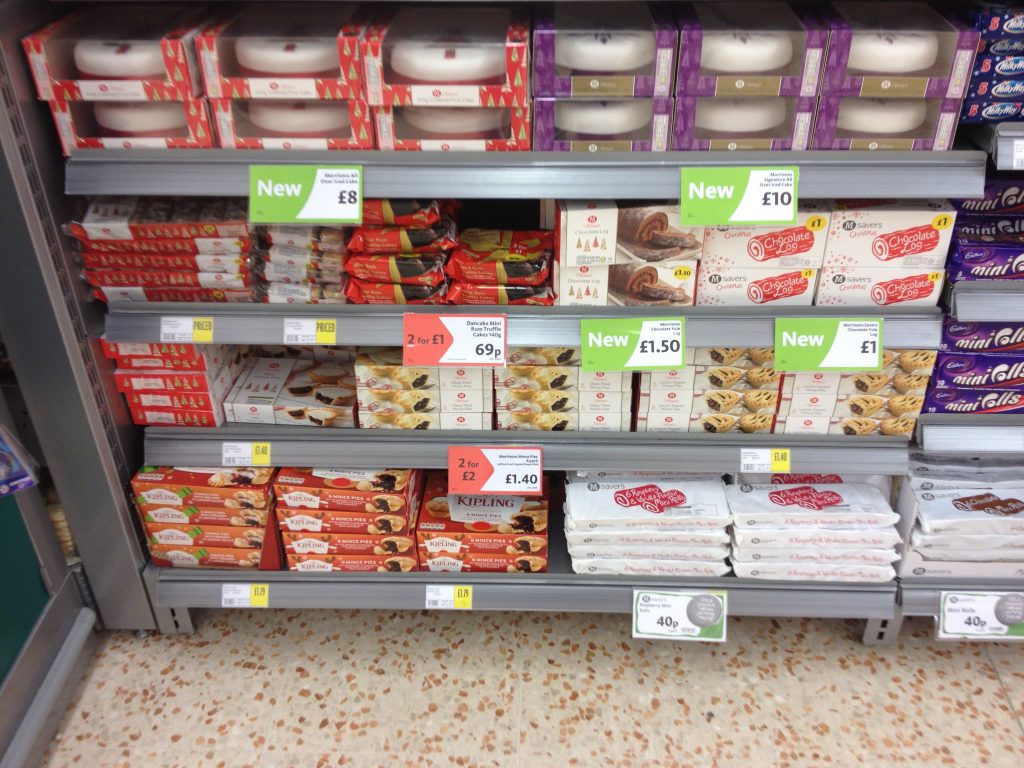 There were some bright points from the Christmas range, with the packaging significantly improved along with some solid development with clear glass jars of Sweets along with a much better seasonal offering around non food.
Products were sold under the 'Christmas' range for Morrisons with Signature not making an appearance on Party food, instead 'Christmas' was used for both premium (Purple) and standard ranges (red / green).
It was difficult to push Signature as the standalone premium tier given that Morrisons are working their way around categories in a similar fashion to how roadworks are carried out. The basic overview is everyone disrupts one area of road (gas, electricity and anyone else) at one time, so the disruption is extensive but minimal. This is what's happening to each category at Morrisons, Savers is the only tier to be relaunched at the same time across all categories.
Given that some categories featured Signature, others remained with 'The Best' it perhaps made sense to retain a separate tier for 'Christmas' but looking ahead to Christmas 2013, there should be a cohesive package featuring Signature as the clear premium label.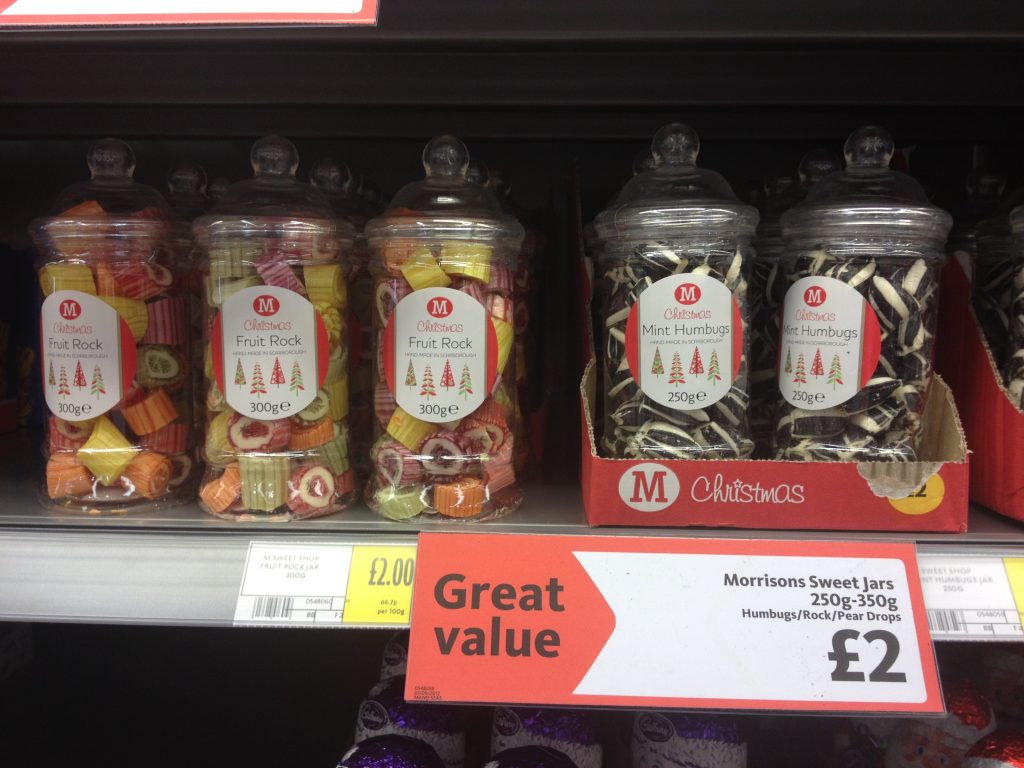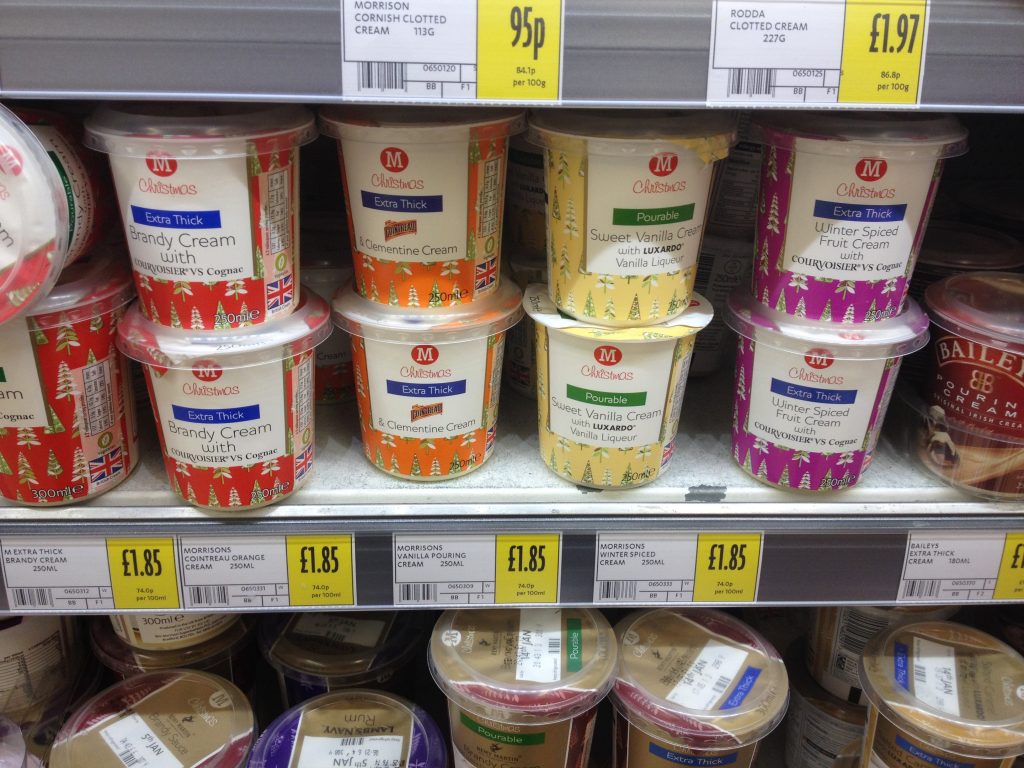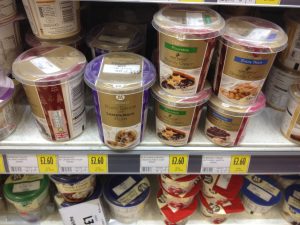 Going further back into the archives, the Halloween seasonal offering was also far sharper than previous years. There is an increasing preference for a wider range due to the increasing popularity of Halloween, particularly with the strength of Asda via the WalMart alliance.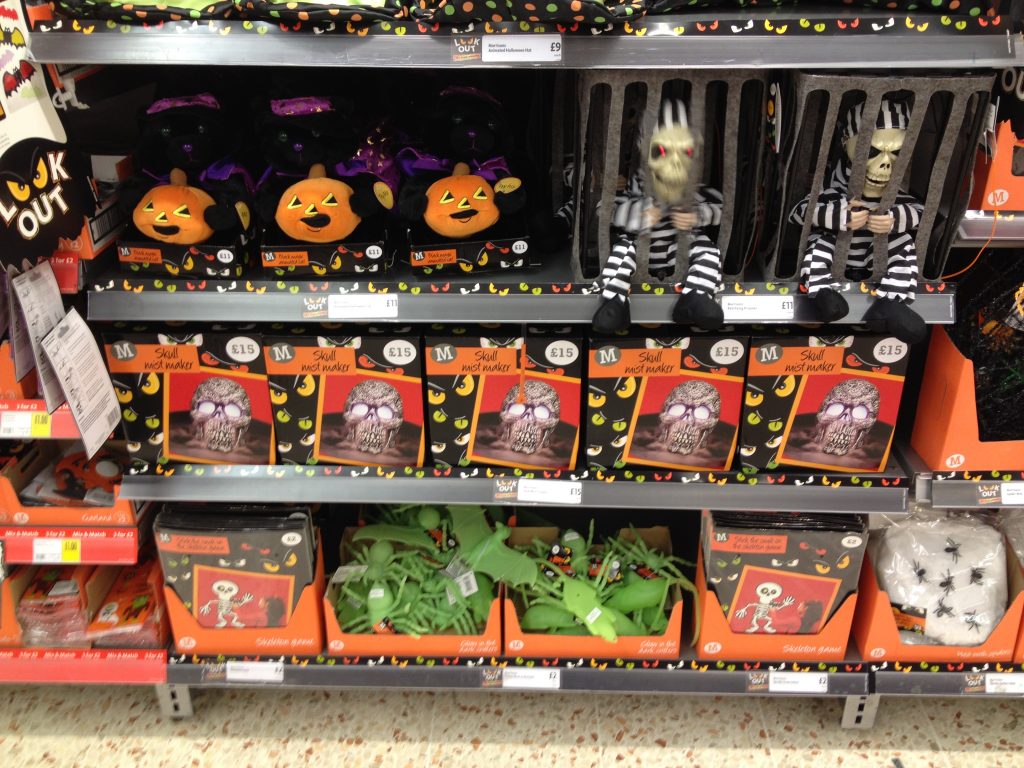 Seasonal events are becoming very important within UK retail with all retailers utilizing their seasonal space for events outside the traditional calendar. However the issue for Morrisons comes when there is an overlap of seasonal events, typically an aisle can feature 3/4 different events as the events overlap.
The lack of space for non food means there is little space to trade the overstock, which can mean the message is lost. However it's a minor point given the lack of exposure for non food in stores and indeed in the wider business, especially with the reduction in non food space in fresh format stores. A good seasonal offer is increasingly important as it's a good 'hook' to get customers in.
Christmas trading was notably poor for Morrisons and it appears that the business was a victim of falling sales momentum throughout the year, typically customers will stay loyal to their store throughout the Christmas period (whilst spending more) or they will trade up to Sainsbury's or even Waitrose.
Making things doubly tough is the absence of an online business, various estimates were floating around about how much online food contributes to sales. C. +1 – +1.5% increases were mooted, this would see Tesco record a 0.3% improvement stripping out online food.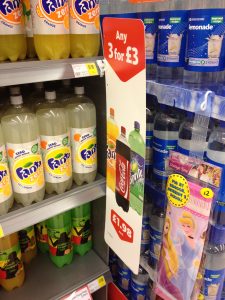 Morrisons never had the momentum throughout the year with tough comparatives meaning that getting customers into stores was a challenge, the business accepted key aspects such as the 'reasons' to shop with Morrisons were missing along with a weak promotional package.
Without those customers throughout the year, it's difficult to make customers come back into store for the busiest trading period of the year.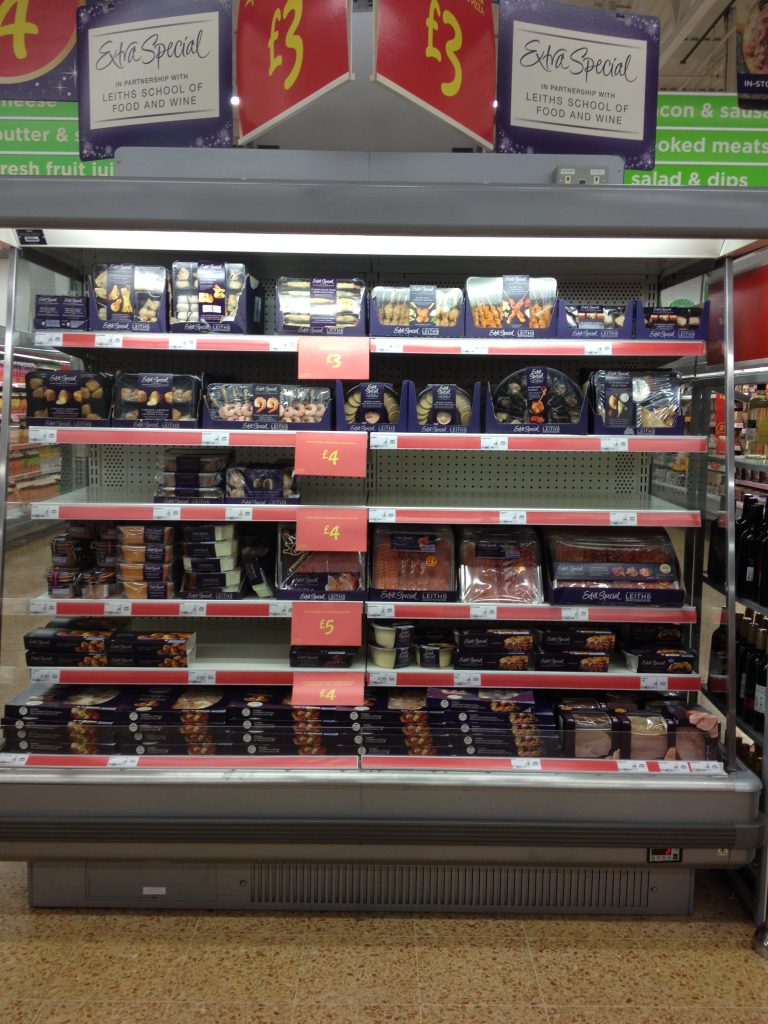 This problem has troubled Asda for many years, spending 48 weeks of the year relentlessly pushing a price message becomes an issue when customers want to spend a little more for the Christmas period. They have made great strides with the Leiths tie up around Extra Special but they still lose customers for the festive period. Indeed their 0.1% growth for the Christmas period shows that they struggled to maintain the growth levels displayed earlier in the year.
Morrisons continued with the ever popular 'Collector card' and this was the first year that receipts weren't needed as the Catalina coupon printers automatically generated vouchers once the spend threshold had been reached making it more efficient.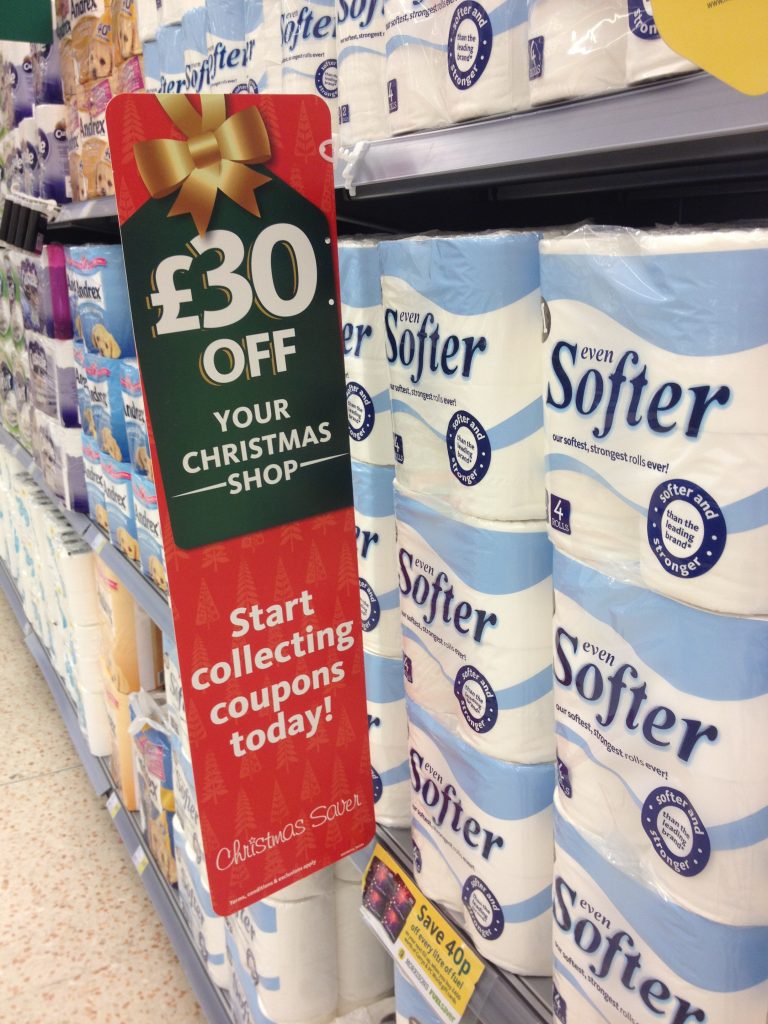 The mechanic was adjusted to allow for a £30 voucher if a customer spent over £40 for 8 weeks, with £25 available if the customer only shopped over £40 in 6 weeks. Morrisons have experimented with the format since it was introduced, offering a £5 off voucher for new year along with the£25 for Christmas a couple of years back.
The collector card remains popular but it may be that it requires a tweak for Christmas 2013, using metrics around Market Street, free Turkeys or offering different vouchers for customers spending qualifying amounts to keep it fresh.
Retail chains who suffer with poor sales growth generally find that availability of product is a key issue, if customers can't buy it then sales go elsewhere. Availability has been a Morrisons cornerstone for years, particularly with the manual controls remaining in place aiding stores to order to support sales and in particular promotions.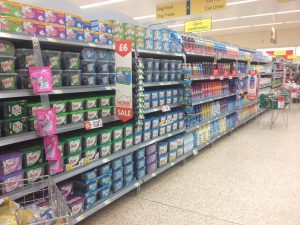 I accept that this isn't a key time for availability but in the main, I don't find too many issues with product availability within Morrisons. Certainly not compared to the supply chain issues that Sainsbury's faced in 2003/4 where deliveries arrived late and gaps remained for days. Indeed Asda are much improved too and my theory was always their poor LfL growth was down to availability.
There is always work to do on availability and smaller stores can struggle due to lack of space or indeed hours however I don't find it a reason for the sales slowdown experienced by Morrisons.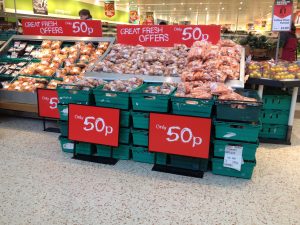 Promotions –
What is perhaps more clear as a reason for the slowdown was the poor quality of promotions available throughout the last year or so, customers quickly tired of 2 for £3 Coca Cola or Cadbury's products on promotion for the majority of months. It quickly became very 'me too', there are only so many times you can do Pringles on promotion as customer don't necessarily want them monthly.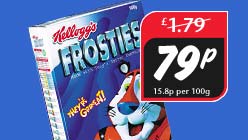 Suppliers naturally have a big say in promotions as their rebates / cash paid for guaranteed secondary space but ultimately the customers decide what's right and what they want. Short term gains with poor promotions will only see the customers go elsewhere, particularly as Tesco were sharpening their deals with some promotions offering as much as 60% off.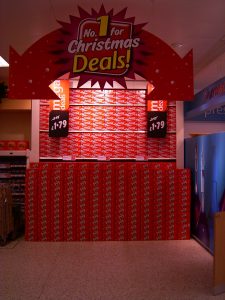 The 'mega deals' eventually "did" for Safeway and Ken was scathing about them when he took over, saying "Wednesday was their busiest trading day" and "customers were taking the promotions and going elsewhere to complete the full shop." Pointing to the fact these loss leaders accounted for 25% of the business, with the other 75% in unsustainable highly priced lines to compensate.
Morrisons buy a different way according to this article; taking rebates from the supplier at the year end or quarterly end which means they can offer volume driven deals – think of the historic popularity of Ken's 150 BOGOF's and then receive a rebate once volume targets (say 2 million units for arguments sake) are reached. Morrisons tweak their promotions to meet that requirement profitably.
Effectively, money is put aside and ringfenced as the supplier will rebate Morrisons at an agreed time be it the year end or quarter end with the rebate hitting the bottom line.  The benefit to Morrisons is that they are able to tailor their promotional package to suit the customer offering great value deals such as 3 for 2 / BOGOF which drives the volume.
Historically too, the promotional package and how that came to life in stores was driven by the store teams themselves. Sales per square foot was (is) a key metric for Ken so bulk stacks were everywhere with customers finding offers 'falling' into their baskets due to the amount of offers dotted around the store.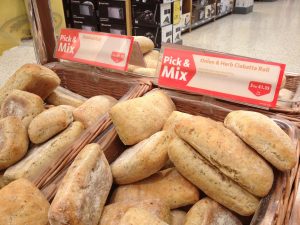 The benefit to the supplier for these deals is that they are able to fill their factories with orders, there is nothing worse as a supplier than under utilised factories which simply cost money when they aren't running.
Gondola end plans were also dictated by stores, a store with an affluent customer base such as St Albans or Guiseley would make the decision to put a premium Tea /Coffee line on the end even if Nescafe was on a deeper price cut. Giving the bulk of the space to the lines that suit the customer base is what Morrisons were famous for, sure not everything was done perfectly or right but stores had control.
To drive more uniformity, Morrisons made the decision to introduce a corporate plan to ensure that the 'top' deals had to be sited on gondola ends as suppliers had paid for the space. This brings Morrisons into line with the competition who all operate on a head office directive for space, particularly as suppliers make cash available for the extra space.
This strategy coupled with poor 'samey' deals which were available anywhere left customers looking at a repeat of the same deals, where customers would enjoy getting some good deals within their weekly shop, the lack of innovative or strong deals meant it was easy for customer to go elsewhere. Stores did get freedom to trade over Christmas but the deal strength wasn't there.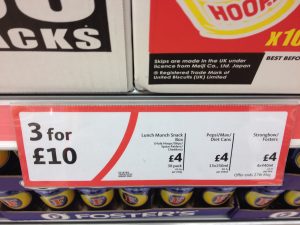 Safeway would take the money from a supplier for granting two extra gondola ends in store and bank that money up front, they would then offer a 'mega deal' – 50p Coca Cola and hope the customers would pick up other items which drove margin, initially it worked well but then customers realised prices of core products were going up and decamped to rivals for the 'big shop.'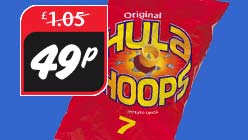 Throughout the years Morrisons have been famed for their promotional package, it was a footfall driver offering strong value and hoping to capture the full shop, particularly fresh food as this represents a good margin for Morrisons via their supply chain.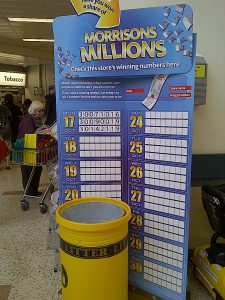 Another impact to the like for like sales were the 'one off' promotions run a year before, ones like 'Morrisons Millions' and Disney Collector cards were great at boosting customer numbers short term but there was no customer retention off the back of it.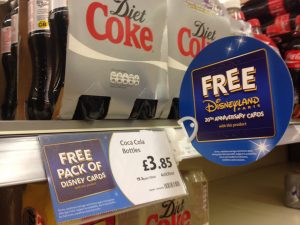 Compared to 'Payday Bonus' which is currently running (February 2013) and requires customers to purchase £35 worth of shopping 3 times within February to qualify for a £10 voucher in March. It gains loyalty as customers returning to store each week to spend and collect their vouchers.
These promotions encourage customers to return and then return again in March to spend their voucher, of course stores have to be in good shape when the new customers visit and a compelling promotional package helps to underline the good value offered.
There is expected to be more work done on the customer loyalty piece, Dalton is adverse to the loyalty card as it represents an investment of c£60m which he believes may as well be invested in price. However the data it represents is worth a fortune, hooking these customers in is 9/10 of the battle.
Richard Hodgson fell on his sword for decisions around commercial aspects such as the promotional package, the failure of M Fest was another setback as Morrisons had put a lot into the sponsorship of the event. Martyn Jones took command of the buying team on an interim basis with incoming Casper Meijer now in place via Royal Ahold.
The previous commercial directors role, overarching Buying and Marketing has been split down with Nick Collard taking charge of marketing & operations around space planning, customer loyalty and marketing.
As the new financial year ticked over (commencing 5th February), the new promotional package boosted by renegotiated terms with suppliers presumably(!) arrived into stores. There appears to be a greater focus on BOGOF's once again with a few lines available on the 2 for 1 mechanic.
The focus on Market Street promised by Dalton has also bore fruit with the Horsemeat scandal but the promotional package also features promotional lines from Market Street advertised as 'Pick of the Street'.
Further highlighting the promotional strength and indeed differentiation from Morrisons is the introduction of the 'why pay more' totem board which flags products on promotion at Morrisons but sold full price elsewhere.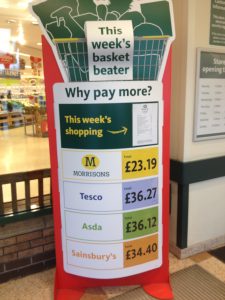 A sharpened message regarding promotions in store will help the sales line, particularly the core customers who have grown used to the strong promotional package driving value for their shopping each week. Not withstanding, new customers are also enticed by strong promotions and particularly as some of the deal comes via Market Street, enhancing the fresh credentials of the business.
Marketing –
Leading nicely from 'fresh credentials' into the in store marketing piece, since Rebecca Singleton joined the business last year she has overseen a real transformation in PoS with the entire promotional package changing to a similar format to the one previously used by Sainsbury's.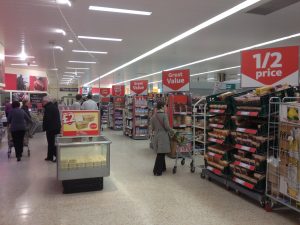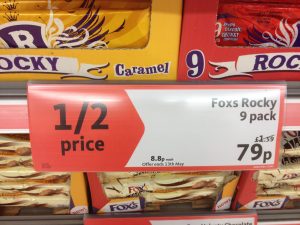 The unique credentials of the business such as vertical integration with Farmers Boy, Abbatoirs, the farm and the recent addition of the Fish factory in Grimsby have stood the business in good stead down the years, particularly when it comes to guaranteeing supply for busy periods of trade (warm weather for Burgers / Sausages) and indeed Provenance!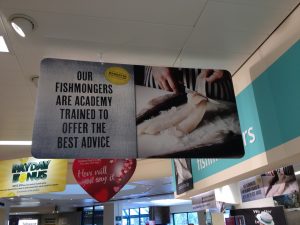 The Horse meat scandal had far reaching implications for retailers, Tesco in particular have been damaged due to them being the first affected along with Aldi who had a number of products pulled from sale. Due to vertical integration and supplying their own meat in stores, Morrisons had full confidence in their offer and communicated this to customers.
Coincidentally, the new PoS package as promised by Dalton in November (Q3 results) went live in stores with a focus on the provenance that Morrisons offers on Meat, Fish and other fresh food items made in store. The timing couldn't have been better as customers flocked in knowing that their Meat was 100% British and importantly sourced and cut by Morrisons for Morrisons.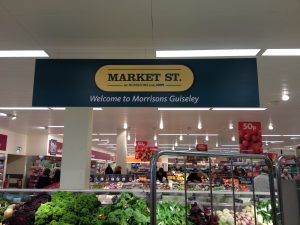 The PR effort from Morrisons was also very strong, where Tesco were left on the back foot by the scandal but then recovered with some very strong press, Morrisons were out in front with Dalton appearing on several media outlets post the meeting at DEFRA clearly full of confidence.
Sales rises of 18% were reported by Morrisons on Butchery with the focus on British Meat and the vertical supply chain benefiting the company along with a very well timed PoS push.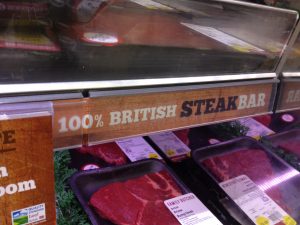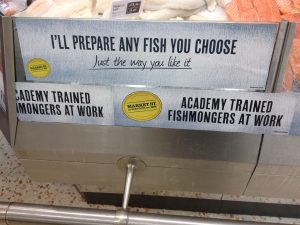 The Saturday night / Britain's got talent tie up has been well publicised but the move does make sense, if you consider the 'takeaway' aspect has lent itself well to half price promotions on ready meals / meal deals for Saturday night. Also the 'got talent' aspect is related to Morrisons having talent in stores – Butchers, Bakers and Fishmongers for example.
The Takeaway aspect extended to Grocery with 'roundels' and PoS used to advertise the 'takeaway' / 'night in' aspect for Saturday, products such as Pepsi, Coca Cola and Cadbury's chocolate are popular choices for such ends.
The marketing push to enhance the craft skills looks to be well embedded too with the examples above, they extend throughout the Market Street with nods to provenance, skill and special offers. It remains a huge part of the operation and a real point of difference and a very important part of another pledge from Dalton – own label sales growth.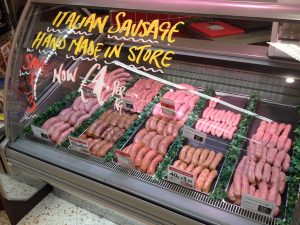 Own Label –
The o2o plan kicked off in 2011 and is centred around revamping each individual category in store, removing poor selling products, introducing new lines and revamping the existing range of own label products.
The process saw its first launch in October 2011 with a huge revamp of ready meals with space extended to feature the larger range, the work was impressive and saw the introduction of 'Bistro' as a premium tier along with the standard M Kitchen range.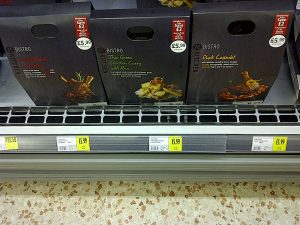 However was commencing with ready meals the right strategy? The Bistro range looks great in store but may well have given the impression that the own label process was a 'premiumisation' project which isn't the case. The impact was clearly there around the ready meals with regard the changes, however did it send out the wrong message to customers regarding 'value?'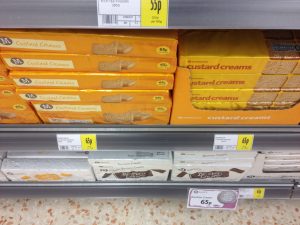 There was also a message around Morrisons not being typical and introducing a network of sub brands across the store, rather than a good, better, best tiering. This never happened bar Bistro on Ready Meals and Signature across the rest of the store – the sub tiers remains as good (savers), better (M Kitchen / Morrisons), best (Signature / Bistro).
The balance has been spot on recently with stores reporting large sales increases across World Foods, Cereals and Biscuits since they were revamped, the work on Cereals saw the introduction of a specific bay for Breakfast on the go for Porridges along with the wider revamp.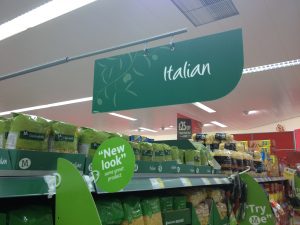 Market Street counters have also gone through the o2o process with a tightening of the range and a revamp on the pre packaged / produced in store too and there is clearly more work to be done. Not everything introduced will work and categories need revisiting every year anyway as tastes change. Indeed categories such as desserts are revisited 2/3 times a year to account for seasonal changes.
A good solid start throughout what is a tough project, striking that balance between quality and price is a vital one.
Strategy:  Clothing / Kiddicare / Online / Convenience: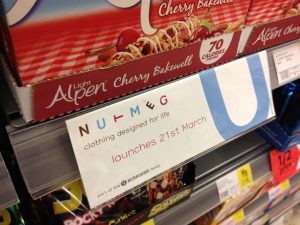 As part of this own label push, 'Nutmeg' launches in stores on the 21st March. Fresh Format and Kiddicare stores are converted over initially and indeed the Peacocks offer departed stores last month ahead of this launch. Bringing the buying and sourcing in house makes sense to control the ranging and upscale the store ranges as appropriate.
The addition of a bespoke kids range in store is another departure for the traditional Morrisons principles, but a move that enhances loyalty – particularly when you consider the success that the competitors have with their clothing range. It's all about that loyalty piece, busy parents don't want to have to go around 3/4 stores to get everything they need.
Leading nicely from the Nutmeg clothing range is Kiddicare, the Morrisons owned retailer who have been busy converting the Best Buy stores purchased back in January 2012. I recently visited the store at Rotherham which shares a retail park with Asda Living, Mothercare, Mamas and Papas along with Morrisons.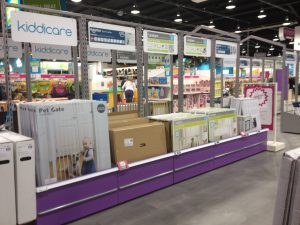 The store itself is well designed and features a lot of focus on the experience both for new and prospective parents, the fact that each pushchair is built up ready to push is a major selling point in my mind. It's a real 'experience' with the store featuring an area for classes to take place along with a strong cafe offer. An excellent store.
The company was purchased not only for the growth aspects, but the main reason was their strength online. I can't see the reason for buying Kiddicare was with an eye to take on 10 sheds and convert them into Baby supermarkets, but if the opportunity arises then Morrisons will act, as they have done with the recent Jessops and Blockbuster disposals for M Local.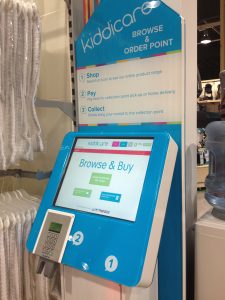 Technological aspects within Kiddicare are strong and there is a huge focus on the online aspect, even in store. I wanted two car seats but due to a shortage of stock, I could only have one. I was told I could order the other one at the order pod and have it delivered guaranteed by the next day.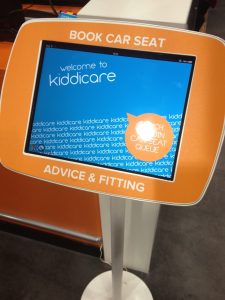 This is great service but ideally there'd be stock in store for customers to take away that day, particularly on car seats considering there is a 'car seat fitting' service available in store. There is use of a booking pod to book a fitter for the car seat and eSEL's are used in store which is great from a technology and efficiency point of view.
Of course the Kiddicare platform was used to launch M Cellar too, the online wine retailer which represented the first foray online for Morrisons. There has been little more mentioned about M Cellar, particularly in store as Morrisons seeks to have a clear divide between the wine online operation and the superstore operation.
The main selling point of the M Cellar operation online is the 'taste test' which is a scientific test around people's preference for certain 'tastes' which can translate into a Wine taste recommendation. Indicating that you prefer salt in your food and sugar in your coffee can indicate which wine you'd prefer.
The Wines are split into categories such as 'sweet' and 'full bodied' and also graded by their strength of sweetness / body. This allows non wine drinkers to make educated decisions around Wines which will appeal to them, important when purchasing online.
This profiling of customers has also reached 4 stores on a trial basis, the Wine isn't merchandised by origin as is typically the case in store. Wine is merchandised within the taste categories mentioned and the test can be done in store too which then indicates to the customer which Wines will suit their taste. A good mix up between online and the in store experience.
The million dollar question of course remains around food online, the analysts want it and therefore they're going to bang that drum until it happens. It's where the growth in the market is coming from no doubt, but is there profitability? Ocado are the pure play retailer and they've yet to make a profit over the full year.
Non food online looks to be progressing well, expect a launch date for this at the full year on Thursday 14th March. Lakeland have been signed up to sell their wares via the Morrisons platform and there's likely to be more signed up along with the M core offer.
Morrisons have been guarded over online since Dalton took charge, the investment in FreshDirect 2 years ago has led to learnings but these will mainly benefit Morrisons should they adopt a central picking model in London, via a dark store. There will be learnings about translating the fresh offer into an online platform via FreshDirect too.
The question around how to do online across the rest of the country, particularly the north where Morrisons are strong.
The 2nd mover advantage has often been talked about by Dalton, particularly when discussing the Morrisons late entry to the convenience and the online market. The theory is that a late entry from a standing start allows Morrisons to jump on the bandwagon with regards market trends without spending the money their rivals have in working out the best way to operate.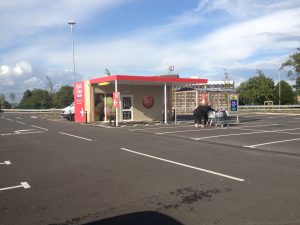 So, with regards online trends – an entry into the market looks set to be related to a click / collect model which is increasingly popular with Tesco and Asda who both offer sites at stores across the UK and indeed Auchan in France. In addition, the lack of delivery vans means a significant reduction in manpower and indeed costs.
Convenience lends itself well to click / collect, especially on non food as the neighbourhood locations means customers don't have to travel to a larger store to collect their shopping. Whether a full shop could be collected from a M Local remains to be seen, certainly shopping could piggy back onto a delivery wagon into an M Local via the hub/spoke model.
The Feltham depot is filling up nicely with the first London store in Ealing now operational along with a number of the acquired stores from HMV, Jessops and Blockbuster being located within the M25.
Of course, any online move has to incorporate store craft skills otherwise the key selling point of Morrisons (Fresh Food) is lost in translation. How this comes across via online is the challenge but it shouldn't prove a massive challenge given the FreshDirect preference for Fresh Food.
So… to conclude
Marc Bolland once said 'I'm not sure how we sell Fish online' but clearly Dalton has a different brief and it's to his detriment that no work at all was done on any online move. It's being done completely from a standing start which added to the brief of fresh formats, convenience, own label revamps, clothing and the day to day running of the business makes you realise just how much is being done in a relatively short space of time. The roadworks theory again…. Maximum disruption, minimum time.
At the interims last March (2012), Dalton set out his plans and featured was a calendar for the year '2016'. This is clearly when the strategy will be close to completion and the Morrisons for the future with online, convenience, fresh formats will be in place. There is little doubt that current trading must improve, it's clearly nowhere near the levels expected and falling sales are not a good sign.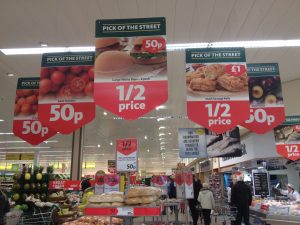 Since the new financial year started, promotions have been sharper and offering better value. Crucially produce promotions are better which means Morrisons are able to take the fight back to Aldi with their 'super 6' promotions which are very popular. The wider promotional package is stronger with good links to Saturday night takeaway and the payday bonus to gain customer loyalty.
There is a lot of change in the business at the minute and Morrisons went through a huge level of transformational change when acquiring and integrating Safeway nearly 10 years ago. The similarities are striking –
Converting stores across to a new format involves a lot of work, much has been made of misting vegetables but the fresh format stores make the best of the Morrisons core estate. This is the key strength of the business given the lack of convenience / online outlets due to the focus on the core superstores by previous regimes.
Marc Bolland did a good job of revamping the marketing and riding the business through good times post Safeway but there isn't much of a legacy. There was zero convenience work done (despite the market clearly moving this way profitably) and he was a known adversary of online too.
Dalton and the management team have inherited a chain that were performing well in the sales stakes but there was little else in terms of 'future proofing' given the market trends for online and convenience. Fresh formats are a logical step to improve the appeal of the business given the large core estate of stores and trends for areas where the Morrisons offer isn't established.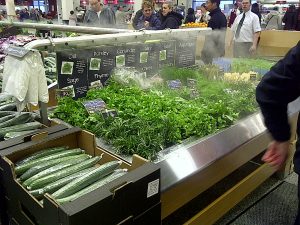 The levels of disruption to stores shouldn't be underestimated when discussing fresh formats, it takes a lot of internal effort from store teams to get the revamped stores ready for trading and to maintain once the store reopens. They are only closed for one full day with full aisles shifted around, counters enhanced and the larger Produce department introduced. The stores are hugely revamped to enhance the fresh offering, these are not simple 'rebadging' exercises where walls are painted and new signage is put up.
Store disruption was a factor as Morrisons converted Safeway stores across to the new fascia. An enlarged counter offering required more staffing and extensive building work carried out to bring stores up to scratch.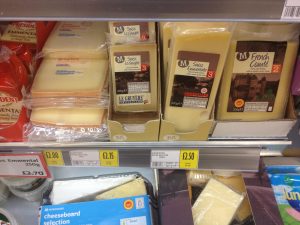 There was also a level of change with the product range as Morrisons got to grips with the wider range Safeway carried, Morrisons introduced their own label products and it took customers time to get used to the new range and there were supply problems as stores got used to a varied level of trade.
Whilst stores remain on top of availability thanks to the manual controls, there is some disruption as products change over to the new packaging, it's not an exact science by any stretch and inevitably there will be gaps as products sell through before the new ranges arrive in store. It's a near perfect science but by no means a perfect science…
It's a big task, over 10,000 products were committed to be changed by 2013/2014 so the work is well underway so the gap between branded / own label sales should be closing towards the 45%/55% split aimed for in 2010.
Another Safeway comparison is the IT systems assimilation, Marc Bolland did announce the Oracle 'Evolve' project which appears to be taking longer than the 3 years quoted when Bolland announced the £110m deal to update all systems across the chain in 2008. There was perhaps a greater complexity within Morrisons than was first appreciated.
Some factories and the majority of the supply chain are now on the new systems which will bring efficiency benefits and cost saving, in addition manual ordering pads look to be converting across to an electronic PDA style device. This will reduce the double handling of the pad (writing by colleague, input on system by admin) and reduce errors arising from keying errors.
Safeway had a remarkably slick ordering system which was able to cope with several different 'mega deals' programmes running in different regions in the same week. Remarkable. However Morrisons didn't feel the system would allow them to capture uplifts to sales quickly enough, leading to lost sales.
Converting everyone over the archaic (but it worked!) manual systems meant Morrisons had control of the systems and could plan for a new IT base to incorporate all the functions within the enlarged business. This work is ongoing and of course brings a level of change.
Safeway also had the 'Mega Store' concept along with their fresh stores like St Katharines Dock (sold to Waitrose) and Woking (converted to fresh format.) Some of the comments from those stores are remarkably similar to those about the Morrisons fresh format, however the store format didn't kill Safeway – the fundamentally flawed 'hi/lo' pricing strategy killed Safeway.
Without fresh formats for Morrisons, LFL sales would have likely been far far worse than the drops we've seen all year. The uplift in sales in each store is notable and Morrisons are absolutely right to enhance their core strength around fresh food.
As we know, Safeway & Morrisons customers did eventually 'enjoy the change' and once things settled down, sales (and profits) returned with aplomb. Sir Ken had a long term view for the chain, as do the shareholders and crucially, so does Dalton Philips.
Unlike Safeway, there are no crazy pricing / promotional initiatives. There is a solid plan for multichannel growth with exposure to online and convenience within food and non food, all from a standing start.
Give him time to carry out the plans he's committed to – more customers can then 'enjoy the change'.
Are you a retailer? Perhaps an international retailer wanting insight on the UK? Or even a Supplier?  Grocery Insight offer bespoke insight on store concepts, store operational routines, ranging and the wider UK market to help with your business.  For more information on what we can deliver, please email – steven.dresser@groceryinsight.com