Clothing is an area I never thought Morrisons would move into, a limited non food assortment drew criticism from the analysts post Safeway who wanted more non food to boost gross margins. Ken resisted and clothing was an area that seemed completely prohibitive given the expense of starting an operation along with fears that come with being 'off trend' and the stock control / clearance issues.
Sir Ken and Bob Stott were dead against clothing and a wider non food range, indeed a press article with them both (a rare PR push!) indicated one of the Safeway warehouses they'd taken over was full of Levi jeans and mountain bikes. They sold the lot off and reiterated their intention to focus on food, the day job and shunned any efforts to increase their non food exposure with more categories like clothing.
Strategically, the longer plays of Convenience and online seemed to be inevitable despite Ken and Marc Bolland being against it, particularly with the market has moved. Dalton came in with a strong plan for core stores and promised investigations into convenience, online and multichannel. Of course the M Local estate continues to grow with a revised target of 250 stores by the end of 2013/14 being stated, boosted by HMV / Blockbuster and further sites including potential opportunities with the Arcadia space consolidation one of many potential avenues.
Dalton announced that the 'green light was on' for online at the interims mid March before declining to give any further details about any aspect of the model. Everything is on the table (re: the Ocado talk) and gives them 9 months to grow the online baby – assuming that January 2014 is the launch date.
That aside, we're back to clothing. For me it was never on my radar given the previous lack of progress with the other initiatives such as convenience which seemed much easier to develop a working model given it was still food retailing albeit from a smaller location.
Kirkstall was a huge leap of faith as a store with the fresh format model and within those changes, a seismic shift to include space for kids clothing via a tie up with Peacocks. With project liberate designed to free up space from Grocery (remember the Balsamic vinegar range?) for an expanded fresh food range along with space for Kids Clothing. Customer research had indicated that families shopping at Morrisons wanted a childrenswear range too.
Asda had fought with Morrisons for years as close rivals, particularly given the geography of the retailers (Leeds v Bradford) and the huge success of George (by George Davies) would see parents go to Asda for their clothes and there is very little to then prevent parents continuing to complete their food shop there.
They'd find some special offers, low pricing and may well come out spending far less than they intended. From then, the family decide to continue shopping with Asda for their main shop and you're relying on a particularly horrible experience, money off coupons or another 'hook' to get that customer spending their weekly budget with you (as a retailer).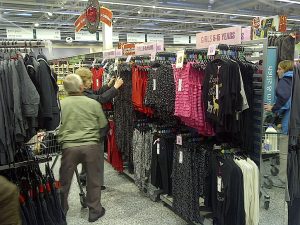 George clothing is a very effective hook of course, as it makes money in its own right, compared to special offers which are hardly profitable and money off coupons don't add to the bottom line either. A 'big one stop shop' isn't necessarily popular these days, particularly around wider non food as the internet is preferred, but clothing works in a store environment.
Consider that both Tesco and Sainsbury's have both developed a tangible clothing offer in recent years too and it's another arena in which the upsides are obvious.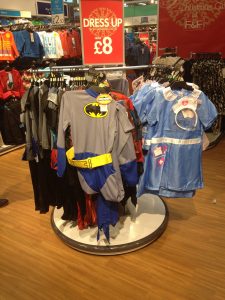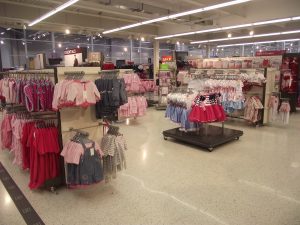 Morrisons testing the water with Peacocks made sense, the range was minimal but solved a key problem (via research) that faced parents of young families shopping with Morrisons. Where to get the kids clothing? Morrisons wanted to try an appeal to those families by virtue of a kids clothing offer along with the acquisition of Kiddicare and future work to be done in that arena.
The clothing in a fresh format trial was successful with virtually every fresh format store benefiting from a range of kids clothing,  with the trial explored and risk reduced, the outsourcing agreement now made little sense to Morrisons who prefer to take as much as they can in house.
The hire of Tim Bettley from then in administration Peacocks around a year ago (March 2012) showed intent and he was quick to set up base in Leicestershire. This may seem a relatively random location but Next and George have their bases here too….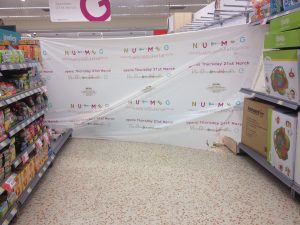 As a brand label, Nutmeg has food connotations which is why it was chosen to be the name of the new range within Morrisons and indeed it'll also appear in the Kiddicare stores that have opened up across the country.
The new range benefits from guaranteed space in the fresh format stores along with a plan which will see it extend into further stores as the fresh format plan extends across the year. Larger stores like Enterprise 5 could comfortably fit the clothing range in but already house a Peacocks larger store concession – what happens with that small  3 store model remains to be seen.
The look and feel of the branding lends itself well to children's clothing, using different colours and letters positioned differently, evoking memories of the building blocks with letters on. Price points are strong too, £5 / £6 / £10 are used.
The range itself is 90% childrenswear but it does seem possible that the range could be extended to incorporate further adult fashion in future.  There is also the opportunity to expand the range online too as store space is likely to be prohibitive in store for more clothing.
Another consideration has to be the innovative 'caring' side of the brand, something that Kiddicare do ever so well within their offer. Ensuring that everything is as it should be throughout the process of purchasing products. There's a no quibble 30 day guarantee on clothing along with a list of pledges entitled 'always thinking' which is around little changes to make things easier.
The space in store is relatively small when compared to rivals such as Asda and Sainsbury's who are able to give up much  more space for their clothing range, however the Nutmeg range features a strong range of product from baby to childrenswear along with adult essentials like Socks and underwear.
The PoS is strong and is clear throughout the department, overhead boards are used along with ends of display units advertising the price points, pledges and items in the range.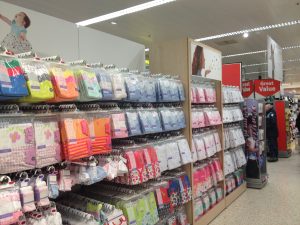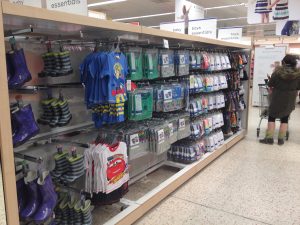 The range is divided between boys & girls and then by age – with baby having a separate range altogether. The Boys / Girls ranges are then divided by age – 1 1/2 – 6 years and then 6-13 years.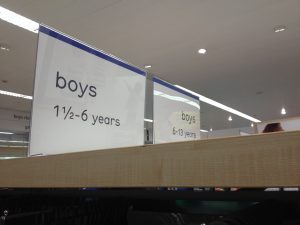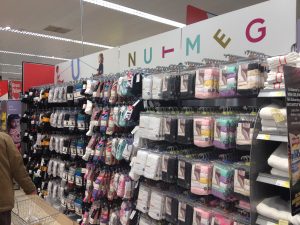 A very promising start for the range indeed. Whether we'll see a George Davies style rollout of a wider offer remains to be seen but it's a very solid start and importantly, Nutmeg will dovetail very nicely indeed within the Kiddicare stores and that will be a key growth channel for the range and indeed for the wider business.
Of course Dalton has experience working with a clothing range, Joe Fresh is phenomenally successful for Loblaw and has recently opened a store in New York with rave reviews from fashion bloggers. Using social media is something Morrisons are quickly switching on to, the use of Pinterest on the M Facebook page for example means the range can be shared extremely quickly with other parents.
The apparent quality is good and price of the products is solid, typical Morrisons really and anything that enhances the in store offer can only be a positive as they strive to bring more customers in and enhance customer loyalty.
As for the socks / underwear range – I'll report back with a thorough review as soon as possible.
Are you a retailer? Perhaps an international retailer wanting insight on the UK? Or even a Supplier?  Grocery Insight offer bespoke insight on store concepts, store operational routines, ranging and the wider UK market to help with your business.  For more information on what we can deliver, please email – steven.dresser@groceryinsight.com