The problems at Tesco had been seen in store for a few years, whilst market share remained in place, the poor shopping experience had gone beyond a tolerable level. Availability was patchy and general retail standards were poor, my local store was untouched since 1993 (a former food giant and stomping ground to Tesco Extra format director Tony Hoggett) and it showed with permanently broken freezers and long queues at the checkout.
The service element had completely disappeared from Tesco, the business had gone from caring about its customers in store to assuming that 'caring' meant selling them everything and anything, using data via clubcard to ensure loyalty and throwing in a few promotional deals along the way.
Hours in store were cut back and then cut some more, all via head office, time and motion surveys and 'savings' generated from stopping needless tasks. The problem with any 'labour planning system' is that it makes absolutely no allowance for the variable nature of retail. These schedules and lean philosophies are fine in a highly standardised environment such as a car factory or processing plant. Volumes are adjusted and as such, the job itself doesn't change but the workflow does.
However within retail, there are so many variables such as late deliveries, unpredictable trading patterns plus external factors such as the Horse Meat scandal.
The (most important) and biggest variable of all is the 'customer' and 'the delivery of customer service.' Does any lean / labour planning system account for helping older customers around the store? Some elderly customers require a staff member to do the shopping with them, others prefer a chat on the shop floor, placating angry customers takes longer than accepting a compliment from a happy customer, the list goes on and on and on.
Service is a huge variable and I'm not even sure it's worth trying to assign a number of hours to it barring manning the checkouts, there are so many studies, books and motivational quotes relating to customers being a purpose of all the work in the store that how can you assign hours to deliver good honest service?
One thing is for sure; try to, and very quickly colleagues will find themselves too pressured to deliver customer service and rush the customer, cutting corners. That may lead to a few inventory errors when doing a gapscan but with a customer, it can lead to them leaving to the nearest competitor.
Tesco, it seems realised this with Phil Clarke pledging to reinvest in a business that 'has been run too hard for too long'  back in April. Of course this didn't just mean shorter queues at checkouts. It meant mandatory staff manning on fresh food, on Beers, Wines & Spirits (which helps alleviate theft of course) along with Produce.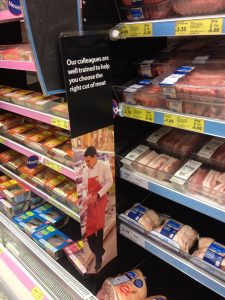 Hours were also provided to staff the checkouts without relying on relief checkout operators which polarise opinion more so than anything else between store colleagues and the management.
Relief operators are people filling up and working on the shop floor, staff are called to the tills when queues build up – now we all know that queues are unavoidable sometimes due to unpredictable trading patterns. Weather related panic buying, particularly hot weather sees heavy queues which require additional backup to get customers through the doors.
That's fine, stores don't mind supporting but where the hours cuts become critical and getting a normal customer flow through the checkouts is problematic, this leads to a lack of shop floor coverage which means operational routines aren't completed and as a result core shoppers not only see queues, but gaps on the shelf, poor cleanliness standards and a general lack of colleague coverage on the shop floor.
Delivering a good customer service isn't just queue time, it's 'I can get what I want' availability and indeed 'I can find what I want' service when finding out why Oxo has moved location 3 times in as many months.
The perfect storm existed in Tesco stores just last year, allied to that was a lack of store investment and a lack of product innovation which allowed the competitors to really advance their offering in the face of little reaction from Tesco.
Tesco really hurt Sainsbury's in the 90's, taking their no.1 spot, up to 2004 Sainsbury's were flailing in the middle ground, not really specialising in any particular market demographic. They were well into recovery shortly into Justin's reign in 2004 and continue to post unbroken quarters of sales growth, re positioning themselves within the mainstream market appealing to everyone whilst maintaining a clear set of principles.
Add the emergence of Aldi as a serious low price, high quality alternative along with a sharpening of the Asda offer didn't help Tesco price matters, Morrisons grappled with Safeway but then really steadied their ship and the emergence of Fresh Formats saw a stronger focus on differentiating with their heritage of fresh foods.
The premium end of the market has never been a realistic target for Tesco, they're a mainstream supermarket but the recent strength of Waitrose has no doubt seen customers decamp from their local Tesco to Waitrose or indeed Marks & Spencer.
The arena of focus for Tesco remains a puzzle, you can't be 'all things to all people', arguably this is where Tesco have run into trouble by not making the offer specific enough. Whilst you don't want to pigeonhole yourself in one area, carving out an area of specialism / uniqueness is necessary to bring the customers in.
There has to be something that you're renowned for which determines the marketing mix, stores, products range and indeed drives the business to appeal to as many people as possible.
It's not Price..
Aldi have conquered EDLP ahead of Asda but Asda still offer unbeatable pricing in the mainstream, further enhanced by 'price lock' which sees core staples locked to a price.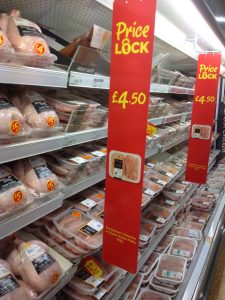 Tesco are sharpening up the pricing work, the launch of Price Promise in store has reaffirmed their commitment to pricing and being level with the competition. However Asda turned the dial up again with Price Lock and indeed promised to be 10% cheaper than the competition rather than purely matching.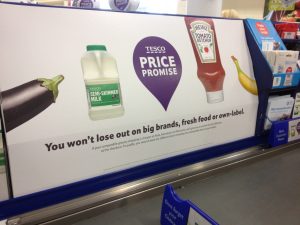 Sainsbury's also entered the price match world with 'Brand Match' which promises to match all prices (even promotions) versus all the mainstream retailers (bar Morrisons.) Their argument is that brands are easily transferable and therefore a good acid test. Own label comparisons lead to a minefield of varying qualities and specifications.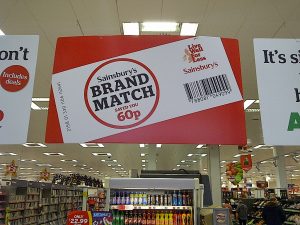 Price is a key battleground but one that is very noisy, every retailer bar Morrisons have a pledge of some sorts regarding price matching. Even local retailer Booths pledge to match the market price… It's 'me too' from Tesco, important to have a price matching scheme but it's not a differential.
Morrisons continue to push the fresh food angle, fresh formats are hugely different to anything else in the UK and the continued expansion of the vertical integration facilities shows a commitment to in house sourced fresh food. The M Local convenience model shows their commitment to fresh food with in store specialist product transferred in from local hub stores.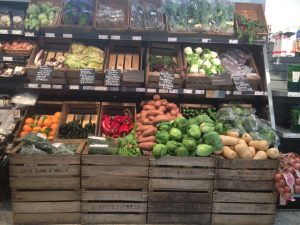 Sainsbury's are also well known for fresh food and in particular their provenance aspects came to the fore with the recent horse meat scandal. No horse meat was found in any of their products and given they don't retain control over aspects of supply like Morrisons, it makes their achievement remarkable.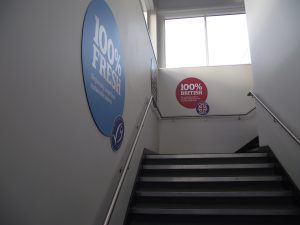 They have been the first to many pledges around using 100% British meat and in particular sourcing meat from responsible suppliers adhering to the RSPCA 'Freedom food' initiative for Meat and also running a 'Switch the Fish' campaign to highlight less common (but as tasty) Fish species.
Their focus on Corporate Social Responsibility and Fairtrade has enabled Sainsbury's to differentiate themselves within a crowded marketplace. Brand Match looks to have resolved the price perception issues that have plagued Sainsbury's and allowed them to compete on price in the mainstream arena with their rivals.
Sainsbury's do have a focus on 'good food' and their current strapline of 'live well for less' means they understand the importance of good food at affordable prices.
Even Asda have moved their own label offer along, 'Chosen By You' being a major success of Andy Clarke's reign.
Whilst moves have been made to enhance the 'fresh' angle in store for Tesco, being renowned for it is something completely different. The horse meat scandal affected Tesco predominantly on Frozen lines but nevertheless it will impact the wider food quality perception which is bound to impact sales.
The response to the horse meat issue was admirable, there are two ways of approaching such a crisis, damage limitation where you state the action you're taking with products affected and indeed as Tesco did, use it as a tool to change things, make good of what is a bad situation.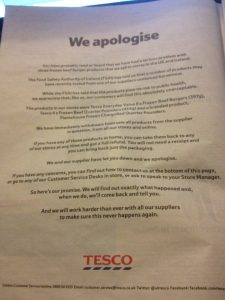 The press adverts were different in their approach, going for a 'prose' pledging changes rather than the usual statements around 'robust responses' and the like. It divided opinion somewhat but public responses definitely ensured Tesco were seen to be committed to sorting the problems out.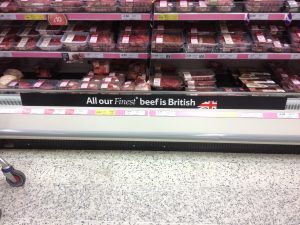 Press / email / PR response aside, it's likely that customer confidence has taken a real knock and Tesco will need to be as innovative to regain that trust with a product range that is in real need of differentiation and modernisation just to bring it up to the speed of the competitor offer.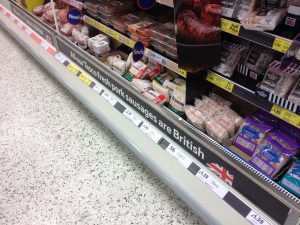 With Meat & Fish recently being revamped, it does give a good insight into the strategy for the business going forward. There are numerous mentions of their provenance, sourcing and relationships with suppliers. Whether this would have been quite as 'loud' had it not been for horse meat we will never know.
So, positioning the business remains a challenge. Particularly with the competitors remaining strong as they have differentiated, being everything to everyone isn't enough and Tesco still need to find their niche. Competitors are strong in their nominated areas however.
The blog took a look at the issues facing Tesco around a year ago, they can be found here and part 2 is here. These are worth a read to encapsulate what was going on a year ago, this blog will follow the same format and I'll take a look at how things are a looking a year on.
Part 1 of this blog focuses on store standards, customer service and PoS. Part 2 looks at the sterling work on formats / store concepts, social media and product ranges.
Customer Service + 'the customer'.
The main issue within Tesco was the complete absence of staff in some stores, the continued hours cuts had left very little 'flex' for even the most basic customer service delivery. Where staff were available and replenishing the displays, they were as likely to be covering checkouts as queues built up.
The hours increases were greatly received in store, if a little long winded via the 'listen and fix' programme which centred around colleagues feeding back issues and the company committing to fixing them. Nominated managers then swapped stores to ensure that the process was delivered, issues were fixed and hours were recruited into the business.
I'll touch on formats and stores in the next blog but a key part of the 'Listen & Fix' process was investing in equipment and indeed the store environment. Many stores were under invested as maintenance budgets were reduced, presumably to meet ever punishing year end profit targets.
This saw the store 'refresh' programme commence which saw 430 store targeted for a refresh in the year, the progress on this initiative will be interesting to hear. There is no doubt that tired stores make things much more difficult, particularly around the store environment and atmosphere, the general shopping experience is improved within a refreshed store.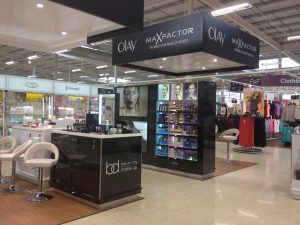 Part of the hours investment into stores introduced minimum manning on Beers & Wines, Fresh Food and Fresh Produce. This meant that there would always be a colleague covering the department, ensuring that customers could find a colleague if they wanted assistance finding an item or checking an item which was unavailable on shelf on these key departments.
Dressing a colleague in Butchers whites to give the impression of a Butcher on the Meat aisle for example shows how Tesco are wanting to be perceived, a company focused on fresh foods. However this has to go beyond just a uniform and introducing counters in my local store (going from 1 halal butcher to also featuring a fish, hot food and deli counter) is a definite step forward.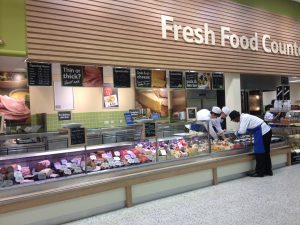 Part of customer service is around these in store services, previously the business would have been very cost conscious and shied away from the laborious nature of open food counters, with the associated wastage concerns. But this is what customers want, so introducing more counters to enhance the fresh food offer makes sense.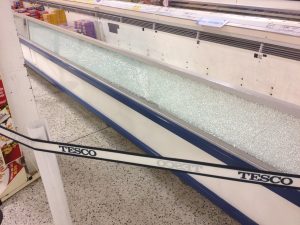 The biggest corporate customer service initiative is 'MMM' or 'Making Moments Matter' which is a customer service delivery programme around making moments matter for customers in store. The theory is that going the extra mile with customers around moments contributes to the wider shopping trip and one of happiness.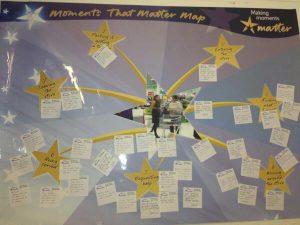 I'm broadly supportive of these initiatives,  its a good model for the colleagues to get behind but I'm a big fan of Asda and how they recruit 'personality' and then train the colleagues on the process. Yes, sometimes it leads to questionable standards  but broadly speaking, the service is generally remarkable in Asda for a main supermarket.
Making Moments Matter is great for the colleagues though, and Twitter often lights up with a mention of (hashtag) #MMM as Tesco workers share their stories of Making Moments Matter (more on social media later). It's a bit like 'every little helps' which remained as the company strapline despite the changes going on throughout the business.
Genuine warmth and consistent good service can't be put down to a corporate initiative such as MMM, though it does help. It's a number of factors, store environment, queue length, product availability, product quality and all the other factors that make up a shopping trip.
….and all those have to be delivered every single trading day. MMM is a mere cog in the larger wheel.
Tesco are focusing more on serving than saving, £200m has been invested into colleague hours across the estate but there is a long way to go yet.
Store Standards / POS / Retail Standards.
There is little doubt that with an increase in hours, the standards across the stores I visit have improved. To be entirely fair, stores were run well under budget so poor standards quickly became acceptable. The vicious circle once again.
However things have definitely improved on this score, certainly within my local store post refit became a far better place to shop. The uplifting environment and not having a leaking roof, 1980's freezers and a far smaller chilled range than was needed helped, staff were friendlier and took more pride in their shop.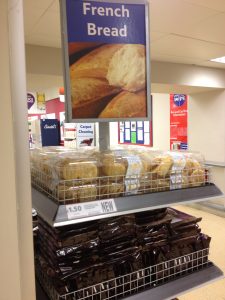 However the problems are not resolved, there still appears to be a disconnect between what is acceptable. Key trading times such as the weekend continue to present themselves as 'open goals' given the improvement in the wider business, it seems curious that the stores can still struggle at key trading times.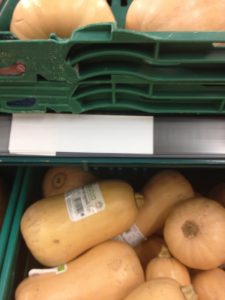 No one ever asks for 100% availability on fresh 100% of the time, that would lead to wastage galore. However there should be a level of availability as the store enters the evening lest the customer goes elsewhere to complete their shop.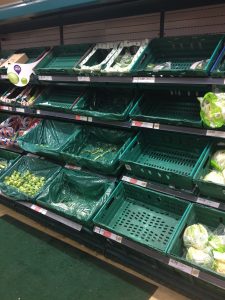 The one benefit of the picture above is that the products have been gap scanned so the system is aware, however the lack of Brassica related products is likely to see a customer go elsewhere for their shop. No Broccoli to be found anywhere in store.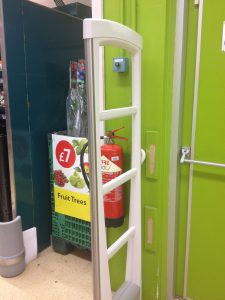 The two images above were taken from the same store but on a different trading day, the placement of fruit trees peeking out from behind a fire extinguisher is not likely to drive any sales, Tesco managers walk their stores daily, why isn't anyone trading the space? There is ample opportunity to use space and drive sales on fruit trees, next to a fire door isn't making use of space.
In addition, the overhead advertising is absent on the end, these are small issues but combined together make for a store that should be doing better. It's the little things….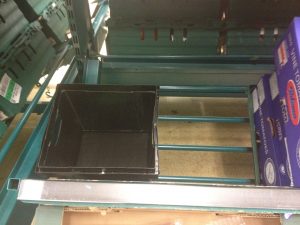 Management walk the store daily and should be picking up on these issues, driving standards and sales should then go upwards. Bakery is another area of the store which is key to any retailer, I'm a firm believer that the in store Bakery is vital and the quality that comes out of there should be of a high standard, bringing customers further into the store.
Availability at 3pm on a Sunday can be a challenge, particularly as a busy trading day is condensed into 6 hours but with 2 hours of trade to go, are these standards acceptable?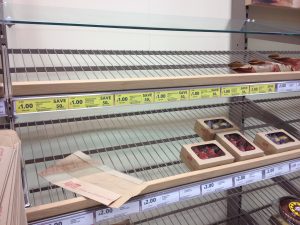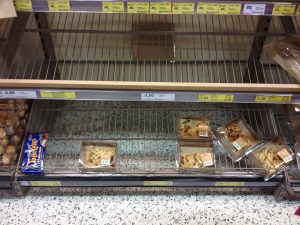 Tesco have revamped the Bakery range twice already as they seek to breathe new life into a category that had been woefully neglected in recent years, the images above show that some of the changes show the new packaging and indeed promotions are sharper.
However the lost sales due to a lack of production planning leading to poor availability is a real issue in many stores across the country, it's easy money. A central £1 promotion on Cookies is always popular and given the bake off nature of this product, there's really no excuse.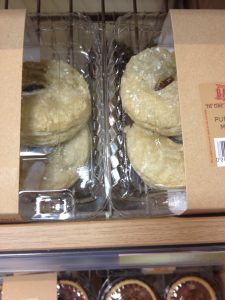 Wastage continues to be a concern for all retailers, money in the till is one thing but losing it out of the back door via theft and indeed reductions is another. Accurate forecasting is difficult and Tesco have taken even more control from the stores with central forecasting now in place for promotions to maximise availability and minimise wastage.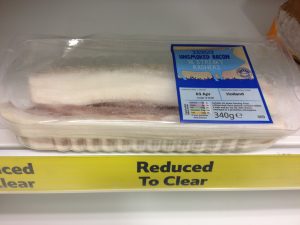 It appears to be calming down as the system gets to grips with the levels of product needed but store level control isn't always a bad thing, there's a lot of experience in stores and the teams generally know what their customers prefer and which promotions are worth 'backing.'
However get it wrong and the wastage implications are huge, this leads to poor profitability so a level of control centrally errs more on the side of caution, maximising profitability. It's vital that stores ensure they bear waste in mind when checking dates and setting initial reduction levels but poor quality product should be disposed of and not offered for sale.
Selling it for a reduced price risks undermining the entire food offer in store, Produce is key to this, no one wants to see poor quality product on shelves.
The clearance of seasonal lines also comes within the arena of profitability and losses, the very nature of large Tesco stores and their seasonal events means clearing lines is a necessity. On Twitter we have 'Keeping Christmas Going' highlighting Christmas product on sale but within Tesco, the reluctance to adopt 'the first loss is your best loss' means that seasonal product can sit on the shelves long beyond the season.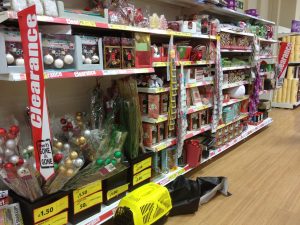 Sainsbury's (and indeed Safeway) reduced seasonal stock based upon the store stock holding, parameters would be set and assuming that a store had 10 units, it may attract a 25% central reduction, whereas a store with 100 units may get a 75% reduction to move the stock and free up space for the new seasonal merchandise.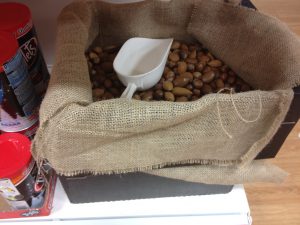 Tesco do apply reductions but they seem to be completely at odds with the levels of stock in the store, having loose Christmas Chestnuts and bays of Christmas decorations on sale by the end of January has to raise some questions. For me, the decks must be cleared to allow stores to exit Christmas 'clean' with the new year ahead.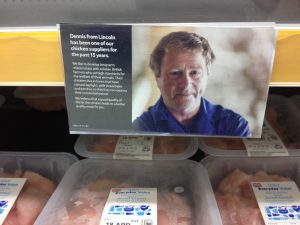 There is work to be done this year on the PoS package in Tesco stores, looking at the tone and voice of how customers are communicated with, it's clear that the stores (not necessarily the newer ones…) have a very corporate feel with a 'clinical' atmosphere and that doesn't lend itself well to a business wanting to be warmer towards customers.
PoS is an easy way to get a message across and all the competitors have changed their PoS to reflect their business plan and focus on various areas of their business. Tesco need to do the same if the changes are to be hammered home in store.
Promotional PoS remains the same in stores, notable that in the new refitted stores such as Kensington, there are no yellow gondola ends with standard colours preferred in store.
Store standards are improving but like with the customer service delivery, consistency is key..
Are you a retailer? Perhaps an international retailer wanting insight on the UK? Are you a Supplier? Or even Tesco? Grocery Insight offer bespoke insight on store concepts, store operational routines, ranging and the wider UK market to help with your business.  For more information on what we can deliver, please email – steven.dresser@groceryinsight.com 
 Pt 2…. Store Formats (Kensington, Tooley St, Regent St & Salford) and the emergence of social media is here..