A jaunt around my local Asda Supercentre today yielded the first sight of an in store Barclays branch, set to be housed in redundant space behind the checkouts.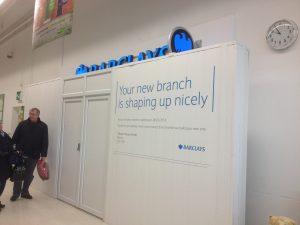 Of course this makes sense for all parties, it's likely that footfall is falling bank branches, particularly as online grows and more customers prefer to do their banking online. Being rejected for an overdraft is less painful via computer than being told 'computer says no' in branch. Similarly high street branches suffer with poor parking for car drivers and sometimes inconvenient locations.
The bank is likely to save on rent and rates too, whilst ideally being able to open later to cater for customers who prefer to shop later and do their banking, so opening until 8pm would be a good move all around.
Anything to drive footfall / give customers a reason to shop with Asda is welcomed, especially in the bigger stores which do suffer from being 'too big'. Although, perhaps their problems are less prescribed than Tesco who are really suffering with the space conundrum.
Pudsey is c. 100,000 sq.ft (possibly more) and is a 2 floor epic, however it has now got 'click&collect' car parking spaces for those shoppers wanting to shop online but drive to store to pick it up.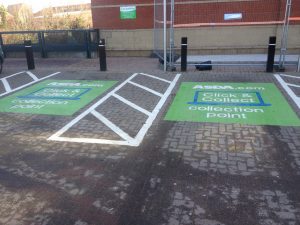 This is a service that is yet to take off in any great numbers in the UK, it is popular on the continent but the advantages to the retailer in the UK are clear. No delivery obligation means lower costs for the retailer, of course the secondary conundrum for Asda comes when they're delivering from their Leeds based dark store to physical stores around the region….
Grocery Insight provides in depth market insight via a new 'frequent' email update service containing stories / rumours / store insight like the above. This is crucial news for your business or investment portfolio.
The monthly subscription service will launch at £15 per calendar month with a free 2 week trial period available. 
To register an interest in the service – please email – steven.dresser@groceryinsight.com