Today is 63 (sixty-three) days until Dave Lewis takes the helm at the UK's biggest retailer. Grocery Insight are counting down to the start of his reign with an improvement point per day. First up, we had Twitter, then unerring focus on shrink, yesterday was Blinkbox and today focuses on the Hudl.

Whilst Blinkbox is a non-core activity, it does have a saving grace in that you can see the loyalty aspect playing a part, providing the package was more cohesive. Music / books / film / TV on one platform for example or greater rewards for loyal customers… It's all a bit confused. There are tough competitors too; Netflix and indeed Amazon LoveFilm.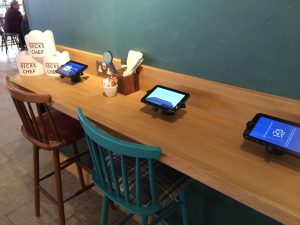 The link for Blinkbox is obvious, the same cannot be said for the Hudl with a relatively low key display in store. I've not seen a great push towards getting people to buy them so where does it fit in? Customers are well versed in tablets and does one from Tesco have either a) the 'trend factor' or b) a reputation of reliability?
The Hudl was launched to much acclaim in 2013 with continual sell outs as Tesco struggled to supply enough product, this then led to stock outs over Christmas before further supplies arrived. Over 500,000 have been sold which is an impressive number, but again, we ask ourselves how does the Hudl tie into the overall direction of the business? There is a 'one Tesco' button allowing users to conduct their business with Tesco easily, however every tablet offers a similar option.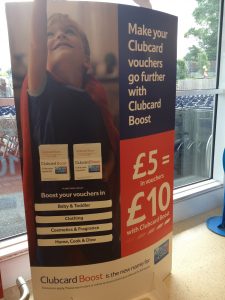 The Android tablet market is busy, there are many variations from major suppliers available and the discount end of the market via Aldi. Asda and other retailers. As one expert puts it 'Android tablets are commodities, Tesco will never lead in this area'. Does the Hudl take focus away from developing other technological elements? Like the website, apps, iBeacons and wider IT architecture?
Sources tell me there have been issues with reliability, screen freezes and increased returns for Hudl's produced by a specific manufacturer. This takes staff time to resolve problems and there is no 3rd party supplier to claim costs back from.
To alleviate inventory build, a number of refurbished Hudl tablets are now on sale in some stores at £59.
@Tesco_Bedford @markwinter1 @19Paul77 Exclusive to Bedford 1 outlet, New £59 refurbished Hudl available now!! pic.twitter.com/p7ZEMFH5pa

— Dave Wooding (@WoodingDave) July 29, 2014
With the Hudl2 due in September, it remains to be seen if there will then be a Hudl3. The Hudl is a good idea in principle but will it ever make enough profit?  Is there a likely way to dominate the market? The answer is certainly no to the second point, it would be intriguing to see the profitability for the Hudl. 500,000 sold is a great headline but if margins are low then it's a hard 500,000 to sell.
Lewis may well take 6-8  months to assimilate the business before launching his plan in April 2015, the smart money would be on him discontinuing the Hudl as non-core activity.
A thrice weekly email covering the latest events in the industry; such as Tesco store operations, store visits or new promotional packages are all covered. Please visit retail by email for further information.
Grocery Insight provide market insight on the UK sector with a focus on individual retailers such as Tesco. This insight is useful to various stakeholders and due to my store based focus. Insight can be delivered to suppliers to focus on growth opportunities, analysts and investors to assess the business performance and long term outlook and retailers themselves to assess best practice. 
To discuss your requirements under no obligation; please email – steven.dresser@groceryinsight.com