Today is 53 (fifty-three) days until Dave Lewis takes the helm at the UK's biggest retailer. Grocery Insight are counting down to the start of his reign with an improvement point per day. First up, we had Twitter, then the unerring focus on shrink, then we had Blinkbox and Hudl.
We then had a focus on trading with Brand Outlet, PoS (point of sale) and the Bakery. The focus turned to Dobbies and we then had a look at discounter brands and venture brands (by Tesco). The focus turned to Produce, the Price Promise and Cafe/Costa outlets.
Today, its price down (and staying down)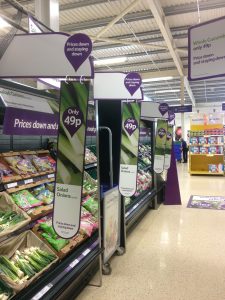 Price down & staying down on Produce.
With the advent of the discounters, its fair to say that the Tesco, Morrisons and JS had given them a 3 year headstart with no reaction around price, own label or any specific attack on category pricing. Asda have already done their spadework with their price lock campaign embedded on some lines for over two years now (Milk £1 etc) but they have also led the market on price within the multiples.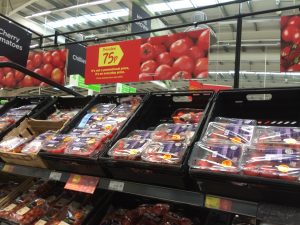 Asda have slowly added lines to the mix, where core staples such as Milk, Eggs, Bread and Produce were locked by Asda initially, it has expanded to encompass a wide range of own label products. Add this to the strong 'branded' promotional deals campaign and Asda looks more than ever to be the mainstream place to go for low prices.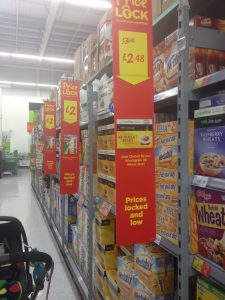 Despite Asda busily extending their lead over their mainstream competitors and closing the gap on Aldi, their rivals remained unmoved on price. Morrisons were out of the blocks in February with an aggressive campaign across fresh Produce highlighting strong deals, locked and low pricing across the range.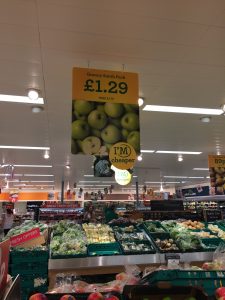 Early May saw their IM Cheaper campaign launch with 1200 prices cut permanently across the range including core Grocery, Fresh and Frozen. Ratcheting the pressure up further on Philip Clarke and Tesco who had invested £200m into their price down campaign.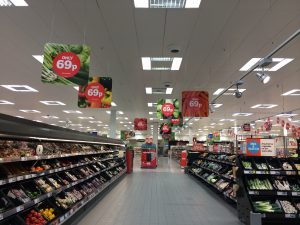 Tesco had reacted with their own price campaign in early March – 'price down and staying down' was centred around permanent cuts across staples, centering on Produce which is clearly where a key battle is taking place. Even this wasn't without confusion as 3 separate Carrot SKU's came down in price – why not back one pre packed and the  loose SKU and cut the other?
It's hardly Aldi simplification.
With the Morrisons 1200 cuts and Asda reacting to the Morrisons moves and further highlighting their strong promotions and 'big brands. big savings' campaign, Tesco continued to look sluggish on price, even from a PR / Marketing viewpoint – 60 price down versus 1200 permanent cuts by Morrisons, or a sharpening up from Asda? There had to be a response? There wasn't.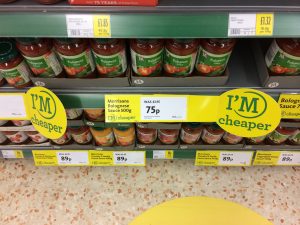 Lest we forget that as the multiples dropped their Cucumbers and Lettuce to 49p, Aldi reacted and simply dropped theirs to 45p, Milk at a £1? No problem, Aldi dropped to 94p, maintaining that gap. That's before we even consider that price isn't the only reason to go to Aldi.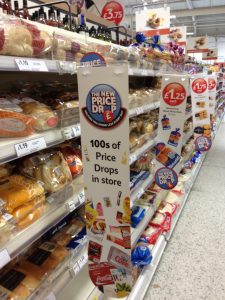 Remember price drop? The campaign that saw 'hundreds' of prices dropped in store ultimately saw the end of Richard Brasher as the UK only needed one captain of the ship. However Chris Bush then got the UK MD job, which Brasher held. Hmmm.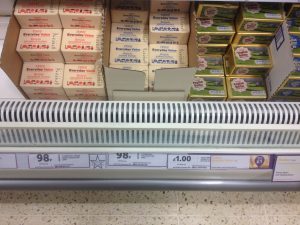 Anyway a campaign like Price Drop was surely needed by Tesco this time around? 50/60 lines is a pitiful effort in light of the campaigns by other retailers, sure Sainsbury's haven't mounted a campaign on price but they're relatively insulated from the discounters, with the JS offering centred on high quality and great store standards – Tesco are struggling for both.
Margin is another blog topic entirely but Price Down, and staying down was never going to be enough for customers to cross the road, not at that small scale of investment. It needed to be bigger and resonate more, a half baked effort around breakfast / fridge essentials wasn't enough.
Price is important and its almost a common acceptance that each retailer will charge similar prices, of course that's not the case and promotions (another blog post) are still important as a differentiator for customers.
An interesting conclusion to the tale of price is that Phil Clarke did promise us further price cuts in the year when he spoke in April;
"We have always said £200m was the start," he said last week. "We retained the flexibility to do what we thought was necessary, and we will. You will see more prices coming down at Tesco in the weeks and months ahead."
It doesn't appear that there will be any further price activity this year, the last batch was May, with an investment in delivery saver, click/collect and lines such as Sugar. The staples approach clearly hasn't had any throughput.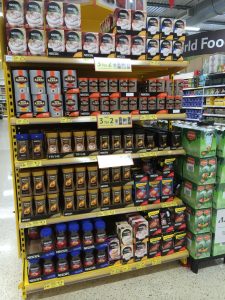 So, for Dave Lewis It appears that the price lever needs pulling if only to bring them into the pack with Asda and Morrisons, never mind the discounters. Whether innovative methods such as Clubcard usage could be linked to discounts or it'll just be a real resetting of the margin, we will have to see.
But a real focus on both price and promotion is needed, this should go hand in hand with the range rationalisation (another blog!) that would achieve better pricing based on volume being filtered through less lines. The execution of any campaign has to be better, the PoS has to be sharper as price is a very very noisy market at the minute.
Does Price down resonate enough with the customer? Is it genuinely 'permanently down' in price? Would a campaign highlighting more 'price down' products resonate, or does it need to be a bit more radical than that?
Either way, the price conundrum needs to be solved for Tesco.
A weekly email covering the latest events in the industry; such as Tesco store operations, store visits or new promotional packages are all covered. Please visit our emailed retail insight page for further information.
Grocery Insight provide market insight on the UK sector with a focus on individual retailers such as Tesco. This insight is useful to various stakeholders and due to my store based focus. Insight can be delivered to suppliers to focus on growth opportunities, analysts and investors to assess the business performance and long term outlook and retailers themselves to assess best practice.