Today is 54 (fifty-four) days until Dave Lewis takes the helm at the UK's biggest retailer. Grocery Insight are counting down to the start of his reign with an improvement point per day. First up, we had Twitter, then the unerring focus on shrink, then we had Blinkbox and Hudl.
We then had a focus on trading with Brand Outlet, PoS (point of sale) and the Bakery. The focus turned to Dobbies and we then had a look at discounter brands and venture brands (by Tesco). The focus turned to Produce and then the Price Promise
Today, we have a consideration for the in store cafe / costa outlets.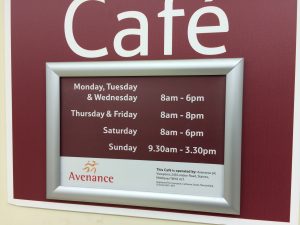 With the Tesco estate being over-spaced, the focus under Philip Clarke shifted to 'food-service' with the appointment of former Sainsbury's retail man Adam Fowle (left soon after Justin King took over) and a development of own food service outlets was to be developed.
However the pace wasn't there, despite in store Cafe's being run by 3rd parties which can vary from the good to the ordinary, there wasn't a pace to revamp these cafe's and return them to Tesco ownership. Whilst cafe's are not big profit drivers, they do tie up the 'food' offering well in store which is why customers are in store in the first place.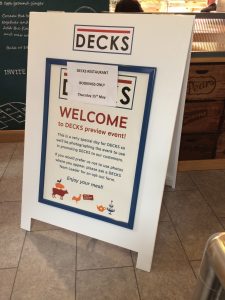 The issue with a 3rd party operator is that the retailer loses the control, sure they make decent profit from the operators who pay to run the facility but the profit is difficult to hit which can lead to an inferior offer. When you're a food retailer, you don't want to give people a negative perception of the food in store.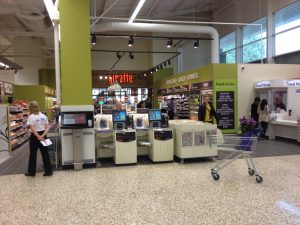 Tesco seemingly being aware of this led them to devise 'Decks' which is a new dining experience in store, piloted at the Coventry Propositional Extra and this has performed well. The offer centres around a carvery and offers a fuller menu including kids meals, this wider offer is vital to entice families into store.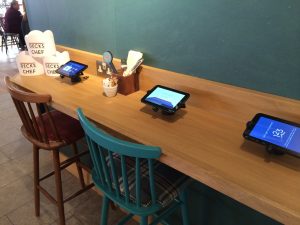 It can lead to lower sales, as hungry shoppers do spend more in store! However a strong eating proposition can drive footfall and indeed accentuate the food sold in store, especially if sufficient links are made in the cafe between the shop floor / cafe food offer.
In some of the new Extra stores, where the demographic supports – a Giraffe restaurant is present. This isn't a solution for every single Extra but will certainly work for some stores, however there are other stores that won't feature a Giraffe, so do they get Decks? What if they (like Leeds Seacroft) have had a refit with the new Health & Beauty category but nothing has been done with the cafe?
What about larger superstores who have sufficient space either for a food offer or an existing cafe? What if they have a Costa? What of the Costa tie up? Clearly these partnerships are lucrative but a tertiary Coffee offer could be effective….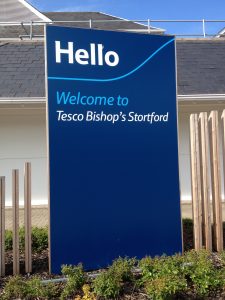 Cardiff Extra is cutting across to the new format store at the minute and they have added a Costa to the offer, not H&H. In fairness it was a stretch for the little H&H truck to make it to Wales but in all seriousness, the infrastructure is all within the M25 so part owning a coffee chain that can't be dropped into stores nationwide seems an odd move. M25 or bust!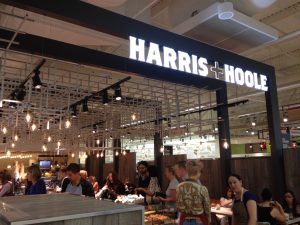 Another interesting addition is the use of 'Fred's' which is a US themed diner in one Extra (Osterley) and features subs and 'on the go' solutions. An interesting concept and a one off?However, the issue for Dave Lewis is that there appears to be no cohesive strategy for foodservice as of yet in the UK. There are trials, an acceptance that the current model of outsourced cafe's doesn't work and an appreciation that new thinking is needed.
There is a roll out plan too, but at the minute there is a trial of Fred's, a slow rollout of Decks and Giraffe, H&H clearly isn't going beyond the M25, some outsourced cafe's and a number of stores with Costa Coffee outlets. There are some larger superstores with no food offering and some Extra stores that have been refitted but haven't had a food offer changed to the plethora of options.
So, the question is. If a foodservice plan is to be continued (profits are not great and it's tight margins) then 'one banner' almost needs to be found and operated. At the minute, there is far too much disparity and some stores would benefit from a coffee shop for example.
Putting food first and making Tesco a loved brand is a challenge, adding a chain of well priced, rustic, honest in store cafes where space allows could be a start. Develop Decks et al for those stores with sufficient space and footfall.
ADDENDUM – In response to some comments, I don't believe the intention is that Tesco have the same outlet everywhere, rather a plan to roll something out. The new stores have the new thinking but there are stores with no offer, what is the plan for those stores?
A weekly email covering the latest events in the industry; such as Tesco store operations, store visits or new promotional packages are all covered. Please visit our emailed retail insight page for further information.
Grocery Insight provide market insight on the UK sector with a focus on individual retailers such as Tesco. This insight is useful to various stakeholders and due to my store based focus. Insight can be delivered to suppliers to focus on growth opportunities, analysts and investors to assess the business performance and long term outlook and retailers themselves to assess best practice.