Today is 55 (fifty-five) days until Dave Lewis takes the helm at the UK's biggest retailer. Grocery Insight are counting down to the start of his reign with an improvement point per day. First up, we had Twitter, then the unerring focus on shrink, then we had Blinkbox and Hudl.
We then had a focus on trading with Brand Outlet, PoS (point of sale) and the Bakery. The focus turned to Dobbies and we then had a look at discounter brands and venture brands (by Tesco). The focus turned to Produce and today we're looking at the Price Promise.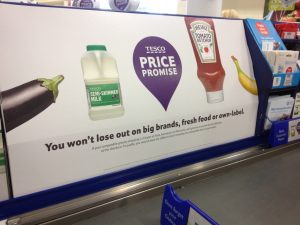 When the price guarantee war kicked off, Asda were the first out of the blocks with their Asda price guarantee which promised to ensure that Asda were the cheapest on comparable groceries versus their major competitors. The technology was prohibitive so it meant the customer taking their receipt home and waiting 24 hours to check their results.
Asda trade strongly on price so this was a welcome change to take the 'mystery' out of price comparisons and enable Asda to show customers how expensive things were elsewhere. Tesco responded with Tesco Price Check later in 2011 promising double the difference on voucher if a product was found to be cheaper within Asda. The receipt details were entered online and Tesco would email the customer within 36 hours to give them a voucher / the good news that they wouldn't save money elsewhere.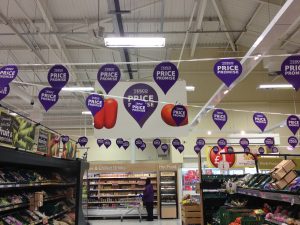 The issue for Tesco was that they weren't cheaper than Asda and it didn't take long for the rushed scheme to be exploited by customers who were alerted via social media and knew by buying certain lines, they would receive large vouchers. And they did. Leading to the scheme being capped in March 2011 (£20), double the difference stopped and then the scheme changed.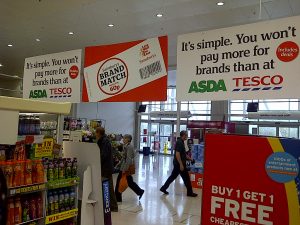 The new Tesco scheme brought in comparisons with competitors and a wide ranging look at products, including own label which upset Sainsbury's who traded hard on their brand match scheme – staying out of the own label fight and matching direct comparable brands rather than ambiguous own label products. JS had a major difference though, their scheme was instantaneous.
Asda stepped on their pledge with price guarantee and made sure there was a 10% gap, it wasn't enough to be just the cheapest any longer and JS have recently changed their qualifying threshold for the brand match scheme.
Each scheme is different, Tesco is an instant 'at checkout' comparison with Sainsbury's also offering this, Asda relies on a login but the timescales are now far less. One criticism of Tesco is they give the voucher on a standard receipt which can be easier to lose than a different voucher a la JS.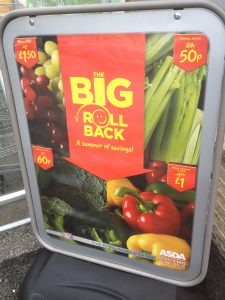 The 'phoney' war continues as not everyone can be the cheapest, Aldi don't have a price scheme but their products are far cheaper. Morrisons aren't within the price matching scheme arena either, but their prices are checked. Differentiation is needed.
Asda provide that with their 10% gap, going that extra mile in the customer's mind and providing security. Customers trust Asda pricing, they trust that they get the best value.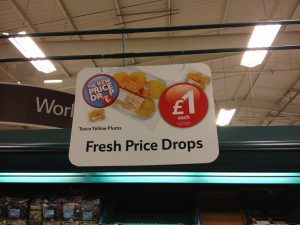 The issue for Dave Lewis is that people don't cross the road for Tesco in their droves, there are issues with the brand and price plays a big part in this, particularly with the Aldi effect. Tesco staff on Twitter do note 'why would you go elsewhere?' with the price promise, but sometimes it can be the tipping point if the standards are bad, they had to queue and then to cap it all, it was £2 more expensive than Asda.They won't be coming back.
A far more powerful message would be to redeem the difference instantly in cash via the checkout / self service machine. What a pledge that would be, if we're not cheaper than our rivals, then we'll give you the difference in cash – instantly.
Radical? It certainly is, but some powerful thinking is needed to regain trust and build the brand. Dave Lewis can't get rid of the price comparison scheme, but he could make it powerful in the customers mind and at the last point of contact in store too.
A weekly email covering the latest events in the industry; such as Tesco store operations, store visits or new promotional packages are all covered. Please visit our emailed retail insight page for further information.
Grocery Insight provide market insight on the UK sector with a focus on individual retailers such as Tesco. This insight is useful to various stakeholders and due to my store based focus. Insight can be delivered to suppliers to focus on growth opportunities, analysts and investors to assess the business performance and long term outlook and retailers themselves to assess best practice.