Today is 48 (forty-eight) days until Dave Lewis takes the helm at the UK's biggest retailer. Grocery Insight are counting down to the start of his reign with an improvement point per day. Due to the growing nature of the list causing issues with our template, please click on Tesco to see all the posts containing the 66 'to do' points. Today we consider the role of I.T.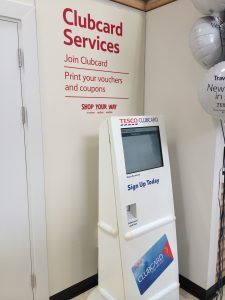 IT was a division that fell under Philip Clarke at one stage in his numerous areas of responsibility at Tesco, and its a tough remit. The issue with IT is that when a system is built its intended to be future proofed to an extent but its very much a wild guess as to what will be needed in the future.
The issue for Tesco with their IT system is when the mainframe was built it was likely never intended for the level of stores / countries / formats it now supports. SBO (sales based ordering) is the psychedelic green screen used by stock control / store colleagues to amend stock that is coming into the stores.
Of course a lot of control has been taken from stores, the ability to apply steps for example to amend forecasts locally is now done centrally, this is good / bad depending on your viewpoint. Centralised control brings a standardised level of approach but there is so much expertise locally, knowing which deals to back can be lucrative.
Technology also circles back to new stores, with overhead digital PoS in Lincoln along with the absence of a Catalina style coupon system a la JS and Morrisons. Technology drives value.
The mainframe now supports countries, brands and formats worldwide and this was probably never envisaged when the system was developed. It can be slow, colleagues report that outages are common and SEL overnight batches (new tickets) can be delayed, this led to a £40m upgrade to IT systems, to speed things up.
However, the issue for Dave Lewis is that the IT system isn't as quick / nimble as perhaps it could be. However developing new technology and software is expensive and littered with business risk, failure of a new platform could prevent trading and that could run into millions of pounds.
So what can be done? There is an appreciation that upgrades are necessary to improve customer service and enable stores to trade, not just deliver cost savings. However this comes with both significant CAPEX consideration alongside business risk.
A difficult one for Dave Lewis. there are pitfalls whether you upgrade or not, but store staff will tell you IT can be a barrier to serving customers.
EDIT – A former Tesco IT colleague has got in touch to say some of the elements of the article are incorrect, overseas are on a different platform with SBO only in the UK. This is updated twice per year, however speed issues are not disputed, with pointers towards the mobile handset used by colleagues.
A thrice weekly email covering the latest events in the industry; such as Tesco store operations, store visits or new promotional packages are all covered. Please visit https://www.groceryinsight.com/services/email-newsletter/ for further information.
As this blog shows, Grocery Insight provide market insight on the UK sector with a focus on individual retailers such as Tesco. This insight is useful to various stakeholders and due to my store based focus. Insight can be delivered to suppliers to focus on growth opportunities, analysts and investors to assess the business performance and long term outlook and retailers themselves to assess best practice. 
Practical solutions are found to business challenges and a look across the entire market can be invaluable at the category strategy meetings to 'kick off' discussions, giving the team a real basis to work from.
To discuss your requirements under no obligation; please email – steven.dresser@groceryinsight.com