Without trying to ensure the Grocery Insight blog becomes somewhat of a tragic obsession of writing solely about Dave Lewis and Tesco, they are extremely newsworthy at the minute, and part of the wider Grocery Insight service offering is all about monitoring the market, spotting trends and activity in the shops. There's plenty to look and consider with the Tesco empire.
The 12 days of Christmas Dave Lewis are all about tracking the 12 days before the announcement to the City on the 8th January which will highlight where the business goes next. This, as ever is all guesswork on my part as nothing has been given away to the City, journalists or otherwise.
If you will, it's a list of priorities that I'd be looking at targeting ahead of a major announcement to the stock market. They all interlock as, well, they're all linked to the business but some are intrinsically linked. Clubcard for example directly cycles back to price (investment in Clubcard could be ploughed into lower prices) alongside other elements (Dunnhumby?) Tesco invested heavily in Christmas (part of the latest profit warning) and the 49p 'Festive Five' was popular and took the fight back to the discounters.
Today, we consider space in Tesco, it's a massive problem and one that Philip Clarke recognised but did absolutely nothing about. Dave Lewis inherits a chain with many, many issues – over spacing is one of the key problems.
Despite the rhetoric from Philip Clarke, in his last year of office (so to speak) if we look at the Tesco financial year, they actually opened 12 Extra stores, all this despite the 'multichannel world' and the various initiatives designed to reduce the reliance on large stores. Space wise, Tesco are burdened with Extra stores that were relevant for the era, non-food fuelled their growth as out of town supermarkets became increasingly popular.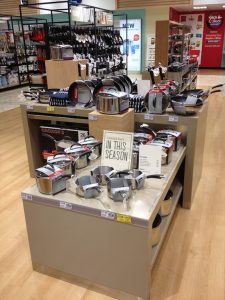 The issue for Tesco was as the economic slowdown arrived, non-food sales slowed as cheap consumer credit became harder to obtain. Online also meant that customers preferred to click/collect or even use competitors like Amazon, rather than shop in a Tesco Extra. The non food environment was problematic, with stores featuring non food laid out like the aisles of food..
Propositional Extra stores, ones like Watford aimed to provide an Extra store 'for the future' with Coffee shops, Premium Bakeries, better displays of non-food alongside Pharmacies and Health&Wellness categories. It didn't work, Watford (the pilot store) actually saw sales fall to negative LfL once the refit traffic settled down. Plus the refits were expensive, with Watford allegedly costing around £12m.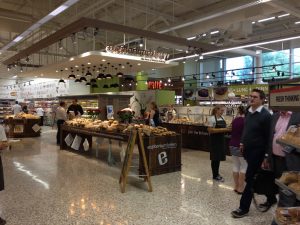 So, with the refits paused and sales falling – the larger stores are becoming white elephants and action is needed to resolve the issue. Tesco are the biggest retailer in the UK, but you only get to that level by having more stores than anyone else. That's great but now Tesco are facing an issue where they are laden with space, falling sales mean some stores are significantly under-trading for the space they have.
Take a Superstore, (yes Superstore) that was expanded into further retail units in the boom times. It is so over-spaced now, it really is a legacy of times gone by, and has to be looked at? Surely.
The golden measure for a retailer is sales per sq.ft, that is how profitable the space is, a store with high sales per sq.ft isn't always positive, particularly if the store is overtrading leading to queues, poor customer flow and potential availability problems. Under-trading is an issue as the value of the land, the store, hours allocated alongside waste and shrink budgets will be out of line.
Tesco have struggled to keep their sales line flowing too as the wider business went off on a track chasing IT and other vanity projects, matching labour / hours allocations to the sales / items scanned is the standard for most retailers.
However when you operate a large store, you require more hours than the sales indicate – the space is so vast that more colleagues are needed, to provide a presence or in some cases just to ensure that the shelves are tidied. The larger space needs more people than a time/motion study may indicate.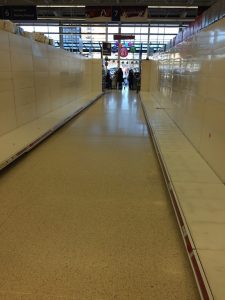 If we consider the space conundrum, a large store isn't translating to more sales at the minute. In many cases, particularly at Christmas, it seems allocations are driven by space. They must be, as plans are often driven from head office based on the space that each store has available for the category. From then, space needs to be filled, so more stock is driven in. This perfect storm of over spacing and not enough sales leads to this – taken on 28th December.
Frightening.
Space was so freely available in this Extra store that an aisle was left completely empty post Christmas, as all the left over stock was condensed into one aisle. The time this must have taken, to merchandise an aisle is excessive, add to that the reduced prices too…. Looks like diminishing returns to me.
Looking forward, it is extremely difficult in a short blog like this to rake over the several thousand stores in the estate and pick out overlaps, stores that no longer make sense, stronger competitors making it uneconomical. The rules of the game have changed and having stores all over doesn't really make sense anymore.
I've visited a few cities that were further south from my Northern base in the last months of 2014, giving a better overall view of how things are looking. I was interested to note that Nottingham and Leicester possessed stronger Tesco stores that I am used to in Yorkshire. Coventry was an interesting one and I visited an extremely quiet Extra that, in all truth should have closed or been downsized when the Arena extra store opened.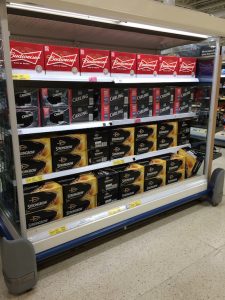 Alas it remains open but it was clearly having trading issues with a number of chilled ends given over to ambient products. A number of reductions on the Produce department and a generally old feel to the store. The recently refitted, propositional Arena store was a world apart.
Added to the 'other' Coventry Extra stores woes, the Asda down the road has just been refitted to their store of the future model and there is a good little Aldi in between both stores.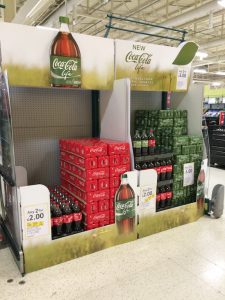 When looking on the Tesco site at Coventry, this particular store doesn't show up unless directly entering the postcode. There must be other examples of poorly trading sites with a larger Tesco nearby. Dave Lewis will want to remedy this, with a rent bill approaching £1.4bn, he has to look at all locations and question if they're delivering returns both now, and if they will in the future.
It's not just Extra stores though, there are some superstores that probably make no sense now given their poor sales, high rents or closer competitors. It could easily be the case that their closest competitor is a Tesco store. Crazy.
The expansion of the Express estate has been noteworthy, it trades well and actually recorded a positive LfL result in the last set of annual results, however reports since indicate that the chain has slumped into recording negative LfL. With the number of store openings continuing, are Tesco starting to cannibalise their own sales from larger locations into convenience?
But what of the future? What could be on the plan for the oversized / excess stores?
3rd party retailers 
A relatively popular option both internally and externally given that excess space can generate income from a specialist retailer who also drives footfall to the store, leading to a potential halo effect – driving more trade into the Tesco store despite less space.
It is problematic, favourable retailers like Sports Direct may already have sites in the area and the retailers who desperately want the space are competitors; Aldi, Lidl, Home Bargains and the variety stores (99p stores etc) and these wouldn't be wanted by Tesco.
Sites have to be selected carefully, but I would argue a fair amount of Extra sites could benefit from downsizing. Of course, Tesco have tried to do it to an extent, with their Giraffe / Coffee shops etc. But it needs a real group of partners to make a notable indent on the space and ensure that the offer is complimentary for Tesco customers.
Change of Use
With the growth of online, dark stores are increasingly popular but Tesco have chosen to build these stores from scratch, which is acceptable for locations near London, meaning they can locate near the various orbital roads. However further north, in areas such as Coventry, where there are two larger stores in close proximity; it would make sense to switch one store to a dark store.
This would mean it closed to the public, served online orders only and would ensure that any nearby stores who were picking for .com were able to cease picking in store. This would enhance the shopping experience for customers, as well as focusing colleague attention towards availability and customer service.
Downsize
There is the logic, within Eastern Europe at least where Sports Direct took some space in a Tesco that it had no negative effect on sales, despite there being less space to trade from. If 3rd party partners cannot be found at some sites in a timely manner, then stores could be downsized, closed off and that area put up for sale or rent.
Closure
An unpopular choice; bad for PR and we've not really seen any store closures on a large scale in UK retail lest for a takeover (Safeway / Morrisons for example). However Tesco are requiring some pretty major surgery, have a huge estate and it stands to reason that some stores may be under performing, competitors have closed in, rents are high and there is a Tesco nearby doing decent money.
These are radical solutions of course, but Clarke did somewhat dress around the edges with Tesco Dining and Giraffe, H&H and Euphorium, rather than tackle the spacing issue head on.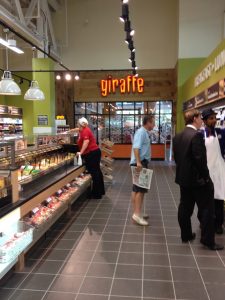 Dave Lewis is known as 'drastic Dave', with the business in the state it is, numerous profit warnings, continued poor sales in the UK and  debt on the balance sheet that needs attention given the deteriorating credit rating.
Given the rental bill and associated costs of operating stores mean action must be taken to redress the balance, the Tesco estate has been built over a number of years, but the rules of the game have changed.
Dave Lewis knows he needs to react; putting staff into stores and being competitive, just at Christmas on a few lines has cost the business some £800m. A note from HSBC said getting closer to Asda on price would cost some £2bn, that's before the debt is considered……
A root and branch review of the store network is presumably an area Lewis will look at, and act upon.
A weekly email covering the latest events in the industry; such as Tesco store operations, store visits or new promotional packages are all covered. Please visit our emailed retail insight page for further information.
Grocery Insight provide market insight on the UK sector with a focus on individual retailers such as Tesco. This insight is useful to various stakeholders and due to my store based focus. Insight can be delivered to suppliers to focus on growth opportunities, analysts and investors to assess the business performance and long term outlook and retailers themselves to assess best practice.