Without trying to ensure the Grocery Insight blog becomes somewhat of a tragic obsession of writing solely about Dave Lewis and Tesco, they are extremely newsworthy at the minute, and part of the wider Grocery Insight service offering is all about monitoring the market, spotting trends and activity in the shops. There's plenty to look and consider with the Tesco empire. The 12 days of Christmas Dave Lewis are all about tracking the 12 days before the announcement to the City on the 8th January which will highlight where the business goes next. This, as ever is all guesswork on my part as nothing has been given away to the City, journalists or otherwise.
If you will, it's a list of priorities that I'd be looking at targeting ahead of a major announcement to the stock market. They all interlock as, well, they're all linked to the business but some are intrinsically linked. Clubcard for example directly cycles back to price (investment in Clubcard could be ploughed into lower prices) alongside other elements (Dunnhumby?) Tesco invested heavily in Christmas (part of the latest profit warning) and the 49p 'Festive Five' was popular and took the fight back to the discounters.
Today, we consider the role of the central functions within Tesco. Is there a need for as many roles these days? The business is leaner, and has been for years in a store perspective but Head Office doesn't appear to have had much of a realignment to the 'new world'.
Philip Clarke had several culls of people, presumably fearing for his job lost a number of executives who either left of their own accord or indeed were replaced (as Richard Brasher was) paying the price for the big price drop… Clarke noted that the UK only needed 'one captain', before appointing long term protege Chris Bush to the position.
Lewis is yet to appoint anyone to the UK MD job, preferring to run things himself in the interim. David Hobbs (Support Office) and Matt Atkinson (Creative) are moving on and there has been an adjustment in roles at the top. However no external talent have appeared yet, Justin King essentially signed an entire top team when he took the role at Sainsbury's.
People have left though, there has been a steady stream of people below director level leaving the business for a number of months. The usual cut / thrust of retail or a reflection on the business performance?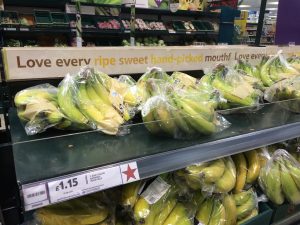 The loss of the people who built the business; David Potts, Richard Brasher, Tim Mason amongst others were huge holes to fill. Like Manchester City losing Toure, Kompany and Joe Hart in the same season or so. Just doesn't happen, whilst (for me) the talent pool below has virtually dried up, even relatively gifted executives would have huge shoes to fill.
So, the Head Office(s). Tesco are unique in that they have two, Welwyn Garden Centre houses a number of personnel centred around supply and buying of non food, with Cheshunt (Tesco House) doing the same for Grocery. Tesco House was built by Jack Cohen housing buyers and the executives amongst others. Their rivals are all under one roof, admittedly smaller retailers in the UK but still, everyone working under one roof is clearly preferable.
Sainsbury's whilst working at one facility have been cutting down the space hired in their expensive zone 1 Holborn office, with HR now based in Manchester and their entire Non-Food / GM operation in Coventry. Leicester is the clothing capital of the UK with Sainsbury's, Next, Asda and Morrisons all basing their clothing operations there.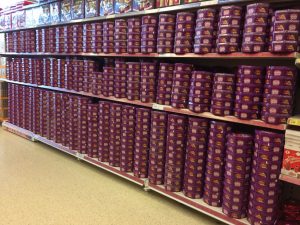 When trade slows within the manufacturing sector, Summer shut down for example and factories closing for Christmas. Workers know that they may be temporarily laid off, put onto short time or their contracts are built around short time and average out as appropriate. Whilst food retail is as safe a job as any, given people always have to eat, there perhaps to be a realignment about the sector changes and the fact sales have been falling in stores for some time across Tesco and indeed their major competitors (perhaps not Asda).
Stores are to be considered in a later post, but for Central office staff, costs need to be cut in order to solve the balance sheet issues for Tesco (debts, pension shortfall) and importantly ensure the stores have enough colleagues to serve the customer effectively. All this before we even discuss price and how that war will be fought.
I took a look at the excellent Tesco Careers page and was heartened to see 75 pages of vacancies, with a number of in store jobs available which is a positive, showing that the investment from Dave Lewis remains. A number of local Express stores are also recruiting which can only help, Express has been a format that has been extremely stretched in recent years.
Location wise, I read that there were a number of satellite offices across the UK for Tesco and I was intrigued to find these locations, whilst I've not got them all – I have some interesting results.
The Red locations are the two head offices that are located in Cheshunt and Welwyn, Yellow appears to be a hub for F&F clothing with a number of job roles available here. Interestingly the 'Labs' and App developers have set up two offices in London according to the job page alongside other sources, certainly the office in Clerkenwell looks to have Tesco associations, with the Labs / Apps team located in Shoreditch.
That is folly. With the business sorely needing to get back to being a food retailer, favoured by customers and renowned for service, quality and value. Then aspirations of being the 'next Amazon' and taking over the world within technology need to be put to one side. I have to question what the IT development team are doing when there remains no clubcard app that allows voucher redemption (no.1 on anyone's list surely).
Nor is there a single login / platform for non-food / food for Tesco.com, meaning the Direct side of the business continues to lose money as inefficiency rages within the chain. They also have expensive central London offices and the costs start to add up.
I may be old fashioned and indeed from Yorkshire (so by definition a cynic) but I cannot understand the level of investment in a Central London office for IT app development when the stores and indeed the wider chain are in such dire straits. The old adage regarding a new sector is not bothering if you can't reach number 1 or at least number 2 within a set period always rings true.
As a supermarket, particularly one that isn't particularly fashionable and is renowned for taking over the UK with germanic levels of efficiency. Why would you then develop a tablet? There is no first mover advantage given Apple, Samsung et al are already cornering the market and there is no gap for a last mover, so why even bother?
One of Clarke's biggest errors was to continually talk about 'earning loyalty to enhance the lifetime value of a customer'. Now steady on, you're only as good as your last shop to a customer, so Blinkbox, Hudl, Hudl2 and Euphorium count for nothing when queues are a mile long and 25% of your shop is out of stock due to a lack of staff….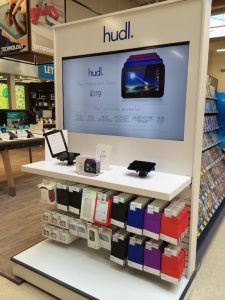 One of the smart things (ahem) Dave Lewis did when he took over was to bin the smartphone that was planned, another folly. There is no need for a food retailer to start developing such technology and the problems that go with it. Stick to the knitting.
There is an obvious need to develop apps for smartphones that benefit the business, linking stock control functions with a barcode scanner for a mobile phone, these apps that aid the business are necessary. But elements like Blinkbox and the associated integration, it doesn't make a penny for the business as it is….
IT startups and the like burn cash, payback can be years in some cases for an app and the development costs that go with it. The 'labs' concept is no different to a startup and I do find it confusing that further efforts aren't being ploughed into business priorities such as app based Clubcard and a joint platform for food/non food.
I am sure its on a list somewhere, but as we are now. It's not happening.
Consider there is also Bangalore and the service centre that by all accounts, creates as many problems as it solves thus making the cost saving of moving the administrative functions out there, in real terms negligible. IT is a major expense for any business and for the most part, Tesco are agile enough – however adding on the various online window dressing and the costs mount up.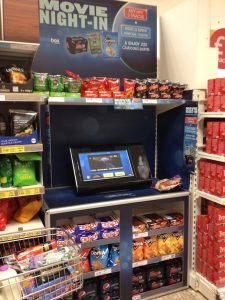 If there is a backing away from the intention to take over the virtual world and 'create loyalty' by controlling their life, then cost cutting will include IT and the various development teams. They're too expensive to continue with given the issues Tesco are facing.
There are other areas of the business that require pruning, likely to be a number of legacy positions and departments that have been insulated for too long, particularly as Clarke was a 40 year service man who didn't have the necessary 'fresh eyes' that Lewis has. Areas such as store ordering need a shake up, taking control from stores made sense, but the issues on seasonal this year do raise questions about whether that move has had the desired result.
Communication is excessive from the centre, spoon feeding in the extreme to stores with managers required to sign a sheet last Christmas to indicate that reductions had been applied. I mean really. Although communications have been simplified since Dave Lewis came into the business, too many diktats are coming from HQ. Often from people who haven't entered a shop in 3 years, hence 'feet on the floor'.
With the slowdown in store opening, particularly large sites then you'd imagine Property and New Store refit teams would be pared back and colleagues redeployed into other areas. New store refit teams often feature experienced colleagues and stores would benefit from this experience day to day.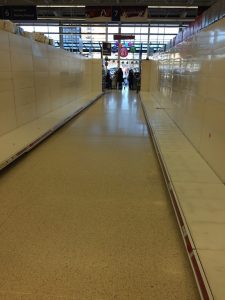 Put simply, there is no need for a bloated property team given the focus on smaller, convenience sites so cuts are likely to happen within the Property team.
This is all guesswork of course, the number / severity of cuts does depend on what Lewis decides to do with the subsidiary businesses that Tesco have acquired. Euphorium, H&H, Giraffe and Dobbies will have central Tesco staff who are responsible for elements of these businesses, cuts could happen here if those businesses are disposed of.
It's clear that with falling sales, reduction in central headcount has to occur to balance the books and in many cases, provide clearer accountability for the business in the new world. The commercial reset will see Jason Tarry want to re-organise based on his leadership and how he thinks buying/ commercial activity should be done.
Whoever signed off the decision to replace scratch bakeries in affluent stores in the South/South East earlier this year should be questioned, the volume of complaints on the blog post continue to go through the roof. Tesco clearly thinking sending it via Euphorium and adding a nicer 'feel' to the department would see customers tolerate poorer quality bread at higher prices. The cost saving mentality, directly impacting customers has to stop.
Of course, stores are to come within the 12 day countdown so it could well be that we see store closures / disposals as part of this radical plan. Something has to give as Tesco need to become competitive again but that will cost a significant amount of money. Tesco are in need of a reorganisation centrally as they try to get 'fit for the future'.
Edit – There have been adjustments to the article since written, it was pointed out that Welwyn is responsible for non food commercial and supply, with Cheshunt (Tesco House) doing the same for Food. In addition, JS have sites in Coventry for GM and I was then reminded that clothing is based in Leicester for Morrisons, Asda and Sainsbury's. 
A weekly email covering the latest events in the industry; such as Tesco store operations, store visits or new promotional packages are all covered. Please visit our emailed retail insight page for further information.
Grocery Insight provide market insight on the UK sector with a focus on individual retailers such as Tesco. This insight is useful to various stakeholders and due to my store based focus. Insight can be delivered to suppliers to focus on growth opportunities, analysts and investors to assess the business performance and long term outlook and retailers themselves to assess best practice.