Following on from Bishop's Stortford was a weekend trip 'darn sarf' to Chelmsford in July 2013, this was the 'Super Fresh' trial store from Tesco. Featuring a strong vista and a real focus on Fresh Foods, the store took the learning from Chester and Kensington with 'Food to go' and enhanced several elements of their counter offering too.
A main fulcrum of the work was the reduction in non food space and a repurposing of space to enhance clothing and reduce reliance on the various electrical lines that polluted smaller stores.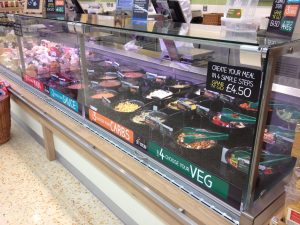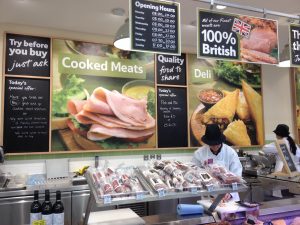 As with any new store, the question is always (certainly post early days at Kirkstall) about future roll out, and the Chelmsford fresh element didn't really go beyond a few stores. A real shame as the new, wider offer was smart and Produce was a major step up from previous versions…..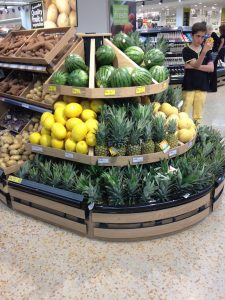 The Chelmsford store was perhaps typical Philip Clarke, looked fantastic and no doubt made sense on paper, but the reality was the market was moving from Tesco. It wasn't just store environment that was the issue for customers, price had become a real issue and the discounters were starting to gain ground.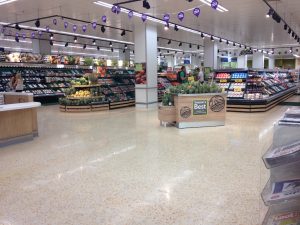 Watford opened later in 2013 of course, and these stores were right to modernise the environment, however the issue was the core business was faltering and staffing numbers were once again under pressure.
The business then became uncompetitive as discount and Asda moved away on price, and after that, the wheel never really turned despite the smattering of modernised stores in the estate.
A weekly email covering the latest events in the industry; such as Tesco store operations, store visits or new promotional packages are all covered. Please visit our emailed retail insight page for further information.
Grocery Insight provide market insight on the UK sector with a focus on individual retailers such as Tesco. This insight is useful to various stakeholders and due to my store based focus. Insight can be delivered to suppliers to focus on growth opportunities, analysts and investors to assess the business performance and long term outlook and retailers themselves to assess best practice.