This post originally appeared on LinkedIn, and has been republished here in full.
A recent visit to Belgium and Holland yielded some clues about how to combat discount in the UK, but to be honest – their formulaic approach was more evident here than what we experience in the UK.
Aldi Nord for example were even more stripped back than our 'Sud' equivalent and it's a paradox in itself that they own Trader Joe's in the US too. Lidl were decent, brands were present but they appeared happy to advertise their awards rather than aggressively chase down FMCG brands and compare the price / taste. Nothing like the UK aggression!
In the image below, Carrefour were happily dedicating the end of aisles for comparisons between their value and own label and then leading brands. Highlighting the 'economy' of buying own label versus expensive brands. Of course, when a line goes onto promotion, this blows the price comparisons out of the window.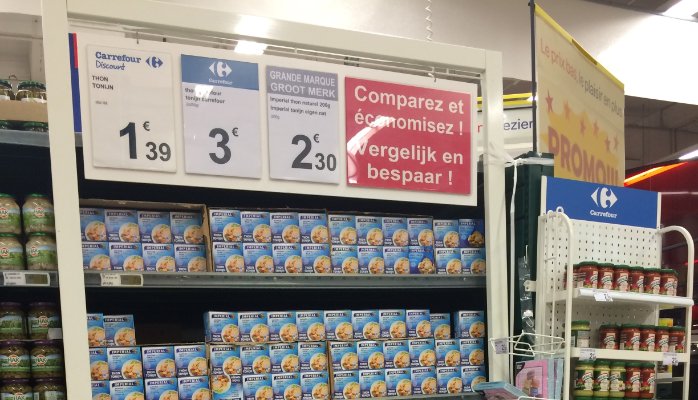 Circling back to the UK, the discounters have been remarkably strong when fighting against the mults (helped by zero reaction from anyone bar Asda for about 2 years) and when fighting against FMCG brands who have been dragged into the mix too.
Falling sales in the mults hurts the FMCG brands as they are unable to get into the restricted SKU assortment of discount, although Aldi are steadily expanding their branded presence – it's still small.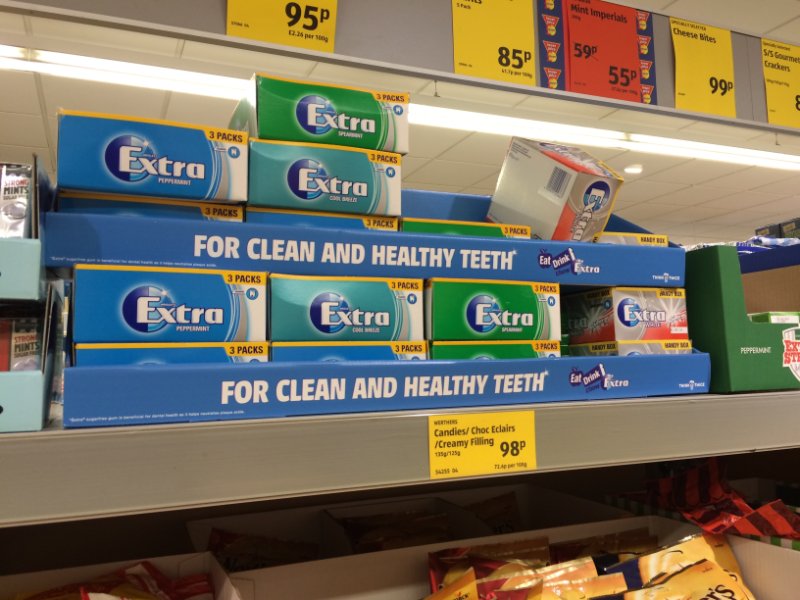 Another option for brands appears to be the Specials, but the brand only appears for 2-4 weeks before disappearing again, presumably sold in at a decent discount too.
With both discounters happily comparing their own brands to key brands – why aren't FMCG companies protecting their territory? It can't be that they're all making products under the discounter label alongside their own, so why isn't there a response? A push back in the mults? Pointers to heritage? More of a strategy around lower pricing and marketing?
It's not just down to the retailers to combat discount, brands should be out there doing their bit too. I note the Kelloggs 'we don't make Cereals for anyone else' – more of this please, alongside a longer term, stable pricing mentality – high/low is ultimately hurting the brands as customers seek stable prices for their Cheese / Yoghurts / Tomato Sauce (delete as appropriate).
The discounters aren't going away and their near obsession with awards shows no sign of abating – Which? have 3 best buys in Washing up Liquid this month – both discounter brands are featured alongside Fairy.
Given the choice as a consumer, what would you rather pay? One stable low price, where the messaging is present about the comparatives between brand and discount brand, or a high/low price where the brand seemingly exists purely on the brand name alone, alongside the quality of course…..
The discount battle isn't one just for the retailers to fight – FMCG brands and the combined minds in Shopper Marketing should be contributing too.