This post originally appeared on LinkedIn, and has been republished here in full.
Hero lines are quite the Christmas tradition in retail, with Morrisons pushing a marvellous looking £12 gateau with enough Chocolate to sink a battleship… As the calendar turns towards the 19th / 20th December – we can get excited at the final Fresh ranges arriving in stores (late on so stores don't end up wasting it ahead of time, and customers want the freshest product)…
Hero lines within discount are difficult, no craft in store so anything hand made is out, and with the growing need to capture spend, particularly at Christmas where competition really intensifies is prevalent.
Lidl have launched into Deluxe (premium) tier very early, and had their Fresh range out for the end of November – with several strong lines (Grand Marnier sponge!).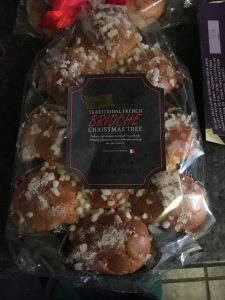 Last year, Aldi went big on their Brioche Christmas tree which was somewhat of a washout – not 'fresh' enough and just ended up being a Brioche in a Christmas tree shape…. They've channelled classic discount this year, improving the recipe and specification by adding Sugar nibs and improving flavouring.
The result? A hero product to get behind and attracting a good margin too… The merchandising needs a thought though – stacked up high with no visibility of product makes it difficult….
Another way in which discount push the boundaries, no other retailer has a pre-packaged Brioche line like it.
Where are the NPD (new product development) guys in the other retailers? This is easy money!